By  Aaron Sharp
The age-old secret of why Stonehenge was  built where it was can now be revealed, according to historians.
The reason for the stone monument's location  has remained one of the great unsolved mysteries of British prehistory, with no  one theory accepted as correct.
But now a team of scientists working in  Amesbury, a short distance from where the landmark sits on a hillside, believe  the discovery of a warm water spring could be the key to solving the  riddle.
Pre-historic: An area of warm springs close to  Stonehenge are likely have been home to Mesolithic cavemen. They may have chosen  to live by the pools, which scientists say would be 'irresistible' to passing  wildlife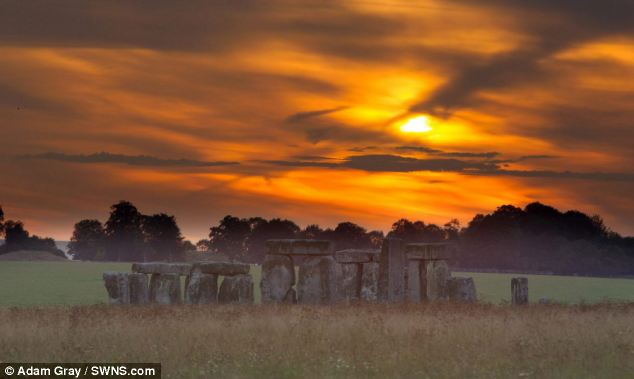 Breakthrough: The pools, which are just walking distance  from the famous stones in Amesbury give an explanation of why Mesolithic  settlers were in the area and to why the monument was built where it  was
A small series of shallow pools close to  Stonehenge have remained undisturbed for tens of thousands of years.
Hidden in a private estate and surrounded by  trees, the inconspicuous plot which sits alongside the A303 in Amesbury, is  believed to be a mesolithic landscape dating back to 7,596BC.
It is fed by a spring which keeps the pools  warm at a constant 11 degrees, even during the depths of winter.
Scientists visited the site in 2010 when  temperatures were sub-zero and found that the water remained unaffected by the  surrounding snow.
This gave them reason to believe that the  area may have been one of great importance during and immediately after the ice  age.
The warm water, it is claimed, would  have  been irresistible to passing wildlife who migrated north as the ice, which had  previously dominated much of the earth's surface, retreated  to the  poles.
Andy  Rhind-Tutt, chairman of the Amesbury  Museum and Heritage Trust, who has surveyed the site over years, believes the  springs are a vital to  unlocking the mystery of Stonehenge.
Ice attraction: Scientists visited the area in minus ten  degree temperatures and found that the pools were still a 'tepid' 11 degrees  above freezing
He told The Times: 'The belief has always been that Stonehenge  would not have been built here without there being something special about the  area.
'We believe the answer lies in the springs  which feed the River Avon. We came here in January when it was -10 degrees and  the water was still tepid.
'The pools were surrounded by green grass  when everywhere else was frozen.'
The discovery of water close to the neolithic  monument also gave archeologists a candid look at pre-historic  diets.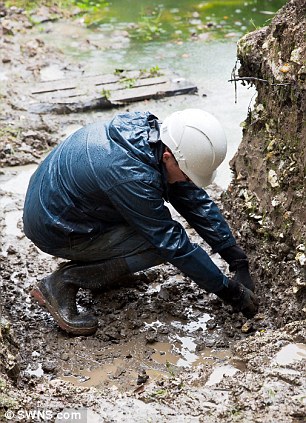 An archaeological dig, which took place a mile away from  Stonehenge found