Stephen King's House to Become a Museum and Writer's Retreat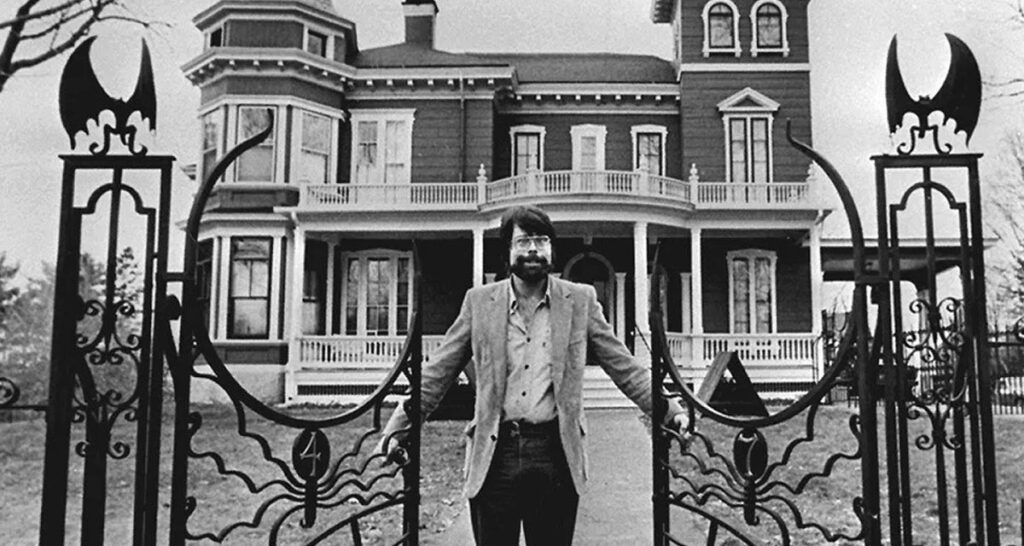 Stephen King plans to turn his Victorian mansion in Bangor into an archive of his work.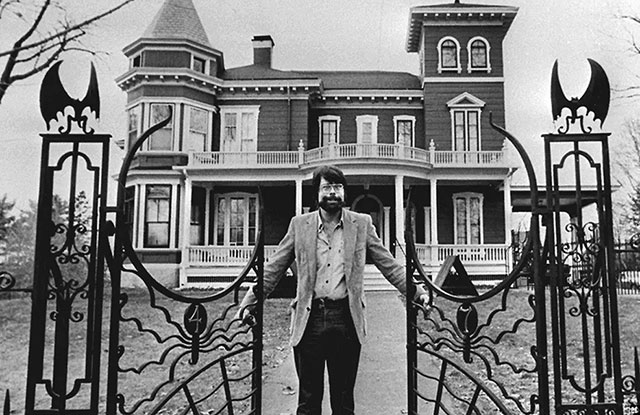 Stephen King at the new gates of his home in Bangor, Maine, November 1982
"Of course we fell in love with the house we live in, and it has never disappointed us," Stephen King wrote in an essay for a March 1983 Bangor Historical Society event. "Have we disappointed it? Disappointment probably isn't the right word. I think it disapproved of us at first. The parlor seemed cold in a way that had little to do with temperature. The cat would not go into that room; the kids avoided it. My oldest son was convinced there were ghosts in the turret towers (that idea was probably more due to the Hardy Boys than to parental influence)."
But eventually the house warmed up to the King family, and it became their primary residence for many years. These days, however, King is barely a part time resident of the Victorian mansion at 47 West Broadway (find it on the Strange Destinations map) that he purchased in 1980. It seems he prefers the warmer weather of his Florida getaway.
What to do with the house back in Maine, then?
Well, as Rolling Stone reports, it is soon to be transformed into a Stephen King museum and writer's retreat.
"On Wednesday night, the Bangor City Council unanimously approved a request by King and his wife Tabitha to rezone their home as a non-profit," the article states, "allowing it to house an archive of King's work (offering restricted visits by appointment) and up to five writers at a time."
"The King Family has been wonderful to the City of Bangor over time and have donated literally millions of dollars to various causes in the community," a city councilors told Rolling Stone. "Preserving his legacy here in Bangor is important for this community."
Bangor history and myth was the inspiration for the fictional town of Derry in Stephen King's novel IT, which drove his decision to live there.
"Oh my Lord, my Lord the stories you hear about this town — the streets fairly clang with them," King wrote. "The problem isn't finding them or ferreting them out; the problem is that old boozer's problem of knowing when to stop. It's entirely possible, I find, to overload completely on Bangor myth."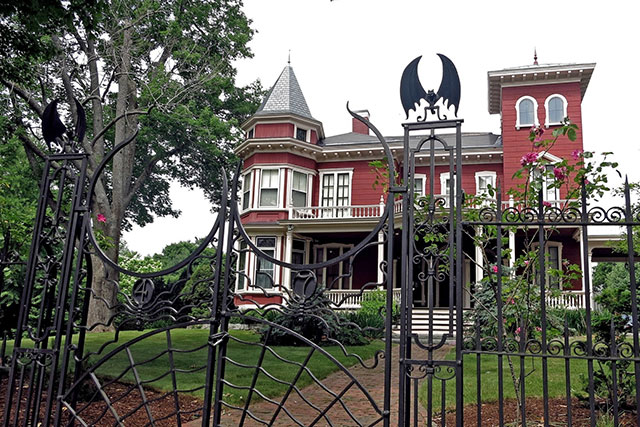 The house, as well as other landmarks fans will recognize from the novel such as the Barrens and the Standpipe, are included in the Stephen King's "Derry" tour.
Astronauts develop bizarre clots and blood flows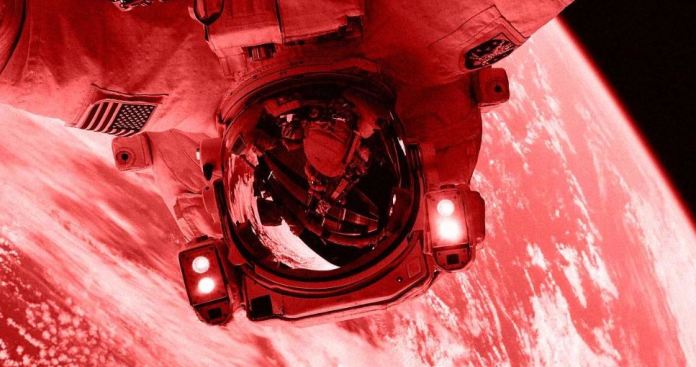 According to a shocking report by NASA scientists, blood flow can stop and even reverse in the upper bodies of astronauts.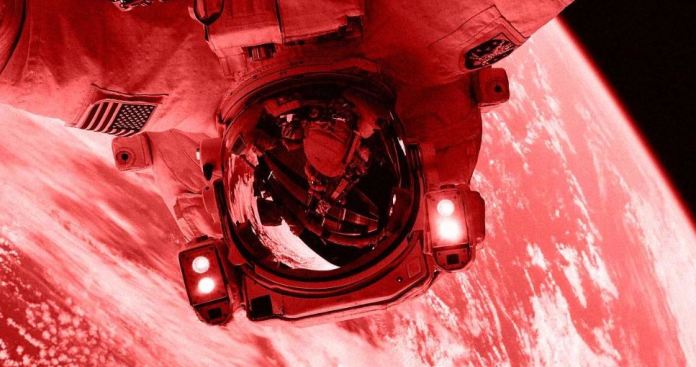 According to a shocking report by NASA scientists, blood flow can stop and even reverse in the upper bodies of astronauts.
The study could have some major implications about prolonged trips through deep space, as we're still trying to nail down the exact effects of spending long periods in microgravity.
The study looked at periodic ultrasound tests of 11 healthy astronauts who staffed the International Space Station.
The results were alarming: blood flow had either stagnated or reversed in the left internal jugular vein, a major blood vessel on the side of the neck, in seven crew members. The tests also found a clot and a partial clot in two of the crew members after their return to Earth.
A paper of the study was published in the journal JAMA Network Open on Wednesday.
"This was an unexpected finding," Michael Stenger, senior author and manager at NASA's Johnson Space Center, told NBC News. "We did not expect to see stasis and reverse flow. That is very abnormal. On Earth, you would immediately suspect a massive blockage or a tumor or something like that."
And that could have some very serious effects on astronauts' health.
"If you get a clot in the internal jugular vein, the clot could travel to the lungs and cause a pulmonary embolism — that's very dangerous," professor of medicine at the Johns Hopkins University Andrew Feinberg told NBC.
People love girl's 'iconic' Christmas list including laundry detergent and $4,000
One dad may be regretting asking his daughter what she wants for Christmas this year after she returned with a 26 line wish list which may require a lottery win to fulfill.
People were loving both her bravery and the phonetic spelling of the items she's hoping to find under the tree after her dad posted the list to Twitter with the caption: 'My 10 year old daughter must be out of her mind with this Christmas list'.
Santa will need to work closely with Apple as she begins the list with an iPhone 11, AirPods and a new MacBook Air.
There were also the usual popular requests, such as clothes, make up, a real bunny – and clothes for the bunny.
But it was choices like 'Chanel purs', 'purfum', 'julery' and particularly 'asenchal oil' which really grabbed people's attention.
One replied "Asenchal oil lmaooooo I love her" as another wrote "That baby sounded it OUT".
Others were simply wondering what a 10-year-old was planning to do with $4,000, with one calling it a 'rockstar move'.
"Right like oh yea lemme ask for 4K too," said one reply. "Right by the bunny clothes."
"I think she's planning to move out," said another.
The tweet has racked up more than 85,000 likes, 16,000 retweets and 3,600 replies. Here's a few of the best:
We've got a feeling someone might be a little disappointed when they wake up on Christmas morning as others pointed out that it's pretty likely she'll only be unwrapping clothes and make up on December 25 – but were glad to see 'mama has her priorities in check'.
The good news for parents is that although Christmas may be a time of goodwill to all men etc, it's also a time of bargaining with your children to get them to behave.
Advice for parents
They know the only way to get these presents is to make it on to Santa's good list and now there's a new app where Father Christmas will personally call your child to give them a stern warning about misbehaving.
'Message from Santa' will give kids a personalised call, text message or voicemail – and you can add as many little ones as you wish.
It can, of course, also be used to endorse good behaviour, with St Nick dropping your kids a line to tell them to keep up their angelic behaviour.
The insane treatment in alternative medicine: gold needles under the skin
For thousands of years, humanity has invented new "methods" to deal with chronic pain.
Almost everything is used – from snake oil and bee stings to music therapy and meditation. But one of the weirdest and scariest remedies is putting gold needles under your skin.
A few centuries ago, in the Asian acupuncture, small needles (or rather thin short threads) made of gold were used. Now, this method is practiced in some places and remote areas of Korea, China and other countries.
These numerous small "white worms", clearly visible in the X-ray images below, are in fact hundreds of gold needles embedded by the healer under the patient's skin. This procedure is not cheap at all.
It is usually performed by a person without medical background who often does not even wash his hands before the procedure. A special acupuncture needle is used to insert the pieces of gold thread under the skin.
Gold sticks are inserted into the part of the body that is suffering from pain. If a toothache – the gold is inserted deep into the gums, if it is in the knee – under the skin of the knee, etc. Subsequently, because of body movement, the rods can go deeper into the flesh and even to the bone.
Gold is believed to be "pure metal" and will not cause infections in the body. The brain will send pain impulses that will be transferred from the body to the gold needles and therefore, the patient will not have pain at this location.
No doctor or doctor has yet confirmed that such a procedure saves pain. But, doctors report people who have sought their help who already have very serious health problems as a result of the gold needles in their body.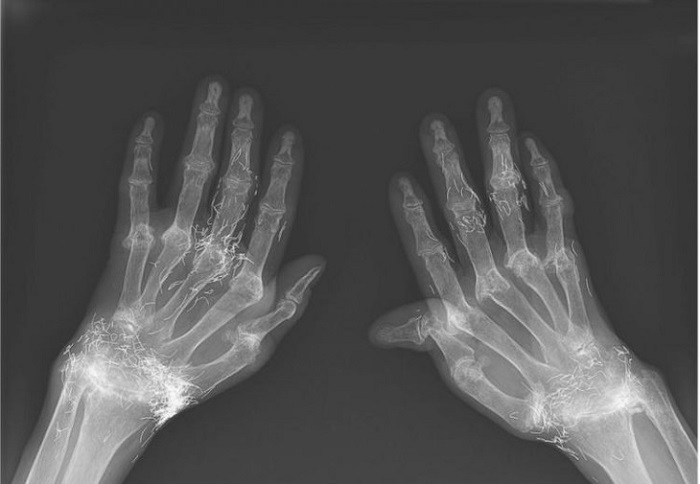 Recently, in an American magazine New England Journal of Medicine an article by Seoul doctors about a similar procedure was published, with pictures of their patients.
In particular, there is the mention of a 39-year-old Korean woman who has been trying to cure her chronic headache with acupuncture with gold needles for many years. However, instead of relieving her suffering, inflammation was formed in places where the needles were under the skin.
Another issue besides inflammation is the aforementioned "migration" of the gold needles inside the patient's body. When these filaments reach the nerves, they can cause even more pain.
On their way into the body, the needles break into smaller parts, which later makes it difficult to remove them with surgery.
The same medical journal mentions a 73-year-old patient who treated her headache with such needles and received convulsive twitches on her face instead of relief – gold needles damaged her facial nerves.
Most commonly, the mad gold thread treatment is used to treat arthritis, headache and back pain.