Step Away from the Juice Bar — Scientists Claim that Drinking Juice Is NOT Good for Our Health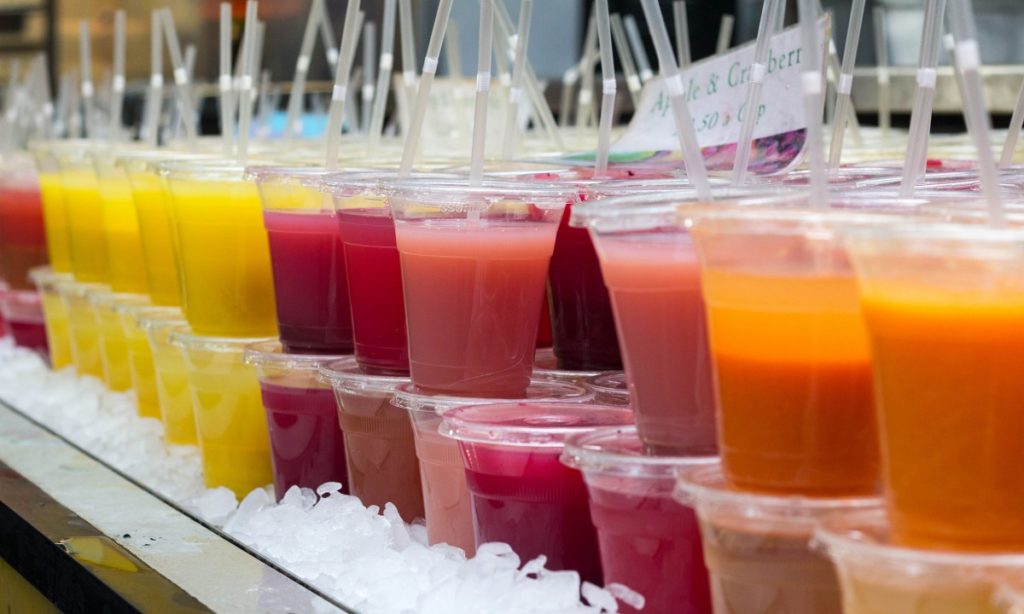 Mrs. G. came to our offices for her first visit distraught. Her primary-care doctor had just diagnosed her with diabetes, and she was here for advice. She was shocked by the diagnosis. She had always been overweight and had relatives with diabetes, but she believed she lived a healthy lifestyle.
One of the habits that she identified as healthy was drinking freshly squeezed juice, which she saw as a virtuous food, every day. We asked her to stop drinking juice entirely. She left the office somewhat unconvinced, but after three months of cutting out the juice and making some changes to her diet, her diabetes was under control without the need for insulin.
Mrs. G. is not an uncommon patient. As diabetes specialists, we see patients like her all the time, who for one reason or another believe that juice is a health food. The truth is that fruit juice, even if it is freshly pressed, 100 percent juice, is little more than sugar water.
Yet many Americans believe that juice is good for them. In one survey of parents of young children, 1 in 3 believed that juice was at least as healthy as fruit. We are inundated with the message that juice is healthy. Juice bars abound in gyms, spas and health food stores, while government programs supply large quantities of juice to low-income children and pregnant mothers.
The commercial juice industry is happy to take advantage of this idea, as with POM Wonderful's tagline "Drink to your health" or Juicy Juice's labels extolling the (mostly added) 120 percent of recommended daily vitamin C in the products. While the Internet is busy laughing at the Juicero juicing system — in which, it turns out, your hands work as well as the $400 WiFi-enabled machine — what people should really be talking about is a much simpler fact: The product takes healthy fruits and vegetables and makes them much less healthy.
At first glance, it is reasonable to think that juice has health benefits. Whole fruit is healthy, and juice comes from fruit, so it must be healthy, too. But when you make juice, you leave some of the most wholesome parts of the fruit behind. The skin on an apple, the seeds in raspberries and the membranes that hold orange segments together — they are all good for you. That is where most of the fiber, as well as many of the antioxidants, phytonutrients, vitamins and minerals are hiding. Fiber is good for your gut; it fills you up and slows the absorption of the sugars you eat, resulting in smaller spikes in insulin. When your body can no longer keep up with your need for insulin, Type 2 diabetes can develop.
Finally, when you drink your calories instead of eating them, your brain doesn't get the same "I'm full" signal that it does from solid food, even though you wind up consuming far more calories in the process. Whereas an orange may contain 45 calories, an eight-ounce glass of orange juice contains 110 calories, and a large kale, banana and orange juice blend at a leading juice chain contains 380 calories. We always counsel patients to chew their food; people tend to overconsume liquid calories.
In addition, you might feel full immediately after drinking a glass of juice or a fresh smoothie, but that sensation goes away quickly as the liquid quickly empties out of your stomach, and many of those calories you just drank don't get counted in your body's internal calorie counter contributing to that bulging waistline the gym was supposed to help fix. When researchers gave adults an apple to eat — either as a whole fruit, fresh applesauce, apple juice or apple juice with the fiber added back — followed 15 minutes later by a meal, on the day they ate the apple, they ate fewer calories at the meal than if they consumed the same number of calories from applesauce or apple juice. The chewing really counts.
Our perception of juice needs a radical makeover, starting with our kids. Juice comes in easy, single-serving, shelf-stable packages that parents don't hesitate to give to kids anywhere. Yet children don't need juice for nutritional purposes, and most juice boxes contain more than the 4-to-6-ounce maximum recommended by the American Academy of Pediatrics for daily consumption by kids under 6. In fact, kids who drink juice regularly are shorter and heavier than those who rarely drink juice, probably because they consume less milk, something young children do need for healthy growth.
The perception that juice is good for kids comes in part from the Special Supplemental Nutrition Program for Women, Infants, and Children, better known as WIC, which provides food assistance to 25 percent of all pregnant women and half of all children in the United States at some point in their first five years of life. While the program has helped to improve birth outcomes and cognitive development in participants, it needs some revision. WIC supplies a very narrow range of foods deemed healthy for pregnant women and growing children. This includes healthy staples such as milk and eggs but also, surprisingly, a gallon of juice per month. When the program started in the 1970s, there was no obesity epidemic, and undernutrition was a major concern. In that context, giving juice rather than fresh fruits and vegetables — which didn't have the year-round availability they do now — may have made sense. Today, it just feeds the false perception that juice is a healthy choice.
So what can we do to start fixing this problem? First, recognize juice for what it is: a treat. It doesn't belong at your breakfast table or in your post-workout routine. Next, get juice out of your children's lives. Ditch the juice boxes in favor of water or shelf-stable milk boxes. Not only does milk contain about a third of the sugar of juice, it's also a great source of the protein, calcium, vitamin D and magnesium that growing kids need. Make sure that their day care or after-school program is following current guidelines and serving only milk or water. Finally, the National Academies recently released recommendations for revisions to WIC, including a lower juice allowance. Write the Department of Agriculture and let officials know that you support the reduction or elimination of juice in the WIC program.
While we can't solve the diabetes and obesity epidemics with any one move, rebranding juice from a health food to a treat would be a major step in the right direction.
Tesla autopilot sensor recorded "ghost" in an empty cemetery
A Tesla electric car with an activated autopilot function recorded an invisible person who allegedly moved around the cemetery. Social network users jokingly noted in the comments that, most likely, this is some new function from Elon Musk, which allows you to see ghosts.
In the United States, a Tesla electric car with an activated autopilot function recorded an invisible person who allegedly moved through a cemetery.
The corresponding video was posted by Twitter user Ovidiu Maciuc.
The recording shows how a silhouette of a man appears on the monitor of an electric car, moving around the cemetery. After that, the driver raises the camera and starts filming the graveyard through the windshield, but there are no people there.
After some time, the "ghost" went in the opposite direction from Tesla and disappeared from the on-board computer screen.
Social network users jokingly noted in the comments that, most likely, this is some new function from Elon Musk, which allows you to see ghosts.
For many though, if you take into account the comments, the video seemed rather creepy. Some even tried to guess what the navigation system actually showed.
Some users thought the system could recognize ghosts. Others refuted this version and said that the reason for all this is an insufficiently accurate sensor, which was used for the equipment of the Tesla car.
Earlier it became known that Tesla electric cars in the near future may receive a new function with which they can talk with pedestrians. For this, American cars will be equipped with special external speakers.
In addition, Tesla cars in the future will receive the option to change the horn and sound of movement at low speeds to warn pedestrians. According to Elon Musk, among the sounds of movement there will be the sound of the clatter of a horse's hooves, and as a whistle – the bleating of a goat.
Mysterious energy source melts Tel Aviv sidewalks, leading to the evacuation of several buildings in Israel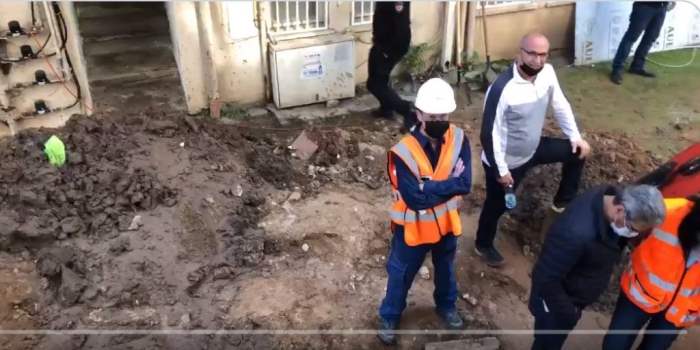 About two weeks ago, Tel Aviv residents noticed that the concrete surface outside their homes was heating up and steam was coming out of the ground. Tests showed that steam that reached 60 ° C (140 ° F) was water based.
The witness explains: "I was afraid that there was a power line in the area and asked a worker to dig out the ground with a shovel. Steam suddenly came out. I imagined it was probably a geyser. It seemed to me that this was a geological incident – also because there were no problems with electricity in the building. "
Although the experts did not find any hazardous substances or any risk to the stability of buildings at the site, residents as well as kindergartens in the area were evacuated.
Officials described the heat source as "trapped energy" of unknown origin.
Work continues, steam is still rising and the ground is still hot. It is currently unclear what is causing the warming. Note the hole dug in the area. The area is still blocked.
Mysterious origins
City officials said they will "continue to monitor the temperature of the earth, which is expected to cool down for a long time, and will continue to investigate the causes of the unusual event."
Israel Electric Corporation has not found a connection between heat and power in the area.
The Israel Geological Survey confirmed the rise in temperature after testing ground and water temperature levels, but said it has not yet found an explanation.
Despite their best efforts, municipal officials, the fire department, Israel Electric Corporation and the Ministry of the Environment have yet to find a source of heat.
Meanwhile, the Tel Aviv municipality has informed dozens of evacuees that they can return to their homes. However, residents are not going to return until they receive a detailed account of the source of the mysterious event.
"They evacuated us because they were concerned about our safety, and now they are urging us to return without any convincing explanation. How can you be sure that there is no more danger? "
The night sky in southern Taiwan shows a weird red moon alarming netizens: 2021 disaster year omen?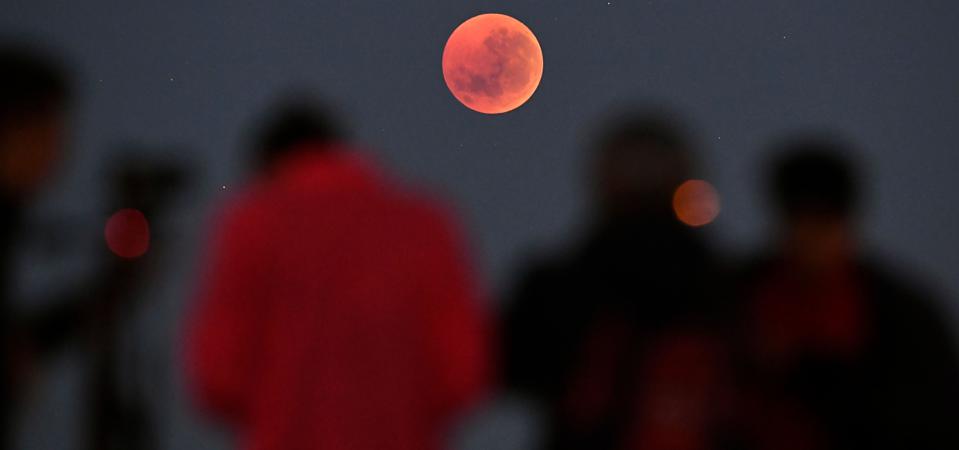 Some people in Chiayi, Taiwan took pictures of a large dark red moon hanging in the night sky on the first night of 2021 and uploaded them to Facebook. There are also people in Tainan who have photographed the rare "red moon". The weird scene has aroused heated discussions among netizens. Some people worry that an earthquake may occur, while others suspect that this is a precursor to the year of disaster in 2021?
Yesterday, on January 1 at about 8:00 in the evening, Chiayi residents shared a photo of "2021's first red moon" on Facebook. As you can see in the photo, the weather was quite good at that time. There was a clear big round moon in the night sky, but it was a dark red moon, which was very different from the usual moon.
Later, people in Kaohsiung and Tainan also posted photos of the red moon they had taken.
The weird and rare "big red moon" immediately attracted the attention of netizens. Some people think that such a sight is caused by air pollution, and some people think that the red moon is "extremely beautiful", but many people worry about whether it is a harbinger before the disaster ?
"Hope is not a harbinger of disaster~", "A harbinger of disaster in 2021???", "It looked uneasy", "After seeing the red moon, I hope everyone will be safe".
Some netizens worry that this is a pre- earthquake omen.
"Remember the red moon before the 921 earthquake (omen)", "earthquake precursors", "I feel that there will be an earthquake again recently", and "It seems that 2021 will be another year of bloody disaster."
The British clairvoyant Craig Hamilton-Parker published his prediction for 2021 on YouTube in December last year, stating that, as far as the world is concerned, 2021 will be a year full of social unrest, armed conflict and political changes. There will be difficult times right now until 2025.
He also predicted that the biggest worry is climate and earthquakes. A tsunami will occur near Japan. Large earthquakes will occur in the Himalayas, Iran and the Americas. There will also be problems such as floods, dams bursting, and huge icebergs obstructing shipping. Until 2025, the severity of environmental problems will gradually increase.