Step Away from the Juice Bar — Scientists Claim that Drinking Juice Is NOT Good for Our Health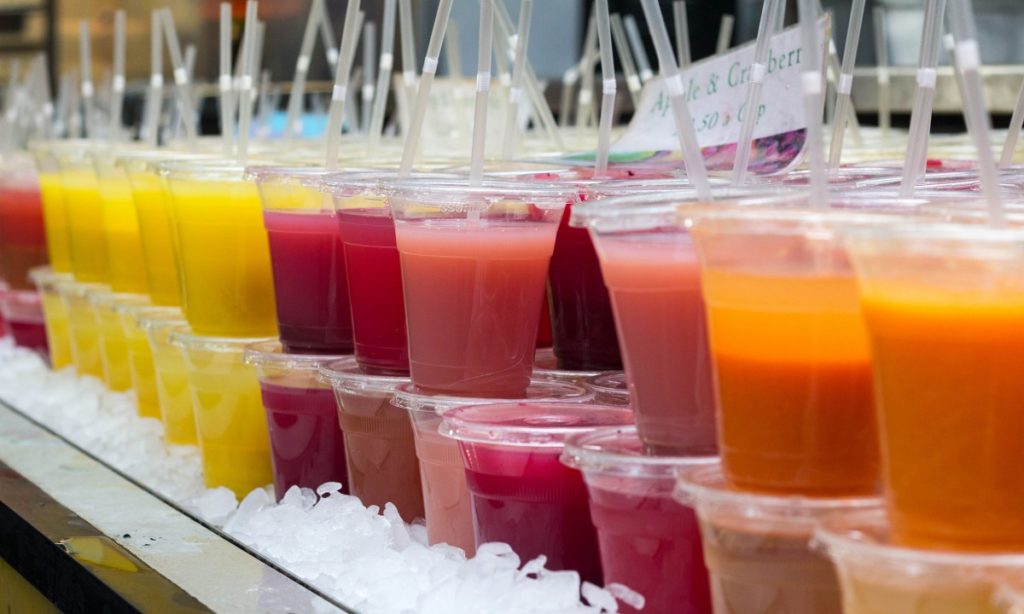 Mrs. G. came to our offices for her first visit distraught. Her primary-care doctor had just diagnosed her with diabetes, and she was here for advice. She was shocked by the diagnosis. She had always been overweight and had relatives with diabetes, but she believed she lived a healthy lifestyle.
One of the habits that she identified as healthy was drinking freshly squeezed juice, which she saw as a virtuous food, every day. We asked her to stop drinking juice entirely. She left the office somewhat unconvinced, but after three months of cutting out the juice and making some changes to her diet, her diabetes was under control without the need for insulin.
Mrs. G. is not an uncommon patient. As diabetes specialists, we see patients like her all the time, who for one reason or another believe that juice is a health food. The truth is that fruit juice, even if it is freshly pressed, 100 percent juice, is little more than sugar water.
Yet many Americans believe that juice is good for them. In one survey of parents of young children, 1 in 3 believed that juice was at least as healthy as fruit. We are inundated with the message that juice is healthy. Juice bars abound in gyms, spas and health food stores, while government programs supply large quantities of juice to low-income children and pregnant mothers.
The commercial juice industry is happy to take advantage of this idea, as with POM Wonderful's tagline "Drink to your health" or Juicy Juice's labels extolling the (mostly added) 120 percent of recommended daily vitamin C in the products. While the Internet is busy laughing at the Juicero juicing system — in which, it turns out, your hands work as well as the $400 WiFi-enabled machine — what people should really be talking about is a much simpler fact: The product takes healthy fruits and vegetables and makes them much less healthy.
At first glance, it is reasonable to think that juice has health benefits. Whole fruit is healthy, and juice comes from fruit, so it must be healthy, too. But when you make juice, you leave some of the most wholesome parts of the fruit behind. The skin on an apple, the seeds in raspberries and the membranes that hold orange segments together — they are all good for you. That is where most of the fiber, as well as many of the antioxidants, phytonutrients, vitamins and minerals are hiding. Fiber is good for your gut; it fills you up and slows the absorption of the sugars you eat, resulting in smaller spikes in insulin. When your body can no longer keep up with your need for insulin, Type 2 diabetes can develop.
Finally, when you drink your calories instead of eating them, your brain doesn't get the same "I'm full" signal that it does from solid food, even though you wind up consuming far more calories in the process. Whereas an orange may contain 45 calories, an eight-ounce glass of orange juice contains 110 calories, and a large kale, banana and orange juice blend at a leading juice chain contains 380 calories. We always counsel patients to chew their food; people tend to overconsume liquid calories.
In addition, you might feel full immediately after drinking a glass of juice or a fresh smoothie, but that sensation goes away quickly as the liquid quickly empties out of your stomach, and many of those calories you just drank don't get counted in your body's internal calorie counter contributing to that bulging waistline the gym was supposed to help fix. When researchers gave adults an apple to eat — either as a whole fruit, fresh applesauce, apple juice or apple juice with the fiber added back — followed 15 minutes later by a meal, on the day they ate the apple, they ate fewer calories at the meal than if they consumed the same number of calories from applesauce or apple juice. The chewing really counts.
Our perception of juice needs a radical makeover, starting with our kids. Juice comes in easy, single-serving, shelf-stable packages that parents don't hesitate to give to kids anywhere. Yet children don't need juice for nutritional purposes, and most juice boxes contain more than the 4-to-6-ounce maximum recommended by the American Academy of Pediatrics for daily consumption by kids under 6. In fact, kids who drink juice regularly are shorter and heavier than those who rarely drink juice, probably because they consume less milk, something young children do need for healthy growth.
The perception that juice is good for kids comes in part from the Special Supplemental Nutrition Program for Women, Infants, and Children, better known as WIC, which provides food assistance to 25 percent of all pregnant women and half of all children in the United States at some point in their first five years of life. While the program has helped to improve birth outcomes and cognitive development in participants, it needs some revision. WIC supplies a very narrow range of foods deemed healthy for pregnant women and growing children. This includes healthy staples such as milk and eggs but also, surprisingly, a gallon of juice per month. When the program started in the 1970s, there was no obesity epidemic, and undernutrition was a major concern. In that context, giving juice rather than fresh fruits and vegetables — which didn't have the year-round availability they do now — may have made sense. Today, it just feeds the false perception that juice is a healthy choice.
So what can we do to start fixing this problem? First, recognize juice for what it is: a treat. It doesn't belong at your breakfast table or in your post-workout routine. Next, get juice out of your children's lives. Ditch the juice boxes in favor of water or shelf-stable milk boxes. Not only does milk contain about a third of the sugar of juice, it's also a great source of the protein, calcium, vitamin D and magnesium that growing kids need. Make sure that their day care or after-school program is following current guidelines and serving only milk or water. Finally, the National Academies recently released recommendations for revisions to WIC, including a lower juice allowance. Write the Department of Agriculture and let officials know that you support the reduction or elimination of juice in the WIC program.
While we can't solve the diabetes and obesity epidemics with any one move, rebranding juice from a health food to a treat would be a major step in the right direction.
Sailors Use Xbox Controllers to Operate Part of the Navy's Newest Sub
You know that $30 Xbox controller you have in your living room? The same thing now directs the Navy's new $2.7-billion attack submarine.
For more than a century, a periscope was the only way for those within a submarine to take a look at the world above. Sailors used them to help determine the sub's position and even direct torpedoes in the days before advanced sonar.
In 2004, the Navy began commissioning submarines with photonics masts, devices equipped with sensors that function like digital periscopes, but takes up less space. Operators typically control these masts from the control room using a joystick, but not everyone was happy with that.However, periscopes had their shortcomings. Only one person could look through the device at a time, and their size placed limitations of the submarine's design.
"The Navy got together and they asked a bunch of J.O.s and junior guys, 'What can we do to make your life better?'" Kyle Leonard, a Lieutenant (junior grade) and the assistant weapons officer aboard the USS John Warner, told The Virginia Pilot in September. "And one of the things that came out is the controls for the scope. It's kind of clunky in your hand; it's real heavy."
To alleviate that problem, the Navy began experimenting with using an Xbox controller instead.
Yes, the sailors are more comfortable with the lighter, more versatile controller, Reed Koepp, the Colorado's commanding officer, told the Associated Press. It's also more natural for them to use — because many of the young sailors who report to the submarine have probably played games on Xbox before enlisting, they won't need as much training.
Plus, it saves the Navy a ton of money. Just one of the custom-built photonics mast joysticks costs roughly $38,000, according to The Virginia Pilot. An Xbox 360 controller runs about $30.
The USS Colorado, in service at Connecticut's Naval Submarine Base as of Saturday, is the first submarine to use Xbox controllers from the very beginning of its service. But if the controller ends up working as well as its engineers anticipate, it might not be the last.
Unknown Sky Phenomenon Witnessed AGAIN!
MrMBB333 shared another strange unexplained sky phenomenon that is similar to the one we shared a few days ago called 'Strange Large Orange Object Ascending Up from the Horizon Near Ecuador'. This one was spotted in Thailand.
MrMBB333 gives all the details in his video and also shows a comparison of the two events, take a look at the video below.
Amazing sky phenomenon spotted again..

MrMBB333
YouTube
Flying Saucer German Technology From Before WW2
A German newspaper recently published an interview with George Klein, famous German engineer and aircraft expert, describing the experimental construction of 'flying saucers' carried out by him from 1941 to 1945."
Exotic technology has been around for a long time, and so have the agencies within the Department of Defense that use it. Just imagine what type of technology the NSA — an intelligence agency whose existence was denied until the mid-1960s — was using in the 1950s. Then there's the National Reconnaissance Office, which was founded in 1960 but remained completely secret for 30 years. Secret technologies have been wrapped up in the Black Budget and Special Access Programs (SAPs) for years, and many of these SAPS remain unacknowledged by anybody within the government. They're exempt from standard reporting requirements to Congress.

"It is ironic that the U.S. would begin a devastating war, allegedly in search of weapons of mass destruction, when the most worrisome developments in this field are occurring in your own backyard. It is ironic that the U.S. should be fighting monstrously expensive wars in Iraq and Afghanistan, allegedly to bring democracy to those countries, when it itself can no longer claim to be called a democracy, when trillions, and I mean thousands of billions of dollars have been spent on projects about which both the Congress and the Commander in Chief have been kept deliberately in the dark."
– Former Canadian Defense Minister Paul Hellyer

During World War Two, multiple strange sightings occurred, of disc-shaped objects travelling at incomprehensible speeds. When the Associated Press and New York Times covered the topic in 1945, they speculated the objects might be a new form of German weaponry.
There is no shortage of strange documents in the CIA's Freedom of Information Act (FOIA) electronic reading room. Many reveal the agency's efforts to keep tabs on the technological developments of other countries, especially during and after World War II.
One document brings up a famous German engineer named Georg Klein, who, as the document states, expressed that "though many people believe the 'flying saucers' to be a postwar development, they were actually in the planning stage in German aircraft factories as early as 1941."
The document then goes on to mention an experiment described by Klein:
"The "flying saucer" reached an altitude of 12,400 meters within 3 minutes and a speed of 2,200 kilometers per hour. Klein emphasized that in accordance with German plans, the speed of these "saucers" would reach 4,000 kilometers per hour. One difficulty, according to Klein, was the problem of obtaining the materials to be used for the construction of the "saucers," but even this had been solved by German engineers toward the end of 1945, and construction on the objects was scheduled to begin, Klein added.