State Upholds Law that Men Can Rape Women if They Withdraw Consent After Sex Begins
A team of 11 media partners including Carolina Public Press and The Fayetteville Observer has extensively examined the state law in North Carolina and their findings are worrisome, to say the least. 
If actual sexual penetration occurs under the banner of consensuality, that agreement to have sex cannot— according to North Carolina law for decades — be suddenly revoked, even if a man turns violent.
"If the actual penetration is accomplished with the woman's consent, the accused is not guilty of rape, although he may be guilty of another crime because of his subsequent actions," the North Carolina Supreme Court wrote in its decades-old decision in State v. Way.
"It's really stupid," stated then-19-year-old Aaliyah Palmer — who allegedly agreed to sex — but revoked consent when the man she'd met at a party turned violent — to the Fayetteville Observer. "If I tell you no and you kept going, that's rape."
Palmer understandably surmised her brutal encounter amounted to rape — as it did — but discovered to her astonishment state law disagreed.
As TFTP reported at the time, a bill proposed in 2017, sought to jolt the fraught Southern state into the 21st Century — making legal rape illegal again.
"Legislators are hearing more and more about women who have been raped and are being denied justice because of this crazy loophole," asserted North Carolina Senator Jeff Jackson, who introduced a bill on March 30 — similar to another he attempted in 2015 — to append the misogynistic law.
Jackson proposed, according to the text of the bill, "a person may withdraw consent to engage in vaginal intercourse in the middle of the intercourse, even if the actual penetration is accomplished with consent and even if there is only one act of vaginal intercourse."
Seems simple enough. Sadly, the General Assembly never acted on the measure.
"This really shouldn't be a controversial matter," Jackson said. "North Carolina is the only state in the country where no doesn't really mean no. Right now, if a woman tells a man to stop having sex he is under no legal obligation to do so, as long as she initially consented. If sex turns violent, the woman has no right to tell the man he must stop."
Let that last part sink in for a moment: A man in North Carolina can forcibly complete a sex act with a woman — even if he employs violence to get his way.
That's rape by nearly any definition — except in the eyes of the repressive state.
"Very few legislators are aware that this is the current state of our law," lamented Jackson. "They're very surprised when I tell them. Most of my conversations have been educating our members about this plainly unacceptable loophole in our rape law. I have not had any members defend the loophole. Every legislator I've spoken to agrees we need to fix this."
Despite what should be unfettered support for a bill rescinding a man's apparent 'right' to rape women, the state senator has received surprisingly resolute pushback by those who view Jackson's proposed legislation as interfering with natural intercourse.
For 38 years this law has been permitted to languish on the books — depriving an untold number of rape victims from justice, human rights, and basic common decency.
"Aside from perpetrators not being held accountable, when women cannot revoke consent, then we are telling them violence can be perpetrated against them if they consented to begin with and then had a change of heart," Angelica Wind, an advocate and executive director of Our Voice — a North Carolina-based crisis intervention and prevention agency for victims of sexual violence — said, adding, "allowing women to revoke consent would be transformative for the state of North Carolina."
Hopefully, as this issue garners more attention, this archaic law will soon be overturned.
The new prediction fulfilled by The Simpsons: episode 5 of the last season of Game of Thrones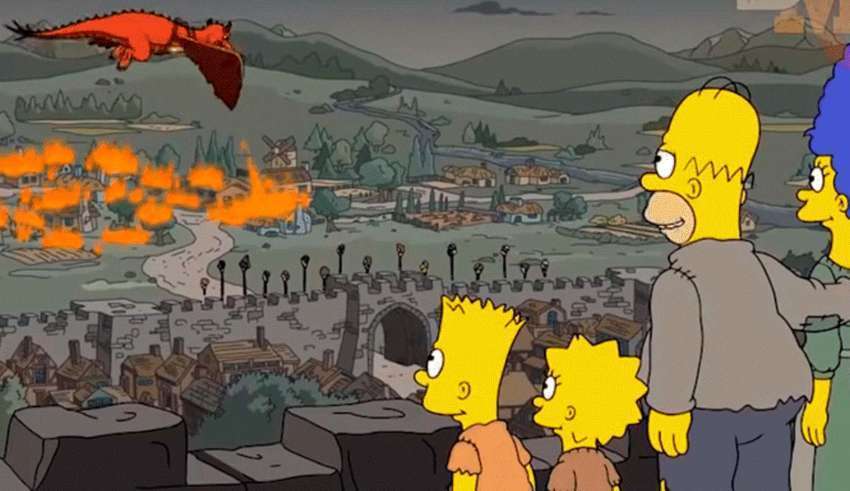 A few days after September 11, rumors began to rise that action movie star Jackie Chan was going to shoot a movie called "Nosebleed," which involved a terrorist plot to hit a plane at the Statue of Liberty or the World Trade Center. Interestingly, the project was confirmed, but the producers decided to cancel it. But the plot of the film was real and made people wonder: How did the writers know this could happen? Did they predict terrorist attacks? It turns out that there is a whole theory about the power of the media to predict and prepare for the future. It is called "predictive programming" and encompasses not only terrorist attacks, but also new technologies and the existence of extraterrestrials.
Coined by the conspirator Alan Watt, predictive programming is the theory that ideas, situations and new technologies are carefully written in movies, television programs and books for the general population to accept social changes. Examples include the pilot episode of "The Lone Gunmen" , where a hijacked plane crashes into the World Trade Center as a false flag attack ; "The dark knight: the legend is reborn", which shows a map of Gotham where one of the places marked is Sandy Hook, where the massacre of the Primary School occurred; and an episode of "Family Guy"in which Peter Griffin leads through the Boston marathon, broadcast only a few months before the Boston Marathon attack in 2013. But as popularly said, if it does not predict "The Simpsons" then it will not happen. And they have done it again, this time with "Game of Thrones".
The new prediction fulfilled
The fans of Game Of Thrones were shocked last Sunday night when Daenerys Targaryen and her dragon unexpectedly set King's Landing on fire, killing thousands of innocent men, women and children. But while viewers enjoyed the images, it seems that the scene was predicted two years ago , in a completely different series.
The followers of the animated series "The Simpsons" will remember their characters paying homage to Game of Thrones in a parody of 2017 entitled 'The Serfsons'. The episode moved the spectators to a completely different environment, to the medieval Springfield, where Homer, Marge, Bart, Lisa and Maggie were part of the universe of Games of Thrones. But after watching Daenerys incinerate King's Landing in their pursuit of the Iron Throne, fans were struck by the strange resemblance to a scene from The Serfsons , in which the family cheerfully watches as a marauding dragon reduces Springfield to ashes.
After this "coincidence" , there were many users on social networks who returned to show their surprise with the new prediction fulfilled. However, this is not the first time it is not the first time that The Simpsons predict the future in a really disturbing way. And they not only predicted the presidency of Donald Trump, the Ebola crisis and the winner of a Nobel Prize. In 2018 he also foreshadowed a cosmological link between physicists Stephen Hawking and Albert Einstein, almost two decades before Hawking died the day his German counterpart was born.
It happened in an episode aired in 1999, entitled "Saved the brain of Lisa (They Saved Lisa's Brain in the English version)", starring Stephen Hawking, as a tribute to his death. The Simpsons also predicted the Arab Spring, the FIFA soccer scandal, the Greek economic crisis and the discovery of the Higgs Boson particle. But without a doubt, the most surprising prediction was that Donald Trump would become president of the United States.
It is clear that at first this may seem simple coincidences, even funny, but the reality is quite another. Predictive programming demonstrates how the entire agenda of the elite is hidden by its references in the popular media before it happens. And when the event occurs, people accept it, without offering resistance or opposition.
What would happen if everything that happens daily was programmed years in advance? Is it possible that the games and movies you see hide information about our future?
Boat narrowly avoids being crushed by whale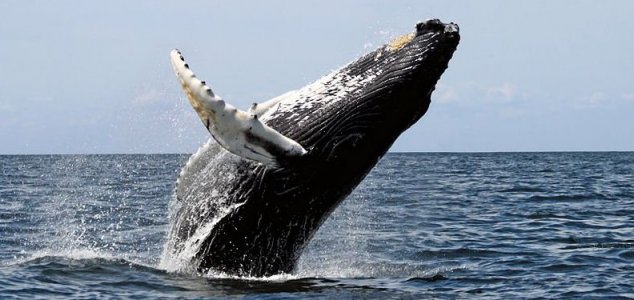 A huge humpback whale was recently caught on camera breaching the surface next to a tiny fishing boat.
The incredible near-miss, which took place in Monterey Bay, California, was captured on camera by photographer Douglas Croft and whale watcher Kate Cummings.
It goes without saying that the man on the fishing boat must have had quite a view.
"Salmon season coincides with the time when humpbacks are returning to Monterey Bay to feed for the summer and there were hundreds of boats on the bay fishing," said Croft.
"This whale had breached a couple of times before this and many times they'll just keep doing it."
"It was fun capturing this video," said Cummings. "I figured the next breach would be around the fisherman because the whale was heading that way and sure enough."
"Though I didn't expect the whale and the boat to line up so perfectly."
Humpback whale surfaces near fishing boat in US, results in stunning photograph https://t.co/AFPgHRbr0E pic.twitter.com/sIAcWNpEYu

— The Straits Times (@STcom) May 15, 2019
Source:
Sky News
Atomic Bomb Depicted in Ancient Seal? No. Modern Art.
You may see this image on places like Pinterest and Instagram, posted without fact checking as proof of ancient super technology. This is art by Steven Parker. It's a parody.
The story is fun. There is this video:
…. When I mentioned that I had colleagues in Iraq who could be counted on for logistical support, his encouragement became enthusiastic, and we spent the rest of the evening discussing the creation of such an expedition.  He was especially interested in my ability to travel inconspicuously in areas typically not visited by tourists or scholars. …
I immediately got in touch with a colleague who could not only navigate the difficult paths of government support for my work in Iraq, but also verify the age of any artifacts I would discover.   I engaged the services of Dr. Jemyel Sedyeqh, from the local Carbon Dating Service, and we spent that first evening discussing the goals of my expedition. …
Dr. Sedyeqh  was extremely skilled and knowledgeable, with connections in the highest places.  She related that one of her steady clients was quite a high ranking official who owned a large private collection of artifacts from Mesopotamia which had never been made available to the academic community.   …
The day of my tour arrived, and Dr. Sedyeqh informed me that we would be going to the collection in the late evening for an undisturbed viewing. …  Offering  to show me her client's favorite piece, Dr. Sedyeqh removed a small object from a case and handing it to me, explaining that it was from the realm of Nebuchadnezzar II, around 600 B.C.E..  At that moment, we heard the sound of a distant door opening, and I saw a look of panic on Dr. Sedyeqh's face.
She said, in a low and urgent tone, "Hu is at the door!"
I replied, "I don't know, who is at the door?"
Dr Sedyeqh:  "Yes – it is Sad!"
I did not understand what was so unhappy about the situation, but perhaps Dr Sedyech had forgotten to make all of the proper notifications for our visit.  Cautiously inspecting the hall outside, she quickly brought me back the way we came, out to the car, and back to my quarters.
When we arrived in my rooms, I realized that I still held the object that Dr. Sedyeqh had given me in the gallery, and I asked her to tell me about it.  The panicked look that had almost left her face was replaced by one of abject terror.  She told me that our accidental removal of the piece would be considered theft and an act of espionage, and that her known possession of the keys would implicate her.  She advised me that she was leaving town immediately, and that I should do the same if I valued my life.  …
Not wishing to cause any more trouble for Dr. Sedyeqh, I left Baghdad on the next flight out, without incident, retaining the cylinder seal to guard it against any mishap until I was able to return it safely to the gallery where it rightly belonged. …
Arriving back in my studios in New York, I immediately began a study of the cylinder seal.  The intaglio was carved into a cylinder of gold, capped on one end by polished lapis lazuli (Fig. 1),  and on the other by a flat seal carved in gold with the symbol of Ishtar,  an eight pointed star (Fig. 2).
Here's an image of the cylinder seal on their web site.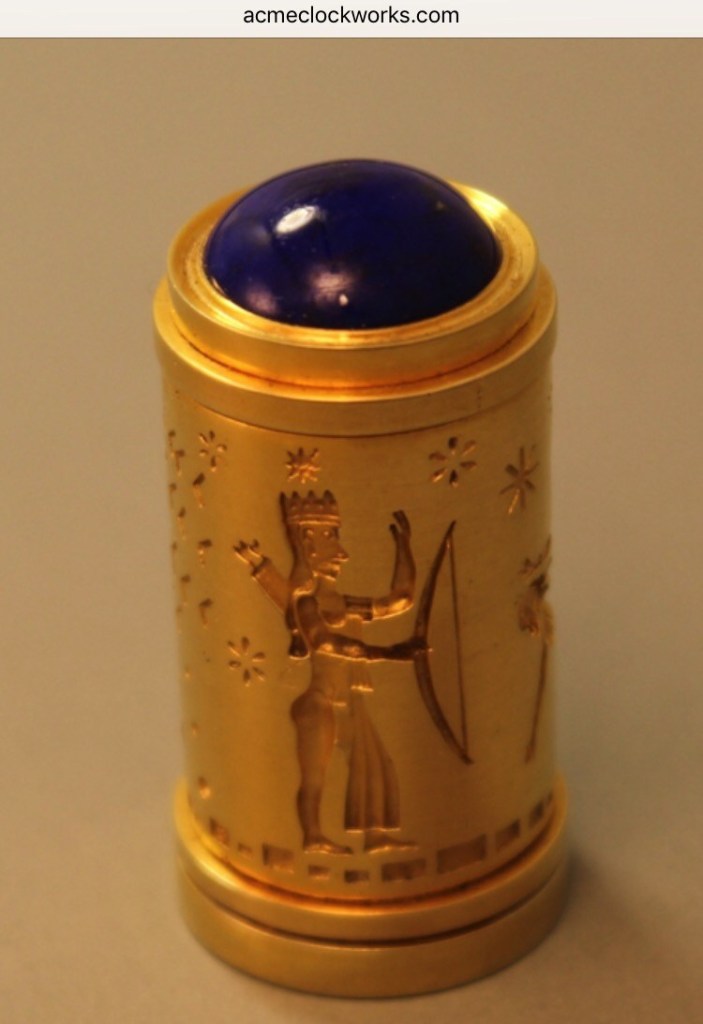 It opens to reveal two more inner seals, one of which has the bomb imprint.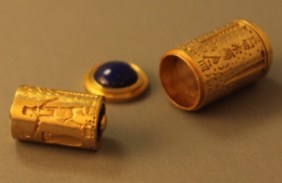 Quite inventive. Nicely done. It would be an amusing piece to own, to perhaps keep in a glass trophy case to show special friends who think you are a world traveling mystery collector.
I do hope you noticed right away that it looks in improbably excellent condition for an artifact that is supposedly 2,600 year old.
Nebuchadnezzar II did rein as a king of Babylon around 605-562 BC, so that small detail was true.
If you read the "About" page on the acmeclockworks web site, however, you see that it is a parody.
Acme Clockworks represents the work of Steven Parker.  As you browse through the site, you will also find pieces that result from collaborative efforts with other artists – the synergy of such creation is incredibly rewarding.

Over the years, Steven Parker has been active in the design and manufacture of product in two industries – toys and jewelry. The work you see here brings together the knowledge culled from that experience with the elements of mechanics, narrative, and an interactive experience woven throughout. Another element present in some of Mr. Parker's work may be apparent in the discoveries documented here of Mr. Parker's alter ego, Dr. Kent Streaver – a barely perceptible hint of parody.

We hope you enjoy the work shown here, and look forward to adding more to the mix.