Photographer Olivier Grunewald first learned about the Kawah Ijen volcano in 2008. A sulfur mine by day, this infernal Indonesian mountain turns into a surreal alien landscape when the night comes. His pictures—taken in very dangerous conditions—are stunning: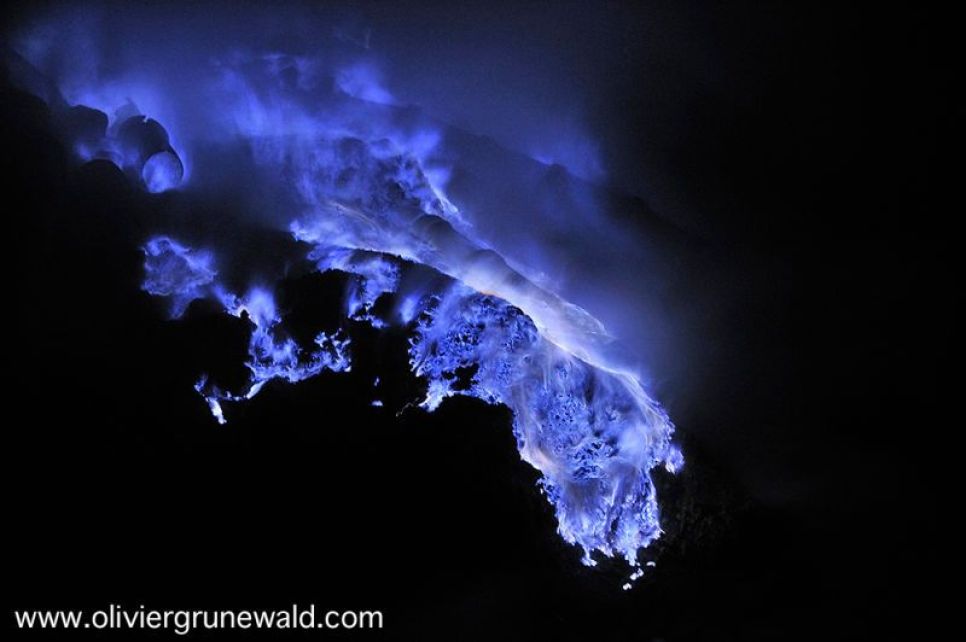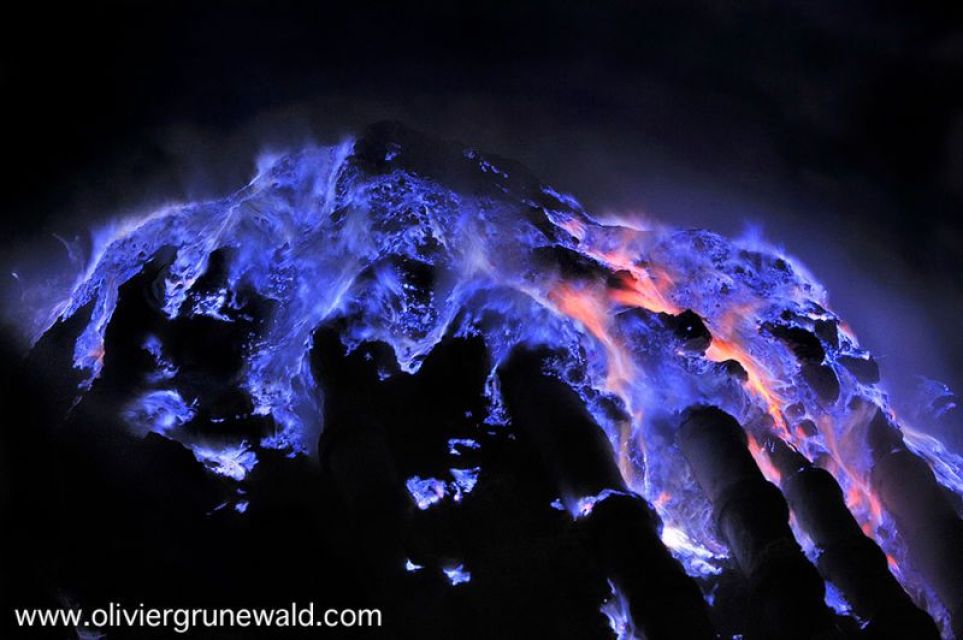 He and his friend Régis Etienne have gone back repeatedly to photograph and film this incredible unearthly patch of glowing blue lava. A recent 52-minute documentary film is the result of 30 nights in hazardous conditions.
But it's the sulfur mine workers who are constant toiling among the flames. Here is the description Olivier sent to us:
For over 40 years, miners have been extracting sulphur from the crater of Kawah Ijen in Indonesia. To double their meagre income, the hardiest of these men work nights, by the electric blue light of the sulphuric acid exhaled by the volcano.

As the light of day recedes, an eerie incandescence appears to rise from the depths of the Kawah Ijen crater. The high-temperature liquid sulphur that flows from an active vent at the edge of the world's largest hydrochloric acid lake flares in blue flames that can reach up to 5 metres.

At the foot of the glow, miners bustle amidst the toxic fumes. They are monitoring the flow of molten sulphur as it pours out of pipes at 115 °C, and its subsequent crystallisation. Breaking up, gathering up, loading up and transporting the coagulated blood of the earth earns them a living. By the blue light of the flare, they extract hunks of sulphur, then carry them up the flank of the crater to sell for 680 roupees per kilo (about €0.04). But the loads they carry, weighing between 80 and 100 kilos, cost them their health—and sometimes their life. By working nights, they manage to haul out two loads every 24 hours, doubling their salary, avoiding the daytime heat of the Kawah Ijen cauldron, and despite the condition remaining independent

The sulphur, among the purest in Indonesia, is destined for the food and chemical industry. Whitening sugar, at the price of their health and youth, such is the destiny of these serfs to sulphur.
Olivier is a four-time World Press Photo winner. After studying commercial photography in Paris, he first began shooting natural landscapes after a shoot with rock climbers. He's been photographing volcanos since 1997. You can see more of Oliver's work at his website.
Source gizmodo.com