Spain's Mysterious Cursed Village of Witches
Nestled away within the rolling foothills of the Moncayo mountain range, in the province of Zaragoza, Aragon, Spain, is the tiny village of Trasmoz. The town has a long history, with its origins as a lordship dating back to the 12th century. It's colorful and turbulent past has seen it being conquered by Jaime I, king of Aragón, as well as a civil war with the nearby Veruela Abbey, and it is also known as being the temporary home of Manuel Jalón Coróminas, the Spanish inventor of the mop and its bucket. Over the years the population has dwindled here from around 10,000 people in its heyday to just around 62 permanent residents, and it seems like just another quaint little Spanish countryside town, but this place is remarkable as having a rather sinister past as a place of witches, pagan rituals, and black magic.
Ground zero for rumors of witchcraft can be traced to the construction of the Castle of Trasmoz sometime in the 13th century. The layout of the spooky and imposing structure was a unique hexagonal shape, which was seen as a sure sign of witchcraft afoot, and it did not help that the castle supposedly constantly issued forth anomalous noises such as rattling chains, the banging of metal, which was seen as the result of witches mixing potions in their cauldrons and other mischief, as well as occasional shrieks and arcane wails. Even the construction of the castle was wreathed in myth, as it was said to have been created in a single night by a magician called Mutamín.
Many of these bizarre rumors seem to have been originally intentionally spread by the castle's very own inhabitants. At the time the Castle of Trasmoz was said to be a major den of the illicit manufacture of fake coins, which was helped along by the rich silver and iron mines of the area. It is said that in order to keep the locals from becoming too nosy about all the noise they were making, the counterfeiters intentionally began to fan out rumors that the scraping and banging of metal was from the nefarious activities of witches engaged in their dark, arcane business. The ploy worked, and it is thought that this is where the village's reputation as a haven of witches began.
Unfortunately for the villagers, the rumors spread by the fake coin forgers worked a little too well. Before long the rumor grew to encompass the whole village, until it was seen as a veritable hive of witches and warlocks, a cursed place and a center of the dark arts that stirred fear and superstition in the surrounding areas, an idea still held on to by many today. It got to the point that the neighboring monastery of Veruela had the entire village officially excommunicated from the Church, although this is often seen as just being an excuse to force Trasmoz to pay taxes to them, something from which had previously been exempt as it didn't officially belong to the Catholic Church. With the excommunication carried out and in full effect, the villagers nevertheless refused to beg for forgiveness, with many of them Jews and Muslims and not even Christian, which only furthered their reputation as Devil worshipping heathens.
The friction between Trasmoz and Veruela Abbey would continue for many years, eventually almost leading to civil war when the abbey began trying to divert the village's irrigation water without paying. Although the King of Spain, King Ferdinand II, deemed Trasmoz to be in the right in terms of the water dispute and ruled in their favor, the Church took this as an affront. Seething that they had been bested by this witch infested, excommunicated town, the Catholic Church went about getting revenge. Pope Julius II gave permission to dust off the powerful and rarely used Catholic curse "psalm 108 of the Book of Psalms," which is said to be a potent curse saved for the worst of times, and in this case it was invoked to curse the entire village of Trasmoz.
It was in the wake of this wicked curse that the once prosperous and populous village fell into severe decline, suffering from a mysterious epidemic of disease, famine, a fire which burned down the Castle of Trasmoz in 1520, and other myriad woes, during which time the population fell to its current low. Even to this day the village is poor and in shambles, its buildings weathered and decrepit, its nearly empty streets cracked and weed-choked, a veritable ghost town, and for many this is a result of the Catholic curse, which is technically still in effect as no Pope has ever officially lifted it. This makes Trasmoz the only whole town in all of Spain to remain both excommunicated and also cursed by the Catholic Church, as well as to incidentally still be considered a haven for witches and witchcraft.
This reputation has brought in droves of tourists to this tiny, withered village, who come for the dark history and to see for themselves what an officially cursed town of witches looks like. Trasmoz does little to downplay this history of witchcraft, and indeed there is the yearly Feria de Brujeria festival held here, during which amulets, potions, herbs, charms, and other magical witch's items are sold, and there is even the crowning of the "Witch of the Year," called the Bruja del Año. There is even a museum of witchcraft now located in the Castle of Trasmoz, where the whole legend started. If one is ever to visit, there are plenty of charms to be bought against witchcraft, so rest assured you are in safe hands.
SOURCE: Mysterious Universe
A Very Pagan Christmas Special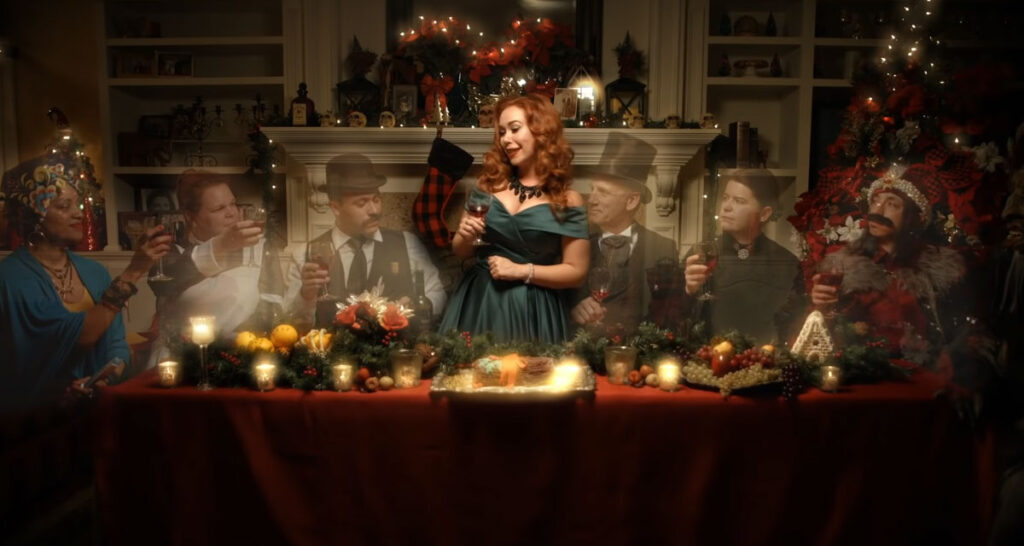 Explore the dark origins of Christmas with this pagan Christmas special from Macabre Mondays.
When you dig just under the surface of modern Christmas you begin to find the joyous holiday full of ghosts, monsters, and other darkness. For creeps like us it's basically a second Halloween. Colder, yes, but with equal amounts of macabre merriment.
Macabre Mondays host Malia Miglino invites you to join her festivities as she explores the holiday's pagan roots:
Human sacrifice, Yule logs, mistletoe…what do all 3 of these things have in common? Easy – Christmas AND Paganism. I'm breaking the door open on the origins of Christmas and Creeps, it's DARK.

From the ancient Romans who celebrated Saturnalia to the Vikings who poisoned human sacrifices with mistletoe to Charles Dickens ghost stories….the history of Christmas is long, varied, dark and stolen. So grab some wine, prepare a feast and settle in for a crazy night of lore and Yule while I celebrate with some of my favorite ghosts of Christmas's past.
For more Macabre Mondays subscribe on Youtube right here.
Satanic 'Snaketivity' on Display for Christmas in Illinois Capitol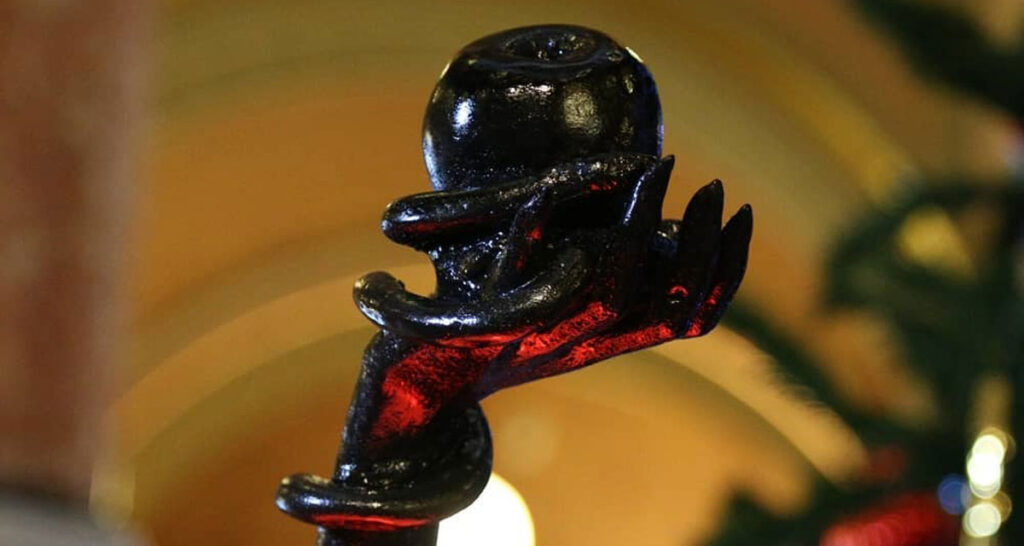 The Satanic Temple of Chicago installed a sculpture of a hand holding an apple with a snake wrapped around it for the holidays.

Snaketivity on display in Springfield, Il.
"Fill your eyes and ears with Satanic holiday cheer! The Snaketivity is here!" the Satanic Temple of Chicago posted on Instagram this week.
The "Snaketivity" is a black resin sculpture of a hand holding an apple with a snake wrapped around it. The base reads, "Knowledge is the greatest gift." It is currently on display for the holiday season in Springfield alongside a menorah, a Christmas tree, and a Nativity scene.
More weird holiday cheer:
When the Satanic Temple announced the plan in November, they wrote that the Snaketivity would be "bringing a message to the Illinois state capital that religious freedom means freedom of representation for ALL religions… not just the ones that don't offend Christians."
With a plea to "Please consider what you may do to help us bring Satan to Springfield!," the group raised $1,700 on GoFundMe for their Satanic holiday display.
"I suppose it is their free speech rights to do that, so I can't deny that. But do I agree with it? Absolutely not," one interviewee told WBMF News. "I can't disagree with the statement in itself but when it's coming from a satanic or a cult group, my response would be that everything about Satan is a lie."
"I think it's inappropriate because it's not something that should be displayed for a lot of people to be offended by," said another. "I would be offended by that myself."
The statue will remain on display in the Illinois State Capitol until Dec. 29.
Exquisite New Edition of 16th Century Occult Tome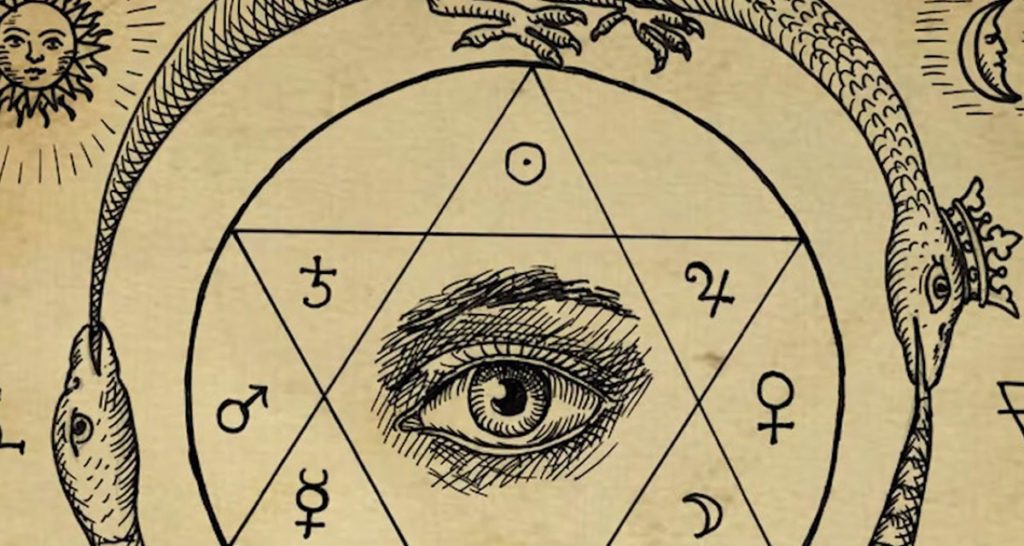 Bring this once banned book of science and the occult back to life with a beautiful new edition from Black Letter Press.

Black Letter Press is crowdfunding an exquisitely illustrated new edition of Natural Magick by Giambattista della Porta, the 1558 book about the occult that was listed in an idex of forbidden books.
From the IndieGoGo campaign:
Natural Magick was first published in 1558. Giambattista della Porta was a magus, or a natural magician, who searched nature for similarities that would serve to build a broad template of forced understanding of seeming likenesses, looking for the great connector in the exceptional and the unusual, the stuff outside of the formerly Aristotlean world.

Porta writes in the first chapter, defining the word "magic": "Magic took her name and original [sic] from Persia… In the Persian language, a Magician is nothing else but one that expounds and studies divine things; and it is the general name of wise-men in that country… Magic was begun in Persia by Zoroastres". Therefore it is not a book of ceremonial magic, spells or any religious topics but an encyclopedic work of natural wonders, a gold-mine of information and clever wishfulness written at a time when science was still in its infancy. Magic is described as a specific science of natural objects.

Natural Magic concerns itself with a variety of subjects della Porta had investigated such as magic, alchemy, optics, geometry, cryptography, magnetism, agriculture, the art of memory, munitions, and many other topics, all grouped together and refined, distilled, into a compendium of natural knowledge.

While some of della Portas described Experiments on living animals and Humans might seem curious and quite cruel to the modern reader, his researches in optics were visionary. He gave the world the first published description of the convex lens and the camera obscura. Though he did not invent these, his work is perfecting and describing them, and their inclusion in Natural Magick, contributed to the dissemination of this knowledge.

The first edition of Natural Magic (1558) ended up on the spanish Index of forbidden Books due to Porta's naturalistic approach to witchcraft and necromantic arts. A second version in 1589 was purged of the infamous – and one of the few passed on – recipes for a witches unguent. Della Porta speculates in this banned chapter, that the witches flight and orgiastic encounters with demons and the devil had a natural explanation. Hallucinogenic plants were used to create the flying ointment – a material substance with occult, but non-demonic properties.
A new edition of Natural Magick by Giambattista Dell Porta from Black Letter Press
Back this project on IndieGoGo right here.