SpaceX's Starship May Fly for Just $2 Million Per Mission, Elon Musk Says
The big spaceship-rocket duo will use just $900,000 of fuel per launch.
SAN FRANCISCO — Each flight of SpaceX's big Mars-colonizing spacecraft will have a very small price tag, if all goes according to plan.
The Starship system, which consists of a reusable 100-passenger spaceship stacked atop a huge reusable rocket known as Super Heavy, will use just $900,000 worth of propellant to get off Earth and into orbit, Elon Musk said here today (Nov. 5) at the first U.S. Air Force Space Pitch Day.
"If you consider operational costs, maybe it'll be like $2 million" out of SpaceX's pocket each time, Musk said during a conversation with Lt. Gen. John Thompson, commander of the Space and Missile Systems Center, Air Force Space Command, at Los Angeles Air Force Base.
"This is much less than even a tiny rocket," Musk added. "So, it's something that needs to be made."
During Space Pitch Day (which should be called Space Pitch Days, since it runs through tomorrow), companies try to sell Air Force brass on their space-related ideas. In keeping with this focus, Thompson mostly asked Musk about business stuff — how to spur innovation, how management and leadership styles shift as a company grows, and so on.
This may sound relatively dry to space geeks, but Musk injected some fun nuggets into the conversation. For example, the billionaire entrepreneur said he does "zero market research whatsoever," striving instead to create the Platonic ideal of a rocket or car. (Musk is also CEO of electric-vehicle maker Tesla.)
If he pulls that off, then "people will want to buy it," Musk said.
He also hyped Tesla's new pickup truck, saying that "it looks like an armored personnel carrier from the future," and announced that he had just finished watching the 1996 movie "Space Jam" (serially, during 15- to 20-minute morning workout stints on the treadmill).
Musk demurred when Thompson asked about his leadership qualities, saying he doesn't consider himself an expert on leadership. Thompson urged Musk not to "sell himself short" in this regard, teeing up a self-deprecating joke that the billionaire jumped on.
"That's true. There's plenty of others doing that," Musk said, referring to investors who are betting on the stock price of his companies (particularly Tesla) to fall.
Toward the end of the 40-minute conversation, Thompson gave Musk the floor to say anything he wanted to the audience of investors, engineers, entrepreneurs and military officials. The SpaceX founder and CEO took the opportunity to talk about something near and dear to his heart: the importance of fully and rapidly reusable orbital rockets.
This is the technological advance that will slash the cost of spaceflight by orders of magnitude, allowing humanity to become a truly spacefaring species, Musk has said repeatedly over the years.
"It's absolutely profound to have a reusable rocket," he said here today. "This is the holy grail."
SpaceX has been working to make this vision a reality, and the company has made considerable progress. SpaceX now routinely lands and reflies the first stages of its workhorse Falcon 9 rocket, and it's doing the same with the heavy-lift Falcon Heavy, which has three launches under its belt. The company is now also starting to recover and refly payload fairings, the protective nose cones that surround satellites during launch. (There is still work to do, however; for example, the second stage of the Falcon 9 and Falcon Heavy is still single-use hardware.)
Starship and Super Heavy fit well into this grand vision. Both vehicles (the spaceship, like the overall architecture, is known as Starship) will be fully reusable, and each individual craft will fly many times before it's retired, Musk has said.
These missions will be quite varied. Starship and Super Heavy are designed primarily to help humanity settle Mars, the moon and other deep-space destinations, but SpaceX wants the duo to take over all of the company's needs eventually. So, if all goes according to plan, Starship will also launch satellites (perhaps starting as early as 2021) and maybe even clean up space junk and ferry people on point-to-point trips around Earth, Musk has said.
Being able to do all of this for $2 million a pop would be revolutionary. That would be the cost of each mission for SpaceX, to be clear; we don't yet know how much the company will charge customers for a Starship mission (or "is charging," for Japanese billionaire Yusaku Maezawa has already booked a round-the-moon flight on the vehicle, with a target launch date of 2023).
But, for some perspective, SpaceX currently sells Falcon 9 and Falcon Heavy launches for $62 million and $90 million, respectively. And those prices are considerably lower than similar services offered by SpaceX's competitors.
Source www.space.com
What did Mars look like millions of years ago? New theory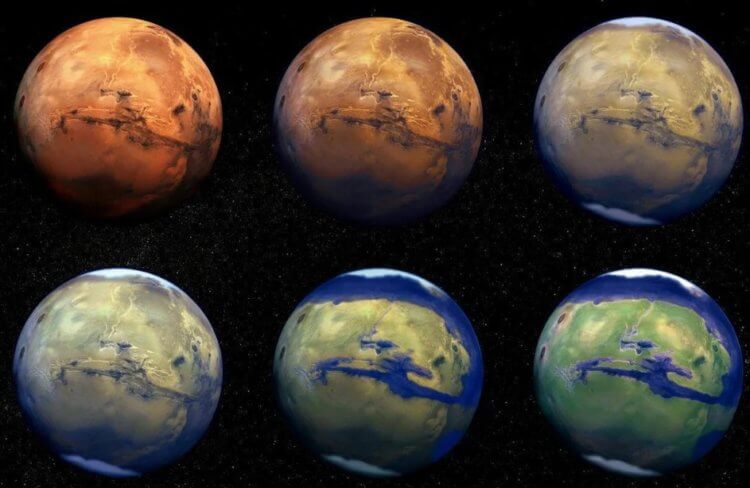 At the moment, Mars is considered the most suitable planet for human life. It is in many ways similar to our native Earth: the surface is solid, the day lasts almost the same 24 hours and periodically there is a change of seasons.
Scientists are sure that millions of years ago between our planet and Mars there were even more similarities, such as the presence of water and living organisms. He has one snag – in time immemorial the sun was much weaker than it is now, and Mars was quite far from it and was not going to approach. It turns out that the planet was cold and there could not be rivers and oceans on it.
But how, then, can explain the presence of valleys and depressions on its surface, which were clearly formed as a result of the flow of water? Canadian scientists have started looking for an explanation for this mysterious phenomenon.
In the course of scientific work, they managed to put forward a theory that greatly changes the idea of ​​scientists about the past of the Red Planet. Perhaps Mars looked like a giant snowball.
Millions of years ago, Mars was hardly a warm place
Water on Mars
The essence of the theory was published in the scientific journal Nature Geoscience . According to one of the study's authors, Anna Grau Galofre , over the past 40 years, the scientific community has believed that irregularities on the surface of Mars were formed by the movement of rivers.
However, there are distinctive features between valleys and depressions in different regions of the planet. To find out what factors could affect the structure of the irregularities, scientists decided to find a place on Earth, the surface of which is as close as possible to the Martian landscape. However, researchers have long known about the existence of such a place.
Mars on Earth
One of the most Mars-like places on our planet is considered the uninhabited island of Devon, located in northern Canada. Almost all of its surface is a cold and dry desert. If you look at the island from a bird's eye view or even from a satellite, you will notice that its surface is really very similar to the vastness of the Red Planet.
It is also full of all kinds of irregularities and scientists are well aware of how they were formed. Since Devon Island is a rather cold place, most of the rivers there flow under a layer of ice. Part of the ice sheet melted over time and the valleys left by the rivers are now clearly visible to us. In their structure, they are very different from the valleys formed by rivers that flow in the open.
So, scientists became aware of the distinctive features of the two types of valleys. Based on this data, they developed an algorithm that was able to quickly study photographs of 10,000 Martian irregularities.
Among them, the researchers found many valleys, which clearly formed under a thick layer of ice. Most of them were formed about 3.8 billion years ago. It turns out that once upon a time, although not all, but most of Mars, was covered with ice and snow. But scientists assumed that it was very similar to our blue-green Earth.
Life on Mars
If Mars really was covered with layers of ice, then the probability of the existence of living organisms on it increases markedly. The fact is that microorganisms could well inhabit the waters hidden under the ice sheet. And this shield, in turn, could perfectly protect them from cosmic radiation.
Indeed, the Red Planet has a very weak magnetic field, which is precisely what serves to protect against harmful radiation. So, despite the changes in the idea of ​​the appearance and conditions of ancient Mars, the probability that at least primitive creatures lived on it remained. Maybe someday their traces will be discovered by devices like InSight and we will gain confidence that life on other planets can exist.
The computer algorithm created within the framework of scientific work will not disappear. According to the developers, it can be useful for studying the past of the Earth.
Technologies existing at the moment allow us to look at history no further than 5 million years, and a new algorithm can reconstruct the history of glaciations on our planet over the past 35 million years. It sounds intriguing, so we can only hope that new discoveries will not be long in coming.
Neutron star formed in front of astronomers
Thirty-three years ago, astronomers recorded a supernova explosion, 1987A. And just recently they found a neutron star formed in this cataclysm. This is the youngest such object in the history of observations. For some time, scientists doubted that they were observing exactly a neutron star, but fresh scientific work has provided very convincing evidence of this.
On February 23, 1987, male astronomers (and also female astronomers) received a gift from the Universe. On this day, supernova 1987A was discovered, which exploded in the Large Magellanic Cloud – a nearby dwarf galaxy, a satellite of the Milky Way.
As you know, a star dying in a supernova explosion (or rather, what is left of it) turns either into a black hole or into a neutron star. Scientists were confident that in the case of 1987A, the second option was realized. This was indicated by the flux of neutrinos recorded by terrestrial detectors simultaneously with the light of the flash.
Recall that a neutron star is a celestial body with a diameter of only a few kilometers, which, at the same time, is comparable in mass to the Sun. Due to the monstrous density and the most powerful magnetic field, the matter inside such an object is in states that cannot be reproduced in terrestrial laboratories. Therefore, neutron stars are of great interest to physicists. And, of course, astronomers who seek to figure out the ins and outs of every object and process in the universe.
The 1987A explosion gave researchers the first chance to study the neutron star that formed before their eyes and understand what these celestial bodies are like immediately after birth. All other known neutron stars are much older.
So, the second place belongs to the recently discovered object , which is 240 years old, and even it is surprisingly young compared to its counterparts millions of years old.
Let us clarify that new supernova explosions are discovered regularly and in large numbers , but in galaxies that are too distant to make out the formed neutron star. And the 1987A flare occurred only 168 thousand light years from Earth. It was the closest supernova explosion seen since the invention of the telescope.
Alas, by pointing telescopes at the site of the 1987A flare, astronomers saw only a dense cloud of dust formed during a supernova explosion. For more than thirty years, using increasingly powerful instruments, scientists have tried to discern at least some trace of the central body. And finally they succeeded.
In 2019, the ALMA radio telescope helped astronomers see the supernova remnant 1987A in unprecedented detail. Thanks to this, astronomers discovered that there is a compact and very hot object in the center of the dust cloud. Although the "heater" itself remains hidden behind the dust curtain, the telescope records the radiation of the dust heated by it.
"We were very surprised to see this hot ball formed in a thick cloud of dust in a supernova remnant," says co-author Mikako Matsuura of Cardiff University. "There must be something in the cloud that heats the dust and makes it glow This is why we assumed there was a neutron star hiding inside the dust cloud.
However, the radiation power seemed suspicious to scientists. Could a neutron star be so hot? Or is there something else lurking in the center of the dust cloud?
"We thought that such a neutron star might be too bright to exist. But then Dani Page and his team published a study that showed that a neutron star could actually be so bright because it is so young," Matsuura says.
The scientific article , published in the edition of the Astrophysical Journal by Dany Page of the National Autonomous University of Mexico and his colleagues, set the record straight. Experts have shown that the dust-heating object at the center of Supernova remnant 1987A not only could be a neutron star, but could hardly be anything else.
According to the calculations of Page and his co-authors, the temperature of a neutron star 30 years after its birth should be five million degrees. This is just enough to explain the observed heating of the dust.
In addition, the central object is located exactly where the neutron star should have been thrown by the explosion (by the way, at the time of the cataclysm, it was moving at a speed of hundreds of kilometers per second).
Finally, recall that the neutrinos recorded in 1987 indicate that a neutron star was formed during a supernova explosion, not a black hole.
However, theoretically, the central object can be a black hole, onto which a dense stream of matter falls. But this requires a fantastically accurate adjustment of its properties to observational data, which is extremely unlikely. So experts are confident that they have finally "groped" for a newborn neutron star.
We now see the 1987A supernova remnant as it was 33 years after the explosion. Perhaps, after a few more decades, the dust cloud dispersed a little and began to transmit the radiation from the central object. Scientists are looking forward to the moment when these rays will reach the Earth.
Scientists have confirmed that something else existed before our universe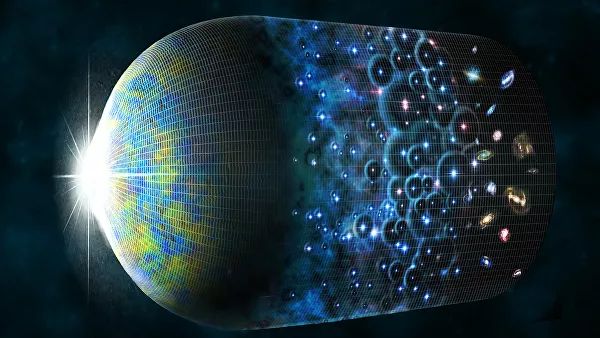 American scientists, using mathematical tools, described the inhomogeneities of the cosmic relic radiation that arose immediately after the origin of the Universe. 
The authors believe that their results confirm the correctness of the Big Bounce hypothesis, according to which the emergence of our universe was the result of the collapse of some "previous" universe. The results are published in the journal Physical Review Letters.
While Einstein's theory of general relativity explains a wide range of astrophysical and cosmological phenomena, some properties of the universe remain a mystery. In particular, it cannot explain the uneven distribution of galaxies and dark matter in space.
Since the 1980s, Pennsylvania State University researchers have been developing a cosmological paradigm based on the concept of loop quantum gravity. This paradigm, called loop quantum cosmology, describes all modern large structures in the Universe as quantum fluctuations of space-time that took place at the birth of the world.
According to the generally accepted theory of the Big Bang, it all started with a singularity – a state in which all matter and energy were compressed into one point. Then, in the first fraction of a second, during a period called inflation, space swelled to enormous proportions. But the Big Bang theory does not explain what happened before the singularity, so this state cannot be described in terms of the laws of physics and mathematics.
Scientists at Pennsylvania State University hold the alternative Big Bounce hypothesis, according to which the current expanding universe arose from the supercompressed mass of the universe of the previous phase. To describe this state, they use a universal mathematical apparatus that combines quantum mechanics and the theory of relativity.
The authors trace the origin of the structure of the Universe to the smallest inhomogeneities recorded against the background of microwave relict cosmic radiation, which was emitted when the Universe was only 380 thousand years old.
But this radiation itself has three mysterious anomalies that are difficult to explain using classical physics. These deviations are so serious that many physicists began to talk about a crisis in cosmology.
In a new study, scientists argue that, from a loop quantum cosmology perspective, describing inflation removes two major anomalies in the CMB distribution.
"Using quantum loop cosmology, we naturally resolved two of these anomalies, avoiding a potential crisis," co-author Donghui Jeong, associate professor in the Department of Astronomy and Astrophysics, said in a university press release. anomalies suggests that we live in an exclusive universe."
The authors believe that the inhomogeneities of the CMB are the result of inevitable quantum fluctuations in the early Universe. During the accelerated phase of expansion – inflation – these initially tiny fluctuations were stretched by gravity, reflected in the observed irregularities.
"The standard inflationary paradigm, based on general relativity, views spacetime as a smooth continuum," says the first author, Professor Abhay Ashtekar, director of the Pennsylvania State Institute of Gravity and Space. but upon closer inspection, you can see that it is woven from densely packed one-dimensional strands. And quantum strands are woven into the fabric of spacetime. With these strands, loop quantum cosmology allows us to go beyond the continuum described by general relativity."
Scientists hope that new satellite missions such as LiteBIRD and Cosmic Origins Explorer, aimed at detecting traces of primary gravitational waves in the background of the background radiation, will confirm their findings.