Space Billboards are Coming to a Night Sky Near You
Forget the arms race for a moment and consider what technology companies are doing to participate in the emerging space economy. From space tours to the implementation of 5G satellites, the final frontier for capitalism is outer space. So, naturally, tech companies are finding new ways to make space-related services valuable to the earth economy, and one of these schemes is selling ad space in the sky.
Can you imagine looking up in the night sky to see a McDonald's ad floating in light amongst the stars?
A Russian marketing company is supposedly working on the development of networkable, illuminating satellite arrays that could coordinate in the upper atmosphere to create words and logos in the sky.
"The plan, as demonstrated in a StartRocket video (above), is to use the satellites to light up different messages for up to six minutes at a time, with the constellation located between 250 and 310 miles above Earth. The video shows the satellites getting into formation to spell out the word "Hello." Next up is an upside-down McDonald's logo floating through the night sky, and then a message from KFC tempting us with its greasy goodies." [Source]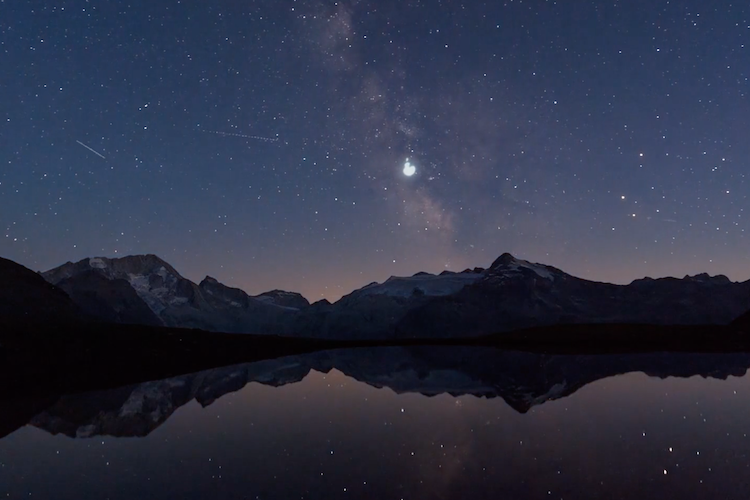 Whether or not this company is a joke and this story is really just a marketing game remains to be seen, but never the less, we do have the technology to do this, and at some point in the future it will happen. Therefore, it's important to call out the mindset that would strive for and actually unleash something like this onto the psyches of everyone below. Here's a few choice quotes from the company's website, starting with a choice one by Andy Warhol..
The dream

Andy Warhol said: "The most beautiful thing in Tokyo is McDonald's. The most beautiful thing in Stockholm is McDonald's. The most beautiful thing in Florence is McDonald's. Peking and Moscow don't have anything beautiful yet.

Space has to be beautiful. With the best brands our sky will amaze us every night.

No ugly place there after this. [Source[
Here's the alleged timeline for this project. Of articular note is the 'seeking funding' stage, which is really what stuff like this is all about: people having to come up with evermore clever ideas to make money in a culture driven by debt-based fiat currency and the ideals of success and happiness being inextricably linked to making money.
May 2018 — Start

June – August 2018 — Working out the technical solution. Contract with Skoltech.

October 2018 — Testing the technical solution of display on stratospheric balloons with Skoltech. Patenting process. Search for sponsors of the first launch.

January 2019 — Roadshow for anchor investors. Building engineer and managing teams. Developing MVP and the formation control system.
Here's a marketing video for the scheme.
Final Thoughts
So, what do you think of the idea of seeing the night sky polluted with tons of ads and propaganda? What effect do you think this would have on the human psyche, which looks to the heavens for solace, escape and inspiration?
About the Author
Vic Bishop is a staff writer for WakingTimes.com. He is an observer of people, animals, nature, and he loves to ponder the connection and relationship between them all. A believer in always striving to becoming self-sufficient and free from the matrix, please track him down on Facebook.
This article (Space Billboards are Coming to a Night Sky Near You) was originally created and published by Waking Times and is published here under a Creative Commons license with attribution to Vic Bishop and WakingTimes.com. It may be re-posted freely with proper attribution, author bio and internal links. 
Quantum Physicists Have Successfully Teleported A Qutrit For The Very First Time
Quantum teleportation has been a term related to qubits for the longest time and recently, researchers have successfully teleported 'qutrits'. The research published on American Physical Society is a major breakthrough that will propel the quantum computation prowess to incredibly faster speeds.
Scientists have been able to teleport qubits, Quantum Bits of information that have binary states – 0 or 1 – but qutrits have three possible states – 0, 1 and 2. Qubits and qutrits have the property of being able to exist in multiple states at the same time, i.e. superposition which allows for amazing applications in quantum computing.
Quantum Teleportation is based on quantum entanglement, through which the properties of a quantum particle can be transferred to a distant particle without physical movement of the particle itself. It is nothing like the 'Warp Speed' or 'Warp Drive' that has been popularized in sci-fi but rather, it is just two interlinked particles revealing the properties of the other particle. Quantum teleportation is possible by using photons which carry the quantum information about the two possible states in case of qubits or three possible states as in qutrits.
Splitting the photon into three beams through the use of an intricate contraption consisting of calibrated setup of lasers, beam splitters and barium boratecrystals, the researcher created their qutrits. They also said that it could be possible to use ququarts in the future. With 0.75 fidelity over 12 states of entanglement, the researchers were able to prove that qutrit teleportation is possible.
The research will surely propel the quantum technology to the next level as quantum teleportation is an integral part of quantum computing applications.
Source mashable.com

"Thousands of Solar Reflector Satellites" Could Warm Up Mars
Space Retreat
Since 2015, SpaceX CEO Elon Musk has made it abundantly clear that he really wants to nuke Mars in order to terraform it — and, presumably, turn it into a habitable space retreat for billionaires.
But he might have a plan B up his sleeve that wouldn't risk turning the Red Planet into a gigantic planet-sized Chernobyl.
"Might make sense to have thousands of solar reflector satellites to warm Mars versus artificial suns," Musk tweeted on Tuesday. Then he added, cautiously: "TBD."
Martian Mirrors
That idea might not be as crazy as it sounds: using orbital mirrors to terraform Mars was suggested by University of Arizona undergrad Rigel Woida back in 2006 — a suggestion that won him a NASA fellowship at the time.
According to Woida's paper from 2007, the idea was to have a "network of two to three hundred, 150 meter diameter reflectors in monolith form or a series of small clustered groups" to warm the Martian surface.
Artificial Suns
Musk also elaborated on his Plan A — "nuke Mars" — on Twitter: drop a "continuous stream of very low fallout nuclear fusion explosions above the atmosphere to create artificial suns." After all, the Sun is technically an "immense thermonuclear explosion" itself, as he explained last week.
But for that to ever happen, NASA would have to change its stance on the matter. Just over a year ago, NASA research found that nuking Mars wouldn't be enough to turn it into an Earth-like holiday destination.
READ MORE: Elon Musk ponders solar reflectors instead of nuking Mars to warm it up [CNET]
We Have a Cure for the Deadliest Form of Tuberculosis
The Food and Drug Administration just approved the third and final part of a new drug regimen shown to cure the deadliest strain of tuberculosis.
The regimen involves taking five pills every day for six months straight, but that's nothing compared to the existing treatment, which requires 40 daily pills for two years, according to The New York Times. And in a small clinical trial, the new treatment was shown to cure the rare, deadly XDR strain of tuberculosis in 90 percent of people, suggesting that the disease could soon become much more manageable.
Tuberculosis is still a major problem in a large chunk of the world. The disease is the most common infectious cause of death on Earth, the NYT writes, and the XDR strain had already built up a resistance to all four types of antibiotics that doctors currently use to treat it.
Ten million people catch XDR tuberculosis every year. Three-quarters of those people die before they get any treatment, per the NYT, and existing cures only worked on just over a third of the remainders.
The new treatment requires three separate drugs, the newest of which just got FDA approval. Gerald Friedland, one of the scientists who discovered the XDR strain told the NYT that he thought the recent experiment was "a wonderful trial."
"If this works as well as it seems to," he said, "we need to do this now."