Some unclear and controversial issues in cryptozoology
Recently, the famous ufologist and paranormal researcher Nick Redfern (Nick Redfern) expressed his opinion on cryptozoology.
He says:
"Cryptozoology is actually considered a discipline that deals with the study and search of animals unfamiliar with science. However, I have to say that I prefer the name Monster Hunting, because to me, a word like cryptozoology seems too incomprehensible.
I am sure that most people, if you ask them what cryptozoology is, will have no idea. But if you tell them "monster hunting," people understand what it's all about. "
According to Lauren Coleman, director of the International Museum of Cryptozoology in Portland, "Cryptozoology" literally means the study of hidden and not yet discovered animal species.
It is estimated that 1.8 million species of living creatures on planet Earth are now known to humans, while their total number is estimated to be around 7 million (!).
Therefore, while cryptozoology is often ridiculed as pseudoscience, it is, in fact, a necessary and very important area.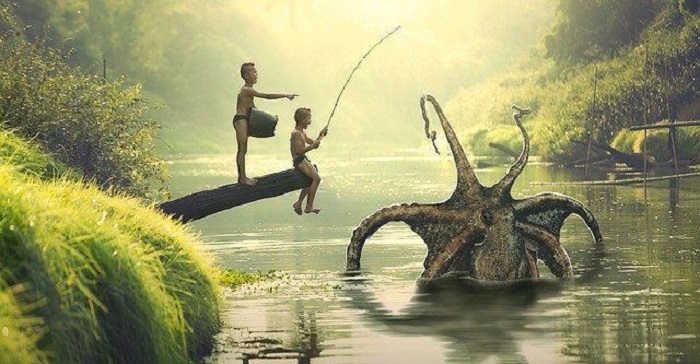 However, if you look at those creatures that cryptologists often research, it turns out that they are not really animals. Or, at least, they are not animals to the extent that we refer to the term.
For example, Yeti, Bigfoot, Yowie and others. Most Yeti researchers will say that these creatures are unknown species of large primates or have survived to this day by disappearing humanoid monkeys. But things get complicated when there are stories of Yeti in which these creatures behave much differently than familiar animals.
There are many reports that the Yeti have been observed in close proximity to UFOs. There are also many stories in which people who were too close to the Yeti experienced strange feelings of disorientation and fear, and they seemed to be controlled by these Yeti.
There are even stories where the Yeti had other "superpowers". For example, after meeting with them, some eyewitnesses experienced "wasted time syndrome". That is, some events were not in their memory and they did not remember any of what happened to them.
Some Yeti researchers believe that they are able to isolate and control infrasound, and that it can affect humans. Low-frequency sounds are unfavorable to the human nervous system.
In a February 27, 2019 in article on the Exemplore site, researcher Dermal Rozan wrote that they could emit sound waves.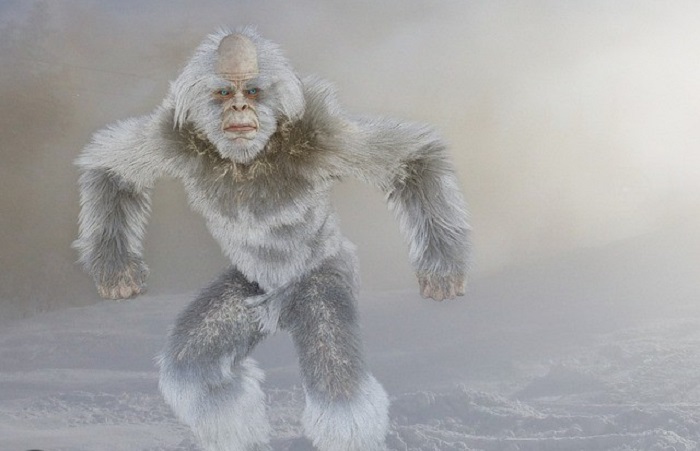 There are stories of eyewitnesses who saw the Yeti literally disappear in the bright light. Not all of these stories are so widespread. Against the backdrop of the total mass of messages, they are a minority, but they exist and cannot be thrown away simply because they do not fit into the general concept.
If the Yeti are mere primates not yet discovered by science, then they should not associate with strange flashes or UFOs, sound waves, etc. After all, not all known large humanoid monkeys, such as gorillas or chimpanzees, have been seen in these situations. If Yeti is just a monkey, then it will act like a monkey.
Another object of cryptozoology is Dogman. In the images, he is often portrayed as a werewolf and almost always described as a wolf walking vertically on both hind legs.
Eyewitness reports indicate that very often the Dogmen were seen near some ancient religious buildings, such as mounds, as well as near intersections, cemeteries or old bridges. All these places have traditionally been associated with supernatural and paranormal phenomena.
If Dogmen are any real animals, what is the reason for them to live only on ancient mounds and bridges?
Cryptologists are also interested in so-called lake monsters. The most famous of them is Nessie from the Scottish lake Loch Ness. Many Nessie seekers base their arguments on a scientific basis.
They think Nessie is a dinosaur that has survived to this day, or is another unknown animal. But if we look at Nessie's extensive research history, it turns out that Nessie is often associated with supernatural phenomena.
For example, renowned researcher Ted Holiday regularly complained that, during his attempts to film Nessie with a camera or take a picture, his equipment had collapsed at the most crucial moments. If he had managed to take pictures, then they were damaged.
Other Nessie researchers, at the most important moments, regularly began to experience strange discomfort.
The famous occultist Alistair Crowley owned privately the Boleskin House (now burnt down) on the shores of Loch Ness. It is alleged that he performed various magical rituals there.
UFOs are often seen above the lake itself, and in the 1970s, Ted Holiday met up with Men in Black near Loch Ness.
Do you find that all these creatures are probably not animals that have not yet been discovered by scientists, but are something supernatural? Should they be excluded from cryptozoology?
Yes… if cryptozoology is thought to be concerned only with the search for unexplored true flesh and blood animals.
And with Dogman, Yeti, etc., researchers must deal with another field of action – the occult and the paranormal.
A video of the second "confirmed" appearance of Nessie appeared on the internet
A Nessie fan recorded a second meeting with her this year. O'Faodhagen, a 55-year-old employee of the Irish hospital, claimed to have seen Loch Ness floating in Urquhart Bay.
He managed to film this meeting. He is delighted with the video. O'Faodhagen sent his results to the Official Loch Ness Monster Observation Register, and they confirmed the footage as an official second observation in 2020.
The video shows a dark figure rising from the water.
She splashes, creating waves and a white foamy substance. Then it goes under water and reappears. Despite the fact that he saw about 1.2 m of the creature emerging from the water, O'Faudhagein estimated that it probably had a length of at least 3 m. The frames that show this creature last 1 minute 38 seconds. O'Faudhagain said that Nessie had not appeared for the past three months. He decided that Nessie went to quarantine.
Her appearance surprised him. He believes that Nessie has stepped out of the depths to say hello. O'Faodhagen noticed that during her appearance on the lake there is no activity. On January 18 of this year, he observed her appearance from the water. Gary Campbell, keeper of the Official Loch Ness Monster Observation Register, confirmed this observation.
According to O'Faodhagen, it is very exciting to get a new observation, especially when it happened almost immediately after the first. And he seems to know what he is looking for.
Last year, he managed to capture 4 encounters. 2019 was a record year for people who saw the Loch Ness Monster. A total of 18 observations were confirmed. This is the biggest since 1983.
Some believe in the existence of Nessie, others are critical. Perhaps it is not worth denying that a strange creature unknown to science lives in the dark waters of the lake. If you have not seen any phenomenon, this does not mean at all that it is not.
A creature assembling a Mermaid discovered in Antarctica: Google Earth user provides evidence
A Google Earth user spoke about the incredible discovery that he managed to make in Antarctica. Thanks to the rather rapid melting of the ice, he managed to consider a strange creature in one of the images received.
He claims to have found a frozen mermaid in the ice, or a "sea creature resembling a mermaid." YouTube user Florida Maquis claims that the mermaid is by no means a natural geological formation.
The man believes that either a mermaid or some obscure sea creature froze in the ice, which very much resembles a popular mythical creature. At the same time, the user is trying to prove that his find has absolutely nothing to do with natural formations of a geological nature. The user is sure that this is some unusual creature from mythical stories. He says:
"I found in Antarctica many different things that seem to be sea creatures. I think that due to the melting of snow and ice, the mermaid became visible, its shape simply cannot be explained by ice crumbs or snow." The coordinates of the mermaid-like object are 76 ° 52'51.92 "S 145 ° 42'4.27" W.
The video above was posted online with confirmation of the man's words. It was watched by several thousand people who commented on what they saw. Most users are sure that the video does not contain a mermaid, but, for example, a walrus. Some believe that this may turn out to be a dolphin of a sufficiently large size. Some say it could be a Ningen. The author also found support from some users who have no doubt that the mermaid is depicted in the frames.
Ningen: A Humanoid Monster Hiding in the Antarctic
Since the early 2000s, there have been rumors of a creature allegedly spotted by Japanese researchers in the Antarctic. Since the appearance of the first messages, interest in this mysterious creature has grown, fueled on the Internet by alleged photos and videos. The creature was named Ningen, a Japanese term meaning "man."
First observation
It is unclear when the Ningen was first seen, but the most popular version of this appears to come from a 2chan blog post. The blogger claimed to have collaborated with a whale-owned state research institute. He was allegedly told the story of a meeting with a mysterious creature. The crew initially suggested that it was a foreign submarine. However, when an unknown large object approached, the sailors realized that it was a living creature.
This topic gained great popularity, which only increased when an article about Ningen was published in 2007 in the Japanese magazine MU, devoted to paranormal phenomena. The article deserves attention not only because of the growing interest in Ningens in Japan, but also because it contained an image of Google Maps, which, presumably, was this creature.
After the article was published, numerous photos and videos began to appear on the Internet, which allegedly depict the creature. Some photos of Ningen can be traced at least until 2006, which suggests that these images may have preceded the creature's popularity.
Appearance
Judging by eyewitnesses, the length of the Ningen is estimated at 20-30 meters. It is completely white and has a human shape. Messages diverge depending on whether he has legs, five-fingered hands or even fins, a tail, like a mermaid or tentacle. Eyewitnesses seem to agree that Ningen does not have any distinctive features that could be spoken of, although he has a mouth and eyes. In a Gaia.com article, the creature, in particular, is described as "with a small slit-like mouth and two empty eyes ."
Conspiracy
There is no convincing evidence to support the existence of Ningen. However, since in most cases an unidentified creature may be mentioned, this did not stop the rampant speculation on the Internet.
The most popular rumor spreading about the Ningen is that the Japanese government actually took messages about the creature seriously, but hid all the real evidence. But why should the Japanese government do this?
One theory is that Ningen, whatever it may be, is capable of producing a rare chemical compound that has healing properties, or that it is very toxic, and the government intends to investigate this creature.
Some went even further with this conspiracy theory , suggesting that numerous low-quality photos and videos are in fact a government disinformation campaign in an attempt to discredit factual evidence of Ningen.
However, the lack of high-quality photographs was also explained by the fact that the observations appear to occur most often at night, which complicates their documentation.
There were also rumors that men in black came to eyewitnesses. This, of course, is not confirmed (because "men in black" would not be true professionals if there was convincing evidence of their visits), and it is unclear whether this implies that the Ningen is of alien origin?
Explanations
Due to the alleged elusiveness of Ningen, cryptozoologists were not able to directly study the creature. Because of this, all information comes from eyewitnesses and photo and video evidence, often of poor quality, such as the following:
Based on available data, some suggest that Ningen cannot be a living creature at all, as many photos of the creature look more like blocks of ice. Those who think that Ningen is a living creature consider him a giant albino stingray, white whale or beluga whale. Some explanations have gone so far as to suggest that it could be a water sloth or even a mermaid, an alien, or some previously unknown species of aquatic humanoids.
Those who do not believe in the existence of Ningen have been suggested that the stories of this creature are just a modern embodiment of old tales of sea monsters.
Ningyo
Some experts made a connection between the stories of Ningen and Ningyo, a creature from Japanese folklore.
Ningyo is a term meaning "human fish", although it is often translated as "mermaid". This fish-like creature is described as having a monkey mouth, small teeth, golden scales and a quiet, flute-like voice.
It is very tasty, and the use of its meat in food significantly increases a person's life span. However, they say that catching a ningyo brings storms and misfortunes, so if a fisherman ever caught a ningyo, he usually released it back into the sea to avoid possible consequences. Seeing a ningyo ashore is considered an omen of war or some other great calamity.
Perhaps, given that rumors about Ningen originate on a Japanese site and are further popularized by a Japanese magazine, they may turn out to be a modern interpretation of folklore about Ningyo.
So what (or who) is Ningen? Well, that could be pretty much anything. Personally, we are inclined to believe that this is a natural evolution of ancient folklore, adapted to modern times. But, true, this is not as interesting as a giant monster hiding somewhere in the waters of the Antarctic.