Some Intriguing Archaeological Findings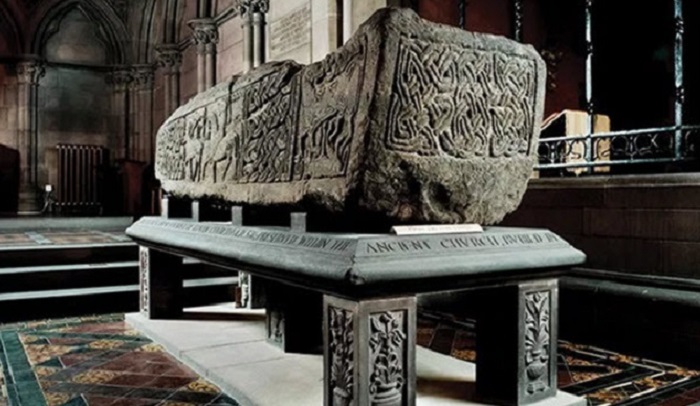 There has always been something tempting in archaeology. It's like watching Sherlock Holmes solve another riddle. The clues are there, underground, they just have to be found and identified correctly
Moreover, archeology has often been accused of "diverting attention" from the work of historians. But, this is not surprising. For example, the discovery of the remains of the body of Richard III in a parking lot in Leicester (Leicester) in 2014, removed many years of academic research.
In this article, we will not address discoveries related to "uncomfortable artifacts", but we will list some of the strangest scientifically validated archeological discoveries.
Lloyds Bank coprolite
This coprolite ( fossilized human excrement ) was called Lloyds Bank because it was found at the site where a branch of that bank was built in 1972 in the British city of York.
The coprolite was dated to the Viking Age. It's hard not to feel sorry for the man or woman whose body it came out of. It is huge – 20 cm long and 5 cm wide. It is one of the largest human coprolites discovered in history.
In addition, the wretch suffered from worms, parasitic worms that live in the large intestine. Hundreds of eggs were found in the stool.
However, the study of coprolite gives scientists a unique opportunity to study what the Vikings used to eat when they sailed to conquer England. It turned out that they ate a lot of cereals, in the form of bread and cereals. Currently, this coprolite is stored at the Jorvik Viking Center in York.
Oak bark shield
In 2015, archaeologists working in the British province Leicestershire ( Leicestershire ), find something unique for Europe – a shield from the bark of the Iron Age. The shield was made in the years around 395-255 BC. This turns upside down all the ideas for shields at the time.
Prior to this discovery, such shields were thought to be too unreliable and used for training, but not in real battles. But the same shield was worn and survived about 10 years of active use.
When archaeologists try to use the same technology to recreate such a shield from modern crust, it turns out that it is so durable that it can even withstand arrows. At the same time, it was much lighter than a metal shield or traditional wooden.
Buddha in ancient Sweden
Now we all know that the Vikings have not gotten anywhere, even to a future America, including Ireland, Russia, Baghdad and Egypt. However, the findings on the Swedish island of Helgo are very surprising for archaeologists.
In ancient times, Helgo was a large Viking trading village where goods were traded around the world. Somehow, they reached a Buddha statue, as well as an elegant decoration from an Irish church and a spoon from North Africa.
With the decoration and the spoon, everything is clear, but how did the Buddha statue got there? Have the Vikings sailed to India? This figure was Indian, from Kashmir ( Kashmir ).
According to scientists, the statuette was obtained as a result of an exchange with traders from the territory of Russia or the Middle East. Another version takes into account that some Vikings could be hired in other countries and could even visit Constantinople. Maybe they got that statue somewhere out there.
Ancient Egyptian tobacco and cocaine
One of the strangest discoveries of the last 30 years is happening in Munich ( Munich ), Germany, in 1992, when Dr. Svetlana Balabanov explores an Egyptian mummy from Bavaria and conducts a chemical analysis in it's contained substances.
To her surprise, she finds traces of nicotine (tobacco) and cocaine in the mummy. In ancient Egyptian times, both substances could only be found in America.
Many versions have been suggested about how these substances got into Ancient Egypt and how they ended up in the body of this mummy. Some scientists say that in those years, cocaine-related plants grew in Europe and may have ended up in Egypt.
Other researchers have suggested the ancient Egyptians could have sailed their ships to the Indians of ancient America. For example, they take the maritime voyage of the Egyptian Queen Hatshepsut to the mysterious country of Punt, whose whereabouts have never been established.
There is the fact that the Egyptians had excellent seaports and very large ships. They had a 21-meter-long ship that could carry 200 people.
The Govan Stones
The Govan Stones are one of the most unusual artifacts of ancient Britain. It is believed that they were created in the era of the kingdom of Strathclyde ( Strathclyde ), around 870 AD In the 19th century, when dug from the earth are gathered together, there are 46 of them, but now there are only 31. Others were accidentally destroyed in 1973.
The stones are carved like sarcophagi or coffins found in Cumbria ( Cumbria ), Scotland and Yorkshire ( Yorkshire ). The stones are elaborately decorated with various patterns and images of animals. Each stone weighs half a ton.
They are supposed to be used at funerals of nobles and approached by the king. Although where the bodies themselves are, it is not indicated anywhere.
Roman rock inscriptions in Scotland
In the early 200's AD, the Romans worked stones in a stone quarry in Cumbria, which were used to build the Hadrian's Wall. In the intervals between labor, they rested, and some of them made messages on the stones.
These inscriptions were first discovered in the early 16th century. They were then reported twice more – in the eighteenth and nineteenth centuries. At the same time, no inscriptions were given, and by the twentieth century, when scientists began examining them, the inscriptions were badly affected by erosion.
In the 1980s, the approaches to the wall where the inscriptions were located collapsed. Now, to see them, it is necessary to decent 9 meters down. Fortunately, in one of the recent dives, archaeologists have made three-dimensional models of these records, which makes it possible to study them.
According to the translations, the Romans simply wrote their names and positions. There was also a caricature of a man, probably their boss, and a penis image.
Orkney Temple
Before the arrival of the Picts ( Pikten ) of the Orkney Islands ( Orkney Islands ), in the northeast of Scotland, they were sparsely populated. Earlier in the Iron Age, there was one of the most developed settlements in Britain and Scotland. The remains found there are still controversial and lively discussions are taking place.
The whole place is officially called Ness of Brodgar, which is a cluster of stone buildings. The largest and most mysterious structure is codenamed "Structure 10". It was 27 meters long and 20 meters wide. By Iron Age standards, this is a gigantic structure, compared to other structures that were typically 5 meters thick.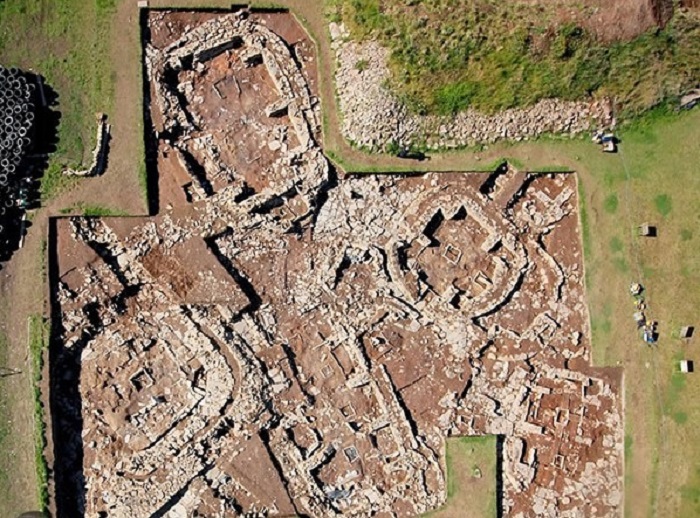 The records show that the building was built around 3300 BC. This means that this "temple" is more than 5 thousand years old.
Another mystery is that despite the thick walls, the interior of the building was only 6 meters. What was inside, no one knows, maybe some relic. Fragments have been found, which are probably remnants of furniture, but these are just assumptions.
Another striking detail is the local roofs made of various stone slabs, arranged in rectangles. However, it is difficult to say what the whole complex is. It has been identified by scholars as a temple, but it has not yet been proven that it was a religious site.
The tomb of Philip I Arab in Bulgaria
There are many ancient mounds in the landscape of modern Bulgaria, which look like small neat hills. They are often excavated by treasure hunters (black diggers) who search for rare artifacts and gold treasures. Each year, $ 1 billion worth of artifacts are sold on the black market in Bulgaria.
Because of this, archaeologists are beginning to actively excavate in 2018, discovering the country's largest mound, Maltepe. Inside, they find something much more valuable than gold – a great burial place since Roman times.
It is now believed that the mausoleum of the Roman emperor Philip I Arab ( Marcus Julius Philippus ), who lived in the 3rd century AD, is also discovered in Bulgaria. Unfortunately, the black diggers also found it. Archaeologists have found their tunnel.
Inside the tunnel, coins were found from the time of Suleiman I, i. the tunnel was dug in the 16th century. At the same time, the entire tomb was not searched and archaeologists discovered many coins and pottery. The remains of the emperor himself have not yet been discovered.
The "glue" of the Neanderthals
For a long time it was thought that the Neanderthals ( Homo neanderthalensis ) are a pretty stupid human species and cannot be compared to the Homo sapiens . But recent studies have proven more than once that this is not the case. Including the relatively new discovery that came out in the media in June 2019.
Archaeologists have discovered that Neanderthals used a special "glue" in the manufacture of tools. The substance is made of pine resin and beeswax. The mixture was kept at high temperature, then placed on a wooden or bone handle before fixing a stone on it.
The oldest houses in England
In archeology, during the excavation of the remains of homes, the concept of "national border" appeared. It means the age of the oldest ordinary people's house. While castles and the various structures of temples have been sustainable for millennia, the homes of ordinary people are usually made of less durable material. These homes rarely survived to be seen in the modern day.
In England, the 'people's frontier' is usually valued at the end of the 17th century. It was believed that the houses built earlier had simply not survived because they had been demolished long ago.
However, a 2013 survey shows that this is a misconception. The houses in Wales and the west of England were built between 1260 and 1550, at least 100 years earlier.
Ancient ritual site found three times larger than Stonehenge's Sarsen circle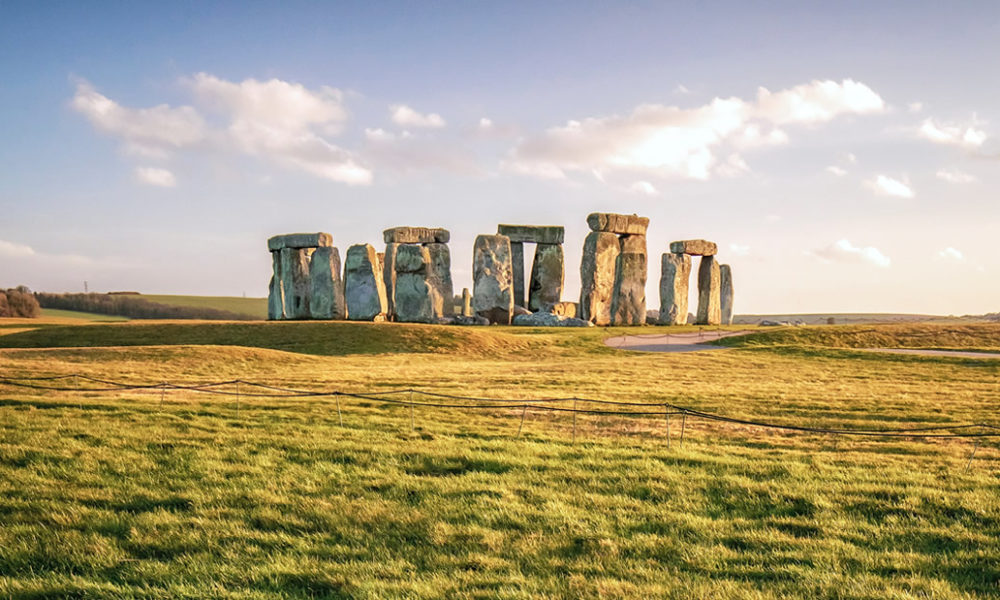 A huge ancient ritual site dating back over 6,800 years has been discovered in Poland. It is believed to have been used by neolithic people for between 200 and 250 years, with new features added every few dozen years, archaeologists have said
The circular structure is 109 meters in diameter, has three times the size of the inner Sarsen Circle in Stonehenge and about the same size as the exterior ditch of the monument.
The structure, which has been called "roundel" due to its circular shape, was first seen in 2017. Since then, archaeologists have been working on the site to understand its importance. Researchers have announced that radiocarbon dating indicates that the site was built before 4,800 BC.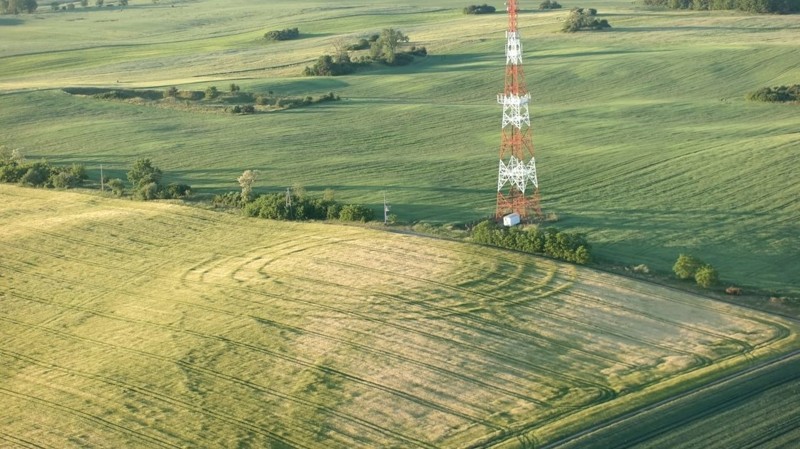 The roundel is located in the town of Nowe Objezierze, about 80 kilometers east of Berlin, Germany. It consists of a central area surrounded by three gates that lead to the interior. It then has four ditches circling it. Each ditch is larger and deeper than the last, and it appears they were dug at relatively regular intervals, with a new one being added every few dozen years. The ditches were about 4 to 6.5 feet deep.
Other similar circular enclosures dating to between 4,850 B.C. and 4,600 B.C. are found in a fairly limited area of Europe, including around the River Danube. These are generally thought to have had a ritual purpose and served as some sort of astronomical calendar.
Speaking about the new roundel in Poland, the project leader, Lech Czerniak, from the University of Gdańsk, said in a statement:
This is quite sensational, given the fact that it coincides with the dating of structures located on the Danube, considered the oldest. It seems equally important that the four ditches surrounding the central area of the structure probably did not function simultaneously, but every few dozen years, a new ditch with an ever larger diameter was dug.

"The primary focus of the project are questions about the social aspects of the functioning operation of roundels, including what prompted the inhabitants of a given region to make a huge effort in building and maintaining the roundel, where the idea and knowledge necessary to build this object came from, and how often and for how long the object was used
In addition to dating the roundel, archaeologists also excavated the area and found hundreds of bones, ceramics, stone and flint artifacts, shells and dyes. The bones are now being analyzed by experts and the team hopes to get more information about the communities that used the structure for worship. It is believed that, like the other circular enclosures, the Roundel was used as a "ritual calendar."
Czerniak said:
It is worth realizing that many so-called pre-literate communities celebrated the most important holidays once in a few, or even a dozen or so years, but very intensely
This is undoubtedly a great find that will help you understand much more of the history surrounding this site.
Source: Newsweek
Egypt hints at 'mummified lion' discovery
The Pyramid of Djoser complex at Saqqara. 
Archaeologists in Egypt have discovered the mummy of a very large animal, most likely a lion or lioness.
The Ministry of Antiquities reported on Monday that the mummy, which is much larger than most, was unearthed in Saqqara – a vast ancient burial ground south of Cairo that once served as the necropolis for the ancient Egyptian capital of Memphis.
It is home to numerous structures including the world-famous Step Pyramid of Djoser.
According to the ministry, it is still not completely clear that the mummy is that of a lion however all should be revealed when radar scans are undertaken over the next few days.
A press conference is expected next week with the full details of the discovery.
While cat mummies were very common in ancient Egypt, lion mummies were much rarer. The people of the time worshipped domestic cats as the living incarnation of the half-feline, half-woman Goddess Bastet, so it is likely that lions and other large cat species would have been especially revered.
The first example of a lion mummy – which was preserved as a skeleton – was found back in 2004.
It turned out to be one of the largest lions known to science.
Source: Washington Post
"14 million years" old vehicle tracks discovered(Video)
Even if we have not found their tracks, there is an indeterminate number of civilizations scattered throughout the galaxy and the universe, and it would be feasible that, in the vicinity of our Earth there are some.
These civilizations could be in different phases of scientific, technological and social progress. Some just beginning their process, and others that have a breakthrough so spectacular that they have become travelers of the cosmos.
This is a controversial claim, since human civilization is only intended by conventional archaeologists to extend several thousand years, not millions of years. Not to mention the idea of ​​a prehistoric civilization advanced enough to have space vehicles.
There are petrified wheel tracks found in several places, including parts of Turkey and Spain, and were supposedly left by heavy all-terrain vehicles dating back 12 to 14 million years ago.
The wheel tracks cross the faults formed in the middle and late Miocene period (approximately 12 to 14 million years ago), suggesting that they are older than those failures, Koltypin said on his website.
At that time, the soil would have been moist and soft, like a malleable clay. Large vehicles sank into the mud as they passed over it. Tire grooves at various depths suggest that the area eventually dried up.
Koltypin said the vehicles still drove over while drying, and did not sink so deeply.
The vehicles were similar in length to modern cars, but the tires were about 9 inches (23 centimeters) wide.
He said that the geological and archaeological works that contain information about these grooves are few and far between. Such references generally say that the tracks were left by cars pulled by donkeys or camels.
"I will never accept it," he wrote of these explanations. "I myself will always remember … many other inhabitants of our planet wiped from our history."
Koltypin argues that the tracks could not have been left by lightweight trucks or chariots, since the vehicles would have been much heavier to leave these deep impressions.
He has conducted many field studies in several places and extensively reviewed published studies on local geology. He hypothesizes that a road network extended over much of the Mediterranean more than 12 million years ago.
These complete roads would have been used by people who built underground cities like that in Cappadocia, Turkey, which, according to him, are also much older than those of conventional archeology.
Petrified wheel grooves have been found in Malta, Italy, Kazakhstan, France and even in North America, Koltypin said.
One of the main clusters is located in Sofca, Turkey, with tracks covering an area of ​​approximately 45 by 10 miles (75 by 15 kilometers). Another is in Cappadocia, Turkey, where there are several pockets, one of which is 25 miles by 15 miles.
Conventional archaeologists attribute many of the clues to various civilizations in different periods of time. But Koltypin said it is not right to attribute identical roads, ruts and underground complexes to different eras and cultures.
Instead, he attributes them to a unique and widespread civilization in a distant era. Multiple tumultuous natural events, such as tsunamis, volcanic eruptions, floods and tectonic disturbances that have left large fractures in Earth, have removed much of the remains of this advanced prehistoric civilization, he said.
The surrounding underground cities, irrigation systems, wells and more, also show signs of being millions of years old, he said.
But, "without significant additional studies by large groups of archaeologists, geologists and folklore experts, it is impossible to answer the question… What do you think?