Solar Storm Possible for Earth over Easter Weekend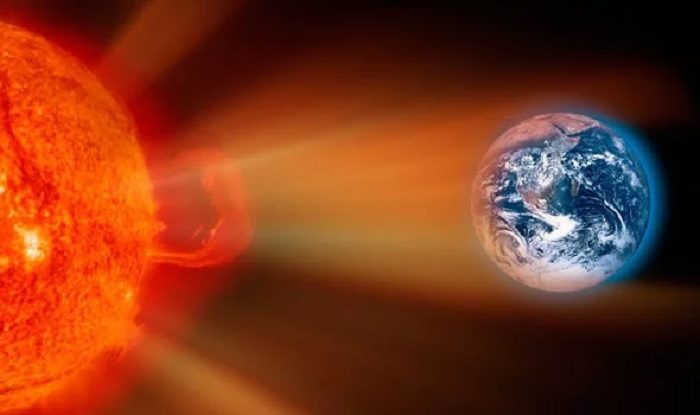 A SOLAR storm is expected to close out the Easter weekend with a bombardment of solar particles set to hit our planet on Easter Monday.
Researchers have noticed a small hole on the outer layer of the Sun's atmosphere – known as a sunspot – which is turning towards Earth. Sunspots are patches of darkness on the Sun which are caused by underlying magnetism beneath the surface. However, sometimes that magnetism bubbles up and is released in the form of solar flares, which spew cosmic particles into space.
Holes like this are common, and researchers say we are now in the midst of the outpouring of solar particles, which will continue to collide with Earth on Easter Monday, April 22.
The clash of our planet and the winds is likely to cause stunning northern lights.
Cosmic forecasting website Space Weather said: "A minor hole in the sun's atmosphere is turning toward Earth and spewing a stream of solar wind in our direction.
"Estimated time of arrival: April 22nd. Geomagnetic unrest and polar auroras are possible when the gaseous material arrives."
Auroras, which include northern lights – aurora borealis – and southern lights – aurora australis, are caused when solar particles hit the atmosphere.
As the magnetosphere gets bombarded by solar winds, stunning blue lights can appear as that layer of the atmosphere deflects the particles.
For the most part, the Earth's magnetic field protects humans from the barrage of radiation which comes from sunspots, but solar storms can affect satellite-based technology.
Solar winds can heat the Earth's outer atmosphere, causing it to expand.
This can affect satellites in orbit, potentially leading to a lack of GPS navigation, mobile phone signal and satellite TV such as Sky.
Additionally, a surge of particles can lead to high currents in the magnetosphere, which can lead to higher than normal electricity in power lines, resulting in electrical transformers and power stations blow outs and a loss of power.
The higher amounts of radiation also leave people vulnerable to cancer.
SEAN MARTIN
Express UK
Group of Chimps Uses Tools to Dig Holes and Find Food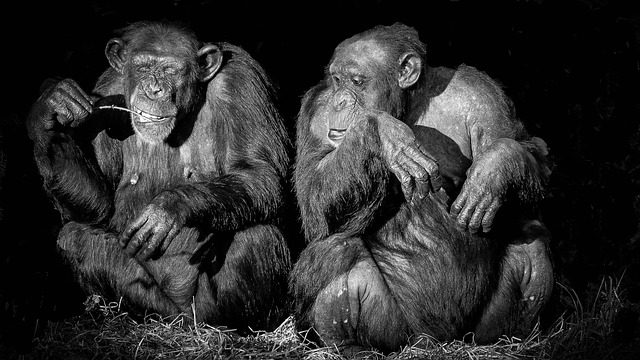 In yet another example that Planet of the Apes may have been a documentary rather than fiction, a group of chimpanzees who had never seen it done before figured out how to use tools to dig up buried food. Which will be taking our ditch-digging jobs first – robots or chimps? What about fence builders? Farmers? Isn't it enough that they're trying to evolve past us? Is this a sign they'll bury us in the process? Is this the real reason why Musk and Bezos want to leave the planet?
"This study aimed to explore ecological and anthropogenic factors influencing chimpanzee relative abundance across this highly degraded and human-impacted landscape."
Ah-ha! It's already starting! The stated purpose of this new study, published in the journal PLOS ONE, is to learn more about that fateful moment in human evolution when the negative effects of climate change (you knew it was going to ultimately be about climate change) forced early humans to give up on finding low-hanging fruit and easy-to-pick vegetables and figure out a way to dig up edible roots, prehistoric potatoes and other tubers without ruining their fingernails, fingers, wrists and shoulders – in other words, when humans first learned how to use tools.
Dr. Hernandez-Aguilar from the University of Oslo led Alba Motes-Rodrigo of the Tübingen's Institute of Prehistory and Medieval Archaeology and her colleagues in an experiment at Norway's Kristiansand Zoo using ten chimpanzees of which eight had been born in captivity and none had ever seen another chimp using tools or indicated any inclination to use rocks or sticks for digging. To simulate the effects of climate change, the researchers buried food in an enclosed area. They then left sticks and big pieces of bark around, vacated the premises and let the chimps loose. What happened next was surprising, if not a little Planet of the Apes-ishly shocking.
"The chimpanzees spontaneously used the sticks to excavate, and performed several different behaviors like digging, shoveling, perforating and enlarging. The chimpanzees were selective in their choice of tools, preferring longer tools for excavation. They also obtained their own tools – mainly from naturally occurring vegetation – and brought them to the excavation site."
According to the press release, not only did these chimps – who had never seen tool usage before — dig out the food, they spent time shaping the holes. When the sticks and bark weren't sufficient, they made their own tools. To give them more of a challenge, the researchers then took the tools away and buried more food.
"In this case, the chimpanzees preferred to use their hands more often and for longer periods than tools when digging."
Ha, you say … this proves humans are smarter, since we've figured out how to make shovels when there's no sticks or bark handy. That's true, but the team points out that the selection of tools and varied usage shows that chimps are able to work their way through complex challenges. This is the first observation of such behavior and the researchers would like to find some wild chimps doing the same thing. It's also an extremely limited study. On the other hand, it's the only way we have to figure out how early humans might have started using primitive tools because of climate change without having access to a time machine.
Let's just hope we don't have to find out all over again. We already know chimps won't be helpful when they're in charge.
Source: Mysterious Universe
Melted Remains of Hiroshima Litter Japans Beaches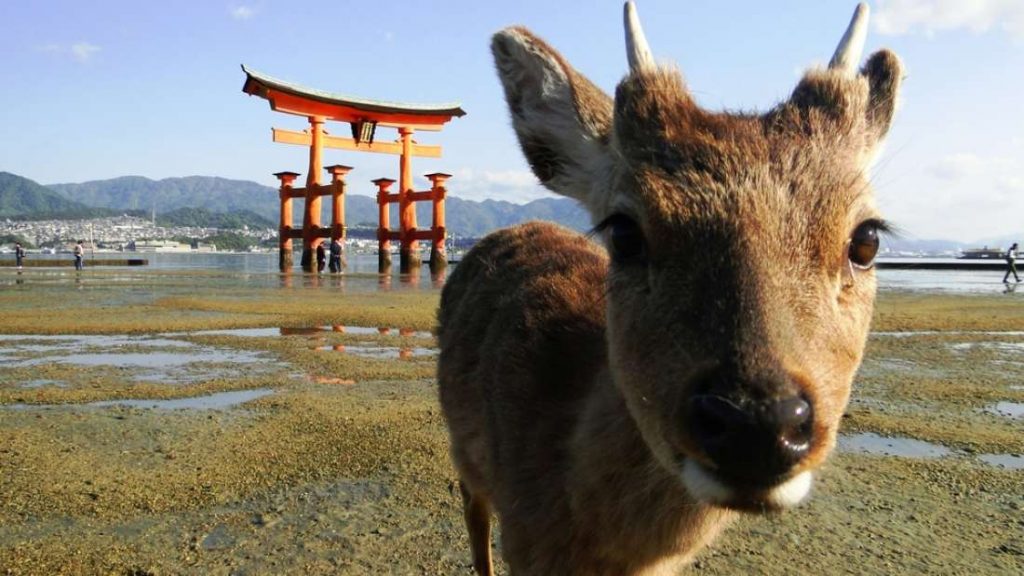 If you take a close look at the beaches of Motoujina Peninsula in Japan, you'll find the sand is littered with tiny glass beads strangely shaped like teardrops as if they've been blasted down from the skies.
It might come as no surprise that these unusual objects are the relics of the atomic bombs dropped on Japan in the dying days of World War Two. As reported in the journal Anthropocene, these pieces of debris – dubbed "Hiroshimaites" – are essentially the remains of the city that were blasted into the skies, cooked in an atomic cloud, and later rained down.
While sifting through the sands of Hiroshima Bay and Miyajima Island, geologist Mario Wannier started to notice these glassy flecks and set out on a journey to discover how exactly they were created. In the samples of sand he and his team collected, they found the spheroids and other unusual particles accounted for up to 2.5 percent of all of the grains.
Although most unusual, the teeny structures did remind Wannier of other sediment samples he had analyzed that date to the Cretaceous-Paleogene boundary, better known as that time an asteroid wiped out the dinosaurs 66 million ago. Whatever forged the structures, it must have been an unbelievably epic amount of energy – and since they were found just miles outside the epicenter of nuclear explosions that occurred just 74 years ago, the source of that energy was obvious.
On the morning of August 6, 1945, the US dropped "Little Boy" on the city of Hiroshima, marking just the second ever detonation of an A-bomb and the first nuclear weapon ever used in warfare. Over 70 percent of the city was destroyed in the blink of an eye, along with at least 70,000 people who died instantly. An estimated 200,000+ more died in the following years due to injuries and radiation.
"This was the worst manmade event ever, by far," Wannier said in a statement. "In the surprise of finding these particles, the big question for me was: You have a city, and a minute later you have no city. There was the question of: 'Where is the city ­­– where is the material?' It is a trove to have discovered these particles. It is an incredible story."
A deeper analysis of the Hiroshimaites showed a wide variety in the chemical composition, including concentrations of aluminum, silicon, and calcium. However, some were composed purely of just iron and steel, or even concrete, marble, stainless steel, and rubber.
"Some of these look similar to what we have from meteorite impacts, but the composition is quite different," explained co-author Rudy Wenk, a professor of mineralogy at UC Berkeley. "There were quite unusual shapes. There was some pure iron and steel. Some of these had the composition of building materials."
Understandably, the research team concluded that only an atomic explosion could have kicked up such a strange composition.
Next, the team hopes their research will encourage further tests on the samples to see if any samples carry radioactive elements. They'd also like to travel to Nagasaki, the Japanese city hit by the US's Fat Man atomic bomb three days later, to see if similar structures can be found.
Tom Hale
IFLScience
Despite International Ban, Iceland Plans to Kill 2,000 Whales by 2023
Mandy Froelich, Truth Theory
Waking Times
In February 2019, Icelandic authorities announced their plan to kill more than 2,000 whales over a five-year period. Because the global demand for whale meat is declining, the trade is considered to be inhumane, and the conservation argument has flaws, environmentalists are enraged by the development.
Every year until the year 2023, whalers will be authorized to harpoon 209 fin whales and 217 minke whales in Icelandic waters. The move was approved, despite falling public support for whaling in Iceland.
The nation's fisheries minister, Kristjan Thor Juliusson, claims the numbers are sustainable and based on "the latest scientific research." In a statement, the government cited the economic benefits of whaling, as well as official figures revealing how populations of the once endangered fin whale are reviving. "During the most recent count in 2015, their population in the central North Atlantic was estimated at 37,000, or triple the number from 1987," the statement reads.
But activists and conservationists disagree. The Icelandic Environmental Association, specifically, criticized the research on which the Fisheries Ministry based its quotas. And, the Whale and Dolphin Conservation (WDC), an organization dedicated to protecting whales around the world, said whaling is no longer beneficial to the country's economy.
"This is a country that's embraced whale watching and has a different relationship with whales now," said WDC spokesman Chris Butler-Stroud. "The reality is, the whale meat that's being consumed there is mostly by tourists, unfortunately. … If it was down to local consumption, this probably would be dead in the water."
Last year, Iceland was the center of a controversy after two rare blue/fin whale hybrids and at least a dozen pregnant females were killed in its waters. Activists believed change would finally occur, as a result. But, no such luck. "The Icelandic government's decision to continue to kill whales – amongst the most peaceful and intelligent beings on the planet – is morally repugnant as well as economically bankrupt," said Vanessa Williams-Grey, a campaigner for the Whale and Dolphin Conservation.
In 1986, the International Whaling Commission (IWC) placed a ban on commercial whaling. Despite being a member of the IWC, Iceland has continued to hunt whales with its own quotas. Japan also a loophole that allows killing whales for scientific purposes to bypass the International Whaling Commission ban.
"It is well known that overexploitation by the whaling industry led toserious declines in many of the world's populations of whales. … Many are now in the process of recovering, although not all," says the IWC website.
About the Author
Mandy Froelich is an RHN, plant-based chef, freelance writer with 6+ years of experience, Reiki master therapist, world traveler and enthusiast of everything to do with animal rights, sustainability, cannabis and conscious living. I share healthy recipes at Bloom for Life and cannabis-infused treats at My Stoned Kitchen.Read More stories by Amanda Froelich
**This article (Despite International Ban, Iceland Plans to Kill 2,000 Whales by 2023) was originally featured at Truth Theory and is re-posted here with permission.**