Sokushinbutsu – The Bizarre Practice of Self Mummification
Scattered throughout Northern Japan around the Yamagata Prefecture are two dozen mummified Japanese monks known as Sokushinbutsu, who caused their own deaths in a way that resulted in their mummification. The practice was first pioneered by a priest named Kuukai over 1000 years ago at the temple complex of Mount Koya, in Wakayama prefecture. Estimates of the number of self-mummified priests in Japan range between sixteen and twenty-four priests. Impressive though this number is, many more have tried to self-mummify themselves; In fact, the practice of self-mummification — which is a form of suicide, after all — had to be outlawed towards the end of the 19th century to prevent Buddhist priests from offing themselves this way. and yet the grand majority of priests who have tried to do this have failed. The reasons will take some explaining — but first, some background on the whole practice and the reasons for it.
Sokushinbutsu refers to a practice of Buddhist monks observing austerity to the point of death and mummification. This process of self-mummification was mainly practised in Yamagata in Northern Japan between the 11th and 19th century, by members of the Japanese Vajrayana school of Buddhism called Shingon ("True Word"). The practitioners of sokushinbutsu did not view this practice as an act of suicide, but rather as a form of further enlightenment. Those who succeeded were revered, while those who failed were nevertheless respected for the effort.
It is believed that many hundreds of monks tried, but only 24 such mummifications have been discovered to date. There is a common suggestion that Shingon school founder Kukai brought this practice from Tang China as part of secret tantric practices he learned, and that were later lost in China. Today, the practice is not advocated or practiced by any Buddhist sect, and is banned in Japan. The practice was satirized in the story "The Destiny That Spanned Two Lifetimes" by Ueda Akinari, in which such a monk was found centuries later and resuscitated.
So truely devote Buddhist priests are not afraid of death; but they don't normally seek it either, as this too would be an abnormal obsession with the physical world. The priests that chose to practice self-mummification were usually all older men, who knew they had limited time left to their lives anyway… and since the practice takes years to lead to a sucessful death and mummification, it cannot be characterized as an attempt to reach enlightenment quickly as a normal suicide might be. Rather, the intended purpose of this practice for these priests is to both push their ability to disregard their physical selves to the limit of their ability, and to try and leave an artifact of this struggle that will stand as a symbol of their beliefs to those that are priests after them.
The practice of self-mummification seems somewhat macabre to today's civilized population. However, for some sects of Buddhist priests, it was a form of further enlightenment. Many of these priests voluntarily went through a ten-year gruesome process of self-mummifying, belie ving that extreme physical pain and denial created an opening to a higher spiritual level, the ultimate attainment of "passing into the state of nirvana."
The practice of self-mummification in Japan has its roots in the esoteric school of Shingon Buddhism called the Shingon-Shu, established in the Heian Period (794-1185). The founder of this new Buddhist movement was a monk named Kobo Daishi, also recognized as Kukai. Kukai's teachings reflect an influence derived from Tantric Buddhism, which comes from the Great Vehicle Sect, called the Mahayana School. Between the years 804 and 806, Kukai studied in the rural province of T'ang in China, where he worked on mastering esoteric practices. After having studied in China, Kukai returned to Japan bringing with him the three theological building blocks that were the basis of the Shingon School.
The first was the idea of the all-powerful syllable, the meaning of which can be found in the etiological root of the word "Shingon." Shingon is taken from the Chinese word "Chin-yen" (true word). Chin-yen is a transliterated form of the Sanskrit word for "mantra" (sacred noise making up the universe, such as the syll able "om"). The next theological seed was the most important iconographical symbol in esoteric Buddhism, the two Mandal as denoting the impermanence of life and the inevitability of birth and rebirth in the ever-moving wheel of Samsara. The third and most influential to esoteric Buddhism's dev elopment in the Japan came back with Kukai in the translated form of two Tantric Buddhist scriptures known as the Machav airocana sutra, describing the relationship between man and the cosmic Buddha, and the Sarvatathagatatattvasamgraha sutra. These texts were especially helpful in giving Shingon the claws to dig into and plant the seeds of esoteric Buddhism's fertility in Japanese religious history. Kukai transliterated these texts into the vernacular from Sanskrit. His transliterations played a pivotal role in the formation of the Shingon School. Long after Buddhists in the native country of India discarded the two sutras and the Chinese no longer practiced their rituals, the Japanese kept the practices alive.
These secret teachings spread to a variety of places."Esoteric Buddhist history was practiced from India to Central Asia, Ceylon, China, Korea, Japan, Mongolia, Nepal, Indonesia, Southeast Asia, and Tibet." By the seventh or eighth century, secret Buddhist rituals, like self-mummification, reached an apex and developed in regions of Japan.
How to be a self-made mummy
Scientific study of the mummies and the process that created them only began in the early 1960's. It was generally expected that the mummies studied would show signs of having been mummified after death by other priests, in much the way Egyptian mummies — and almost all other mummies on Earth — have been created. The first step in that process is the removal of the internal organs, because the bacteria in these begin the process of decomposition within hours of death; with these removed, it is relatively easy to prepare, dry, and preserve the remainder of the body. But x-rays discounted this expectation… the internal organs were intact, which meant that mummification had been accomplished in some new way that scientists had not yet encountered. So the process itself was next investigated.
The actual practice was first pioneered by a priest named Kuukai over 1000 years ago at the temple complex of Mount Kooya, in Wakayama prefecture. Kuukai was founder of the Shingon sect of Buddhism, which is the sect that came up with the idea of enlightenment through physical punishment. There were three steps in the process of self-mummification that Kuukai proposed, and the full process took upwards of ten years to lead to a successful mummification.
The first step is a change of diet. The priest was only allowed to eat nuts and seeds that could be found in the forests surrounding his temple; this diet had to be stuck to for a 1000 day period, a little under three years. During this time, the priest was to continue to subject himself to all sorts of physical hardship in his daily training. The results were that the body fat of the priest was reduced to nearly nothing, thus removing a section of the body that easily decomposes after death.
In the second stage, the diet became more restrictive. The priest was now only allowed to eat a small amount of bark and roots from pine trees (mokujiki). This had to be endured for another 1000 day period, by the end of which the priest looked like a living skeleton. This also decreased the overall moisture contained in the body; and the less fluid left in the body, the easier to preserve it.
Towards the end of this 1000 day period, the priest also had to start to drink a special tea made from the sap of the urushi tree. This sap is used to make laquer for bowls and furniture; but it is also very poisonous for most people. Drinking this tea induced vomenting, sweating, and urination, further reducing the fluid content of the priest's body. But even more importantly, the build up of the poison in the priest's body would kill any maggots or insects that tried to eat the priest's remains after death, thus protecting it from yet another source of decay.
The third and last step of the process was to be entombed alive in a stone room just big enough for a man to sit lotus style in for a final 1000 day period. As long as the priest could ring a bell each day a tube remained in place to supply air; but when the bell finally stopped, the tube was removed and the tomb was sealed.
When the tomb was finally opened, the results would be known. Some few would be fully mummified, and immediately be raised to the rank of Buddha; but most just rotted and, while respected for their incredible endurance, were not considered to be Buddhas. These were simply sealed back into their tombs. But why did some mummify and some not? This is the tricky part of the whole process.
It is not clear if this is part of the process as set down by Kuukai, but in Yamagata is a sacred spring. This spring is on a mountain called Yudono, which is in fact the third sacred mountain of the three I visited in 1998. Many of the priests in the area considered both the water and the mineral deposits from this spring to have medicinal value, and may have injested one or both previous to their entombment. An analysis of the spring water and deposits revealed that they contain enough arsenic to kill a human being! Arsenic does not get eliminated from the body, so it remains after death… and it is toxic to bacteria and other micro-organisms, so it eliminated the bacteria that started the decompostion of the body.
The Shingon priests' beliefs in the path to salvation can be described by explaining the mindset behind the strange, ritualistic, practice of self-mummification. The psychological mindset of the to-be mummified person is important in allowing empathy with the priest. "Personal life and death does not matter, but being kind to your fellow beings and guiding them towardself-realization of their greater connection to the Buddha does. So, truly devout Buddhist priests are not afraid of death."
The importance of such psychoanalysis can be observed in Richard Payne's discussion of Shingon's four ritual stages of self-transformation of the mind called Shindo Kegyo. In his discussion, he us psychology as a tool for analyzing this four-pronged ritual transformation. "Clearly, ritual must be more than a mechanical technique (such as simple breathing exercises might be)." The practitioners of such rituals report elated feelings of connection to generations of previous worshipers.
Another important aspect of Shindo-Keygo, and in particular self-mummification, is the belief in Tantric Buddhism that one has the "possibility of realizing enlightenment in this very lifetime." Hence, self-mummification must have developed as a vehicle to fill the void created by the debacle of how to achieve earthly salvation, a principal very different from most Buddhist doctrine. The last phase of a Shingon priest's ritualistic development is called Kendoku (attaining realization), which usually takes place in the latter years of the priest's life when he becomes more likely to participate in self-mummification activities.
The process of self-mummification is broken down into three 1,000-day periods. Each period is characterized by physical and mental changes caused by phase-specific austerities and excruciating pain. The process is not some mystic secret, but rather a calculated scient ific means for ridding the body of material that cannot cross over into nirvana. In the first phase the priest is restricted to a diet of only nuts and grains surrounding the temple complex.During this time the practitioner endures extreme hardships, such as meditating under icy cold mountain streams for hours on end. "Japan is a mountainous country." Therefore, most of the Shingon temple complexes are in the proximity of large sacred mountains.During the second phase of the process, the fat matter that causes the body to decompose is greatly reduced. Upon entering the second one thousand-day period, the priest's body fat is near zero. In this stage, the diet is restricted even fu rther to only miniscule amounts of pine bark and roots from pine trees.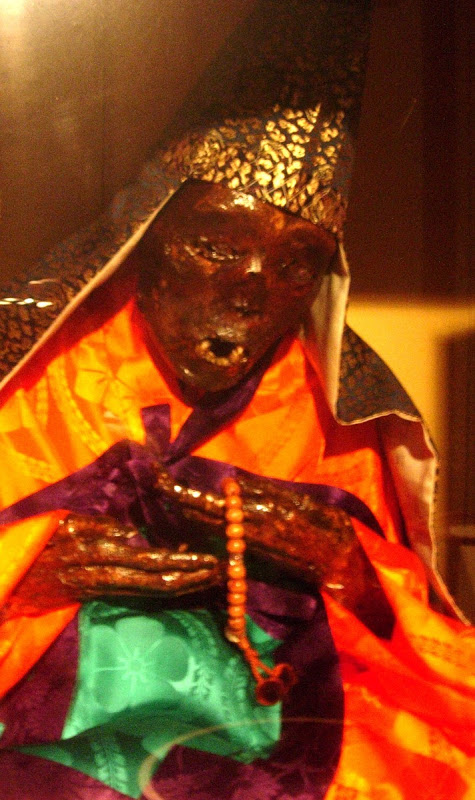 After this stage, the priest is like a "skin-covered skeleton." The dehydration helps in preservation of the body. Towards the end of the second stage, "A special tea is made from the sap of the urushi tree." This sap is used as a lacquer for furniture. The tea is a poisonous concoction that causes vomiting and sickness that further decrease the moisture in the body, but more importantly, its build up in the system prevents insects from speeding up the decomposition process. This, in turn, helps the self-mummification process by protecting the to-be mummified priest from natural elements. Upon entering the final stage, the priest is given a bell and then sealed in his tomb where a tube is inserted into a small opening in the top. Every day, he rings the bell.
Eventually, when the ringing stops, the tube is removed. At the end of the last 1000-day period, nearly ten years a fter starting, the tomb is opened and the results are seen. Out of the thousands who have tried to complete this decade long process, most are decomposed, and thus, have failed in their efforts. Only a select few actually achieve this fascinating but grisly transformation. The priests who triumphed in their endeavor are said to be one with the cosmic Buddha. While the people who tried and failed are praised for their fervor, they are not thought to be Buddha. Therefore, they enter back into the wheel of Samsara. One of the questions scientists pose is why some bodies decompose while others mummify. "In a place called Yamagata, there is a sacred spring on a mountain called Yudono." In this area, there have been reported higher levels of mummification success. It was in the same area that Kukai first pioneered this practice in Japan. Many of the priests from this prefecture reported drinking water before entombment.
Scientists Show That People Absorb Energy From Others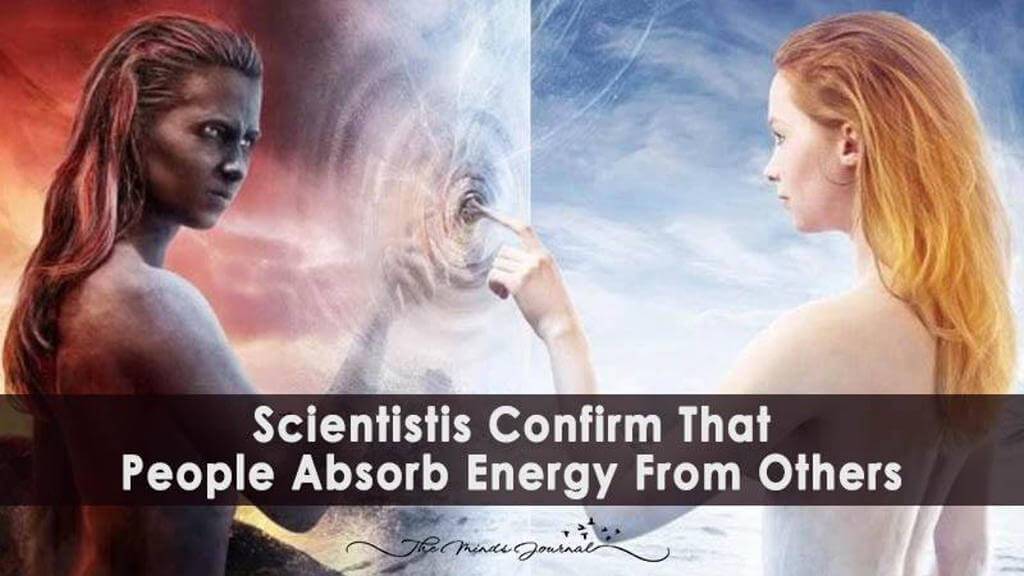 Many people claim to have felt how someone "steals" their energy or they feel exhausted by being in their presence.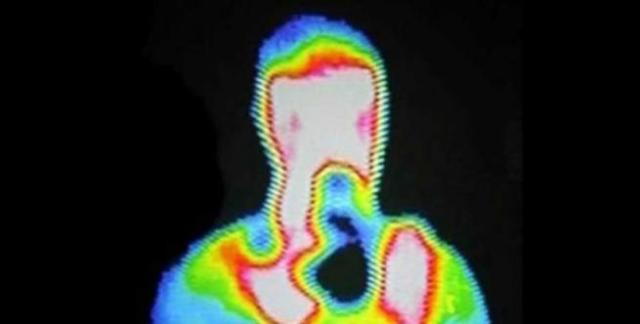 A biological research team at the University of Bielefeld has made an amazing discovery: Plants can extract an alternative source of energy from other plants. This finding could have a major impact on the future of bioenergy by providing evidence that people extract, in the same way, energy from others, as a kind of "psychic vampire".
Professor Olaf Kruse and his team studied a plant called  Chlamydomonas reinhardtii, which not only carries out the process of photosynthesis, but can also absorb energy from other plants to stay active. Studies suggest that our physical bodies are like sponges, absorb what is in the environment.
Kruse cultivated microscopic algae capable of absorbing energy from other plants and around them when they lack them. As he writes in Nature . "It is the first time that this behavior is confirmed in a plant organism. These algae can digest cellulose, contradicting all the previous notes. To a certain extent, what we are seeing are plants that feed on plants. "
Following a similar line, the psychologist, specialist in healing energy, Olivia Bader-Lee, ensures that when energy studies advance in the coming years, you can see that this also happens among people.
Flowers need water and light to grow and people are no different. Our physical bodies are like sponges, absorbing from the environment. "This explains – in his opinion – why there are certain people who feel uncomfortable in specific groups where there is a mixture of energy and emotions".
Something similar can be experienced when we are in a natural environment and we can feel how the whole body gains in vitality. This contact with vegetation has been lost over time, however, it can recover and people can find new ways to heal each other. 
New Research on the Theory that Octopuses are Aliens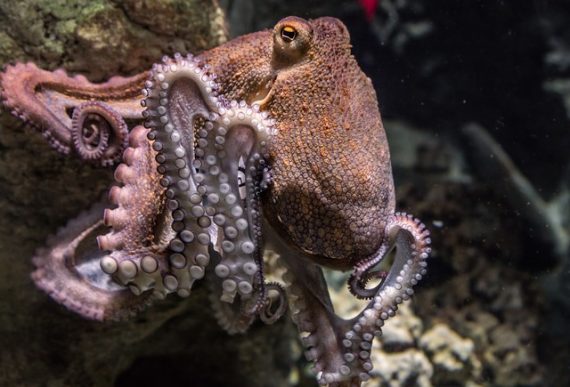 The controversial theory that mysterious and biologically complex octopus is so unique that it had to come from another planet just got a scientific paper backing it.
"Thus the possibility that cryopreserved Squid and/or Octopus eggs, arrived in icy bolides several hundred million years ago should not be discounted as that would be a parsimonious cosmic explanation for the Octopus' sudden emergence on Earth circa 270 million years ago."
OK, "should not be discounted" is not exactly a bet-your-life savings-on-it endorsement, but it's still a big deal. In a paper entitled "Cause of Cambrian Explosion – Terrestrial or Cosmic?" published in the Progress in Biophysics and Molecular Biology journal, 33 scientists researching the cause of the Cambrian Explosion – the mysterious point in Earth's history when single-cell organisms were suddenly overshadowed by complex animals – linked the panspermia or cosmic cause to the equally mysterious and sudden appearance of octopuses.
"The transformative genes leading from the consensus ancestral Nautilus to the common Cuttlefish to Squid to the common are not easily to be found in any pre-existing life form – it is plausible then to suggest they seem to be borrowed from a far distant "future" in terms of terrestrial evolution, or more realistically from the cosmos at large. One plausible explanation, in our view, is that the new genes are likely new extraterrestrial imports to Earth – most plausibly as an already coherent group of functioning genes within (say) cryopreserved and matrix protected fertilized Octopus eggs."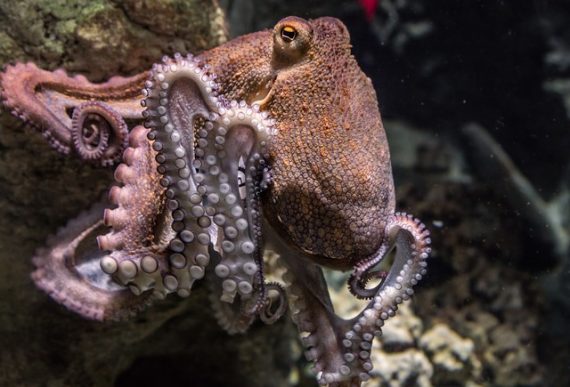 "Cryopreserved and matrix protected" sounds like a Superman origin story with creatures sent by another civilization to populate the galaxy (let's take a moment to remember Margot Kidder, who played Lois Lane to Christopher Reeve's movie Superman and passed away this week), but the paper leans more towards the idea that Earth received a bombardment of comets and asteroids that could have been carrying organisms that somehow managed to survive the cold, the radiation and the long trip. Only a complex species could devise a way to do this … an advanced species with a really big brain like … an octopus?
Yes, that seems to be the flying octopus in the panspermian ointment of this particular paper. It singles out octopuses as an (or possibly the only) advanced species that sent preserved eggs during the same period that it speculates asteroids and comets were involuntarily bringing other hardy cells and viruses en masse to ignite the Cambrian Explosion some 540 million years ago. "Speculates" because there's no physical proof yet of the real cause of the Cambrian Explosion – so panspermia, climate change, evolution and others are in play.
Octopuses are a special and highly unusual species that can edit their own RNA and slow down their evolution – a process that science can't explain yet. It's interesting that many scientists think the idea of intentional panspermia as their origin on Earth "should not be discounted." Does this mean octopuses are aliens? Only an eight-legged, squishy Jor-El knows for sure.
Here's Why Google's New 'Smartphone Addiction' Features Aren't Based on Science –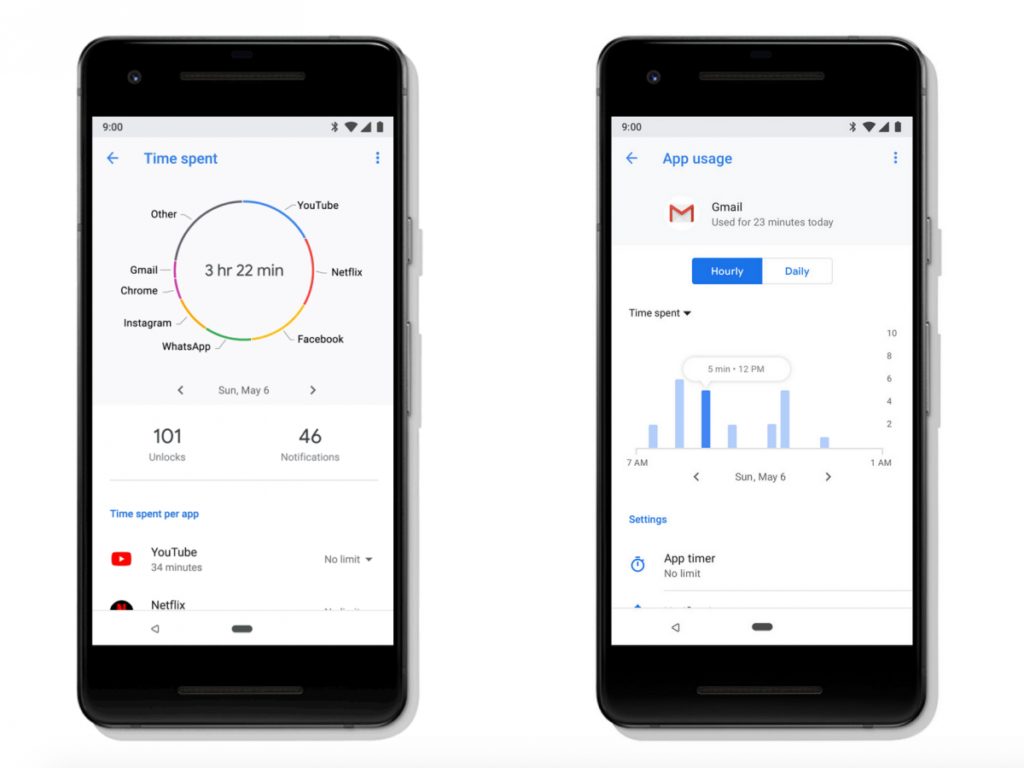 Google wants you to stop using the term FOMO.
Instead of complaining about your fear of missing out, the search engine giant would like you to celebrate – "JOMO," the joy of missing out. And it hopes a bunch of new features geared at preventing you from feeling addicted to your devices will help.
It's all part of an initiative that Google unveiled at this week's Google I/O developer conference called "Digital Wellbeing".
Intended to free Android users from the tether of their smartphones, the strategy includes features that allow users to do things like track the time they spend on social media, block distracting notifications, and make their screens less vibrant around bedtime.
But it's a big question whether the strategy will actually do any good. The features don't have much basis in science.
Dashboard tells you how often you check your phone
One of the primary new features in the Digital Wellbeing initiative is called Dashboard.
Dashboard shows you how frequently you check your phone or tablet, how much time you spend overall on your devices, and even how much time you spend within individual apps such as Facebook, YouTube, or Instagram.
Dashboard appears to be a reaction to the spate of recent stories that suggest that spending time on social media is universally bad for us.
Some of those reports have claimed that Facebook and Instagram in particular are making us depressed and even "eroding" our brains.
While such claims make for good headlines, there's little-to-no good research to back them up. Most of the studies that have been done so far suffer from significant shortcomings.
Some are looking at too few people to reach conclusions that are statistically significant, while others were conducted by the very companies they're studying or by researchers with clear agendas, which represent conflicts of interest that can cast doubts on results.
Some other studies suggest use of devices may be contributing to an existing problem but don't establish that they're causing a problem by themselves.
Andrew Przybylski, a senior research fellow at the Oxford Internet Institute, has attempted to replicate some of the studies that suggest a strong tie between social-media use and depression.
However, when he used larger sets of people in well-controlled environments, he failed to duplicate their results. Instead, he found either no link or one that was so small, he found it laughable.
"It is literally the lowest quality of evidence that you could give that people wouldn't laugh you out of the room," Przybylski told Business Insider in March.
Last year, Przybylski co-authored a study published in the journal Psychological Science in which he examined the effect of screen-time on a sample of more than 120,000 British teens who used their devices for social media, streaming, and playing games.
The data suggested a shocking conclusion: screen-time isn't harmful for the vast majority of teens. In fact, it's sometimes helpful – especially when teens are using it for two to four hours per day.
"Overall, the evidence indicated that moderate use of digital technology is not intrinsically harmful and may be advantageous," Przybylski wrote in the paper.
For Dashboard to actually be beneficial, Google or someone else would first need to demonstrate that there's some type of relationship between our overall wellbeing and how we're using our devices and apps.
Simply showing which apps we're using and for how long likely isn't going to do us a lot of good on its own.
Placing your phone face-down will quiet notifications
Another big Digital Wellbeing feature offers an easy way to block notifications.
When you place your phone face-down on a surface, it will automatically go into its "do not disturb" mode. The idea behind the new feature is that fewer alerts will mean less anxiety and more tranquility.
There is a growing amount of research that hints that getting constantly flooded with a barrage of beeps and flashes reduces our productivity and increases anxiety. No surprise there.
But there aren't any studies that indicate snoozing our devices' notifications will help us feel better.
When researchers have attempted to solve the anxiety problem by muting notifications, it didn't seem to work. In fact, some people actually felt worse.
In a study presented last month at the annual conference of the American Psychological Association, researchers including Duke University behavioural economist Dan Ariely found that people who had the notifications from their devices sent in clusters of several at a time said they felt less stressed and happier than people who received them in the usual way, where they arrive sporadically throughout the day.
But the people who got their alerts in clusters also felt less stressed and happier than people who didn't get any notifications at all.
"Participants who did not receive notifications experienced higher levels of anxiety and fears of missing out," the researchers wrote. "These findings highlight mental costs inherent in today's notification systems (or of abandoning them)."
Wind Down puts your phone in grayscale

Google designed its other big Digital Wellbeing feature to be used at bedtime.
Wind Down drains the colour from your Android device's screen, so that it displays everything as a shade of grey. The rational behind the feature is similar to that behind Apple's Night Shift feature, which changes an iPhone's colour scheme from one tinged with bright blue light to one imbued with orange light.
Night Shift is actually based on some scientific research. Blue light, which is also given off by the sun, is nearly the brightest light in the visible spectrum.
In humans, blue light depresses the production of melatonin, a key hormone our brains use to tell our bodies to start preparing for sleep. That's something you don't want to be doing at night, especially as you're heading to bed.
Unlike Night Shift, though, Wind Down doesn't have much research behind it. No one has really scientifically studied how removing colour from a display affects users' attention, productivity, sleep, or mood.
All we have are anecdotal reports from a couple of users who've willingly experimented on themselves with the feature and claimed it helped them.
So feel free to try to find joy in missing out, but don't rely on a host of new Google apps to do it.
This article was originally published by Business Insider.