Sokushinbutsu – The Bizarre Practice of Self Mummification
Scattered throughout Northern Japan around the Yamagata Prefecture are two dozen mummified Japanese monks known as Sokushinbutsu, who caused their own deaths in a way that resulted in their mummification. The practice was first pioneered by a priest named Kuukai over 1000 years ago at the temple complex of Mount Koya, in Wakayama prefecture. Estimates of the number of self-mummified priests in Japan range between sixteen and twenty-four priests. Impressive though this number is, many more have tried to self-mummify themselves; In fact, the practice of self-mummification — which is a form of suicide, after all — had to be outlawed towards the end of the 19th century to prevent Buddhist priests from offing themselves this way. and yet the grand majority of priests who have tried to do this have failed. The reasons will take some explaining — but first, some background on the whole practice and the reasons for it.
Sokushinbutsu refers to a practice of Buddhist monks observing austerity to the point of death and mummification. This process of self-mummification was mainly practised in Yamagata in Northern Japan between the 11th and 19th century, by members of the Japanese Vajrayana school of Buddhism called Shingon ("True Word"). The practitioners of sokushinbutsu did not view this practice as an act of suicide, but rather as a form of further enlightenment. Those who succeeded were revered, while those who failed were nevertheless respected for the effort.
It is believed that many hundreds of monks tried, but only 24 such mummifications have been discovered to date. There is a common suggestion that Shingon school founder Kukai brought this practice from Tang China as part of secret tantric practices he learned, and that were later lost in China. Today, the practice is not advocated or practiced by any Buddhist sect, and is banned in Japan. The practice was satirized in the story "The Destiny That Spanned Two Lifetimes" by Ueda Akinari, in which such a monk was found centuries later and resuscitated.
So truely devote Buddhist priests are not afraid of death; but they don't normally seek it either, as this too would be an abnormal obsession with the physical world. The priests that chose to practice self-mummification were usually all older men, who knew they had limited time left to their lives anyway… and since the practice takes years to lead to a sucessful death and mummification, it cannot be characterized as an attempt to reach enlightenment quickly as a normal suicide might be. Rather, the intended purpose of this practice for these priests is to both push their ability to disregard their physical selves to the limit of their ability, and to try and leave an artifact of this struggle that will stand as a symbol of their beliefs to those that are priests after them.
The practice of self-mummification seems somewhat macabre to today's civilized population. However, for some sects of Buddhist priests, it was a form of further enlightenment. Many of these priests voluntarily went through a ten-year gruesome process of self-mummifying, belie ving that extreme physical pain and denial created an opening to a higher spiritual level, the ultimate attainment of "passing into the state of nirvana."
The practice of self-mummification in Japan has its roots in the esoteric school of Shingon Buddhism called the Shingon-Shu, established in the Heian Period (794-1185). The founder of this new Buddhist movement was a monk named Kobo Daishi, also recognized as Kukai. Kukai's teachings reflect an influence derived from Tantric Buddhism, which comes from the Great Vehicle Sect, called the Mahayana School. Between the years 804 and 806, Kukai studied in the rural province of T'ang in China, where he worked on mastering esoteric practices. After having studied in China, Kukai returned to Japan bringing with him the three theological building blocks that were the basis of the Shingon School.
The first was the idea of the all-powerful syllable, the meaning of which can be found in the etiological root of the word "Shingon." Shingon is taken from the Chinese word "Chin-yen" (true word). Chin-yen is a transliterated form of the Sanskrit word for "mantra" (sacred noise making up the universe, such as the syll able "om"). The next theological seed was the most important iconographical symbol in esoteric Buddhism, the two Mandal as denoting the impermanence of life and the inevitability of birth and rebirth in the ever-moving wheel of Samsara. The third and most influential to esoteric Buddhism's dev elopment in the Japan came back with Kukai in the translated form of two Tantric Buddhist scriptures known as the Machav airocana sutra, describing the relationship between man and the cosmic Buddha, and the Sarvatathagatatattvasamgraha sutra. These texts were especially helpful in giving Shingon the claws to dig into and plant the seeds of esoteric Buddhism's fertility in Japanese religious history. Kukai transliterated these texts into the vernacular from Sanskrit. His transliterations played a pivotal role in the formation of the Shingon School. Long after Buddhists in the native country of India discarded the two sutras and the Chinese no longer practiced their rituals, the Japanese kept the practices alive.
These secret teachings spread to a variety of places."Esoteric Buddhist history was practiced from India to Central Asia, Ceylon, China, Korea, Japan, Mongolia, Nepal, Indonesia, Southeast Asia, and Tibet." By the seventh or eighth century, secret Buddhist rituals, like self-mummification, reached an apex and developed in regions of Japan.
How to be a self-made mummy
Scientific study of the mummies and the process that created them only began in the early 1960's. It was generally expected that the mummies studied would show signs of having been mummified after death by other priests, in much the way Egyptian mummies — and almost all other mummies on Earth — have been created. The first step in that process is the removal of the internal organs, because the bacteria in these begin the process of decomposition within hours of death; with these removed, it is relatively easy to prepare, dry, and preserve the remainder of the body. But x-rays discounted this expectation… the internal organs were intact, which meant that mummification had been accomplished in some new way that scientists had not yet encountered. So the process itself was next investigated.
The actual practice was first pioneered by a priest named Kuukai over 1000 years ago at the temple complex of Mount Kooya, in Wakayama prefecture. Kuukai was founder of the Shingon sect of Buddhism, which is the sect that came up with the idea of enlightenment through physical punishment. There were three steps in the process of self-mummification that Kuukai proposed, and the full process took upwards of ten years to lead to a successful mummification.
The first step is a change of diet. The priest was only allowed to eat nuts and seeds that could be found in the forests surrounding his temple; this diet had to be stuck to for a 1000 day period, a little under three years. During this time, the priest was to continue to subject himself to all sorts of physical hardship in his daily training. The results were that the body fat of the priest was reduced to nearly nothing, thus removing a section of the body that easily decomposes after death.
In the second stage, the diet became more restrictive. The priest was now only allowed to eat a small amount of bark and roots from pine trees (mokujiki). This had to be endured for another 1000 day period, by the end of which the priest looked like a living skeleton. This also decreased the overall moisture contained in the body; and the less fluid left in the body, the easier to preserve it.
Towards the end of this 1000 day period, the priest also had to start to drink a special tea made from the sap of the urushi tree. This sap is used to make laquer for bowls and furniture; but it is also very poisonous for most people. Drinking this tea induced vomenting, sweating, and urination, further reducing the fluid content of the priest's body. But even more importantly, the build up of the poison in the priest's body would kill any maggots or insects that tried to eat the priest's remains after death, thus protecting it from yet another source of decay.
The third and last step of the process was to be entombed alive in a stone room just big enough for a man to sit lotus style in for a final 1000 day period. As long as the priest could ring a bell each day a tube remained in place to supply air; but when the bell finally stopped, the tube was removed and the tomb was sealed.
When the tomb was finally opened, the results would be known. Some few would be fully mummified, and immediately be raised to the rank of Buddha; but most just rotted and, while respected for their incredible endurance, were not considered to be Buddhas. These were simply sealed back into their tombs. But why did some mummify and some not? This is the tricky part of the whole process.
It is not clear if this is part of the process as set down by Kuukai, but in Yamagata is a sacred spring. This spring is on a mountain called Yudono, which is in fact the third sacred mountain of the three I visited in 1998. Many of the priests in the area considered both the water and the mineral deposits from this spring to have medicinal value, and may have injested one or both previous to their entombment. An analysis of the spring water and deposits revealed that they contain enough arsenic to kill a human being! Arsenic does not get eliminated from the body, so it remains after death… and it is toxic to bacteria and other micro-organisms, so it eliminated the bacteria that started the decompostion of the body.
The Shingon priests' beliefs in the path to salvation can be described by explaining the mindset behind the strange, ritualistic, practice of self-mummification. The psychological mindset of the to-be mummified person is important in allowing empathy with the priest. "Personal life and death does not matter, but being kind to your fellow beings and guiding them towardself-realization of their greater connection to the Buddha does. So, truly devout Buddhist priests are not afraid of death."
The importance of such psychoanalysis can be observed in Richard Payne's discussion of Shingon's four ritual stages of self-transformation of the mind called Shindo Kegyo. In his discussion, he us psychology as a tool for analyzing this four-pronged ritual transformation. "Clearly, ritual must be more than a mechanical technique (such as simple breathing exercises might be)." The practitioners of such rituals report elated feelings of connection to generations of previous worshipers.
Another important aspect of Shindo-Keygo, and in particular self-mummification, is the belief in Tantric Buddhism that one has the "possibility of realizing enlightenment in this very lifetime." Hence, self-mummification must have developed as a vehicle to fill the void created by the debacle of how to achieve earthly salvation, a principal very different from most Buddhist doctrine. The last phase of a Shingon priest's ritualistic development is called Kendoku (attaining realization), which usually takes place in the latter years of the priest's life when he becomes more likely to participate in self-mummification activities.
The process of self-mummification is broken down into three 1,000-day periods. Each period is characterized by physical and mental changes caused by phase-specific austerities and excruciating pain. The process is not some mystic secret, but rather a calculated scient ific means for ridding the body of material that cannot cross over into nirvana. In the first phase the priest is restricted to a diet of only nuts and grains surrounding the temple complex.During this time the practitioner endures extreme hardships, such as meditating under icy cold mountain streams for hours on end. "Japan is a mountainous country." Therefore, most of the Shingon temple complexes are in the proximity of large sacred mountains.During the second phase of the process, the fat matter that causes the body to decompose is greatly reduced. Upon entering the second one thousand-day period, the priest's body fat is near zero. In this stage, the diet is restricted even fu rther to only miniscule amounts of pine bark and roots from pine trees.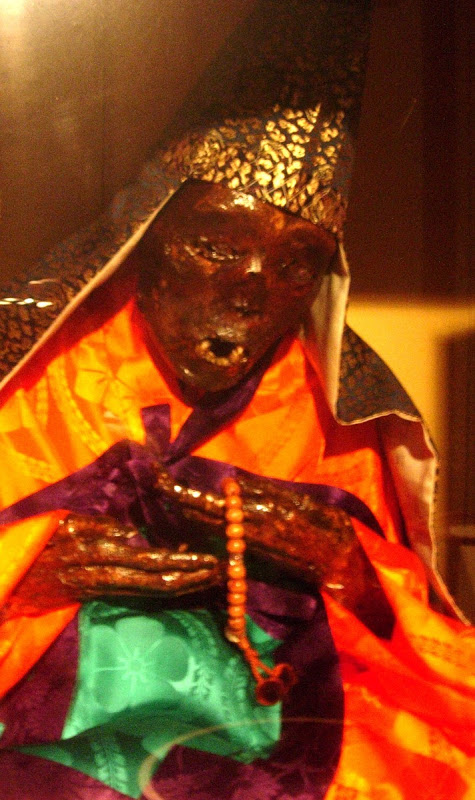 After this stage, the priest is like a "skin-covered skeleton." The dehydration helps in preservation of the body. Towards the end of the second stage, "A special tea is made from the sap of the urushi tree." This sap is used as a lacquer for furniture. The tea is a poisonous concoction that causes vomiting and sickness that further decrease the moisture in the body, but more importantly, its build up in the system prevents insects from speeding up the decomposition process. This, in turn, helps the self-mummification process by protecting the to-be mummified priest from natural elements. Upon entering the final stage, the priest is given a bell and then sealed in his tomb where a tube is inserted into a small opening in the top. Every day, he rings the bell.
Eventually, when the ringing stops, the tube is removed. At the end of the last 1000-day period, nearly ten years a fter starting, the tomb is opened and the results are seen. Out of the thousands who have tried to complete this decade long process, most are decomposed, and thus, have failed in their efforts. Only a select few actually achieve this fascinating but grisly transformation. The priests who triumphed in their endeavor are said to be one with the cosmic Buddha. While the people who tried and failed are praised for their fervor, they are not thought to be Buddha. Therefore, they enter back into the wheel of Samsara. One of the questions scientists pose is why some bodies decompose while others mummify. "In a place called Yamagata, there is a sacred spring on a mountain called Yudono." In this area, there have been reported higher levels of mummification success. It was in the same area that Kukai first pioneered this practice in Japan. Many of the priests from this prefecture reported drinking water before entombment.
Richard Branson's Surprising Take on UFOs and Extraterrestrials
Sir Richard Branson — the billionaire business magnate, airline executive, space plane pioneer, possible space traveler and avowed thrill seeker – weighed in recently on the possibility that UFOs seen my military pilots are crafts from another planet, and his answer may surprise many who admire his accomplishments, particularly in private space travel.
"There's no question that there are millions of other civilizations out there, but none of them are within reach of Earth and therefore, my instinct is: extremely unlikely."
Is he saying that there are millions of other Richard Bransons out there, but none of them – including him – have figured out how to leave their planet's gravity and travel to another world? Actually, Branson HAS figured out how to pilot a UFO (more on that later), but he's of the opinion that distance defeats brainpower and technology in the quest to cross the galaxy. In an interview with The Hollywood Reporter, Branson also expressed his doubts that governments or militaries are hiding evidence of it from the public.
"I can't understand why these UFO discussions are always behind closed doors and done in secrecy. It just creates even more suspicion. If people had really discovered a UFO, you can't keep things secret in this day and age, it would be everywhere."
Take that, Area 51 Stormers! In fact, it's already well-known what Branson thinks of those who believe UFOs are spaceships from other planets. At 4 am on the morning of April 1, 1989 (note the date), Branson took off in London in a custom hot air balloon shaped like a flying saucer, complete with strobe lights that blinked every ten seconds. (Great photos of the balloon here.) The balloon flew over London's M25 highway as the morning rush hour was commencing, bringing traffic to a halt and causing TV and radio stations and local police departments to be flooded with calls reporting a UFO. Branson was loving every minute of it.
"We could see every single vehicle grinding to a halt and hundreds of people looking up at the UFO flying over them. It was great fun watching their reactions."
His original plan was to make a dramatic landing in historic Hyde Park but the craft was blown off target, so the skilled balloonist brought it down in Surrey Field instead, which was quickly surrounded by police. Just like in a bad sci-fi movie, the cops sent a lone officer out to meet the 'spaceship'. Branson was ready for him.
"The UFOs door opened very slowly, with tonnes of dry ice billowing from it. A dwarf that we had carried on board, dressed in an ET outfit, walked down the platform towards the bobby. He promptly turned and ran in the opposite direction! The police initially didn't see the funny side of it and threatened to arrest us for wasting their time. But they soon joined in the general merriment of it."
So Sir Richard Branson doesn't believe that recent UFO sightings are extraterrestrial ships, doesn't believe any have ever visited Earth and are being hidden from the public, and doesn't think much of those who get excited about UFO sightings in general. However, being the good entrepreneur that he is, Branson tries to save face and not 'alienate' his customer base.
"And so I don't think there's any credible sightings yet. It would be wonderful if it were true."
Before you report your next UFO sighting, check to see if Richard Branson is in town.
Source: Mysterious Universe
'Storm Area 51' spawns copycat campaigns
Image Credit: CC BY-SA 2.0 Ross
Anyone for a trip to the Bermuda Triangle ?
Inspired by the recent social media phenomenon, other people have started setting up their own 'storm' events.
Keen to ride the momentum of Matty Roberts' wildly successful (yet squarely tongue-in-cheek) campaign to see thousands of people storm the Area 51 facility in Nevada, Facebook user Anthony Carnovale has launched his own effort to solve another of the world's most enduring mysteries.
Entitled "Storm The Bermuda Triangle, It Can't Swallow All Of Us", the new endeavour seeks to send as many people in to the infamous 270,000-square-mile stretch of ocean as possible.
Carnovale has even set up a fundraiser to book live music performances for the event.
"I'm legit trying to throw a party for everyone so they'll come to my thing," he wrote. "This is the time for assembly to show this country we can organize. Let's go have a good time."
"Let's still clap these sea monster cheeks. Ok. Let's all just have fun."
The event is just one of several dozen to have cropped up in the wake of the success of the original 'Storm Area 51' campaign with others targeting everywhere from SeaWorld to the White House.
As things stand, a whopping 2.5 million have signed up to go to Area 51 on September 20th.
Exactly how many people will actually turn up on the day however remains unclear.
Source: Independent
Strange "Black Hole" Wave Clouds Form Over London During Trump Visit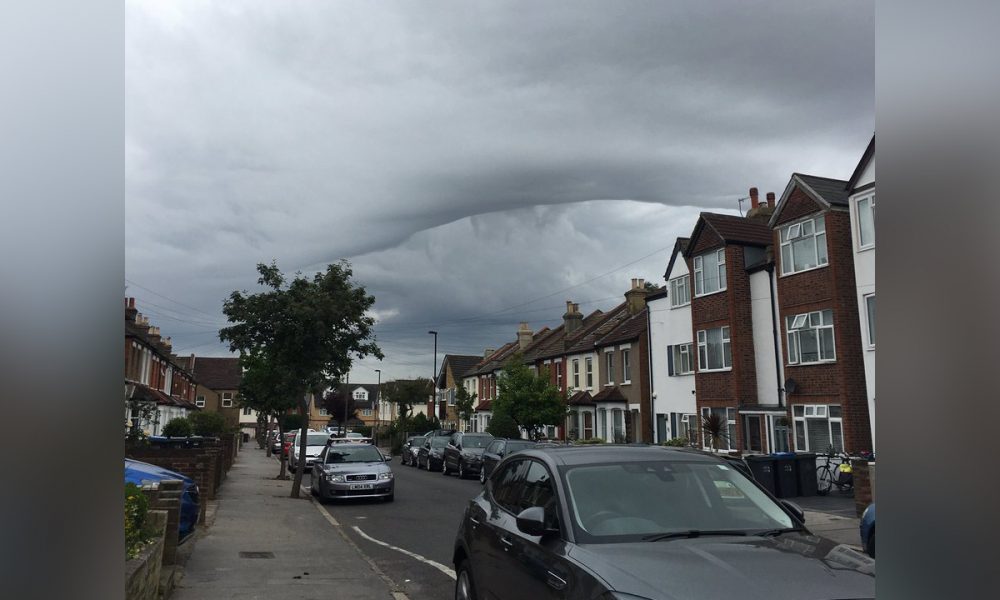 United States President Donald Trump visited the Royal Family in London in June for a scheduled diplomatic appearance. President Trump's family also joined him on his trip, as many of them are members or contributors of his administration.
The London meeting was highly publicized throughout the world, and especially in the UK where protesters clashed in response to the US President's visit.
If you are superstitious, you may have looked into the sky during Trump's visit and felt that perhaps nature was having a reaction to all of the tension that was in the air. The sky looked very ominous over the city of London for the President's arrival.
Anyone else see this creepy cloud this morning? #blackhole #london pic.twitter.com/G7F8k3CROi

— sammie (@xxxsammiexxxxx) June 4, 2019
Tourists and residents alike reported seeing a strange cloud formation hovering over the Houses of Parliament.
Photos of the strange formations began popping up online throughout the day. Various pictures showed different areas throughout the city that were covered by clouds that looked like strange waves.
That cloud formation over London… pic.twitter.com/ozlMGKQi5L

— Debbie – The Snappy Artist (@TheSnappyArtist) June 4, 2019
IFL Science pointed out that while these cloud formations may look ominous, they are an entirely natural phenomenon, just one that researchers don't know very much about yet.
Experts believe that these formations are caused by Asperitas clouds, which is a rare cloud formation that resembles rippling ocean waves in the sky.
According to the MET office, "Asperitas (formerly referred to as Undulatus Asperitas) is a distinctive, but relatively rare cloud formation that takes the appearance of rippling waves. These wave-like structures form on the underside of the cloud to makes it look like a rough sea surface when viewed from below."
Any cloud experts around? What the hell is this floating over south London?! pic.twitter.com/oRT2iJkrii

— Alexa Brown (@alexabrown) June 4, 2019
Asperitas clouds are still a bit of a mystery to scientists, who are currently unsure of how these clouds are even formed. Most experts agree with the theory that these clouds are formed in the aftermath of thunderstorms, but they have also been spotted in calmer environments, so that may not be a determining factor.
Another theory suggests that they are formed when mammatus clouds descend into areas of the sky where wind direction changes with height causing the wave-like movement. Researchers believe that this would also cause the wave-like effect seen in asperitas clouds.
The below time-lapse video shows how the clouds move through the sky like waves.
Oddly enough, Asperitas clouds were undocumented until 2008, when the cloud society proposed they be listed in the World Meteorological Organisation's International Cloud Atlas.
That proposal was not actually accepted until 2015, when enough data was collected to show that the clouds deserved their own classification.
However, it is important to note that some sources say that the official classification finally came in 2017.
Despite the strange weather, the visit of US President Donald Trump continued as scheduled. His appearance sparked clashes between protesters who were in support or opposition to his policies.
I kept hearing that there would be "massive" rallies against me in the UK, but it was quite the opposite. The big crowds, which the Corrupt Media hates to show, were those that gathered in support of the USA and me. They were big & enthusiastic as opposed to the organized flops!

— Donald J. Trump (@realDonaldTrump) June 5, 2019
In a later speech, the President called the protests "fake news," and said that there were only a small number of demonstrators on the streets.
Jeremy Corbyn, leader of Britain's opposition Labour Party, addressed protesters who gathered in central London on Tuesday.
Speaking of the president, Corbyn said, "In welcoming visitors from the U.S, I hope there can be a conversation. I am not, absolutely not refusing to meet anybody. I want to be able to have that dialogue to bring about the better and more peaceful world that we all want to live in."
However, Corbyn also expressed his "disappointment" with the harsh words that the president had for the Mayor of London recently.
"I am very disappointed, particularly today on their wonderful festival of Eid, that our mayor has been attacked the way that he has. I am proud that our city has a Muslim mayor, that we can chase down Islamophobia, racism of any kind, within our society. Racism divides. Exploitation of minorities divides," Corbyn said.
Police move handful of protesters with pro-Trump hats inside after brief scuffles break out between them and anti-Trump protesters @CBSNews pic.twitter.com/skW3KlGH9o

— Haley Ott (@haleyjoelleott) June 4, 2019
While in London, President Trump praised the outgoing Prime Minister Theresa May for her handling of the Brexit situation. Trump held a private meeting, and an extensive public press conference with May.
Boris Johnson, the current favorite to replace May, declined a meeting with Trump, but did hold a brief phone call with the president. Some political commenters believe that Johnson turned down a meeting with Trump as a sort of election time publicity stunt.