Society is an Advert or Itself
Nick Williams, Contributor
Waking Times
What we have succeeded in doing (without necessarily meaning to) is creating a completely 'dishonest' environment for ourselves to live in. We all heard about 'fake news' but what this amounts to is a fake world. We can make a very obvious statement at this point and that is to say that 'living in a fundamentally dishonest environment is without any doubt going to be psychologically harmful for us'! This might seem like too obvious a point to make but we need to make it all the same because it's such a vitally important one – it's a vitally important point that we never actually pay any attention to! We might spend money in a health food store or go to the gym twice a week or practice yoga or meditation but we never seem to give any thought to the fact that our actual environment is fundamentally dishonest, and therefore toxic
I'm not making a metaphysical point here about the illusoriness of the world or anything like that – what I'm talking about is the fundamentally deceptive nature of the communications we surround ourselves with. Just to give one example – it is abundantly obvious that we are living in a world that is completely dominated by advertisements of one sort or another. Everything is an advert for something! This is therefore just another way of saying that the reality we are presented with on all sides is dishonest – it's not what it seems to be. Everything we see or read is propaganda for the system that is being daily foisted upon us!
Adverts are 'dishonest' because they always claim to be something about something else than what they're actually about – the day has long since passed when adverts were purely and simply about providing information about a product. We have moved on a long way since that day. The science of advertising relies on the fact that we are very easily manipulated by 'unconscious associations', implications which are there, but which don't need to be spelt out. These associations work on us without us knowing that we are being worked on. This is just the same as saying that 'adverts work by manipulation', which is very obviously true – no one is going to be foolish enough to try to deny this!
The one way we could agree that this is true but say that it's not really a big deal either – we know that ads are about manipulation, but so what? We have got used it to this stage and presumably we all feel that we're immune to it. Where advertising surely does become a problem however is when the whole world becomes one giant advert, one giant 'promotional exercise for itself,' as John Berger says here –
"Publicity has another important social function. The fact that this function has not been planned as a purpose by those who make and use publicity in no way lessens its significance. Publicity turns consumption into a substitute for democracy. The choice of what one eats (or wears or drives) takes the place of significant political choice. Publicity helps to mask and compensate for all that is undemocratic within society. And it also masks what is happening in the rest of the world. Publicity adds up to a kind of philosophical system. It explains everything in its own terms. It interprets the world.

The entire world becomes a setting for the fulfillment of publicity's promise of the good life. The world smiles at us. It offers itself to us. And because everywhere is imagined as offering itself to us, everywhere is more or less the same. …"
So how could we say that it's not a 'big deal' when our whole environment is designed to manipulate us and there's nothing left in it that's at all honest? Surely we must realise that there are bound to be seriously adverse psychological consequences to living in a world that's nothing more than 'an advert for itself'!
If we grew up surrounded by people who always had an ulterior motive, who were always duplicitous, who never did anything without a hidden agenda, then our mental health would of course suffer as a result – we'd be in need of an awful lot of therapy in that case! The same is true therefore when we live in an environment is always comes with an ulterior motive, an environment which always carries some kind of 'disguised coercive element'. The usual way is for us to be more or less oblivious to the coercive (or controlling) aspect of our environment, and unaware of the all-pervading dishonesty of the type of communications that make up the world we have to live in, and so this means that we are 'unfree without knowing that we are'. Apparently, this very peculiar set-up seems to work; apparently, we can get by perfectly well this way!
There is a problem here however even if we can't see it – there's a problem especially if we can't see it! In order to accommodate ourselves to this invisibly coercive and deceptive world we have to live on a very superficial level, and this is fundamentally unnatural and therefore unhealthy for us. It has harmful consequences. Human beings are not naturally superficial; we not naturally lacking in curiosity about the world. All we need to do in order to appreciate this is to look at children – children are (of course) full of curiosity, full of questions. Adults – on the other hand – aren't! As adults (oddly enough) we seem to swallow whatever line in nonsense it is that is being fed to us at the time. Well go along with anything. The alternative seems to be just too frightening for us!
So the 'problem' that we are looking at here is the problem – we might say – of compulsory superficiality. We are given no choice in this matter – were pushed into this extraordinary limited state of being from all sides. We don't know that this fate has befallen us (we have no way of knowing it) but the quality of our lives has been degraded all the same. Another crucial aspect of this 'compulsive superficiality' that were talking about is that we don't have any genuine volition. If we are being swayed by superficial appearances the whole time then how can we possibly be said to have any genuine volition of our own? This is clearly an impossibility.
We can put all of this together – therefore – by saying that we have created the world for ourselves which, rather than being based on the principle of truth, is based purely upon the principle of deception. We so used to this that we think nothing of it – our eyes are accustomed to the insincerity and so we pay it no heed. As Matthieu Ricard says,
"We are very much like birds that have lived too long in a cage to which we return even when we get the chance to fly away. We have grown so accustomed to our faults that we can barely imagine what life would be like without them. The prospect of change makes us dizzy."
In this world it's not about what's true, it's about what seems to be true. It's about 'image rather than content'. We all know this very well – who's actually going to deny? The question we're asking here is 'What effect is it actually going to have on us to be living in such a world?' One answer is to say that the consequences of this state of affairs is that we become completely gullible, i.e. '100% manipulable by external controlling factors'. We do what we told to do and we believe what we're told to believe, and what this comes down to is a complete lack of autonomy. We have 'lost ourselves,' in other words. We've lost ourselves completely. It is one thing to have autonomy and find yourself in a world that is trying to manipulate you (or amongst people who are trying to manipulate you) and quite another to have never had that autonomy and to live in a world whose very basis is manipulation and coercion!
This is such an extraordinary thing to contemplate – we have created a world that denies us, a world that is against us! It isn't the case either – I would say that this world is 'bad for most of us but is good for a small minority', which is what it looks like on the surface, admittedly. What we're looking at here is a fundamentally unfair system, it is true, but even the so-called 'winners' in this game aren't winning anything worth having! By denying others we deny ourselves, after all. By controlling each other we are just as bound as our victims by our need to control. It's actually the business of 'playing the game' that denies us, not whether we win or lose, which is of course what we are brought up to believe. 'Playing the game' denies us because by always striving for personal advantage (which is what we have been brought up to do) we turn our backs on our true compassionate nature, and if this isn't a recipe for misery and frustration then nothing is!
We can only truly be ourselves by being compassionate – as all the great Wisdom Traditions tell us – to try to find meaning in life by being selfish and manipulative and competitive (which is what our society demands of us, whether we see it or not) is a road to nowhere! Meaning in life doesn't come from being good at controlling, from being a 'winner in the game', but from nourishing the imagination, nourishing the creative and compassionate side of ourselves. Our true nature is incomparably greater than we have been led to believe that it is, but we are afraid to find that out, and this fear drives all sorts of toxicity.
About the Author
Nick Williams – I work as an occupational therapist in acute psychiatry in the West of Ireland, and have done for the last 25 yrs. Before training to be an occupational therapist I graduated from the University of Kent with a degree in Health Education and Natural Science, and before that I was unemployed in South London for 15 years. The part of my current work that I enjoy the most is running a community creative writing group and a number of mindfulness groups. I am a keen blogger on the topic of 'alternative approaches to mental health' because I believe that the conventional approach in psychiatry does not respect the healing process that is always going on in us and simply tries to return people to a 'standardized' form of mental health. I feel that a lot of the chronic mental distress in the modern world comes from the artificial constraints that society puts on our consciousness and are not due to a type of 'illness process', as psychiatry suggests. I also give talks and run workshops on 'nonduality and mental health'. Please visit my blog Negative Therapy and intrinsicspace.me. 
This article (Society is an Advert or Itself) was originally published at Negative Therapy and is re-posted here with permission.
Human Brain Operates Outside of the Laws of Physics, New Study Claims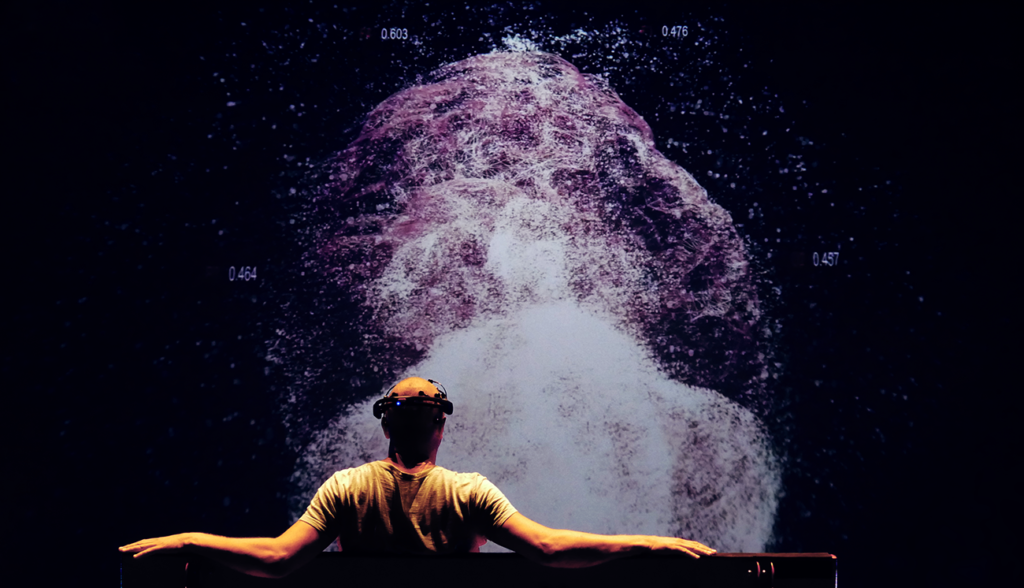 It was the eminent French philosopher and mathematician René Descartes who first suggested that the human mind may operate outside of the physical realm. He called it his mind-matter duality theory. The idea was that the human brain was above the physical world and could use its power to influence it. The "father of modern philosophy," may have been more prescient than he'd ever realize.
Currently, a theoretical physicist is gearing up to test this theory in modern form. Lucien Hardy of the Perimeter Institute in Canada, will use an EEG machine, to see if the mind operates on the quantum level or outside of it. The results could have vast implications for our understanding of consciousness and free will.
The experiment centers on the concept of quantum entanglement. Here, particles influence each other, even when far apart. Photons are light particles. Say using a laser, you shoot them through a crystal. Two photons suddenly become entangled. Afterwards, they're move quite a distance apart. If you interact with one photon it affects the other, instantaneously, no matter their distance from one another.
In the 1930's, Einstein—puzzled by this, called it a "spooky action at a distance." One problem is that acting upon one particle causes changes in the other faster than the speed of light, something relativity states is impossible.
Another weird effect, when we measure the spin of one entangled particle, the other always has the opposite spin, be it just around the corner from its partner or across the galaxy. This is as if measuring one influences the spin of the other at a rate faster than the speed of light. Is it true or is something else going on? This is one of the greatest mysteries of quantum physics.
In 1964, famed physicist John Bell developed an experiment to test the spin of entangled particles, to find out if they held some kind of hidden information, as Einstein thought, or if the particles actually communicated with each other at a rate faster than the speed of light. He developed the Bell test to evaluate the spin of entangled particles. Here, particles are separated. One goes to location A and the other to location B.
The spin of each is evaluated at each station. Since the angle of the measurement is taken at random, it isn't possible to know the settings at any location beforehand. Each time particles are measured like this, when one registers a certain spin, say clockwise, the other always comes up its opposite.
According to Dr. Lucien, an experiment based off of the Bell test should be able to tell us if the human brain operates within quantum mechanics or outside of it. He's recruiting 100 participants. Each will have their brain attached to an EEG machine through a skull cap covered with sensors. These record brainwaves.
Hardy wrote, "The radical possibility we wish to investigate is that, when humans are used to decide the settings (rather than various types of random number generators), we might then expect to see a violation of Quantum Theory in agreement with the relevant Bell inequality." Participants will be 100 km. (approx. 62 mi.) apart. The signals from these caps will be used to change the settings on a measuring device.
If the measurements don't match up as expected, it could challenge our current understanding of physics. "[If] you only saw a violation of quantum theory when you had systems that might be regarded as conscious, humans or other animals," Hardy writes, it could mean that the consciousness is able to supersede natural law.
This would give a tremendous boost in the notion of free will, as a person's will would literally defy the laws of physics. Yet, "It wouldn't settle the question," according to Hardy. Prevailing physics and neuroscience theories have favored predeterminism in recent decades. This experiment may also offer insight into human consciousness, where it stems from inside the brain, and even what it might be.
What are the implications if we find out the human mind operates outside of quantum physics?
The study fits into the fledgling field of quantum biology, which is shaking up our understanding of traditional biology in quite a number of ways. For instance, researchers at the University of California, Berkeley and at Washington University, in St. Louis, have found quantum effects operating within photosynthesis.
Biophysicist Luca Turin has a theory, based on quantum physics, to explain how our sense of smell works. Others in quantum biology theorize about how antioxidants and enzymes work, among other processes.
Splintering off of this is quantum neuroscience. Researchers here are looking at how quantum mechanics might explain the processes of the brain. Stuart Hameroff is a practicing anesthesiologist, and the director of the Center for Consciousness Studies, at the University of Arizona. He's offered a theory using quantum mechanics to explain how anesthesia works.
According to Dr. Hameroff, consciousness may also be born on the quantum level. Physicist Matthew Fisher at the University of California, Santa Barbara, has proposed a way in which the brain might operate as a quantum computer. Hardy's experiment could support Hameroff and even Fisher's conclusions.
Others have doubted the claim. Since a quantum computer is very volatile system, any interference can cause decoherence, where the particles form a giant lump and no longer perform calculations. Critics argue that the human brain is awash in a host of different biochemicals and processes. So how could a quantum computer-like system operate there?
On Becoming Free – What Are We Really Freeing Ourselves For?
"I must create a system or be enslaved by another Man's." ~William Blake
Becoming free is creating your own virtuous system despite being outflanked by unvirtuous systems controlled by unvirtuous men. It is cultivating a healthy way of living despite the unhealthy ways of unhealthy men. It's becoming so "absolutely free that your very existence is an act of rebellion" (Albert Camus). Then it's building "a new model that makes the existing model obsolete" (Buckminster Fuller).
But first, we must ask ourselves what we are freeing ourselves for before asking ourselves what we are freeing ourselves from. The answer to that question, what are we freeing ourselves for, will be the foundation of our freedom, the cornerstone of our virtue, the building blocks of a healthier way of being human in the world.
Understand: we must be critical and highly skeptical of any "answer" that should arise from asking this most vital of questions. For if our "answer" is deemed invalid/unhealthy by the dictates of universal law (what's healthy and what's not), then it should be discarded as invalid/unhealthy for any humans who are attempting to be virtuous and healthy. Also, every "answer" should remain flexible and adaptable lest it become stagnant, rigid, dogmatic, tyrannical, or stuck in its ways.
A virtuous system follows the Golden Rule and the Nonaggression Principle:
"Beware of the good and the just! They like to crucify those who invent their own virtue for themselves." ~Nietzsche
As human beings there is no way around the fact that we are social creatures. We need each other to survive in a hostile (entropic) universe. Therefore, the golden rule is paramount.
It is imperative that whatever we are freeing ourselves for does not overreach or impede the health and welfare of others. A truly virtuous systemnever forces its virtue onto others. The moment a so-called virtuous system forces its virtue or values onto others, it ceases to be virtuous. There's no way around this absolute fact. Any attempt to "get around it" is a violation of the golden rule and therefore unvirtuous.
Likewise, it is vital that whatever we are freeing ourselves for does not violate the nonaggression principle (See caveat). A truly virtuous system is never directly violent. It is only ever violent in self-defense. The moment a so-called virtuous system becomes directly violent it ceases to be virtuous. The only moral exception to this fact is when violence is necessary to defend against direct violence –and, even then, only as a last resort. Any attempt to use violence to force others into compliance is a violation of the nonaggression principle and therefore unvirtuous.
Caveat: Being social animals in an environment with finite resources is highly complicated. To the extent that our virtuous system indirectly pollutes the environment it gets a pass for somewhat violating the nonaggression principle. The tragedy of the commons is a very real and sometimes unavoidable paradox. But, and here's the rub, to the extent that our virtuous system directly pollutes the environment it is in direct violation of the nonaggression principle and therefore can no longer be considered virtuous.
A healthy system is sustainable, moral, and eco-conscious:
"A thing is right when it tends to preserve the integrity, stability, and beauty of the biotic community. It is wrong when it tends otherwise." ~ Aldo Leopold
How do we know the current system (society) is unsustainable, immoral and even ecocidal, and thus unfit for healthy and virtuous people? It's self-evident…
1.) Our society pollutes the air it needs to breathe.
2.) Our society pollutes the water it needs to drink.
3.) Our society pollutes the food it needs to eat.
4.) Our society creates unhealthy individuals it needs to evolve with.
Any system that forces its people to breathe polluted air, drink polluted water, eat polluted food and then continues to do all the things that causes that pollution is a profoundly sick society. Krishnamurti's quote is a powerful reminder of this vital fact: "It's no measure of health to be well-adjusted to a profoundly sick society."
The solution is to create a system that is sustainable, moral, and eco-conscious; to create a healthy system that makes the unhealthy system obsolete.
The problem is that the unhealthy system overreaches. It overreaches with its pollution and it overreaches with its power. So almost any attempt at creating a healthier system will have to be covert and strategically defensive. Both in its attempt to create a healthy system and in its attempt to thwart the encroaching unhealthy system. It will have to be clandestine and stealthy on the one hand, and creative and daring on the other hand.
This will probably result in pockets of horizontal democracy on the group level: sustainable communes, ecovillages, and various types of anarchist groups. While on the individual level it will probably result in plenty of free-range humans, ninjaneers, eco-warriors, and various types of sustainable hermits.
The bottom line: Discovering a healthy and virtuous answer to the question 'what are we freeing ourselves for?' is no easy feat. It's not for the faint of heart. It will take counterintuitive reasoning. It will require you to think outside of whatever box you've been conditioned to think inside of for most of your life. It will force you to unwash the brainwash. It will involve reprogramming your programming. It will demand that you question the profoundly sick society you were born into.
Most of all, it will require audacious courage in the face of comfortable cowardice. As Ralph Waldo Emerson said:
"A man is to carry himself in the presence of all opposition…I ought to go upright and vital and speak the rude truth in all ways…Your goodness must have some edge to it — else it is none."
But, in the end, it will have been worth it. For you will have discovered moral virtue. You will have discovered provident health. You will have discovered authentic freedom. And your conscience will have finally been cleared.
About the Author
Gary 'Z' McGee, a former Navy Intelligence Specialist turned philosopher, is the author of Birthday Suit of God and The Looking Glass Man. His works are inspired by the great philosophers of the ages and his wide awake view of the modern world.
This article (On Becoming Free – What Are We Really Freeing Ourselves For?) was originally created and published by Waking Times and is published here under a Creative Commons license with attribution to Gary 'Z' McGee and WakingTimes.com. It may be re-posted freely with proper attribution, author bio, and this copyright statement.
Melania Trump: 'I'm the most bullied person on the world'
Washington (CNN)First lady Melania Trump said in an interview that aired Thursday that she is the most bullied person in the world, which has led her to create her anti-bullying "Be Best" initiative, before softening her comments slightly to say she is one of the most bullied.
"I could say I'm the most bullied person on the world," Trump told ABC News in an interview during her first major solo trip to Africa last week when asked what personally made her want to tackle the issue of cyberbullying.
"You're really the most bullied person in the world?" ABC News' Tom Llamas asked during the exchange.
"One of them, if you really see what people saying about me," Trump said.
Asked how bullying could affect children, including her son Barron, Trump said that is why her initiative is focused on social media and online behavior.
EXCLUSIVE: First lady Melania Trump says her "Be Best" policy platform targeting online bullies is personal. "I could say that I'm the most bullied person in the world," she tells ABC. https://t.co/iiEv5Z3ijv pic.twitter.com/CWZ7g9by27

— ABC News (@ABC) October 11, 2018
"We need to educate the children of social-emotional behavior, so when they grow up, they know how to deal with those issues," Trump said. "That's very important."
In the taped interview, Trump also told ABC News that there are still people working in the Trump administration that President Donald Trump cannot trust.
The first lady told ABC News she has advised her husband about who she believes he can trust, but that her husband remains independent in making staffing decisions.
"I give him my honest advice and honest opinions, and then he does what he wants to do," Trump said. Asked what her husband did when she suggested some staffers couldn't be trusted, the first lady replied, "Well, some people, they don't work there anymore."
The first lady's comments follow an explosive New York Times op-ed published last month from an anonymous senior Trump administration official who claimed they were part of an internal resistance to the President.
Source: cnn.com