Society is an Advert or Itself
Nick Williams, Contributor
Waking Times
What we have succeeded in doing (without necessarily meaning to) is creating a completely 'dishonest' environment for ourselves to live in. We all heard about 'fake news' but what this amounts to is a fake world. We can make a very obvious statement at this point and that is to say that 'living in a fundamentally dishonest environment is without any doubt going to be psychologically harmful for us'! This might seem like too obvious a point to make but we need to make it all the same because it's such a vitally important one – it's a vitally important point that we never actually pay any attention to! We might spend money in a health food store or go to the gym twice a week or practice yoga or meditation but we never seem to give any thought to the fact that our actual environment is fundamentally dishonest, and therefore toxic
I'm not making a metaphysical point here about the illusoriness of the world or anything like that – what I'm talking about is the fundamentally deceptive nature of the communications we surround ourselves with. Just to give one example – it is abundantly obvious that we are living in a world that is completely dominated by advertisements of one sort or another. Everything is an advert for something! This is therefore just another way of saying that the reality we are presented with on all sides is dishonest – it's not what it seems to be. Everything we see or read is propaganda for the system that is being daily foisted upon us!
Adverts are 'dishonest' because they always claim to be something about something else than what they're actually about – the day has long since passed when adverts were purely and simply about providing information about a product. We have moved on a long way since that day. The science of advertising relies on the fact that we are very easily manipulated by 'unconscious associations', implications which are there, but which don't need to be spelt out. These associations work on us without us knowing that we are being worked on. This is just the same as saying that 'adverts work by manipulation', which is very obviously true – no one is going to be foolish enough to try to deny this!
The one way we could agree that this is true but say that it's not really a big deal either – we know that ads are about manipulation, but so what? We have got used it to this stage and presumably we all feel that we're immune to it. Where advertising surely does become a problem however is when the whole world becomes one giant advert, one giant 'promotional exercise for itself,' as John Berger says here –
"Publicity has another important social function. The fact that this function has not been planned as a purpose by those who make and use publicity in no way lessens its significance. Publicity turns consumption into a substitute for democracy. The choice of what one eats (or wears or drives) takes the place of significant political choice. Publicity helps to mask and compensate for all that is undemocratic within society. And it also masks what is happening in the rest of the world. Publicity adds up to a kind of philosophical system. It explains everything in its own terms. It interprets the world.

The entire world becomes a setting for the fulfillment of publicity's promise of the good life. The world smiles at us. It offers itself to us. And because everywhere is imagined as offering itself to us, everywhere is more or less the same. …"
So how could we say that it's not a 'big deal' when our whole environment is designed to manipulate us and there's nothing left in it that's at all honest? Surely we must realise that there are bound to be seriously adverse psychological consequences to living in a world that's nothing more than 'an advert for itself'!
If we grew up surrounded by people who always had an ulterior motive, who were always duplicitous, who never did anything without a hidden agenda, then our mental health would of course suffer as a result – we'd be in need of an awful lot of therapy in that case! The same is true therefore when we live in an environment is always comes with an ulterior motive, an environment which always carries some kind of 'disguised coercive element'. The usual way is for us to be more or less oblivious to the coercive (or controlling) aspect of our environment, and unaware of the all-pervading dishonesty of the type of communications that make up the world we have to live in, and so this means that we are 'unfree without knowing that we are'. Apparently, this very peculiar set-up seems to work; apparently, we can get by perfectly well this way!
There is a problem here however even if we can't see it – there's a problem especially if we can't see it! In order to accommodate ourselves to this invisibly coercive and deceptive world we have to live on a very superficial level, and this is fundamentally unnatural and therefore unhealthy for us. It has harmful consequences. Human beings are not naturally superficial; we not naturally lacking in curiosity about the world. All we need to do in order to appreciate this is to look at children – children are (of course) full of curiosity, full of questions. Adults – on the other hand – aren't! As adults (oddly enough) we seem to swallow whatever line in nonsense it is that is being fed to us at the time. Well go along with anything. The alternative seems to be just too frightening for us!
So the 'problem' that we are looking at here is the problem – we might say – of compulsory superficiality. We are given no choice in this matter – were pushed into this extraordinary limited state of being from all sides. We don't know that this fate has befallen us (we have no way of knowing it) but the quality of our lives has been degraded all the same. Another crucial aspect of this 'compulsive superficiality' that were talking about is that we don't have any genuine volition. If we are being swayed by superficial appearances the whole time then how can we possibly be said to have any genuine volition of our own? This is clearly an impossibility.
We can put all of this together – therefore – by saying that we have created the world for ourselves which, rather than being based on the principle of truth, is based purely upon the principle of deception. We so used to this that we think nothing of it – our eyes are accustomed to the insincerity and so we pay it no heed. As Matthieu Ricard says,
"We are very much like birds that have lived too long in a cage to which we return even when we get the chance to fly away. We have grown so accustomed to our faults that we can barely imagine what life would be like without them. The prospect of change makes us dizzy."
In this world it's not about what's true, it's about what seems to be true. It's about 'image rather than content'. We all know this very well – who's actually going to deny? The question we're asking here is 'What effect is it actually going to have on us to be living in such a world?' One answer is to say that the consequences of this state of affairs is that we become completely gullible, i.e. '100% manipulable by external controlling factors'. We do what we told to do and we believe what we're told to believe, and what this comes down to is a complete lack of autonomy. We have 'lost ourselves,' in other words. We've lost ourselves completely. It is one thing to have autonomy and find yourself in a world that is trying to manipulate you (or amongst people who are trying to manipulate you) and quite another to have never had that autonomy and to live in a world whose very basis is manipulation and coercion!
This is such an extraordinary thing to contemplate – we have created a world that denies us, a world that is against us! It isn't the case either – I would say that this world is 'bad for most of us but is good for a small minority', which is what it looks like on the surface, admittedly. What we're looking at here is a fundamentally unfair system, it is true, but even the so-called 'winners' in this game aren't winning anything worth having! By denying others we deny ourselves, after all. By controlling each other we are just as bound as our victims by our need to control. It's actually the business of 'playing the game' that denies us, not whether we win or lose, which is of course what we are brought up to believe. 'Playing the game' denies us because by always striving for personal advantage (which is what we have been brought up to do) we turn our backs on our true compassionate nature, and if this isn't a recipe for misery and frustration then nothing is!
We can only truly be ourselves by being compassionate – as all the great Wisdom Traditions tell us – to try to find meaning in life by being selfish and manipulative and competitive (which is what our society demands of us, whether we see it or not) is a road to nowhere! Meaning in life doesn't come from being good at controlling, from being a 'winner in the game', but from nourishing the imagination, nourishing the creative and compassionate side of ourselves. Our true nature is incomparably greater than we have been led to believe that it is, but we are afraid to find that out, and this fear drives all sorts of toxicity.
About the Author
Nick Williams – I work as an occupational therapist in acute psychiatry in the West of Ireland, and have done for the last 25 yrs. Before training to be an occupational therapist I graduated from the University of Kent with a degree in Health Education and Natural Science, and before that I was unemployed in South London for 15 years. The part of my current work that I enjoy the most is running a community creative writing group and a number of mindfulness groups. I am a keen blogger on the topic of 'alternative approaches to mental health' because I believe that the conventional approach in psychiatry does not respect the healing process that is always going on in us and simply tries to return people to a 'standardized' form of mental health. I feel that a lot of the chronic mental distress in the modern world comes from the artificial constraints that society puts on our consciousness and are not due to a type of 'illness process', as psychiatry suggests. I also give talks and run workshops on 'nonduality and mental health'. Please visit my blog Negative Therapy and intrinsicspace.me. 
This article (Society is an Advert or Itself) was originally published at Negative Therapy and is re-posted here with permission.
A part of a person's essence accompanies him throughout his life: this is confirmed by a brain scan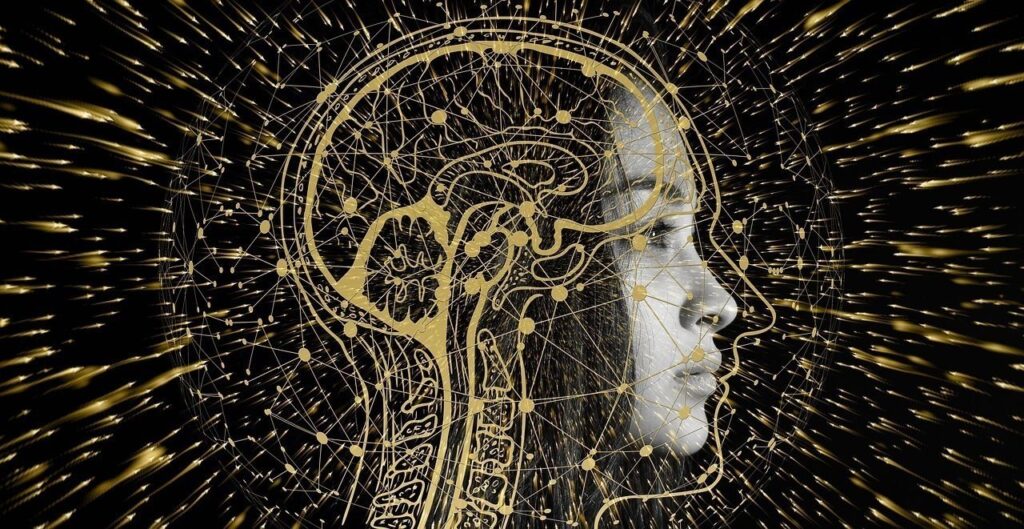 A new method of scanning the human brain has produced amazing results. It turns out that in every person there is a certain part of his essence, which accompanies him all his life from the moment of birth to death.
Scientists believe that this is the core of a person's self-awareness. It combines memories of the past with fleeting sensations of reality and provides a basis for anticipation of events in the future.
It turned out that a certain part of a person's consciousness is consistent as they grow older and older.
For centuries, scientists and philosophers have been interested in the question: can this sense of "personal self" be stable throughout life? A new psychological study with the results of a brain scan made it possible to conclude that a certain part of a person's consciousness really accompanies him throughout his life.
It is consistent as it gets older and older. Miguel Rubianes, a neuroscientist at the Complutense University of Madrid, says the aim of the study was to answer the question: Are we the same person throughout life? In combination with the results of other studies, scientists have concluded that there is a certain component that remains stable from birth to death.
The other part of consciousness remains susceptible to current changes. The scientists recognized independence as the basis of identity. And every time a person uses the word "I", he means a thread that connects together all the events and experiences that have occurred in life.
Experience gained over the years changes a person, changes the components of his identity. Each case associated with personal experiences, a broken heart, a successful career step, expected or unexpected failure lead to the fact that a person compares himself to himself before and after these events. It is a neurological programming scheme that involves visual self-knowledge as an indicator of connection with your impressions of yourself.
This effect makes it possible to cope with memories and recognition of information when it is associated, for example, with one's own photograph of an infant. Although this principle has a lot of evidence, scientists believe that the very mechanism of the brain involved in this remains a mystery.
This study was published in the journal Psychophysiology.
Beauty and diversity of our world: 10 movies that will make time stop
In the hustle and bustle of everyday life, we sometimes do not notice how time flies past us, what miracles surround us. We do not have time to listen to the rustle of leaves in the wind and we miss those minutes when the crimson moon hangs at the very horizon.
Below are 10 films that reflect the beauty and diversity of our world. You watch such a movie and forget about everything.
Kytice
7 fairy tales-ballads based on Czech folklore are filmed colorfully and poetically.
They endure a time when people were closer to nature, believed in miracles and the spirits of the forest, when the terrible and the beautiful were merged together.
Ashes and snow
Gregory Colbert's documentary has no plot, but it attracts with its stunning, unrestrained beauty, reflecting the unity of man with nature.
The film was shot for 13 years in the most exotic corners of our planet: Burma, Ethiopia, India, Antarctica, Sri Lanka, Tonga islands and many other picturesque places.
The fountain
The main character Thomas tries to find a cure for his wife Isabelle. Every day she gets worse, and he cannot be near, because he puts experiments in the laboratory. In his soul, love, the desire to be with Isabelle and the desire to extend her life are fighting.
Darren Aronofsky's philosophical drama was filmed in vivid colors, despite the fact that the director did not use computer special effects.
Samsara
This is a beautiful one and a half hour trip to the most amazing places on the planet.
Director Ron Fricke showed the inextricable connection of all people and events on earth, the cycle of death and birth, the versatility of our world, where beauty coexists with nondescriptness, and the end means the beginning.
The Bear
The story of a bear cub that lost its mother and nailed to a large wounded bear. Together they have to go through many trials, the worst of which is meeting the hunters.
The wonderful plot of the film is combined with stunning music that helps you immerse yourself in the world of nature and feel it with your whole body.
Happy People: A Year in the Taiga
The harsh Siberian nature, untouched by man, the majestic Yenisei River and the small village of Bakhta with a simple way of life.
People live and survive in these parts, rely only on themselves and also ask only themselves. Four seasons – four lifestyles for each of them.
August Rush
Young musician August Rush does not know his parents, but he really wants to find them and for some reason is sure that if he plays, they will hear and recognize him by his music.
Mesmerizing music permeates the entire film and works wonders to dispel the evil spell of separation.
Baraka
A documentary masterpiece, a philosophical essay accompanied by superb cinematography and music, goes without words. The only and main actor here is life in all its diversity and unity.
The gaze of a monkey sitting in a hot pond is equal to all the depths of cold space, and the dances of the aborigines are synchronized with the movements of the forest.
Spring, Summer, Fall, Winter… and Spring
This is a beautiful and unhurried philosophical parable about a wheel of time moving into infinity. Each time, with the beginning of a new cycle of rotation, life on earth is renewed, and everyone has the opportunity for a new rebirth.
The film by Korean director Kim Ki-dook tells about two monks – a teacher and his student – and the obstacles that must be overcome on the way to finding harmony.
Chronos
The main characters of the documentary narration are cultural and historical monuments.
They absorbed the life of the people who created them, and have remained for centuries as an imprint of bygone eras.
Three suns were observed high above Beijing for 2 hours (video)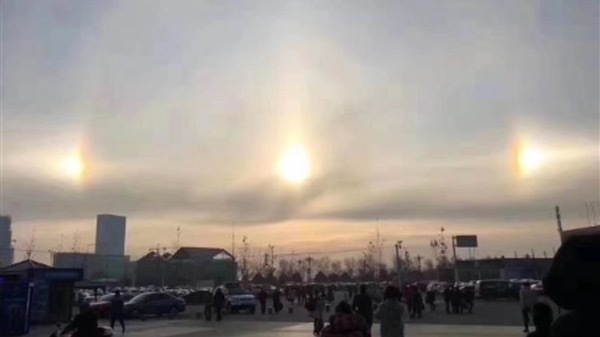 At present, the Coronavirus epidemic is making a comeback in the mainland. At the same time, anomalies have also appeared in various places, such as meteorites falling from the sky, red "odd lights" in the sky, earthquakes and so on. In Beijing, where the epidemic is in urgency, "three suns" appeared yesterday, which stood high above Beijing for more than two hours, which was very eye-catching.
According to a comprehensive report, at about 9 am on December 29th, a spectacle appeared in the Beijing sky and the "three suns" were reflected at the same time. According to the netizens who filmed the phenomenon, the whole process lasted for about 2 hours starting from around 9 o'clock in the morning. Photographers called it a "bilateral sun" wonder.
The online video shows that there is a faint layer of white clouds in the sky, and a bright big sun is mapped out from behind the white clouds. There are two small suns on both sides. Although the light of the small sun is not as bright as the big sun, the coexistence of three suns is still visible.
A netizen posted:
"Beijing today can see the sunshade on both sides of the city around noon today. In some areas, there is also an arc around the zenith and a very light 46-degree halo. Huairou has an external halo."
Netizens were on alert:
"Something is going to change."
"The three suns are still so cold?"
"I always feel that there are so many spectacles this year. Rain, snow, and rainbows ring the zenith rainbow."
"What's the sign? Begin to interpret…"
"Great omen." "Frequent astronomical anomalies in recent years especially recently."
Since 2020, the Covid epidemic has ravaged the world, and various anomalies have appeared one after another across China, including crows flying all over the sky, some cities being overcasted, extreme thunders in February, tens of thousands of sparrows blocking the way and so on.
At around 6 o'clock in the morning on March 16, the shocking landscape of the "three suns" appeared in the sky in Hulin City, Heilongjiang Province.
On the morning of March 18, Shenzhen suddenly went dark. On the same day, Beijing, Hebei, Tianjin and other places were hit by strong winds of magnitude 9 to 11, and sand was blown in some areas. The sky in Beijing became muddy yellow, debris was blown into the air, and pedestrians were blown over.
On the same day, the Kunming Lake in the Summer Palace in the western suburbs of Beijing set off a huge wave. The waves were turbulent.
An old man in Beijing said that the rising tide of the Lake in the Summer Palace is a big omen and that China is about to change its route.
On May 21, Beijing went from thunderstorms to heavy rains, and then suddenly dark, day like night, and hail. Some netizens said:
"If there is a omen in the sky, something big must happen, usually a disaster."
At the end of 2020, meteorites descended from the sky appeared in China , the sky showed pink "exotic light", earthquakes, "three suns" and other phenomena.
At 7:25 in the morning on December 23, the Qinghai Seismic Network recorded a bolide falling into Nangqian County, Yushu, Qinghai. The video showed that after a loud noise from a distance, a big fireball suddenly struck across the air. Experts said that what fell into Qinghai was "a super meteorite."
When the meteor fell, a mysterious and strange "pink light" appeared in Delingha, north of Yushu , Qinghai that day , which netizens called the "red moon".
At 7:51 on the 24th, a magnitude 4.2 earthquake occurred in Maduo County, Guoluo Prefecture, Qinghai Province, with a focal depth of 7 kilometers.
Many people believe that the earthquake and red light may be related to the bolide in Qinghai.
Recently, epidemics have broken out across China. Not only has Beijing cancelled large-scale mass events, but also all large-scale meetings originally scheduled to be held in Beijing. At the same time, the prevention and control of the epidemic in Beijing has entered a state of emergency.
Some analysts say that there are omens in the sky and changes in the world. Coupled with many disasters in 2020, according to ancient astrological predictions, it indicates that there will be major events in China in the coming year.