Skyfish and Solar Entities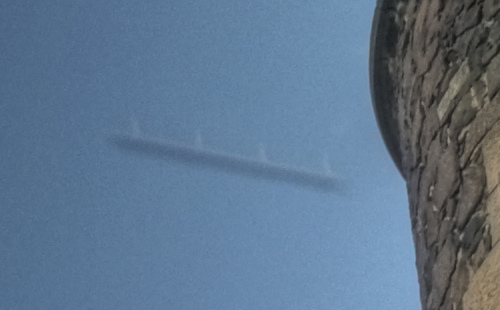 Although they have been captured on film and video hundreds of times, no one knows what these peculiar, mysterious things really are. And you can easily videotape them yourself.
They may be all around us… in the sky, in the water, even in our homes. They have been captured only on film and videotape. No one knows what they are, where they come from, whether or not they are alive, and they have never been touched or seen at rest.
They are called "rods," "skyfish" and sometimes "solar entities." Although the video evidence is compelling that they are quite real and probably living creatures, they are completely unknown to science – a fascinating and baffling mystery.
Skyfish were first documented by filmmaker José Escamilla, who discovered them by accident. In 1994, Escamilla had videotaped a "conventional" UFO near Midway, New Mexico. Fourteen days later, while seeking to photograph the UFO again, he instead captured a flying object that was not a vehicle of any kind. At first he thought it was just an insect or bird. When he examined the film frame by frame, however, it became clear that what he had captured on film was something unknown. Later, more distinct images were captured while Escamilla was filming cliff jumpers at a deep cave in Mexico. When he developed the film, small flying things could be seen zipping around the divers at a high rate of speed – so fast that they weren't seen with the naked eye.
The enhanced frames of film revealed that the flying thing appeared to be rod-shaped with two undulating wings or appendages along the length of the body and which gave it the appearance of swimming through the air. Escamilla dubbed them "rods" and has since filmed and videotaped them dozens of times. And after introducing them to the public through his website, roswellrods.com, he has received further reports and video and photographic evidence from other parts of the US and around the world. The strange flying enigmas have also turned up in documentary footage, TV news shots and even feature films.
Without a specimen in hand to examine, it's impossible to determine whether or not skyfish are living organisms, but it's Escamilla's best guess that they are. The video evidence certainly makes them seem so. They move through the air like insects or birds, sometimes darting around objects with a kind of animal intelligence – but at a speed far greater than any known insect or bird. How fast? Analysis of film and video of skyfish from around the world indicate that they can be moving as fast as 150 to 1,000 miles per hour – faster than the speed of sound.
How big are they? The same analysis indicates that they might range in size from just a few inches to perhaps over a hundred feet in length! How could something that large be unknown? That's part of the skyfish mystery, yet there they are on video.
Although most skyfish have been seen in the air outdoors, they have also been photographed and videotaped indoors and even underwater. A photograph displayed on Kitty's Kitchen website appears to show a skyfish in mid-flight ready to pass through a doorway in her home. And a TV news report on Escamilla from KCOP Channel 13 includes clear footage of a skyfish swimming in a stream, indicating that they are equally at home in the water.
How To Photograph Skyfish
Experiments have shown that skyfish could be virtually anywhere – possibly right outside your home. Using your home video camera, you can find out. A technique developed by actor John "Bro" Wilkie shows how to get the best results. As shown in the diagram link on this page, set up your video camera on a tripod near your home or where there is some other kind of overhang. Adjust the camera's zoom to its maximum telephoto setting. Aim the camera toward the sun – but NOT AT the sun – so that the overhang is actually blocking out the sun and the camera is only seeing the sun's corona and sky.
Start taping and let it run for 15 minutes to a half hour. When you view the tape, you might not see anything right away, or you might see insects and birds flying past the field of view. Use your video camera's or VCR's slow motion function on its slowest setting to view the video. If you're lucky, you will have captured a skyfish. If not, try again another time.
Using this method, many intriguing and utterly puzzling "sun entities" were captured on tape by one experimenter and can be seen on the "Entity/Rods/UFOs"website. These intriguing, often beautiful things, some seen in close-up detail, defy identification.
What Are They?
Strictly speaking, they are UFOs – unidentified flying objects. Apart from that, what skyfish really are is anyone's guess. Most likely they are cryptozoological creatures – animals that science has not yet identified or even recognized as being real. Some have suggested that they are alien creatures (might they even be on Mars?) or spiritual beings. Others say that, because the creatures are so elusive and ephemeral, they might be interdimensional creatures – zipping effortlessly between their dimension and ours.
We won't know what skyfish are until one can be captured for examination. But even that might prove fruitless. A person who has corresponded with José Escamilla claims to have captured a small skyfish and placed it in a jar. In this unverified case, before the specimen could be examined by a professional, the creature allegedly dissolved into a gel-like substance that quickly evaporated.
Why should the search for extraterrestrial life be taken seriously today?
In an unprecedented hunt for alien civilizations, astronomers for first time, survey the entire sky using 28 giant radio telescopes. The project is a collaboration between the SETI Institute and one of the world's most powerful Very Large Arrey (VLA) radio observatories in New Mexico.
Gaining access to all the data collected by the VLA in real time is an important event for scientists who are hunting for extraterrestrial life forms, as well as a sign that this area has "become mainstream". Moreover, according to BBC News, the search for alien life forms today should be taken seriously.
What might be the first contact with an alien civilization?
The science fiction novel "Contact" by the prominent astronomer and popularizer of science Karl Sagan is the most plausible description of what our first contact with intelligent life forms might be. In 1997, "Contact" was filmed, and starred Jodie Foster and Matthew McConaughey. In the film, the heroine Foster, a young radio astronomer, spotted a message from aliens, listening to the sky using VLA. In reality, all astronomical operations will continue on VLA, but the data will be duplicated and pass through a supercomputer that will look for sound signals and other signatures.
As Andrew Siemion, director of the SETI Institute for Berkeley, told The Guardian, VLA is used to view the entire sky. According to Tony Beasley, director of the National Radio Astronomy Observatory, which runs the VLA, determining whether we are alone in the universe is one of the most important questions of modern science, and our telescopes can play an important role in finding the answer to it.
At the last conference of the American Association for the Advancement of Science (AAAS), SETI researchers introduced the Panoseti prototype, designed to continuously monitor large areas of the sky. If the project receives funding, Panoseti will consist of two geodesic domes covered with half-meter lenses, which will give it the appearance of a giant pair of insect eyes. The ability to simultaneously observe vast areas of the sky would make it a unique device for detecting transient signals, such as the flash of a distant high-power laser. The number of exoplanets detected in the habitable zone is quite large, and this makes the search for an answer to the question of the existence of intelligent life more realistic.
Other researchers are hunting for less intelligent species of alien life. Speaking at the same session at AAAS, Victoria Meadows, head of NASA's virtual planetary laboratory at the University of Washington, spoke about the observations planned with the James Webb Space Telescope, which will launch next year. Astronomers are now prioritizing the Trappist-1 star system discovered several years ago. According to computer models, the Trappist-1 system is one of the most promising for the search for planets with an atmosphere and temperature that would allow liquid water to exist on the surface.
The search for exoplanets over the past decades has changed everything. We are watching distant worlds, but can someone watch us? The world famous theoretical physicist Stephen Hawking warned mankind against trying any contact, suggesting that for us such contact would not end in anything good. However, many researchers disagree with this view. In the end, part of a human being is a desire to reach out to the unknown and establish contact with him. So it is possible that sooner or later we will find out the answer to this important question.
Extraterrestrial Life Report Revealed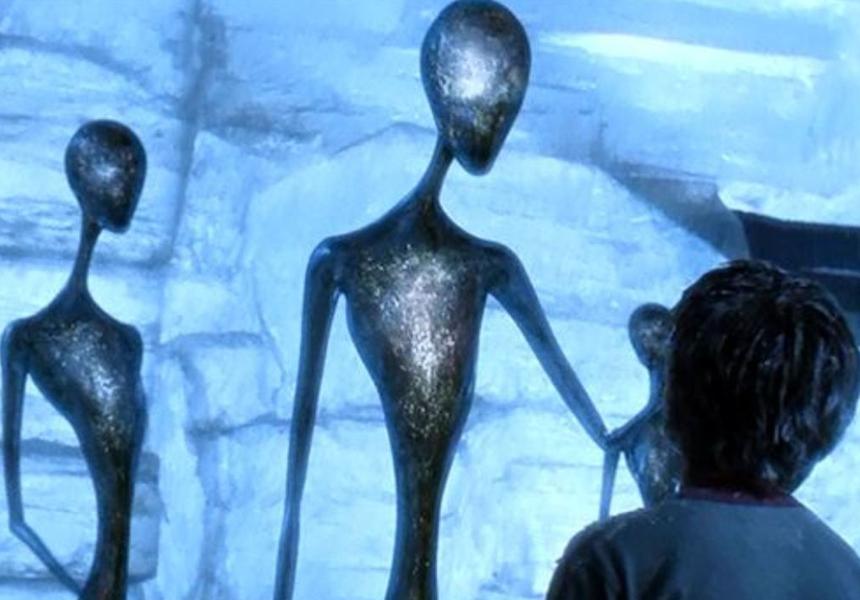 An international team of astronomers has presented official data on the results of a massive search for space radio signals, which could be evidence of the existence of extraterrestrial life.
The studies were conducted using the largest radio receiver in the world – the observatory in Green Bank (USA). According to EurekAlert, the study was conducted by Breakthrough Listen, based at the University of California at Berkeley. A report on the results was announced at the annual meeting of the American Association for the Advancement of Science.
A team led by graduate student at the University of Pennsylvania, Sofia Sheikh, used a method called transit photometry. It allows one to detect extremely small deviations in the spectrum of visible light when a cosmic object passes between us and any star. This method is widely used to search for exoplanets. In this case, astronomers analyzed information obtained using Parkes radio telescopes in Australia and Green Bank in the United States. They searched for radio signals from the 20 closest stars in the so-called C-band – these are radio waves with a frequency of four to eight gigahertz.
"There has been a lot of talk about this region before, but there has never been a targeted search in it," Sofia Sheikh explains."
If other civilizations had telescopes like ours, they would know that there are planets in the solar system that block the light of the star, and they'd even know that life exists on Earth. That's how we discovered thousands of other exoplanets, so we can assume that this is how other intelligent species find planets. And if they know that we are here, they can give us a signal."
However, as follows from the report, the Sheikh and her team have not yet found any technical radio signals that could indicate the existence of an extraterrestrial civilization. Nevertheless, the analysis made it possible to reduce the scope of the search, which will be continued.
"We didn't find any aliens," said Andrew Simon, Breakthrough Listen chief researcher, at a media briefing. "
But we must bear in mind that we have set very strict restrictions on the presence of technologically advanced extraterrestrial species in the galaxy – within the radio frequency spectrum of 4-8 gigahertz. the results will allow those who wish to improve the experiment to climb another step. " We add that in the framework of the project, astronomers directed the telescope to each star for five minutes, and then for the same time took it aside. Then the process was repeated twice more.
As a result, hundreds of radio signals were caught that were initially identified as inexplicable. However, they nevertheless found an explanation. In most cases, these were terrestrial radio interference, and in four cases the "alien" signals turned out to be signals from flying artificial satellites.
According to the study, Breakthrough Listen published almost two petabytes of data. In June last year, a petabyte of data received from radio and optical telescopes was also published. The amount of information is so great that researchers called on the public to look for along with them data on potential signals from intellectually developed civilizations.
Underwater Portal Near Malibu
Six years ago, Maxwell, Dale Romero, and Jimmy Church from the Fade to black program of the American radio station Dark Matter discovered a gigantic underwater portal off the coast of Malibu, California. 
The structure is located under water at a depth of 450 meters, and the lower part of the underwater portal reaches a depth of 700 meters. The portal, respectively, has a height of 250 meters and is located more than ten kilometers from the coast of Malibu. To date, there is no information about the purpose of the structure, who built it or who manages it.
Gigantic underwater portal
The "roof" of the underwater portal has dimensions of 2200 x 4000 meters, while it clearly visible columns indicating the entrance. The distance between the input columns is 836 meters, and their height reaches 192 meters. In this way, the entrance gates provide space for huge vehicles or structures such as the double-sized Eiffel Tower. According to ufologists, the underwater portal may well be the underwater base of UFOs.
True, UFOs seem to be very dubious candidates for such a huge complex. An alternative is the version of the earthly origin of this complex, which can be operated by the US military. An alternative is the China Lake Naval Base, located in the middle of the Mojave Desert in the USA, which can be connected to the underwater portal with a secret underground base and communications. Also known as a possible link is the Naval Underwater Center, located in Hautron, a town on the way from Las Vegas to Reno.
The construction of such an underwater base or underwater portal requires the solution of enormous technical problems. It is possible that the complex, existing for millennia, was accidentally discovered by the American military, and now they use it for their own purposes. This is the only option, because if the United States would build this structure on its own, it would certainly be noticed, because it would require a large amount of technical equipment, and it would be hard not to notice the activity in this place. True, it was suggested that the construction of the facility could be, for example, during the Second World War. But nevertheless, the "version of the construction" of the underwater portal is very doubtful, and there is no evidence for this.
The meaning and purpose of the underwater portal
Suppose an underwater portal is actually operated by the US Army and Navy. But then what is its purpose? The dimensions of the complex suggest a huge base, inside which you can hide vehicles, buildings and much more. And this underwater portal could be connected to both of the bases mentioned above. It has long been rumored that all of the United States are dotted with underground tunnels, and that all military bases are connected in this way to each other.
Unfortunately, there is no real evidence in the public domain of the existence of such tunnel systems and deep underground military bases (DUMB), and therefore everything remains at the level of rumors and hypothetical assumptions. Moreover, the cost of building such tunnel systems would reach trillions of dollars. And trillions, even in the secret budget, are almost impossible to hide. But back to our construction. An underwater base or underwater portal at a depth of 450 meters would keep secret the secret work and groundwork of the US Navy. On such a basis, new technologies could be developed, such as weapon systems, submarines or military technologies unknown to us. Such research projects could be funded from the black budgets of the US defense budget.
The mystery of the mysterious underwater portal near Malibu could be easily solved with the help of a diving expedition, which could carefully examine the complex using an underwater vehicle. But such an underwater expedition requires the permission of the American government, and the question of whether such permission will be granted remains unanswered.
For decades, the US population has been confident that the US government is hiding extraterrestrial technology from the public. After the Roswell incident and the rather clumsy attempts of the US military to explain it, skepticism about confidence in the government among US citizens has intensified, and over time it does not become smaller.
Particularly strange in recent years, the statement by US President Donald Trump, who stated that he did not believe in aliens and did not have any data about them, could have seemed especially strange. The Americans immediately decided: Lying! Rumor has it that when taking office, each new US president receives a secret book from his predecessor, which should contain all important state secrets. True, so far no US president and senior White House official has deigned to confirm.