Skilled Army Remote Viewer Reveals Details About The ET Presence On Earth
IN BRIEF
The Facts:Lyn Buchanan, one of the STARGATE army remote viewers, claims, as multiple others within the program have, that he was tasked to find out information on extraterrestrial groups that were/are visiting the planet.
Reflect On:Why is the success and validity of remote viewing and parapsychology often ridiculed? Why are the most successful remote viewers within the program all relaying to humanity that we're not alone?
For anybody who's looked into the Remote Viewing programs that were (and probably still are) in operation within several governments around the world, it's very easy to become awe struck with regards to the validity of these programs, despite the fact that they've received a lot of criticism from skeptics. One merely has to look at the facts to get a good picture of just how successful, accurate, and useful these programs were, and again, probably still are. Here is a great quote from Dr. Jessica Utts, the Chair of the Department of Statistics at the University of California, Irvine and a professor there since 2008.
"What convinced me was just the evidence, the accumulating evidence as I worked in this field and I got to see more and more of the evidence. I visited the laboratories, even beyond where I was working to see what they were doing and I could see that they had really tight controls…and so I got convinced by the good science that I saw being done. And in fact I will say as a statistician I've consulted in a lot of different areas of science; the methodology and the controls on these experiments than any other area of of science where I've worked." (source)
Such an eye opening and revealing quote, and a fact that needs to be emphasized because when it comes to remote viewing, it conflicts with so many people's belief systems, including many within the fields of academia. Thus, it is often brushed off as 'pseudoscience' without any proper investigation or inquiry. This is odd, given the fact that multiple governments have admitted to studying remote viewing, and other phenomena that falls under the umbrella of parapsychology.
What is remote viewing? It's an ability that allows the 'viewer' to be able to describe a remote geographical location up to several hundred thousand kilometres away (even more) from their physical location — one that they have never been to.
Here's another great quote from the declassified literature in 1995 from the Central Intelligence Agency (CIA) archives, from scientist and co-founder of Stanford's remote viewing program, Harold E. Puthoff:
"To summarize, over the years, the back-and-forth criticism of protocols, refinement of methods, and successful replication of this type of remote viewing in independent laboratories has yielded considerable scientific evidence for the reality of the [remote viewing] phenomenon. Adding to the strength of these results was the discovery that a growing number of individuals could be found to demonstrate high-quality remote viewing, often to their own surprise. . . . The development of this capability at SRI has evolved to the point where visiting CIA personnel with no previous exposure to such concepts have performed well under controlled laboratory conditions." (source)
Multiple viewers were used with exceptional skills inside of this program, which was known as the STARGATE program. One of them was Lyn Buchanan, a veteran and an Army Remote viewer who worked inside of the program. His status within the program has been verified by the declassified literature that was released on the program in 1995.
Here is an example within the literature. Although there are many, I chose this one because it also mentions the professor I quoted above, Jessica Utts.
The document mentions Utts' responsibility with regards to conducting a review of the remote viewing research. It also mentions a program that aired featuring many people from within the program, like Lyn Buchanan, but obviously does not mention all of them as there were many.
One common theme among several army remote viewers, like Ingo Swann and Pat Price, names that are also found throughout the de-classified STARGATE literature, is extraterrestrial.
I recently came across an interview with Lyn Buchanan, and according to him:
"After the military I was asked by a branch of the government to do a paper, a study paper to compare and contrast ET psychic ability to human psychic ability. The study that I did was because I was given access to many of the things that never made it into project grudge or the blue book or anything like that because they couldn't be denied. So anyway, in studying these, I found out that we can take the ET's of all different kinds and species and all that and put them into four main categories. We've got those who are more psychic than us and those that are less psychic than us. In each of those two categories we've got friendly to us and unfriendly to us, the unfriendly non-psychic ones tend to not come here. They don't like us, they don't want to be around us. The non-psychic friendly ones come here for trade. The psychic friendly ones actually want to help us develop our abilities and become stronger at it. And the unfriendly psychic ones want us wiped off the planet, they want us dead, period, no questions asked."
He also mentions extraterrestrial bases that are on Earth, and he says there are approximately five. He mentions that they are all inside of mountains and that at some of these bases humans are working with these extraterrestrials in various ways. He is not the only viewer to mention these bases and extraterrestrials, as Ingo Swann told many fascinating stories in his book, Penetration: The Question of Extraterrestrial and Human Telepathy. Furthermore, Joseph Mcmoneagle was another individual who had experience in remote viewing an extraterrestrial presence.
Then, there is Pat Price, who, along with Ingo Swann, is described as one of SRI's most successful viewers, as his sessions were extremely accurate.
Legendary UFO researcher Timothy Good tells the story quite well in his book, Unearthly Disclosure:
According to Captain Frederick H. Atwater, a retired US Army officer also involved at the time in highly classified 'remote viewing' experiments for the CIA and the Defense Intelligence Agency, as well as for the Army's Intelligence and Security Command, Price had remotely viewed four alien bases on Earth, one of which was located under Mount Ziel, Northern Territory. Mount Ziel lies some 80 miles west-northwest of Pine Gap. Price believed the base contained a mixture of 'personnel' from the other bases, one purpose being to 'transport new recruits, with an overall monitoring function'. The other bases were said to be under Mount Perdido in the Pyrenees, Mount Inyangani in Zimbabwe, and, coincidentally, in Alaska under Mount Hayes. Price described the occupants as 'looking like homo sapiens, except for the lungs, heart, blood and eyes.'
Lord Admiral Hill-Norton, Former Chief of Defence Staff, 5 Star Admiral of the Royal Navy, and Chairman of the NATO military committee, wrote the forward to the book by Good. Here's a great quote from him:
"There are objects in our atmosphere which are technically miles in advance of anything we can deploy, that we have no means of stopping them coming here … [and] that there is a serious possibility that we are being visited and have been visited for many years by people from outer space, from other civilizations. That it behooves us, in case some of these people in the future or now should turn hostile, to find out who they are, where they come from, and what they want. This should be the subject of rigorous scientific investigation and not the subject of 'rubishing' by tabloid newspapers." (source)
Bellow is a screenshot of the first page of a document from 1979, which wasn't approved for release until after the year 2000. The document is written by Atwater, and you can scroll down to the bottom and see that yourself. I thought I should post it here because it mentions Price and it's very interesting, although you can't make out all of it because some is blanked out. However, you can see how useful Mr. Price was to the CIA, and how interesting findings were not shared. His story regarding the alien bases is one example of many that corroborates other stories from many viewers like Buchanan and Ingo Swan (both of whom were mentioned above). They're also mentioned on the second page of the document below.
If you pay a visit to the CIA's electronic reading room and type in any of the names I've mentioned in this article, you will find a plethora of articles.
Being a UFO researcher for a very long time, what's interesting to me is that the comments remote viewers make about ET presence corroborates with a lot of other information in the field. The success of the remote viewing alone is why it's even more intriguing.
Discussing Remote Viewing & The Moon
Joe and I recently sat down and went a lot deeper into remote viewing and how it relates to the extraterrestrial phenomenon. Below is a clip from our hour discussion on the topic during our 3 hour broadcast of The Collective Evolution Show. Check out the clip below, and if you want to watch the entire broadcast you can sign up for CETV.
The Takeaway
Human ability and capability expands far beyond what is presently known. There are concepts regarding our reality and facts about the human experience that are still being revealed. We are literally living in apocalyptic times. 'Apocalypse' (ἀποκάλυψις) is a Greek word meaning 'revelation,'"an unveiling or unfolding of things not previously known and which could not be known apart from the unveiling.' (source) In today's day and age, no matter how much evidence and empirical data supports a phenomenon, and no matter how obvious it may seem, if it conflicts with long held collective belief systems, it will always be rejected simply based on the implications it could have. This process of revelation is happening now, and although it's slow and gradual, it has been accelerating.
We are living in very exciting times.
US special forces engaged in combat with aliens during the Vietnam war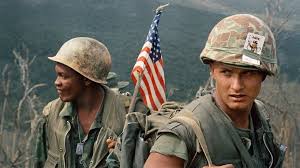 This incident happened in early 1972 during the Vietnam War. A US Special Forces group was secretly delivered at night and parachuted in an area on the Cambodia-North Vietnamese border.
The operation was vital: to destroy a facility in North Vietnam, which, as it was possible to establish by American intelligence, was secretly overhearing top secret conversations of the US Army in South Vietnam.
The SWAT team set up camp for the night, preparing to assault the North Vietnamese team at dawn. In the early morning, the commandos quietly crept up to the Vietnamese base, but what they saw there shocked and frightened them.
As the team got closer to the location of the North Vietnamese unit, they suddenly discovered that there was a large spherical ship that stood on three sturdy metal supports.
The ship suddenly began to hum, causing instant sickness, dizziness, and disorientation in the US military.
The group leader was about to issue a command to retreat when a group of strange looking humanoid creatures appeared.
Not believing what they saw, the special forces group was even more frightened by what these creatures were doing (according to the description of the soldiers, taking into account modern data based on numerous contacts, it can be assumed that they were "gray"): the aliens got out of a large pile various parts of human bodies and placed them in large containers – arms, legs, torso, heads; this terrible list went on and on.
Some were the remains of white people, others were black (US Army soldiers), and others looked like Vietnamese (Vietnamese soldiers from the base).
What they saw sobered and angered the special forces and the commander gave the order to open fire – the bullets hit the bodies of the creatures, but they did not do any harm, except for one who was killed by a shot in the head.
Several commandos were killed, and others were seriously injured by the effects of unknown weapons. Then the aliens quickly retreated into the ship and he quickly rushed into the sky,
Soon, another CIA team appeared on the scene, as one of the survivors said they were all given some kind of mind-altering drugs to try to make them forget about this incredible fight. And it worked, at least for a while.
However, in the late 1980s, two members of the special forces team who took part in that battle began to have nightmarish memories of the events of April 1972, which prompted one of them to contact many other special forces who were found and who were still alive.
Two had already died, three were not found at all, but the rest were able to meet in August 1988 and decided that this story should be told.
They turned to researcher and ufologist Leonard Stringfield and he published their story in his 1991 book.
The story is told in Stringfield's UFO Crash Retrievals: The Inner Sanctum. 
UK UFO case to be kept secret until 2072
The UK Department of Defense has blocked the planned release of a dossier detailing the famous UFO incident.
Back in August 1990, two tourists walking in the Scottish Highlands near Calvine, Pitlochry, witnessed a strange rhombic object hovering over the nearby landscape.
They managed to take pictures of the UFO before it flew away at significant speed.
Eager to share what they saw, the couple contacted the Scottish Daily Record and shared both their story and the photos they took.
Then the journalists shared the pictures with the UK Department of Defense.
It turned out that the tourists weren't the only ones who saw the object – the pilot of the RAF Harrier jet also witnessed the phenomenon – again near Calvine – after being forced to investigate this UFO.
Military intelligence officers sent these images to JARIC, which is the Joint Air Intelligence and Reconnaissance Center.
It is the UK's military center of excellence when it comes to image analysis. These intelligence officers concluded that these photographs were real and that no one had the slightest idea what they were.
Thirty years later, the dossier of the Ministry of Defense, including photographs, was scheduled for declassification and publication, which is typical of such documents.
However, the release has now been postponed for another 50 years for unknown reasons.
According to the 30-year rule, the file was supposed to be released on January 1, 2021, but if the ministry gets it, it won't be released until January 1, 2072 – an 82-year closure.
"By the time the world gets to see the file, the two witnesses will be dead. It is crazy. What are the authorities trying to hide?"
A complaint lodged under the Freedom of Information Act about the National Archives withholding the documents is now under investigation by the UK information watchdog, the Information Commissioner's Office.
The National Archives refused to comment further. The MOD refused to comment at all.
What are the authorities trying to hide?
FBI decrypted documents confirm that there are giant aliens
The topic of aliens has always attracted attention. Recently, foreign media disclosed that a declassified document released by the Federal Bureau of Investigation (FBI) once again confirmed the existence of UFOs and aliens.
FBI Declassified Document: Describes UFO and Aliens
The British "Daily Star" reported that earlier this year, the FBI released the decrypted documents in 1947. The 70-page decrypted report contained a "Memorandum 6751". The person who wrote the report was an anonymous university professor.
"Memorandum 6751″ mentioned that there were flying saucers, unidentified creatures, and " giant aliens resembling humans ".
The report stated that these aliens are like humans, "but larger in size. They are not from any planet known to people, but from the etheric." "Ether" is a term used in ancient Greece, generally referring to the atmosphere or sky.
There is also a description of the flying saucer in the decryption report, which refers to the fact that most of the flying saucers are loaded with alien creatures. The flying saucers have powerful radiation, are very fast, and have powerful attack capabilities.
"These flying saucers have a kind of radiant energy or light that can easily disintegrate any spacecraft that launches an attack. They can re-enter (earth) from the ether at will, or they can simply disappear from our sight without leaving a trace."
The report states, "If one of these (flying saucers) is attacked, the attacking aircraft will almost certainly be destroyed. As far as the general public is concerned, this may lead to proximity panic and international suspicion."
Tesla is a " Venusian "
In recent years, due to the expiration of the confidentiality period, the FBI has published many decrypted documents on its official website, including one about the famous inventor Nicholas. Tesla (Nikola Tesla) declassified documents, caused a public heat. The document mentioned that Tesla came from "Venus" and was an "alien".
The decrypted document is called "Nikola Tesla Part03 of03". It is the third document about Nikola Tesla decrypted by the FBI. It has 64 pages of content, some of which are blacked out and cannot be distinguished.
The remaining content that is not blacked out contains the following passage: "The people of the universe have contacted Nikola Tesla many times and told the FBI that Tesla was from Venus. Tesla was brought to the earth in 1856 to a Yugoslav couple to raise."
The publication of this document shocked the world. Faced with a wave of discussions and doubts from netizens, the FBI did not make any response or explanation, which is even more curious.
F-18 fighters chase UFO
"The Wall Street Journal" recently reported that the non-profit organization "National UFO Reporting Center" data shows that so far this year, UFO sightings have increased by 51% over the same period last year. The center has received approximately 5,000 sightings reported.
On September 8, the United States retired Lieutenant Colonel David. David Fravor accepted the Massachusetts Institute of Technology scientist Rex. In a live webcast interview with Lex Fridman, he talked about the bizarre experience of driving an F-18 fighter jet to chase UFOs 16 years ago.
On November 14, 2004, a UFO was found in the waters of San Diego, California, and Frevo piloted an F-18 fighter to investigate. Both he and the pilot of the other fighter saw a white Tic Tac mint-shaped flying object.
Subsequently, the pilot Chad Underwood flew an F-18 fighter jet, caught UFO on the radar, and successfully filmed UFO video with an infrared camera.
In April this year, the Pentagon released three videos of UFOs, one of which was taken by Underwood during this operation.
12 U.S. soldiers live on alien planets
Former Minister of Defense of Canada Paul. Paul T. Hellyer once disclosed that there are aliens living on the earth and working for the US government. Many US presidents have also admitted the existence of aliens on different occasions.
In addition, some U.S. military personnel disclosed that a top-secret exchange between the U.S. military and aliens was named "Operation Zeta," and an alien envoy came to the United States. In July 1965, 12 American soldiers secretly boarded an alien spacecraft to the planet Zeta.
Of these 12 people, 4 never returned to Earth. Of these 4 people, 2 died, 2 chose to stay on Zeta, and the remaining 8 returned to Earth 13 years later.