Skeletons in the Closet: Secrets of Famous Families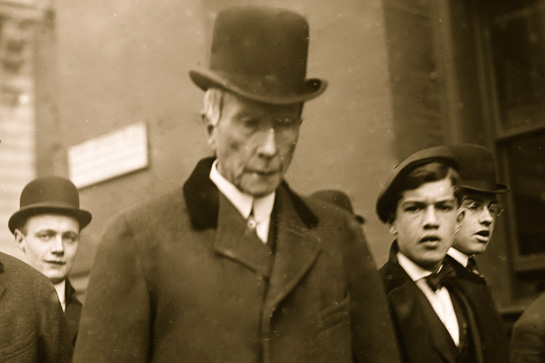 The Bushes
Before the Bush family was the very picture of all-American do-gooderism, they were aiding the Nazis during World War II, according to The Guardian. George W. Bush's grandfather, Senator Prescott Bush, directed the Union Banking Corporation, whose assets were seized under the Trading with the Enemy Act in 1942. The Guardian reports that UBC represented the U.S. interests of Fritz Thyssen, a steel and coal baron who funded Adolf Hitler's campaign in the 1930s. Though Senator Bush never confessed Nazi sympathies, the Guardian investigation appeared to prove Bush was well-aware of UBC's activities with the Nazis.
The Jacksons
Before Michael Jackson was accused (and acquitted) of child molestation, there was another scandal in the Jackson house. Michael's father, Joe Jackson was accused by his daughter La Toya of abuse in her autobiography, La Toya: Growing Up in the Jackson Family. She alleged that Joe beat his kids with his iron fists and sexually abused LaToya and her sister, Rebbie. Joe adamantly denied the allegations. He has never been charged and La Toya and her father did reconcile.
Rockefellers
William Rockefeller was a shameful secret his wealthy sons tried to keep hidden. Rockefeller was a snake oil salesman and con artist who sold "cancer cures" to women door-to-door. He married Eliza, John D. Rockefeller's mother, but later had two children by his mistress/maid. Then he left his family and took off for parts unknown, marrying a woman 25 years his junior while still married to Eliza. To round off his scumbag career, he was also indicted for rape. Joseph Pulitzer offered an $8,000 reward for information about the patriarch and his checkered past, which uncovered some clues Rockefeller's sons had kept under wraps.
The Barrymore Family
Long before Drew Barrymore had her first whiff of cocaine, her family was paving the way for her admitted drug use and mental breakdown. Her father, John Barrymore, was arrested multiple times for domestic violence and public drunkenness. Drew's great-grandfather, actor Maurice Barrymore, was committed to the mental health ward at Bellevue after he suddenly became violent while performing live theater. He was diagnosed with madness caused by syphilis, which was then incurable.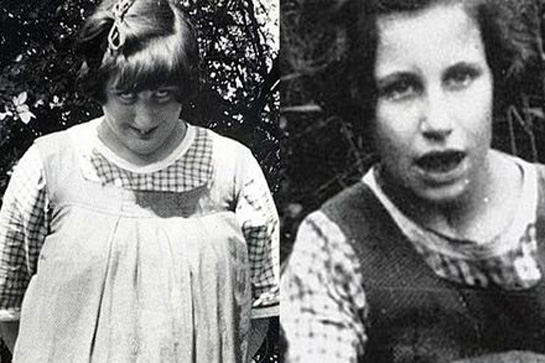 The Secret Royal Family Members
Born with unspecified medical conditions that left them unable to speak, Nerissa and Katherine Bowes-Lyon were dumped on an asylum in 1941 when they were 27 and 15, respectively. The girls were nieces of the Queen Mother and cousins of the reigning Queen Elizabeth, yet were hidden and even declared dead in Burke's Peerage, a guide to the U.K.'s royal and titled families. In an age where learning disabilities were not understood, the girls were considered "embarrassments" to the royal family and hidden away. The truth finally came to light in 1986, after Naerissa's death. Katherine is believed to be still alive.
The Kennedy Babysitter Affair
After Marilyn Monroe's trysts with both John and Robert Kennedy, it comes as no surprise that sex scandals run in the family. But a lesser-known scandal involved Michael Kennedy, Representative Joe Kennedy's brother and campaign manager. In 1997, it was rumored that the married Michael had had an affair with his children's babysitter, possibly when she was underage. Kennedy passed three lie detector tests insisting the girl had been 16 and therefore of age. The then 19-year-old refused to aid in the investigation and the case dropped.
The Rothschilds
The Rothschild dynasty is rumored to have ties with the Illuminati, but we won't know if that is true until the ultra-secret organization wants us to know. In the meantime, the exploits of Charles Rothschild's first child, Baroness Pannonica "Nica" de Koenigswarter should suffice. Known as the bebop baroness, Nica's exploits included carousing with Charlie Parker and Thelonious Monk. Parker was found dead in Nica's her hotel room, though charges were never filed in his death. Nica and Monk were later arrested for marijuana possession. The baroness even claimed full criminal responsibility for the episode, thus keeping her favorite musician out of jail.
The Nazi King Edward VIII
In 1938, King Edward VIII abdicated the throne rather than break off his relationship with twice-divorced American socialite Wallis Simpson. But the greater scandal came when was found to be a Nazi sympathizer. Hitler believed that Edward was a friend and, were he to have stayed in power, the countries could have joined forces and strengthened the Axis. It was because of Edward's Nazi leanings that he was stationed in the Bahamas when World War II broke out, for fear that he would endanger the country.
The Not-So-Secret Kennedy Story
The Kennedy family's drinking and drug problems are well documented. RFK, Jr. was arrested for heroin possession in 1983 and David Kennedy died from a drug overdose in 1984. As Christopher Kennedy Lawford put it:"Alcoholism didn't run in my family, it galloped." The Chappaquiddick incident from 1969, in which Senator Ted Kennedy drove his car off a bridge, was perhaps never a "secret," but it will forever be shrouded in mystery. Kennedy survived but passenger Mary Jo Kopechne did not. It took Kennedy nine hours to report the crash and he plead guilty to leaving the scene of an accident. The Senator was never indicted in Kopechne's death.
Schwarzenegger's Nazi Dad
Ex-governor/actor/bodybuilder Arnold Schwarzenegger is an imposing man. It turns out his father, Gustav, was also scary, but in a much creepier way. Documents obtained in 2003 showed that the Austrian police chief applied to join the Nazi Party of his own volition in March of 1938 — before Austria was annexed. In 1940, he became a member of the Sturmabteilung, Nazi storm troopers known for their involvement in the Kristallnacht riots. Despite his links with both the Nazis and the SA, there is no record of Gustav being indicted with any war crimes.
Churchill
Winston Churchill had a brother, Jack, although he was goes virtually unmentioned in Winston's autobiography. Instead, he was referred to as "another boy." Why Winston attempted to erase his younger brother from history is unknown, but historians speculate that Winston was ashamed of his brother because Jack was illegitimate. According to biographers John and Celia Lee, Jack was the result of an affair between Lady Randolph Churchill and Evelyn Boscawen, the 7th Viscount Falmouth. Worse: Lady Randolph stole most of her children's trust fund to finance her socialite lifestyle, which included purportedly acting as mistress to the Prince of Wales.
The Rockefellers' Wartime Profiteering
If it weren't for wars, the Rockefellers might not be what they are today. During the Civil War, the budding businessman, John D. Rockefeller, sold grain, hay and meats to the Union army at inflated prices. He invested the money he made in Samuel Andrews' oil refinery, which was the start of Standard Oil. During World War II, the Rockefeller family profited from both the Allies, who used Standard Oil, and the Axis, who also used Standard Oil.
The Rockefellers also earned big money thanks to one of Standard Oil's largest stockholders: I.G. Farben, a German chemical industry conglomerate that manufactured Zyklon B, the cyanide-based pesticide used in Nazi death camps.
Did A 1988 Economist Magazine Predict A Bitcoin Explosion In 2018?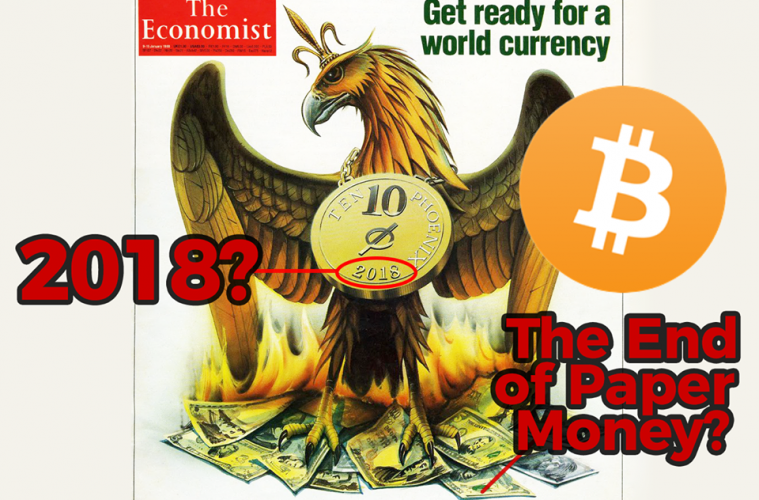 Here Are The Most Outrageous Food Trends Of 2017
Another year has come and gone, but 2017 is leaving behind a legacy of super weird food, beauty, and fashion trends. We compiled a list of the most colorful, crazy, and just plain weird food trends of 2017. Keep reading and let us know if you tried any of these trends this year 🙂
1. Charcoal EVERYTHING
2017 was the definitely the year of charcoal! From ice cream to bagels, charcoal was popping up everywhere on the food scene. Many people believed that the charcoal made the food more healthy, but scientists say that there are very few benefits to eating charcoal in food. But it sure does look great in an Instagram photo!
2. Pastel And Colorful "Unicorn" Food
You might remember the insanity this past summer when Starbucks released a limited edition Unicorn Frappucino. Kids and adults were lining up to get their hands on this colorful, sweet concoction. This was just the beginning of the unicorn food craze this year, which took the internet by storm. But does it taste as good as it looks?
3. Smoothie Bowls
Carefully arranged smoothie bowls were clogging people's Instagram feeds this past summer. The colorful bowls of vitamin-rich smoothies topped with an assortment of fruits and nuts were a complete craze, and thankfully so! Smoothie bowls are definitely one of the most healthy of the food trends in 2017, and we're predicting they'll continue to be a hit in 2018!
4. Cloud Eggs
People started experimenting with new ways to spruce up their eggs and created puffy, wondrous "cloud eggs." They are standard baked eggs, but the whites are whipped into a meringue to give it a cloud effect when cooked. This dish became extremely popular among health nuts, since they're not only easy on the calories (only 161 per serving!) but they also look great in photos 😉
5. Raindrop Cakes
This aesthetically pleasing Japanese treat has become a popular dessert in the West. The vegan jelly dessert consists simply of agar, spring water, black sugar and kinako, but the process to make them is quite difficult. But don't expect a flavorful dessert when you first bite into one; many people say they are tasteless and just serve as a light, after dinner treat.
6. Turmeric Latte
If you love spiced drinks, then you'll love this colorful and wacky turmeric latte. The bright yellow drink is full of powerful antioxidants, but we just can't get past the idea of turmeric as a LATTE. Would you try it?
7. FREAK SHAKES
Freak Shakes definitely take the cake for the most INSANE food of 2017! These towering pillars of sweets and ice cream were dropping jaws everywhere during the summer, and continue to be a craze. We can't even imagine the sugar rush you get after finishing one of these impressive desserts!
Those are the craziest and weirdest foods trends of 2017! How many of them have you tried?
Artist's Work Goes Viral After Censorship Of His Psychedelic Sex Art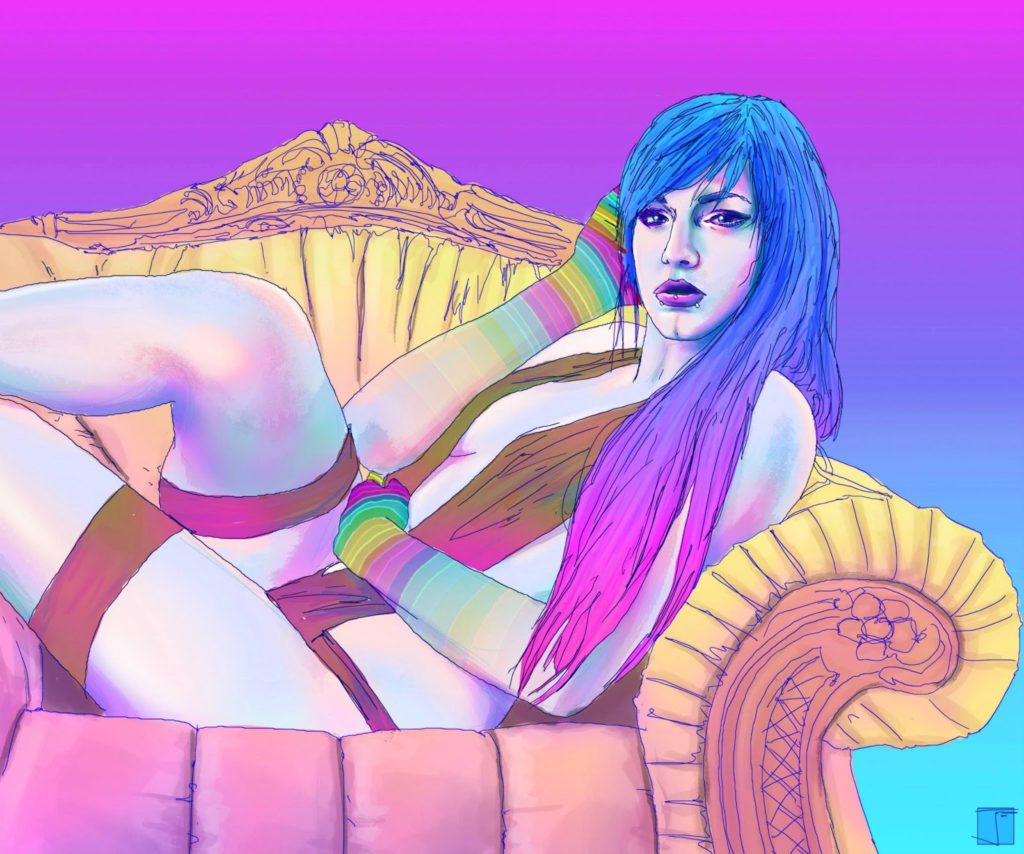 By  Amanda Froelich Truth Theory
I am, you are, we are, one. That is a truth of the universe, and it becomes quite clear as one experiments with psychedelics — or, spends long amounts of time in silent meditation.
Everything from LSD to peyote to marijuana to Ayahuasca can be considered a psychedelic. As the Drug Policy Alliance explains, these substances have been used for thousands of years. Most often, they play a role in religious and therapeutic purposes.
The idea that certain plants and fungi can contribute to cohesion within the mind, body, and spirit and, as a result, produce healing effects is an unpopular one. This is because, the modern world takes a rigid stance against freedom of thought and, consequently, the use of mind-altering substances.
To be clear, there are risks to consuming psychedelic drugs. However, most are minute, which is why in recent years, scientists (specifically, with John Hopkins University) have begun to study the illegal substances. What they've found is phenomenal — and their research has just started.
In one study, the researchers concluded that a hallucinogenic drug found in "magic mushrooms" eases depression and anxiety in people with life-threatening cancer. Another study suggests the fungi could be a "promising" treatment for people with PTSD and anxiety. And, earlier this year, a study was published concluding that psilocybin is the safest psychedelic to experiment with recreationally.
Essentially, what we are learning  is that psychedelic substances are not as bad the mainstream media and federal government have made them out to be. While more research needs to be conducted on the safest ways to consume and use them, it seems clear the taboo that surrounds the use of mind-altering substances needs to lessen.
On that topic, an artist who hid his true identity for years, simply because the world wasn't ready for his imaginative mind, recently went "viral." It all started when Facebook banned the artist's work which he had been uploading to social media networks under the alias Phazed. That artist, who has now revealed his identity, is Jean Francois Painchaud.
Up until a couple of weeks ago, Painchaud was working on the PBS kids show Wild Kratts during the day. In the evenings, he would create GIFS which explore the unification which occurs during conscious sex. He was having trouble sharing his artwork, however, because the topic of sex — and images of the naked human body — are censored.
Painchaud disclosed during an interview: "Soon after I started posting my art online, I found out that there are people out there who are very sensitive when it comes to the female body. No matter how much I censor my work, I still get reported. It's ridiculous. So, whenever they take down my art or censor me, I make a big deal out of it, hoping that we might be able to change this culture of incessant censoring over time." 
Fortunately, being banned turned out to be one of the best things that could have happened for his career. In just a few weeks, the artist has welcomed more than 45,000 new followers to his Tumblr, Instagram and Facebook accounts.
When asked how "magic mushrooms" affect his work, Painchaud responded: "Mushrooms didn't only help my art develop; they changed my entire life. Using mushrooms helped me overcome my depression, my insecurities and my anxiety. Most of that anxiety came from negative experiences with my father and being bullied at school."
The artist added: "Before I found shrooms, I was making art to improve my skills. It was as if I was trying to impress myself or show off. But what's the point of sharpening your tools, if you're never going to build something of your own?"
The exploration of sex — especially through art — might make some people uncomfortable, but Painchaud finds the combination of sex and psychedelics to be "very beautiful and inspiring." He said, "I feel that both psychedelics and sex can help you transcend your ego and tap into a purer state of being – of living in the moment."
At first glance, the GIFs do seem slightly pornographic. However, the colors are a contrast to traditional porn, which tends to objectify women — and, to an extent, men — through bland, pale colors and regurgitated scripts.
Painchaud's artwork, on the other hand, has a central theme: connection. The "energy" which is conveyed through color flows through nearly every scene and connects those who have agreed to share their bodies and hearts. The unions which are portrayed are holy in their own, unique way, and the color, shapes, and vibrancy confirm this.
Support the artist on Patreaon