Six positive news stories from 2019
The climate breakdown continues. Over the past year, The Conversation has covered fires in the Amazon, melting glaciers in the Andes and Greenland, record CO₂ emissions, and temperatures so hot they're pushing the human body to its thermal limits. Even the big UN climate talks were largely disappointing.
But climate researchers have not given up hope. We asked a few Conversation authors to highlight some more positive stories from 2019.
Costa Rica offers us a viable climate future
Heather Alberro, associate lecturer in political ecology, Nottingham Trent University
After decades of climate talks, including the recent COP25 in Madrid, emissions have only continued to rise. Indeed, a recent UN report noted that a fivefold increase in current national climate change mitigation efforts would be needed to meet the 1.5℃ limit on warming by 2030. With the radical transformations needed in our global transport, housing, agricultural and energy systems in order to help mitigate looming climate and ecological breakdown, it can be easy to lose hope.
However, countries like Costa Rica offer us promising examples of the "possible". The Central American nation has implemented a refreshingly ambitious plan to completely decarbonise its economy by 2050. In the lead-up to this, last year with its economy still growing at 3%, Costa Rica was able to derive 98% of its electricity from renewable sources. Such an example demonstrates that with sufficient political will, it is possible to meet the daunting challenges ahead.
Financial investors are cooling on fossil fuels
Richard Hodgkins, senior lecturer in physical geography, Loughborough University
Movements such as 350.org have long argued for fossil fuel divestment, but they have recently been joined by institutional investors such as Climate Action 100+, which is using the influence of its US$35 trillion of managed funds, arguing that minimising climate breakdown risks and maximising renewables' growth opportunities are a fiduciary duty.
Moody's credit-rating agency recently flagged ExxonMobil for falling revenues despite rising expenditure, noting: "The negative outlook also reflects the emerging threat to oil and gas companies' profitability […] from growing efforts by many nations to mitigate the impacts of climate change through tax and regulatory policies."
A more adverse financial environment for fossil fuel companies reduces the likelihood of new development in business frontier regions such as the Arctic, and indeed, major investment bank Goldman Sachs has declared that it "will decline any financing transaction that directly supports new upstream Arctic oil exploration or development".
We are getting much better at forecasting disaster
Hannah Cloke, professor of hydrology, University of Reading
In March and April 2019, two enormous tropical cyclones hit the south-east coast of Africa, killing more than 600 people and leaving nearly 2 million people in desperate need of emergency aid.
There isn't much that is positive about that, and there's nothing new about cyclones. But this time scientists were able to provide the first early warning of the impending flood disaster by linking together accurate medium-range forecasts of the cyclone with the best ever simulations of flood risk. This meant that the UK government, for example, set about working with aid agencies in the region to start delivering emergency supplies to the area that would flood, all before Cyclone Kenneth had even gathered pace in the Indian Ocean.
We know that the risk of dangerous floods is increasing as the climate continues to change. Even with ambitious action to reduce greenhouse gases, we must deal with the impact of a warmer more chaotic world. We will have to continue using the best available science to prepare ourselves for whatever is likely to come over the horizon.
Local authorities across the world are declaring a 'climate emergency'
Marc Hudson, researcher in sustainable consumption, University of Manchester
More than 1,200 local authorities around the world declared a "climate emergency" in 2019. I think there are two obvious dangers: first, it invites authoritarian responses (stop breeding! Stop criticising our plans for geoengineering!). And second, an "emergency" declaration may simply be a greenwash followed by business-as-usual.
In Manchester, where I live and research, the City Council is greenwashing. A nice declaration in July was followed by more flights for staff (to places just a few hours away by train), and further car parks and roads. The deadline for a "bring zero-carbon date forward?" report has been ignored.
But these civic declarations have also kicked off a wave of civic activism, as campaigners have found city councils easier to hold to account than national governments. I'm part of an activist group called "Climate Emergency Manchester" – we inform citizens and lobby councillors. We've assessed progress so far, based on Freedom of Information Act requests, and produced a "what could be done?" report. As the council falls further behind on its promises, we will be stepping up our activity, trying to pressure it to do the right thing.
Radical climate policy goes mainstream
Dénes Csala, lecturer in energy system dynamics, Lancaster University
Before the 2019 UK general election, I compared the Conservative and Labour election manifestos, from a climate and energy perspective. Although the party with the clearly weaker plan won eventually, I am still stubborn enough to be hopeful with regard to the future of political action on climate change.
For the first time, in a major economy, a leading party's manifesto had at its core climate action, transport electrification and full energy system decarbonisation, all on a timescale compatible with IPCC directives to avoid catastrophic climate change. This means the discussion that has been cooking at the highest levels since the 2015 Paris Agreement has started to boil down into tangible policies.
Young people are on the march!
Mark Maslin, professor of earth system science, UCL
In 2019, public awareness of climate change rose sharply, driven by the schools strikes, Extinction Rebellion, high impact IPCC reports, improved media coverage, a BBC One climate change documentary and the UK and other governments declaring a climate emergency. Two recent polls suggest that over 75% of Americans accept humans have caused climate change.
Empowerment of the first truly globalised generation has catalysed this new urgency. Young people can access knowledge at the click of a button. They know climate change science is real and see through the deniers' lies because this generation does not access traditional media – in fact, they bypass it.
The awareness and concern regarding climate change will continue to grow. Next year will be an even bigger year as the UK will chair the UN climate change negotiations in Glasgow – and expectation are running high.
Polar vortex: "wild" winter is coming in the US, Northern Europe and East Asia after the 16th of January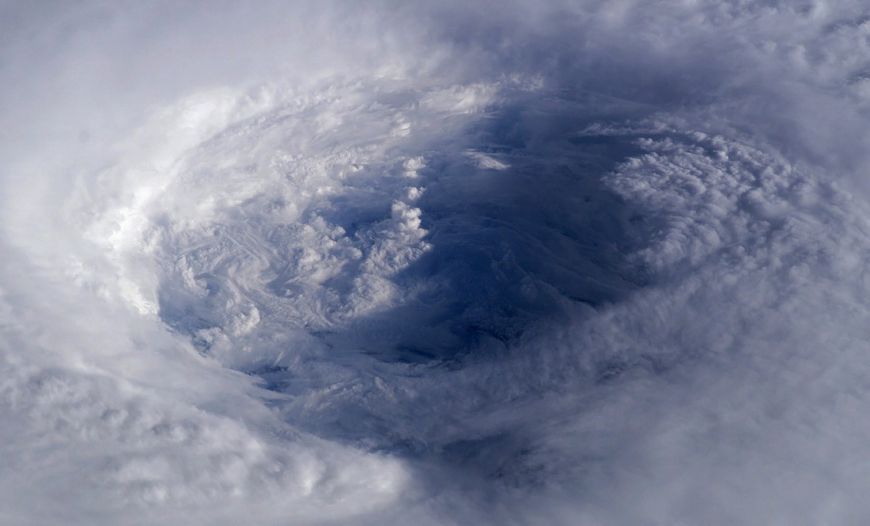 In the upper atmosphere above the North Pole, experts saw a rapidly swirling vortex of cold air that could bring severe frosts to the United States, Northern Europe and East Asia. Serious cold snap and snowy weather are expected after January the 16th.
Snowfalls and a cold snap hit South Korea since the start of 2021, hitting historic snow maximums and temperatures. In the country, for the first time since 1964, television and newer communications are sending people cold snap warnings:
The situation is similar in Japan, where a new snow storm hit historic highs:
On January 7, the thermometer In Beijing dropped to -20 degrees Celsius, breaking the 1966 record. In other regions of China, the temperature is also not sugar, and you can only move around in special uniforms:
The cold even reached Taiwan, where the temperature in some areas dropped below freezing point, snow poured down and people realized that rice terraces can be used as a ski jump:
Even more snow went to Spain, where on January 6, 2021, a temperature of -34.1 ° C was recorded – the lowest on record. After that, a snow storm hit the country, which has not been seen for 80 years:
The same thing happens in Canada and in the northern states of the United States:
It seems that after a stratospheric warming, the subpolar vortex began to split:
The vortex itself is a standard phenomenon. However, this time experts were surprised at his movement. It is possible that in the near future it will be divided into two parts. 
Scientists associate the strange behavior with the changed climate in the Arctic, which has become warmer. From September to December, the amount of ice cover decreased significantly.
The polar vortex is a low-pressure region located in the stratosphere and filled with cold air. When the jet stream of air that holds the vortex weakens, the low pressure area moves south. 
As the ice shrinks, more moisture will move inland. It will turn to snow, so snowfalls are expected. Snow, in turn, reflects heat, leading to a cold snap.
Hospital in Naples was evacuated after a new, huge sinkhole appeared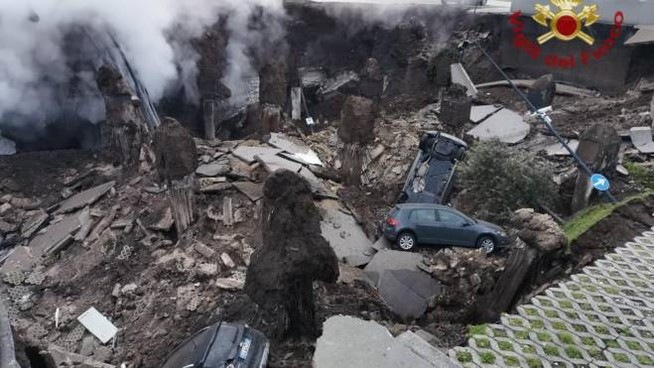 Eyewitnesses said they heard a loud crash at dawn when a huge hole in the ground formed outside the Ponticelli Ospedale del Mare hospital in eastern Naples.
Early in the morning of January 8, 2021, a sinkhole occurred in the parking lot of a clinic in Naples. The depth of the formed cavity is about 20 meters, the total area of ​​the hole is about 2,000 square meters.
No casualties were found at the scene; firefighters say the sinkhole "affected an area of ​​about 500 square meters" and engulfed several cars parked near the hospital.
As the press writes and as a little can be seen from the videos, rescuers and firefighters were running around the pit together with the governor of the area.  But who should be there in the forefront are Italian geologists, since Naples stands in the very center of the volcanic system known as the Phlegrean Fields.
If the surface collapsed, moreover – the surface reinforced with concrete and reinforced from below with some kind of communications, then we are talking about serious soil deformations caused by the activity of magma.
Italy has been in doubt since the summer of 2020, because swarms were observed there in very atypical places in May, and according to the forecasts of old Italian seismologists, who had witnessed many strong earthquakes, it should have boomed in the August region.
Fortunately, nothing bad happened to Italy and there was no big earthquake. But, since there are swarms, it means that something is being prepared, the magma is gathering strength. 
Following this particular sinkhole event – an obvious sign that a major earthquake in Italy is already very close.
A new great pandemic cycle has begun (again) in China
In the first months of 2020, the whole world with a certain fright followed the events unfolding in China, where people fell on the streets during the day and astronauts wandered, and in the evening crematoria began to smoke. And now, with the onset of December, the cycle seems to be repeating itself.
Shunyi area in Beijing, where the authorities announced "wartime status" the day before. As you can see in the videos, thousands of people are lined up in the queue for mandatory testing:
Dalian city, where "wartime" is also declared. Neighborhoods are blockaded, people are walled up in entrances, familiar characters of George Lucas roam the streets:
Chinese 'rescuers', before performing a combat mission:
Chengdu City:
Daluo Port, Yunnan – tourists came for adventure and they received the 'time of their life' after leaving the ramp:
If something happens in Beijing, it does not mean that tomorrow the same will happen everywhere. However, the trend towards such dynamics is observed and, as the practice of the first wave of the pandemic has shown, all countries and people, to one degree or another, have taken into account the 'Chinese experience'.
Therefore, one must think that everything will now be in peace, as in spring – a new global round of the fight against the Covid has begun in China, a new great pandemic cycle!