Sir David Attenborough warns global warming will cause the COLLAPSE of civilisation
Climate change will cause the collapse of civilisations if governments do not agree to drastically cut greenhouse gases, Sir David Attenborough has warned in a stark speech to world leaders.
Speaking at the opening ceremony of a UN summit on climate change, the legendary broadcaster, 92, warned that the extinction of much of the natural world is 'on the horizon'.
Delivering the first ever 'People's Seat' speech, Sir David made a powerful and passionate plea for action, warning that Earth faces its 'greatest threat in thousands of years'.
He was speaking in Katowice, Poland, calling for leaders and decision-makers to take charge on driving down greenhouse gas emissions.
Sir David said: 'Our greatest threat in thousands of years: climate change.
'If we don't take action, the collapse of our civilisations and the extinction of much of the natural world is on the horizon.
'The world's people have spoken, their message is clear, time is running out, they want you, the decision-makers, to act now.'
Antonio Guterres, UN Secretary-General, who also gave a speech, said the world is 'way off course' to prevent catastrophic climate change and that 'we are in trouble, deep trouble'.
Sir David was speaking on behalf of the UN's 'People's Seat' initiative to give ordinary people a voice at the international talks by gathering their thoughts, ideas and concerns through social media and polling in the past two weeks.
His strongly worded speech to the congregation continued: 'Time is running out. [The people] want you, the decision makers, to act now.
'They are behind you, along with civil society represented here today.
'Supporting you in making tough decisions but also willing to make sacrifices in their daily lives.'
The UN has launched an 'ActNow.bot' which helps people discover simple everyday actions they can take to tackle climate change.
'The people have spoken: leaders of the world, you must lead, the continuation of our civilisations and the natural world upon which we depend are in your hands.'
United Nations Secretary-General Antonio Guterres warned negotiators at the meeting that the world was 'in deep trouble' with climate change.
'Climate change is running faster than we are and we must catch up sooner rather than later, before it's too late.
'For many people, regions and even countries, this is already a matter of life and death.'
Continue Reading: https://www.dailymail.co.uk
Russia unveils its LASER CANNONS that can destroy targets 'within fractions of a second'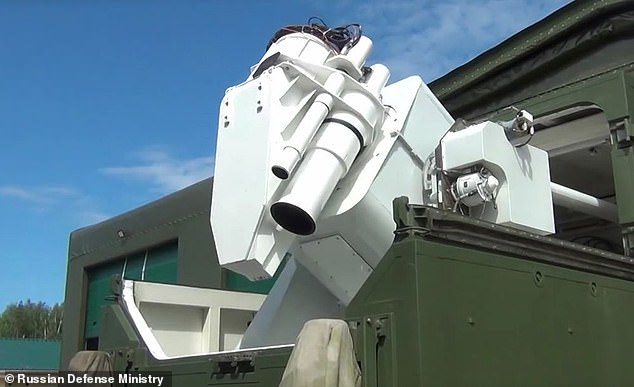 Russia has unveiled a powerful new laser weapon which it claims can take down targets 'within fractions of second'.
The space age laser, named the Peresvet after a sixteenth century Russian warrior monk, is already being deployed and used by Russia's armed forces – according to the country's government.
Remarkable footage showing the weapons system in action was posted on the Russian defence ministry's social media account on Wednesday.
It showed the advanced laser system being brought out of a hangar and activated remotely by a soldier.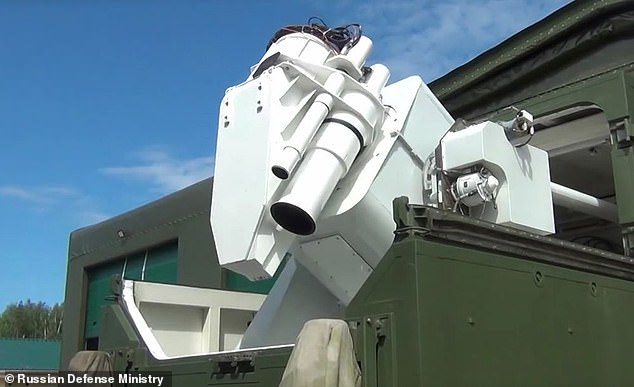 Little is known about the potency of Vladimir Putin's latest piece of kit as the Russian government has revealed nothing about its capabilities.
However, similar weapons systems which have been developed in other countries are used to take down planes and missiles by disabling their electronics from miles away.
Russian Deputy Defense Minister Yuri Borisov told his ministry's newspaper Krasnaya Zvezda on Monday that the machine can 'take down targets within fractions of a second'.
'We can talk a lot about laser weapons and movies were made about them a long time ago and fantastic books have been written, and everyone knows about this,' Borisov said.
'But the fact that these systems have started entering service is indeed today's reality.'
'Starting from last year laser systems have been entering service that allow disarming a potential adversary and hitting those facilities, which are the targets,' he added, saying such a device could take out targets 'within fractions of a second.'
The Peresvet programme has been shrouded in secrecy, with Vladimir Putin playing his cards close to his chest about the potential of the technology in a speech earlier this year.
During his State of the Nation Address on March 1, Russian President Vladimir Putin said that 'significant progress' was achieved in Russia's laser weaponry program and 'there are all reasons to believe that we are one step ahead our rivals in this sphere.'
However, he gave no further details, saying only that the time was not ripe at that moment.
'I do not want to reveal more details. It is not the time yet. But experts will understand that with such weaponry, Russia's capacities for defending itself have multiplied.'
Read More: https://www.dailymail.co.uk/
Where to Find Complete Libraries Online for FREE (and a New Website to Check Out)
The libraries presented in this article were first discussed in the comments of the Part 9 article and need to be presented in their own article.
Editor's Note: This is the final article of The Information Specialist Series. Anon 411 has written 9 information-studded articles on this website and he's moving on to his own site, RestartCivilization.org. All of his future articles will be published at RestartCivilization.org. and  I hope that you will all go over there and support his efforts to gather resources that could change everything if society as we know it was to collapse. Best of luck, Anon 411! ~ Daisy
Collections of Books and Articles out of Copyright
Survivor Library
The Survivor Library is a library of about 15,000 books in PDF files that are all out of copyright or are otherwise in the public domain. The author of this site, who is known as The Librarian, is a very friendly fellow and his blog articles are interesting. The site is organized into a hierarchy of folders and subfolders as categories. You can freely download as many or as few PDF books as you like.
"The library contains thousands of books on technologies that can be produced by most reasonably skilled craftsman using tools not as sophisticated as what can be found in many modern home workshops."
A complete copy of the current collection is available to purchase on a flash drive or on multiple DVD disks. The price for these seem very reasonable to me. I purchased the flash drive last summer and it contained 14,656 files in 175 folders/categories and consumed 224GB. It's not clear to me how I can go about finding books added since I purchased the flash drive so I can download the new addition.
Collections of Resources for Third World Groups
The CD3WD library consists of 36 DVDs containing some 651,000 files totaling 151 GB, broken out into eight categories.
The core library is almost 26 GB and it took me some 8 hours to download and contains 6,000 files. The other material is primarily material for teaching children from pre-school through high school. Most of the files there are .avi (video) files.
To download the files click on links in the chart below. Then click on the link ISO IMAGE and download the files there one at a time. You will need the program 7-zip, free at 7-zip.org, to unzip the ISO files. You can just create a folder structure on your hard drive for these or direct 7-zip to write the files to a DVD disc. I created the folder structure on my hard drive then copied the whole thing to a flash drive.
Below is a chart of the different sub-libraries with a file count and number of DVD disks.
All future articles I write will be published at RestartCivilization.org.
The first nine articles can be found here https://www.theorganicprepper.com/category/preppers/the-information-specialist-series/  or here https://restartcivilization.org/prior-articles/
Source:
Scientists warn of the imminent impact of a 'dark matter hurricane' on Earth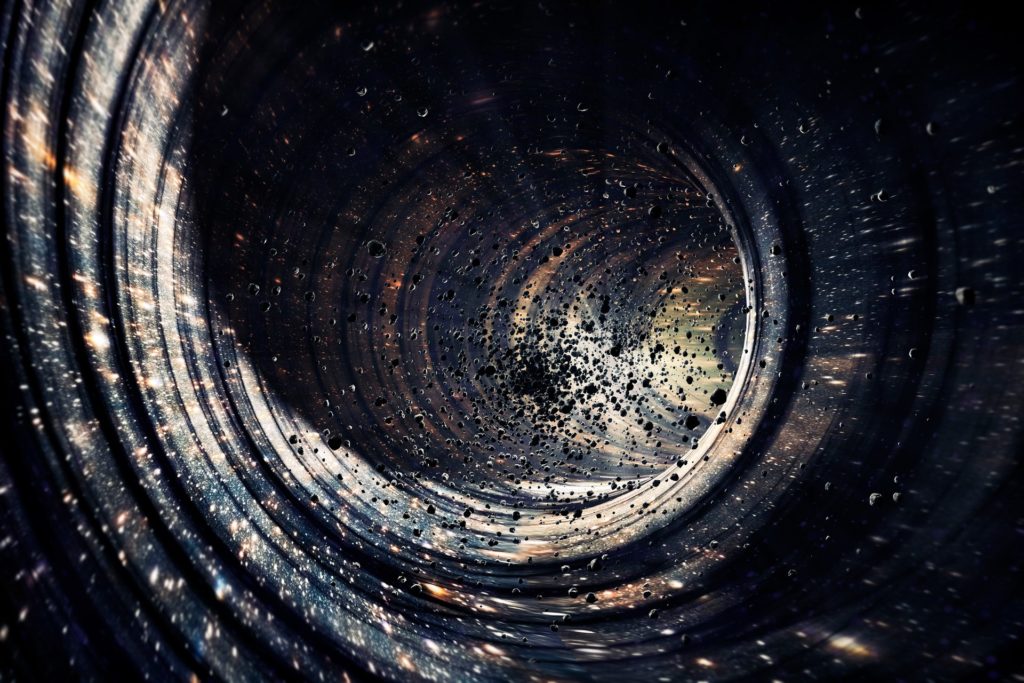 The Universe has existed for approximately 13.7 billion years, but still has many mysteries that continue to amaze astronomers to this day.
From dark energy to cosmic rays and the uniqueness of our own solar system, there are all kinds of cosmic enigmas. And possibly one of the mysteries that causes the most confusion to the scientific community is dark matter.
It can not be seen. You can not feel. You can not hear, and you can not smell or taste. Even with the most sophisticated scientific equipment in the world, there is no direct proof that the hypothetical form of matter exists. But its existence is no longer in doubt, although there are still many questions to answer about dark matter.
However, in 2015 the physics of Harvard University Lisa Randall offered a really disturbing theory, that dark matter really killed dinosaurs 65 million years ago. Dr. Randall and her collaborators suggested that dark matter could ultimately (and indirectly) be responsible for the extinction of dinosaurs.
It is known that 66 million years ago, a large celestial body at least 10 kilometers wide fell to Earth from space and ended with the dinosaurs, along with three-quarters of the other species on the planet. Dr. Randall's theory proposed that during the passage of the huge asteroid through the solar system, he found a disk of dark matter that changed his trajectory, directing him directly towards the cataclysmic impact. And now this event could happen again. Spanish scientists have warned that a hurricane of dark matter moves at high speed through the Milky Way and will impact the Earth in the near future, resulting in an apocalypse on our planet.
THE "dark matter hurricane"
A team of scientists from the University of Zaragoza, Spain, have assured that an incredibly fast hurricane of dark matter will soon impact the Earth as it advances through the Milky Way.
According to calculations made by astronomers, this dark matter hurricane apparently travels at a speed of more than 500 kilometers per second and is now widely considered one of the most turbulent space events that have been seen in the solar system.
However, experts have already made it clear that in the beginning, it should not cause any harm to our planet. In fact, analyzing this dark matter hurricane could help scientists learn more about the most mysterious particles in the Universe.
It should also be borne in mind that we will not be able to see or feel this hurricane of dark matter when it hits the Earth, but the possibilities of a direct detection of dark matter will be more during this spatial event.
So, how have astronomers managed to predict this collision if dark matter is not visible? Using data collected by the Gaia space probe from the European Space Agency (ESA), astronomers discovered a stellar current that is actually the remains of a large spheroidal dwarf galaxy that was consumed by the Milky Way many years ago.
This star system nicknamed S1 has left a flow of orbiting stars that surround the galactic center. Experts believe that S1 could be flying through dark matter at about 230 kilometers per second, while dark matter present in this current could be traveling at twice that speed, at about 500 kilometers per second.
The study, directed by Ciaran O'Hare, post-doctorate in the Department of Theoretical Physics of the University of Zaragoza, tried to investigate the impact of S1 on dark matter in the small corner of the Milky Way. After analyzing the distribution of dark matter flowing in stream S1, scientists predicted that signatures for these models could be picked up by ground detectors.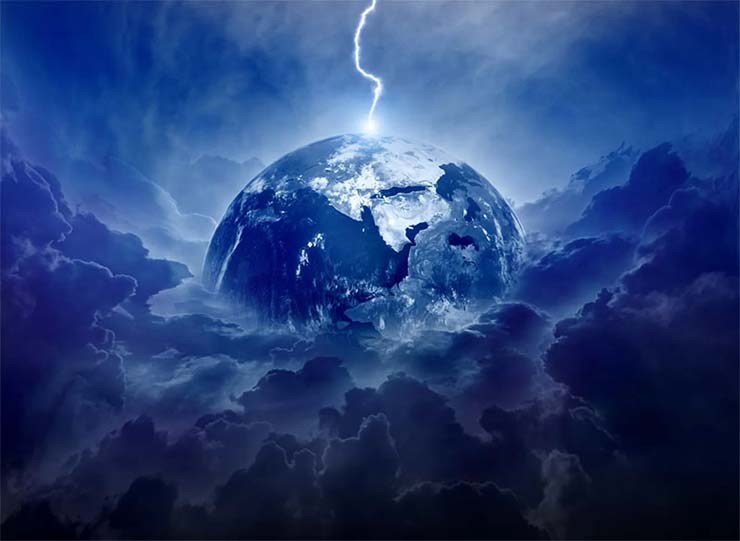 Imminent apocalypse
Although scientists have made it clear that this hurricane of dark matter should not cause any harmful effects on Earth, many believe that these unusual space events are clear signs of an imminent apocalypse.
They are based on the theory proposed by Dr. Lisa Randall, who suggested that the asteroid that killed the dinosaurs 65 million years ago was diverted by a hurricane of dark matter. Even researcher Frank Hoogerbeets, who runs the Ditrianum website, has predicted that dark matter hurricane material could cause a strong earthquake on Earth in the coming days.
"The critical geometry of 12 and 13 can trigger more seismic events and possibly larger earthquakes from 13 to 15," Hoogerbeets said. "After three years of observations, it became clear that some planetary geometry in the Solar System clearly tends to cause a seismic increase, while another geometry does not."
Hoogerbeets has also warned that the effects of all these cosmic events could cause a mega-earthquake in the next Christmas period. And, as if that were not enough, conspiracy theorists believe that the arrival of Nibiru, also known as Planet X, is the culprit of these unusual phenomena in the Universe.