Should Bigfoot Be Killed?
Once Bigfoot is proven to definitely exist, many changes are in store for the Bigfoot/human relationship. Some may not be positive!
Bigfoot, also known as Sasquatch, is purportedly an ape-like creature that inhabits forests in every state of the union, except Hawaii and Delaware. It is usually described as 8- 10 feet in height and completely covered in hair. Many Cryptozoologist (scientists who study hidden animals) have sought to discover the true identity of this beast, so far all have been unsuccessful.
Bigfoot investigators understand that they will never know the true identity of these cryptids, until they have a body – living or dead. That said, many of those in the field have taken a no – kill stand on the subject of havesting a Bigfoot. Many investigators have decided that they will not be the one to supply a body, unless one is found dead from natural causes.
Many Cryptozoologist fear that if one is killed, we will still not find as many answers as we seek due to the change in the Bigfoot/human relationship that is sure to follow.
Bigfoot may become a target for poachers
The number one concern is that once a previously unverified creature is proven to be flesh and blood, it will unleash a large number of a certain breed of mankind into their habitat, whose only desire is to randomly kill these splendid creatures.
Lawmakers will have to immediately enact very strict laws to protect these species. It is true that these life forms have done a great job protecting itself, without human help, for untold centuries, but they have never faced this kind of situation before. This will by far be the greatest threat to its continued existence.
Bigfoot may become hostile to humans
It appears, at this time, that Bigfoot considers mankind as a mere curiosity. They do not want to buddy up with humans, but they do not consider them a threat to their existence. Cryptozoologist fear that this may all change.
It is a given fact that these creatures are physically superior to humans; they also possess a high level of intelligence and may be capable of very human-like reasoning. These cryptids may one day decide that their best chances of survival will involve becoming physically aggressive to all humans who venture into their territory.
This will require a complete rethinking of many outdoor activities that we now take for granted. As a result, many activates such as camping, hiking, fishing etc will be greatly curtailed.
Bigfoot may become even more elusive
Possessing a Bigfoot body will only be the "tip of the iceberg" when it comes to a real understanding of these creatures. For the most part, Bigfoot avoids human contact, but there have been instances where Bigfoot has allowed humans to observe them for an extended period of time.
These rare opportunities will vanish if Bigfoot decides that humans are a real threat to their existence. Bigfoot will most likely retreat deeper into the forests and the chance of an encounter will be very rare, if not impossible.
By Ron Coffey
Footprints of a Sweets-Loving Bigfoot Found in North Carolina
"Mostly like candy, cookies, they love peanut brittle, chocolate, peanut butter sandwiches. They don't like apples and bananas."
If you're one of those Bigfoot experts who's been telling Bigfoot expert wannabes and wannasees to hang bags of apples from trees to attract them, meet Vicky Cook – the North Carolina woman who has not only seen Bigfoot, she has the grainy video and plaster footprint casts to prove it … and she says her Tar Heel Bigfoot neighbors prefer sweets to healthy snacks. Or is that just what she stocks in her cupboards?
"I think I've counted about eight different sized prints. This is a juvenile, but look at how long it is. That's a big … big print."
In her interview with Charlotte's WCNC, Vicky Cook showed she's more than just your average Bigfoot spotter by holding up plaster casts of the footprints she says she's found in her Shelby yard since March. Shelby is a western suburb of Charlotte near the southern border with South Carolina. She also showed the reporter her dark and grainy video (watch it here) of what she claimed is at least one of the creatures that may have made one or more of the footprints.
"It went in front of my camera. we screamed we didn't know what it was, though that thing was tall!"
That "we" indicates there's at least one other witness (unless she's implying that the Bigfoot screamed when it saw her scream – a great movie scene but probably not what she meant) but no one else appeared in the interview. Vicky also swears it's not a bear she's dealing with. Well, then … what is it?
"Sometimes I think this can't be real."
We know the feeling, Vicky, especially if you live in North or South Carolina. Neither one of those states made the recent Top 8 States to See Bigfoot list, despite the fact that both have many sightings. The Bigfoot 911 investigation group is in Marion, about 45 minutes north of Shelby, which also hosts the annual WNC Bigfoot Festival – the "the biggest Bigfoot Festival in eastern USA." John Bruner is involved in both and has himself reported seeing a "large bipedal animal covered in hair" in the area in 2017. While those plus the 90+ other Bigfoot sightings in North Carolina (mostly in the Uwharrie National Forest to the east) warrants a festival and a big-city reporter visiting Shelby, does it prove Vicky has a family of Bigfoot eating her candy and cookies?
"Any scientific expert will tell you me and the 'Squatch like the same things."
James 'Bobo' Fay – Bigfoot caller and cast member of "Finding Bigfoot" – said in an interview that they eat what humans eat, including cooked foods and especially bacon. While they're eat apples and berries, he says he puts leftover donuts out for them too.
Maybe Vicky should work out a deal with Dunkin'. Then again, maybe Bigfoot should cut out the middleperson and make its own deal.
Source: Mysterious Universe
Loch Ness monster study results 'surprising'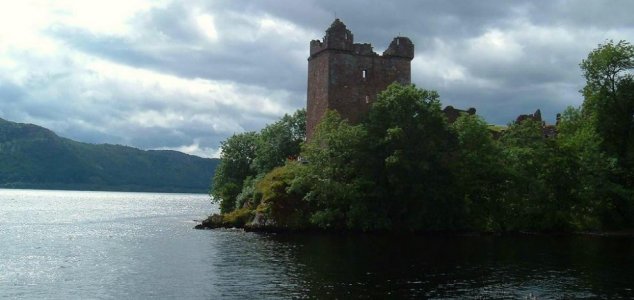 Image Credit: CC 2.0 Dave Conner
Is there a monster lurking in the depths of Loch Ness ? 
A recent effort to trawl Loch Ness for potential 'monster' DNA has reportedly yielded some interesting results.
The study, which was led by New Zealand scientist Professor Neil Gemmell, aimed to use DNA sampling techniques to find out whether there was any scientific basis for the monster legend.
Now at last, almost a year after the DNA samples were collected, Prof Gemmell and his team have almost finished the analysis and will be announcing the full results at a conference next month.
From the findings released so far, the team has managed to identify the DNA of 15 different species of fish and a whopping 3,000 species of bacteria, among other things.
Part of the study also involved investigating the validity of various monster hypotheses such as whether or not the creature could be a prehistoric reptile, a sturgeon or a giant catfish.
"Is there anything deeply mysterious ?" said Gemmell. "Hmm. It depends what you believe. Is there anything startling? There are a few things that are a bit surprising."
"We've tested each one of the main monster hypotheses and three of them we can probably say aren't right and one of them might be."
Source: Scotsman
Only You, Smokey and Bigfoot Can Prevent Forest Fires
There was a time not many years ago when Smokey Bear was on television more often that Yogi Bear, or even Yogi Berra. Smokey Bear (no 'the' – that was added for a song) first appeared in 1944 as part of a public service adverting campaign for the U.S. Forest Service to call attention to the danger of forest fires. Smokey's finger-pointing "Remember… Only YOU Can Prevent Forest Fires" image was an immediate hit. Seventy-five years later, we still have Smokey and unfortunately, still have forest fires and wildfires. That's why the Oregon Office of State Fire Marshal (OSFM) announced this week that Smokey is getting some help from another furry fire fearer – Bigfoot.
"We are introducing a well-known Pacific Northwest mystery into our wildfire prevention marketing, known as Bigfoot or Sasquatch. Bigfoot is a protector of the wilderness and his "home", and we are encouraging residents to take action to prevent wildfires."
Starting in June, OSFM will use images of Bigfoot participating in outdoor activities on social media platforms to help raise the alert levels of Oregon residents and tourists, especially those living in or visiting Wildland–Urban Interface (WUI) areas – zones of transition between wildland (unoccupied land) and human development.
"We hope our Bigfoot campaign will draw attention and create a bigger 'footprint' of wildfire prevention efforts around the state. We want people to believe in fire safety, whether you are camping, visiting Oregon or recreating."
While State Fire Marshal Jim Walker had a little Bigfoot pun fun in an interview with KTVZ, the fire prevention campaign is serious business in a state with so much forest land, so many homes very close to woodlands and an ever-increasing risk of fires due to drought, water shortages and carelessness.
"We've created images and education materials showing Bigfoot outdoors, protecting his wilderness 'home.' By preventing wildfires in Bigfoot's home, we can help residents protect their homes and our communities."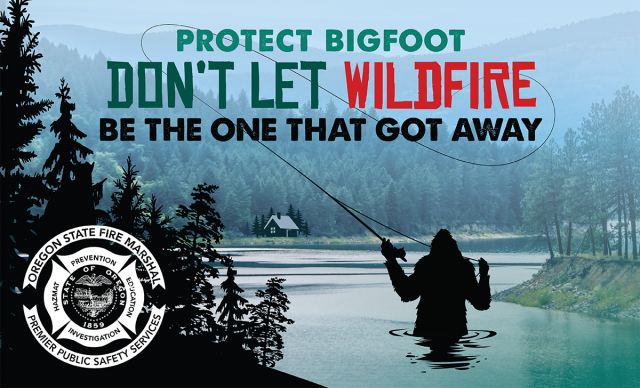 You may have noticed that 'Bigfoot's home' was not in quotes. A recent survey of the top states in the U.S. for spotting Bigfoot listed Oregon at #7, close behind its Pacific Northwest neighbors – Washington and California. Do residents believe in Bigfoot? Being associated with Smokey may help. Many people believed Smokey was real long before 1950 when the U.S. Forest Service found a five-pound, three month old American black bear cub that survived a wildfire in the Capitan Mountains of New Mexico and named it Smokey. Smokey was eventually taken to the National Zoo in Washington DC where he received millions of visitors and 13,000 letters a week until he died in 1976. The plaque at his grave reads, "This is the resting place of the first living Smokey Bear … the living symbol of wildfire prevention and wildlife conservation."
Can Smokey help Bigfoot's popularity? Let's hope it doesn't take putting a baby Sasquatch in harm's way to do it. In the meantime, watch for fire-fighting Bigfoot on social media (#BelieveInFireSafety), on T-shirts and on Oregon billboards.
And remember … only you, Smokey and Bigfoot can prevent forest fires.
Source: Mysterious Universe