Seven 'Best-Case' Scenarios for the Future of Humanity
Most science fictional and futurist visions of the future tend towards the negative — and for good reason. Our environment is a mess, we have a nasty tendency to misuse technologies, and we're becoming increasingly capable of destroying ourselves. But civilizational demise is by no means guaranteed. Should we find a way to manage the risks and avoid dystopic outcomes, our far future looks astonishingly bright. Here are seven best-case scenarios for the future of humanity.
Before we get started it's worth noting that many of the scenarios listed here are not mutually exclusive. If things go really well, our civilization will continue to evolve and diversify, leading to many different types of futures.
1. Status quo
While this is hardly the most exciting outcome for humanity, it is still an outcome. Given the dire warnings of Sir Martin Rees, Nick Bostrom, Stephen Hawking, and many others, we may not be around to see the next century. Our ongoing survival — even if it's under our current state of technological development — could be considered a positive outcome. Many have suggested that we've already reached our pinnacle as a species.
Back in 1992, political scientist Francis Fukuyama wrote The End of History and the Last Man in which he argued that our current political, technological, and economic mode was the final stop on our journey. He was wrong, of course; Fukuyama's book will forever be remembered as a neoconservative's wet dream written in reaction to the collapse of the Soviet Union and the rise of the so-called New World Order. More realistically, however, the call for a kind of self-imposed status quo has been articulated by Sun Microsystems cofounder Bill Joy. Writing in his seminal 2004 article, "Why the Future Doesn't Need Us," Joy warned of the catastrophic potential for 21st century technologies like robotics, genetic engineering, and nanotech. Subsequently, he called for technological relinquishment — a kind of neo-Luddism intended to prevent dystopic outcomes and outright human extinction. The prudent thing to do now, argued Joy, is to make due with what we have in hopes of ensuring a long and prosperous future.
2. A bright green Earth
Visions of the far future tend to conjure images of a Cybertron-like Earth, covered from pole-to-pole in steel and oil. It's an environmentalist's worst nightmare — one in which nature has been completely swept aside by the onslaught of technology and the ravages of environmental exploitation. Yet it doesn't have to be this way; the future of our planet could be far more green and verdant than we ever imagined. Emerging branches of futurism, including technogaianism and bright green environmentalism, suggest that we can use technologies to clean up the Earth and create sustainable energy models, and even to transform the planet itself.
An early version of this sentiment was presented via Bruce Sterling's Viridian Design Movement, an aesthetic ideal that advocated for innovative and technological solutions to environmental problems. Looking to the far future, the ultimate expression of these ideas could result in a planet far more lush and ecologically diverse than at any other point in its geological history. In such a future, humans could be re-engineered to live in harmony with the environment. All our energy needs would be completely met (a true and sustainable Kardashev I civilization). Using advanced models as our guide, we could also redesign and overhaul the Earth's ecosystem (including the elimination of predation and animal suffering), There's also the possibility for weather control. And we might finally be able to implement defensive measures to counter the effects of natural disasters (like asteroid impacts, earthquakes, and volcanic eruptions). Given an Earth like this, why would anyone want to leave?
Image: Thomas Cole's The Arcadian or Pastoral State, 1834.
3. Watched over by machines of loving grace
Regrettably, it's very possible that the technological Singularity will be an extinction event. The onset of radically advanced machine intelligence — perhaps as early as 30 years from now — will be so beyond our control and understanding that it will likely do us in, whether it happens deliberately, accidentally, or by our own mismanagement of the process. But the same awesome power that could destroy us could also result in the exact opposite. It's this possibility — that a machine intelligence could create a veritable utopia for humanity — that has given rise to the Singularitarian movement.
If future AI designers can guide and mould the direction of these advanced systems — and most importantly their goal orientation — it's conceivable that we could give rise to what's called 'friendly AI' — a kind of Asimovian intelligence that's incapable of inflicting any harm. And in fact, it could also serve as a supremely powerful overseer and protector. It's a vision that was best expressed by Richard Brautigan in his poem, "Watched Over By Machines of Loving Grace."
I like to think (and the sooner the better!) of a cybernetic meadow where mammals and computers live together in mutually programming harmony like pure water touching clear sky.

I like to think (right now, please!) of a cybernetic forest filled with pines and electronics where deer stroll peacefully past computers as if they were flowers with spinning blossoms.

I like to think (it has to be!) of a cybernetic ecology where we are free of our labors and joined back to nature, returned to our mammal brothers and sisters, and all watched over by machines of loving grace.
4. To boldly go where no one has gone before…
We need to get off this rock and start colonizing other solar systems — there's no question about it. Not only does our ongoing survival depend on it (the 'all our eggs in one basket problem'), it's also in our nature as a species to move on. Indeed, by venturing beyond our borders and blowing past our biological limitations we have continually pushed our society forward — what has resulted in ongoing technological, social, political, and economic progress. Even today, our limited ventures into space have reaped countless benefits, including satellite technologies, an improved understanding of science — and even the sheer thrill of seeing a high-definition image streamed back from the surface of Mars.
Should our civilization ever be capable of embarking upon interstellar colonization — whether it be through generation ships, self-replicating Von Neumann probes, or an outwardly expanding bubble of digital intelligence, it would represent a remarkable milestone, possibly for all life in the Milky Way. As it stands, we appear to live in a Galaxy devoid of interstellar travelers — a troubling sign that has given rise to the Fermi Paradox. So assuming we can start planet hopping, it might just turn out that we are the first and only civilization to embark upon such a journey. It's something that we must try; the future of life in our Galaxy could depend on it. But more to the point, interstellar colonization would also allow our species to expand into the cosmos and flourish.
5. Inner space, not outer space
Alternatively (or in conjunction with space travel), we could attain an ideal existential mode by uploading ourselves into massive supercomputers. It's an idea that makes a lot of sense; given the computational capacity of a megascale computer, like a Matrioshka Brain (in which the matter of entire planet is utilized for the purpose of computation) or Dyson Sphere (which can capture the energy output of the sun), there would be more to experience in a simulated universe than in the real one itself. According to Robert Bradbury, a single multi-layer Matrioshka Brain could perform about 1042 operations per second, while Seth Lloyd has theorized about a quantum system that could conceivably calculate 5×1050 logical operations per second carried out on ~1031 bits. Given the kinds of simulated worlds, minds, and experiences this kind of power could generate, the analog world would likely appear agonizingly slow, primitive, and exceptionally boring.
6. Eternal bliss
Virtually every religion fantasizes about a utopian afterlife. This only makes sense given the imperfections and dangers of the real world; religion gives people the opportunity to express their wildest projections of an ideal state of existence. Given our modern materialist proclivities, many of us no longer believe in heaven or anything else awaiting us in some supposed afterlife. But that doesn't mean we can't create a virtual heaven on Earth using our technologies.
This is what the British philosopher David Pearce refers to as the Hedonistic Imperative — the elimination of all suffering and the onset of perpetual pleasure. This could be as simple as eliminating pain and negative emotional states, or something far more dramatic and profound, like maximizing the amount of psychological, emotional, and physical pleasure that a single consciousness can experience. Given that we live in a hostile universe with no meaning other than what we ascribe to it, who's to say that entering into a permanent state of bliss is somehow wrong or immoral? While it may be offensive to our Puritan sensibilities, it most certainly appeals to our spiritual and metaphysical longings. A strong case can be made that maximizing the human capacity for pleasure is as valid a purpose as any other.
7. Cosmological transcension
This is basically a placeholder for those far-off future states we can't possibly imagine — but are desirable nonetheless. While this line of speculation tends to venture into the realms of philosophy and metaphysics (not that many of the other items on this list haven't done the same), it's still interesting and worthwhile to consider some super-speculative possibilities. For example, futurist John Smart has suggested that human civilization is increasingly migrating into smaller and smaller increments of matter, energy, space, and time (MEST). Eventually, he argues, we'll take our collective intelligence into a cosmological realm with the same efficiency and density as a black hole — where we'll essentially escape the universe.
Alternatively, forward-looking thinkers like Robert Lanza and James Gardner have speculated about a universe that's meant to work in tandem with the intelligence it generates. This idea, called biocentrism, suggests that the universe is still in an immature phase, and that at some future point, all the advanced intelligent life within it will guide its ongoing development. This would result in a Universe dramatically different from what we live in today. And then there are other possibilities such as time travel and the exploitation of quantum effects. Indeed, given just how much we don't know about what we don't know, the future may be full of even more radical possibilities than we're currently capable of imagining.
Alvin Toffler: Rural bioconverters as an alternative to urbanism
The great American futurologist Alvin Toffler gives a chance to the countryside. His prediction is that the countryside will be covered by a network of "bioconverters" where biomass waste is converted into food, feed, fiber, bioplastics and other goods.
The US domestic bioeconomy will be able to meet 90% of the country's need for organic chemical fertilizers and 50% – the need for liquid fuel. Every million liters of bioethanol produced creates 38 direct jobs. Therefore, jobs are formed not "at the oil pipe", but in agricultural regions.
American philosopher and futurologist Alvin Toffler and his wife Heidi Toffler published the book "Revolutionary Wealth" in 2006. There was no Internet power yet, the heyday of alternative energy and robots, but Toffler was already looking beyond the horizon of our time. For example, he not only draws attention to the fact that "time has become denser" (the same processes a hundred years ago and today are proceeding at different speeds), but that traditional institutions – family and education, bureaucracy and political parties – are increasingly lagging behind the growth rate production, from new values, communications and from the process of globalization. And in this discrepancy between the old institutions and processes of the new time lies the source of the impending crisis.
In the preface to the Toffler's book, he writes:
"Wealth does not arise only in fields, factories, and offices. Revolutionary wealth is associated not only with money. Currently, even the most stupid observers cannot help but see that the economy of the United States and several other countries is transforming, turning into an intelligent economy controlled by the mind. The full impact of this transformation on the fate of an individual, as well as on the fate of all countries and even continents, has yet to be felt. The past half century has been only a prologue to this transformation."
Nevertheless, Tofflers in their book also pay attention to the transformation of old institutions – for example, rural production, assuming that, having transformed, it will give people an alternative way of life from the city. We provide an excerpt from the book "Revolutionary wealth" about the new life of the countryside.
"In a stunning document that was not given due attention, the Center for Technology and National Security Policy at the University of Washington National Defense paints a picture of the world where" agricultural fields will have the same meaning as oil fields."
Even oil company managers have spoken about the "last days of the oil century." Dr. Robert Armstrong, author of a report by the University of National Defense, develops this idea by claiming that we are moving towards a biology-based economy, where "gas will be replaced by genes" as a key source of not only various raw materials, but also energy.
At the beginning of the XXI century, American farmers produced 280 million tons of unnecessary leaves, stems and other plant waste per year. Some of this material is already being used, turning into chemicals, electricity, lubricants, plastic, adhesives and, most importantly, into fuel. This, however, is only the beginning. Armstrong anticipates that the countryside will be covered by a network of "bioconverters," where biomass waste is converted into food, feed, fiber, bioplastics, and other products. He quotes from the 1999 report of the National Research Committee, which states that the US domestic bio-economy "will be able to satisfy 90% of the country's need for organic chemical fertilizers and 50% of the need for liquid fuel."
And this applies not only to America. In such an economy, Armstrong continues, "genes will be the basic raw materials, and they can be found everywhere, unlike oil." Thus, he predicts a gigantic geopolitical shift in power from desert oil powers to tropical regions characterized by a rich and diverse biosphere.
"In the world of biotechnology," Armstrong writes, "our relationship with Ecuador (a representative country) will become more significant than our relationship with Saudi Arabia." Reason: Ecuador has a much greater diversity of the biosphere, and therefore – a variety of genes that have potential value for the whole world. If this is true in the case of Ecuador, what about Brazil? Or Central Africa?
The Eden project in Cornwall, England, launched by Tim Smith, is the largest greenhouse in the world. Smith believes that "we are on the eve of the greatest revolution. From plant materials we can produce composite materials that are more durable than steel and Kevlar. The possibilities for its use are phenomenal. Every country in the world can possess modern materials derived from its own plants."
Moreover, Smith continues, "bioconverters should be built close to sources of raw materials. It is likely that regional agricultural crops will be actively developed, and special crops will be grown in certain regions to supply local bioconverters. The result of this process will be the creation of non-agricultural jobs in agricultural areas."
Armstrong concludes:
"An economy based on biotechnology can ultimately stop the process of urbanization."
North America plans to plant empty fields with Miscanthus, a giant elephant grass. Studies show that from one hectare it is possible to obtain by burning such an amount of fuel that is enough to replace 40 barrels of oil.
An example of Russia
In Russia, it is technically possible now every year to use about 800 million tons of wood biomass, which is not currently used in timber harvesting, and about 400 million tons of dry matter of organic waste, and 250 million tons of them of agricultural origin , 70 million tons of forestry and woodworking industry, 10 million tons of wood and hardwood waste (collected annually in cities), 60 million tons of municipal solid waste (mainly pulp and paper products and plastics) and 10 million tons other waste (for example, precipitation of municipal drains, etc.). Their processing potentially allows you to get 350-400 million tons of oil equivalent per year and open up to 500 thousand new jobs.
US example
Every million liters of bioethanol produced creates 38 direct jobs. Therefore, jobs are formed not "at the oil pipe", but in agricultural regions. The raw materials for most bioeconomic products are sugar (glucose), starch (sugarcane) or cellulose (straw, sawdust). One of the most modern bio plants is the Dupont plant, which produces 100 thousand tons of corn bioplastics per year. This bioplastics surpasses nylon in cost price and consumer qualities.
Silvery clouds alerted scientists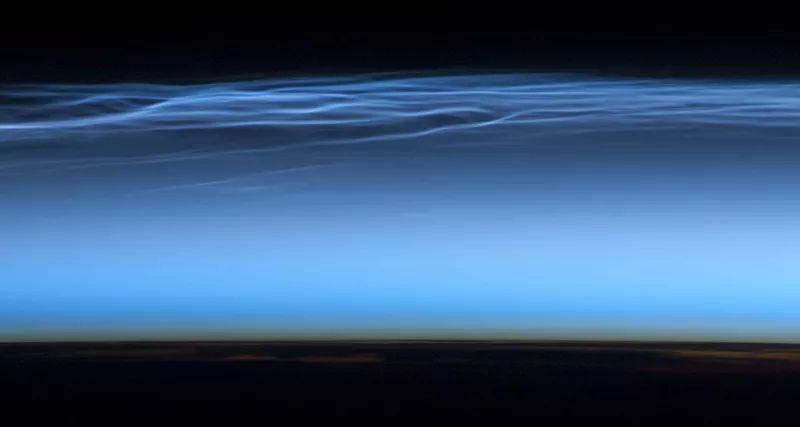 In summer, in the night sky, you can see something truly magical, namely silver clouds or mesospheric clouds. This rare phenomenon got its name because of the flickering effect in the twilight sky. However, despite its beauty ,these clouds can be a wake-up call.
Silvery clouds form in the mesosphere – a rarefied upper atmosphere with a small amount of moisture and low temperatures at an average height of 82 kilometers. The nature of this phenomenon has not been fully studied, however, scientists suggest that clouds form due to scarce water vapor, which freezes, creating crystals. Since the mesosphere is the coldest in summer, such clouds are observed precisely in this season.
The reason this phenomenon is not well understood is that the history of these clouds is relatively young. For the first time they were reported in 1885, and immediately scientists began to talk about the fact that they could appear due to climatic changes.
Now experts are again considering this possible reason, since for many years these clouds were mainly found only in the polar regions. But lately they have been laid much further, and look much brighter. So, on June 21, residents of the UK watched this beautiful phenomenon, although it is quite unusual for these places.
Most of the moisture needed to form clouds comes from methane – a greenhouse gas – that produces water vapor when it is destroyed in the upper atmosphere. And as methane pollution increased, silvery clouds became brighter, and most importantly, noticeable in new places.
Silvery clouds are studied by scientists, both from the Earth and from space, since they are quite high. However, to understand the true cause of the phenomenon, specialists still have a lot of work to do.
A clear comparison of all the plastic in the world with New York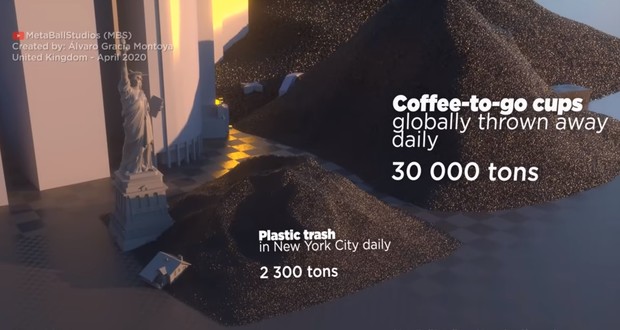 A modern person has a huge number of reasons for constant concern. And one of the most pressing concerns is plastic, which is about to evict us from our home planet.
Graphic craftsmen from the MetaBallStudios Youtube channel, specializing in visual comparisons of various things, decided to team up with the anti-plastic organization BeyondPlastic.net and create not just entertaining video, but entertaining and informative. It turned out, in our opinion, a real mini-horror movie.
Here's what it took to create a horror movie: count all the volumes of plastic, put them together in black bags and compare with the city of New York. The video shares the following information with us:
on average, every inhabitant of Europe and America spends 100 kg of plastic annually (if you remember that plastic weighs almost nothing, it becomes uncomfortable);
daily in New York (substitute any city with a population of 9 million people) spent 2,300 tons of plastic;
30 thousand tons of disposable coffee cups are thrown around the world every day;
840 thousand tons of plastic are thrown out in New York annually;
in 1950, the global consumption of plastic was 1.5 million tons;
and today, up to 8 million tons of plastic are thrown into the ocean;
58 million tons of plastic bottles are produced worldwide annually;
and plastic bags altogether 100 million tons;
Perhaps, we will stop at this terrible figure – watch the video and understand everything yourself. We urge you to be responsible for nature.
Try to go to the store with a reusable bag, start with a reusable mug if you buy take-away coffee and generally think about the planet. Alas, we have nothing for life better than the Earth. This is proven.