Sensible Solutions For The School Safety & Gun Control Issue That We Never Hear About
It's no surprise that the topic of school shootings is on most people's minds, these shooting sprees have become very common in the USA, so much so that it simply cannot be ignored.
There are many opinions and ideas about what can be done about this very serious issue. Many people think that simply banning guns is the answer, but is that really going to end violent acts towards others?
One post that has received many shares (at the time of writing this it was up to 100,000) is one by Clint Fiore, father to 4 children who has been involved with 'Rachel's Challenge' an anti-violence, anti-bullying school safety organization which was formed after what happened at Columbine High School.
I loved the points Clint raised in his post and I personally think members of Congress need to see this list. Please make sure you read the expanded info section which you can access at the bottom of this post.
Let us know what you think, and if you like it, please share and tweet to members of congress!
Here's the link to the original post: https://www.facebook.com/clint.fiore/posts/10101395810027708
Defending guns is getting tiresome. The same impossible-to-implement gun-control ideas are trotted out after every shooting with a fixation on the scary object. Few of you on my friends list know I dedicated years of my life right after college to a program born out of Columbine that's the most effective at reducing school shooting tragedies and that I've traveled the country to visit middle schools and high schools in 30+ states speaking as well as doing work to make schools safer.

1) Fatherlessness needs to be addressed. Kids need dads- most shooters don't have an involved dad. Can we connect boys without fathers to father-figure mentors? This is also a theme in the inner-city, less-publicized, yet more-frequent gun crimes in minority communities.

2) Adults need to be held accountable. The Parkland shooting last week is 'Exhibit A' on that. Dozens of adults at the school, local law enforcement agencies, and even the FBI knew about this kid and what he said he was going to do. Another adult, the SRO on duty, could have stopped it while it was happening but never went in. How many adults around this situation will be charged with crimes like negligence or manslaughter for their blatant failures? My guess is zero. How many will lose their jobs? My guess is zero. Nobody does anything because you risk nothing by doing nothing and get in trouble if you take a proactive approach and try to do address things before the blood is spilled. This is up and down our education and law enforcement systems.

3) Boys need safe environments to fight and let out their physical aggression. Young men involved in physically violent sports like football, wrestling, karate, etc. typically do not become mass murderers. I feel like our present culture is trying to take the fight out of our boys, but it's still hard-wired into them. Where no healthy outlets for this natural aggression exist, unhealthy ones will take their place.

4) The role of pharmaceutical drugs in mass shootings needs to be thoroughly investigated. It's too common of a theme to be ignored as a potential factor. Too many of our kids are getting drugged up instead of getting the care they really need. Right on the labels of these mood-altering drugs are side effects like "Hallucinations- loss of contact with reality." and "Suicidal thoughts." Yet we don't immediately ask about the prescriptions these kids are on, instead focusing on what kind of gun they used.

5) Training kids to huddle together as stationary targets on the ground, HAS TO STOP. It's stupid and getting our kids killed in greater numbers during these events. If they can't get in a secured room separated from the shooter, they need to run or fight, period. Get out the window or tackle the shooter etc are all way better things to teach. There are great programs to better train our kids on how to react to this threat.
6) Empower and encourage teachers and school administrators to have a plan, have the support of the district, and secure their classrooms the way they're comfortable with. Too many wonderful teachers with hearts of lions for protecting their kids are fearful bringing up their desires to their bosses whom will point to policy and liability concerns over common-sense solutions the teacher needs and wants. Teachers, if you don't get the support you need, do what you need to do anyways quietly. Damn the system. Keep our kids safe. There isn't a one-size-fits-all answer here, but all kinds of things could help like: ways to block/harden doors, weapons (gun or non-gun) to have a fighting chance if a shooter makes it through the door, and additional escape options like rope ladders for 2nd story windows teachers can deploy, etc. We can't have a cop everywhere and even if we do, there's no guarantee they won't be taking their sweet time outside like the Parkland SRO did while your class is in the cross-hairs. Teachers are right there and the first line of defence and they need to think about it and take it seriously and not get in trouble if they do.
7) Finally, and most importantly, we need to improve the culture of our nation and our schools. We need to value human life highly. We need love. We need kindness. We need compassion. We need to look for the kids that are becoming isolated and need help and go help them. We need more than just anger at what's wrong, we need to celebrate the good stories and champions of kindness. Kids that care for one another don't kill each other. We need to touch the hearts of kids and train them up in morality and virtue- not just pack their heads full of information.
This is exactly what we focused on when I worked for Rachel's Challenge, one of the top anti-violence programs in the country, and we saw tons of lives saved by changing the culture of schools from the inside out. (would-be-shooters with kill lists turning themselves in, gang members laying down their colors, suicides planned for that night cancelled, etc.) Invite them to your school as a great way to start this cultural transformation.
Clint Fiore, the author of this post also has now expanded his list with suggestions for action which you can access here: this is highly recommended to read. 
Polar vortex: "wild" winter is coming in the US, Northern Europe and East Asia after the 16th of January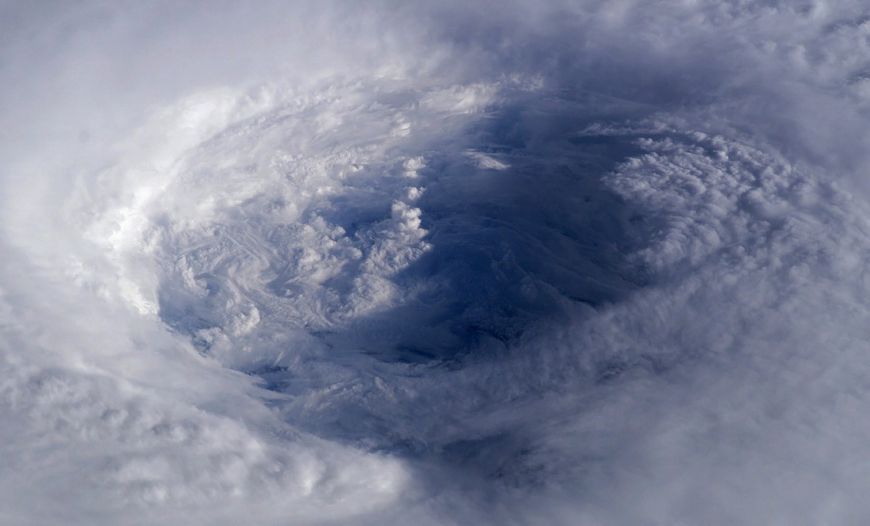 In the upper atmosphere above the North Pole, experts saw a rapidly swirling vortex of cold air that could bring severe frosts to the United States, Northern Europe and East Asia. Serious cold snap and snowy weather are expected after January the 16th.
Snowfalls and a cold snap hit South Korea since the start of 2021, hitting historic snow maximums and temperatures. In the country, for the first time since 1964, television and newer communications are sending people cold snap warnings:
The situation is similar in Japan, where a new snow storm hit historic highs:
On January 7, the thermometer In Beijing dropped to -20 degrees Celsius, breaking the 1966 record. In other regions of China, the temperature is also not sugar, and you can only move around in special uniforms:
The cold even reached Taiwan, where the temperature in some areas dropped below freezing point, snow poured down and people realized that rice terraces can be used as a ski jump:
Even more snow went to Spain, where on January 6, 2021, a temperature of -34.1 ° C was recorded – the lowest on record. After that, a snow storm hit the country, which has not been seen for 80 years:
The same thing happens in Canada and in the northern states of the United States:
It seems that after a stratospheric warming, the subpolar vortex began to split:
The vortex itself is a standard phenomenon. However, this time experts were surprised at his movement. It is possible that in the near future it will be divided into two parts. 
Scientists associate the strange behavior with the changed climate in the Arctic, which has become warmer. From September to December, the amount of ice cover decreased significantly.
The polar vortex is a low-pressure region located in the stratosphere and filled with cold air. When the jet stream of air that holds the vortex weakens, the low pressure area moves south. 
As the ice shrinks, more moisture will move inland. It will turn to snow, so snowfalls are expected. Snow, in turn, reflects heat, leading to a cold snap.
Hospital in Naples was evacuated after a new, huge sinkhole appeared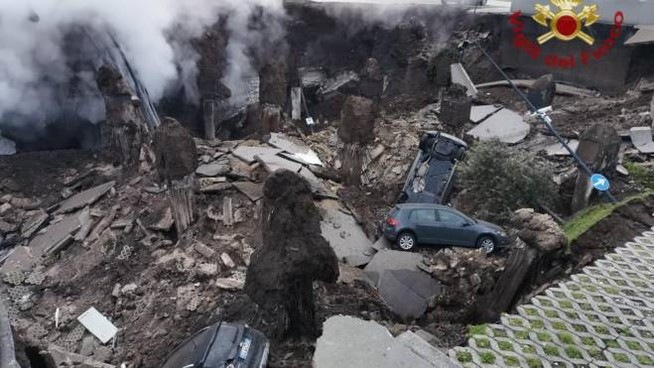 Eyewitnesses said they heard a loud crash at dawn when a huge hole in the ground formed outside the Ponticelli Ospedale del Mare hospital in eastern Naples.
Early in the morning of January 8, 2021, a sinkhole occurred in the parking lot of a clinic in Naples. The depth of the formed cavity is about 20 meters, the total area of ​​the hole is about 2,000 square meters.
No casualties were found at the scene; firefighters say the sinkhole "affected an area of ​​about 500 square meters" and engulfed several cars parked near the hospital.
As the press writes and as a little can be seen from the videos, rescuers and firefighters were running around the pit together with the governor of the area.  But who should be there in the forefront are Italian geologists, since Naples stands in the very center of the volcanic system known as the Phlegrean Fields.
If the surface collapsed, moreover – the surface reinforced with concrete and reinforced from below with some kind of communications, then we are talking about serious soil deformations caused by the activity of magma.
Italy has been in doubt since the summer of 2020, because swarms were observed there in very atypical places in May, and according to the forecasts of old Italian seismologists, who had witnessed many strong earthquakes, it should have boomed in the August region.
Fortunately, nothing bad happened to Italy and there was no big earthquake. But, since there are swarms, it means that something is being prepared, the magma is gathering strength. 
Following this particular sinkhole event – an obvious sign that a major earthquake in Italy is already very close.
A new great pandemic cycle has begun (again) in China
In the first months of 2020, the whole world with a certain fright followed the events unfolding in China, where people fell on the streets during the day and astronauts wandered, and in the evening crematoria began to smoke. And now, with the onset of December, the cycle seems to be repeating itself.
Shunyi area in Beijing, where the authorities announced "wartime status" the day before. As you can see in the videos, thousands of people are lined up in the queue for mandatory testing:
Dalian city, where "wartime" is also declared. Neighborhoods are blockaded, people are walled up in entrances, familiar characters of George Lucas roam the streets:
Chinese 'rescuers', before performing a combat mission:
Chengdu City:
Daluo Port, Yunnan – tourists came for adventure and they received the 'time of their life' after leaving the ramp:
If something happens in Beijing, it does not mean that tomorrow the same will happen everywhere. However, the trend towards such dynamics is observed and, as the practice of the first wave of the pandemic has shown, all countries and people, to one degree or another, have taken into account the 'Chinese experience'.
Therefore, one must think that everything will now be in peace, as in spring – a new global round of the fight against the Covid has begun in China, a new great pandemic cycle!