Self Proclaimed Alien Contactee George Van Tassel Detailed in FBI Files
The American author and ufologist once claimed to have been in contact with an extraterrestrial from Venus.
A controversial figure in the annals of ufology, Van Tassel was an accomplished aircraft mechanic and flight inspector who worked for various firms between 1930 and 1947 before retiring to the desert.
He rose to prominence as a key figure of interest in 1953 after claiming that he had been awoken one night by an alien from Venus named Solgonda. The being allegedly invited him aboard its spacecraft where Van Tassel was telepathically gifted the plans for a device called the "Integratron" which was said to be capable of rejuvenating the human body.
The following year, he and a few others began building the device out in the desert.
Said to be capable of not only rejuvenation but time travel and anti-gravity as well, the "Integratron" was built on what Van Tassel claimed was "an intersection of powerful geomagnetic forces that, when focused by the unique geometry of the building, will concentrate and amplify the energy required for cell rejuvenation."
The device resembled a strange domed wooden structure which lacked any screws or nails.
Van Tassel himself died in 1978 of a heart attack, leaving the device unfinished and non-functional.
You can view an old interview featuring the man himself below.
The FBI file can be viewed – here.
Mysterious 'handbags of the gods' spotted in ancient sculptures around the world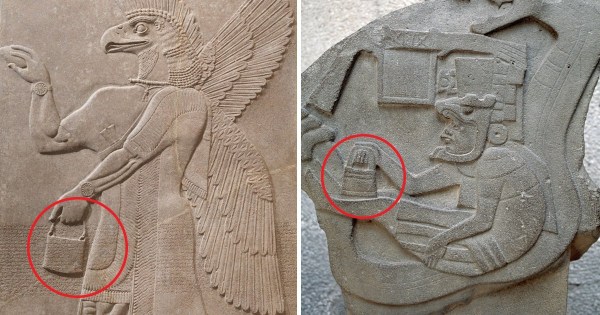 You may think that handbags are a modern obsession.
But it's been claimed that ancient sculptures from several different cultures show deities clutching the same sort of accessory.
It's been claimed the unusual bits of luggage appears on sculptures made by Assyrians in modern-day Iraq as well as depictions of a god race called the Annukia made by the Sumerian civilisation living nearby.
Aart showing the God Quetzalcoatl in ancient Mexico and even etchings found at the ancient religious site Turkey Göbekli Tepe appear to feature similar bags.
The website Ancient Code said the mysterious bags highlighted other commonalities between the gods depicted in other cultures.
'Just as the ancient Sumerians depicted their deities in a humanoid form the Ancient Egyptians, and different cultures in the Americas did the same thing,' it wrote.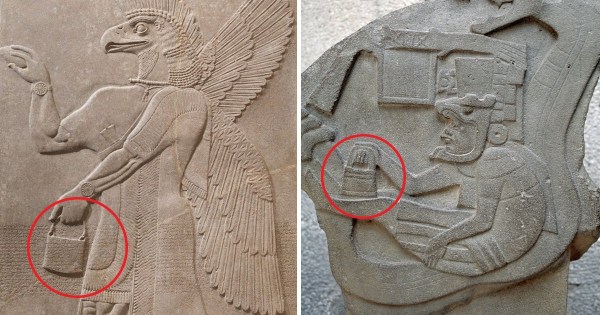 'The obvious question here is why? Why did ancient cultures—separated thousands of kilometres from each other—depict their deities in a nearly identical way? Furthermore, how is it even possible that the Ancient Sumerians depicted their gods carrying a mysterious bag, and that people halfway across the world did the same thing?'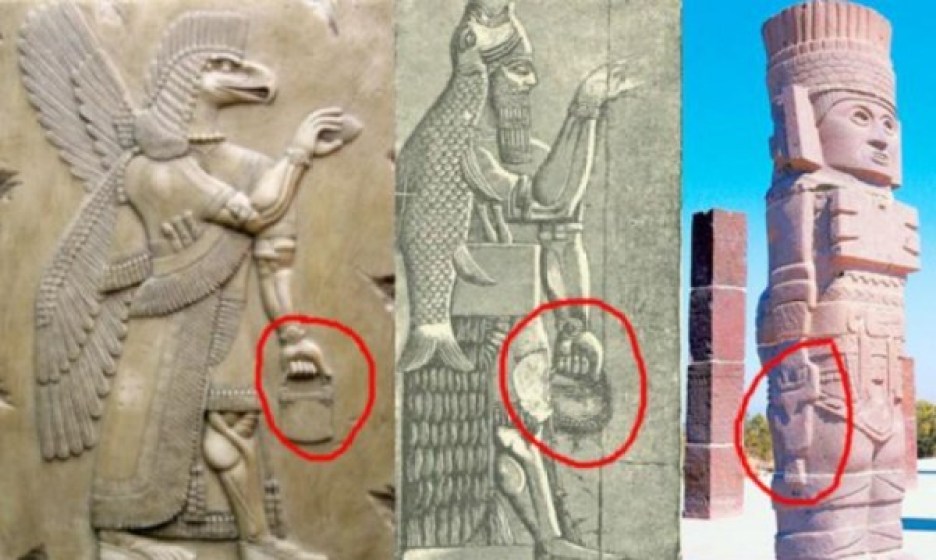 Earlier this year, it was suggested that the bags were either evidence of time travel or contained some piece of 'forgotten technology'.
Now discussion about the bags has erupted again after a YouTube video from The Kepler Telescope Channel once again raised questions about their meaning and origin.
The YouTube channel had this rather wild suggestion: 'Agriculture is known to have started near the Mount Ararat, this is also where the Ark of Noah was said to have came to rest and where the survivors of the great flood started a post Cataclysmic Civilization that would spread out in every direction from this point and place.
'Could these bags represent seeds that were preserved onboard the ark in some sort of vault, maybe they were distributed across the World as we repopulated the Globe after the Great Flood?'
Hmmmmmm.
So what do you think?
Source metro.co.uk
The mystery of the "Big Circles" of Jordan
Scattered across Jordan, 12 giant ring structures, which can be fully visible only in images taken from an airplane or satellite, have puzzled scientists.
Jordan has an archaeological secret – Big circles. These huge structures are made of stone walls with a height of only 1-1.5 meters, and a circumference of about 400 meters.
They were first discovered in the 1920s, but more recently, when aerial photography was widespread, scientists began to show interest in these obscure structures. There were no holes in the circles, so people had to jump over low stone walls to get inside.
Even today, experts still do not know when the circles were built, who built them or why this was done. However, based on artifacts discovered near these structures, archaeologists have suggested that they were built at least 2000 years ago. Other experts have suggested that circles can even be much older.
"Immortal" star iPTF14hls exploded several times, but continues to shine
In 2014, at the distance of 509.5 million light-years from Earth, the supernova (almost final stage of evolution of some stars) IPTF14hls was discovered. A few months later, the outbreak predictably died out, but then, for unknown reasons, the supernova flared up again!
Cosmological models suggest that, depending on the mass of the star, certain stages of evolution go through and it is possible to predict the final of this or that star. Supernova is a predictable phenomenon, but something abnormal is happening in the case of IPTF14hls.
For 5 years, IPTF14hls flashed a supernova dozens of times, which cannot be explained by any of the theories put forward. Raising the astronomical archives, scientists were extremely surprised, because the flash from the side of this star was first recorded in 1954.
"This star seems to be immortal. It is not known how long the observed process continues, but no theory can explain this phenomenon. The star lives by its own rules and this is a problem for modern science, "said Ayr Arkavi, an astronomer from the University of California.
Many scientists are inclined to believe that iPTF14hls is a completely new, unexplored class of stars that explode in several stages over centuries or even millennia. The anomalous phenomenon is still ongoing, and perhaps astronomers can still find the answer.