Paris is well known for its catacombs, but this is far from the only metropolis under which entire cities exist. Many residents of Edinburgh, Scotland, once lived under the bridges and streets of the city.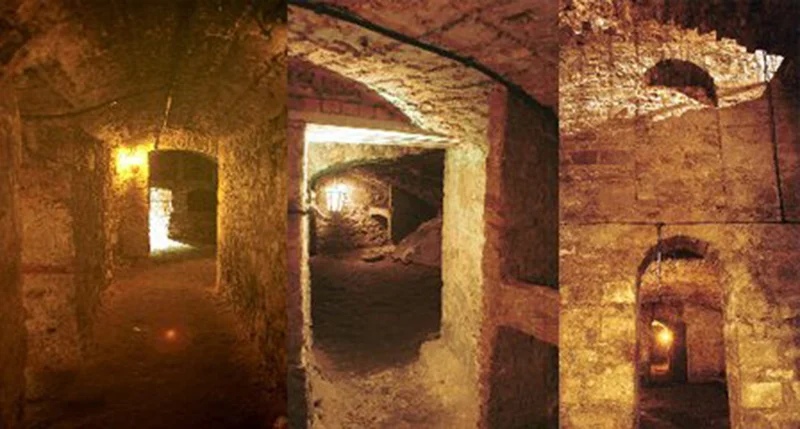 Who needed an underground city
The original reason for the appearance of the underground city near Edinburgh is most likely related to the construction of the Flooden Wall, in 1513. The wall completely surrounded the city. This meant that new buildings had to be built either outside the wall, which was unsafe, or the conversion of city cellars and storage rooms under houses.
The construction of bridges began in Edinburgh in the 1700s, and since these bridges crossed roads and hills, dry spaces formed under them, which became a haven for those who could not afford expensive housing. Under such bridges entire "cities" were formed. There were hundreds of isolated rooms that were not visible from the bridges over which the rich walked.
At first, rooms under city bridges were used to keep prisoners and other undesirable personalities. Later, merchants began to use them. They arranged cheap shops here, there were no windows in them, only a narrow passage.
Robert Louis Stevenson described these places in his book: Edinburgh, Picturesque Notes (1878).
In the XIX century, the population of the city grew significantly, replenished, including by the Irish, who fled from their native country in which hunger raged. Having no money, they moved underground. An Edinburgh doctor of that time said that he had found a family of 4 people living in a crypt or cave under a large apartment … They rented out their miserable dark dwellings to as many people as possible.
At the dawn of the 20th century, fire, destruction, and construction outside the Flooden Wall put an end to the growth of underground Edinburgh. As the construction of new buildings and roads began, many ruins of underground houses were buried under a layer of asphalt, but not forgotten. Abandoned dungeons are overgrown with myths and legends. Many claimed that the crypts and shops were full of ghosts.
In the 1970s, a whole underground lane, Marlin's Wynd, was discovered under Tron Kirk. Here once there were shops selling fruit and books. Interestingly, it was preserved almost in its original form.
Today, these streets of underground Edinburgh are guided tours.