Secret Diplomatic Meeting near Saturn Discussed Humanity's Future
In the three years that Corey Goode has been revealing his stunning information about secret space programs, extraterrestrial civilizations, and diplomatic meetings, there has been a steady build up to some major revelations about humanity's future. It appears that a critical threshold was reached in a December 2017 meeting near the planet Saturn where multiple delegations met to discuss humanity's future in light of the ending of 22 genetic experiments run by multiple human-looking extraterrestrial civilizations.
In a prior article, I discussed Goode's report about an earlier December 16  "Super Federation" meeting he attended near the planet Jupiter involving over 60 human-looking extraterrestrial delegations, where he played the role of spokesperson for the Sphere Being Alliance. This is a group of higher density beings (6th to 9th density consciousness) who have been acting as a kind of Galactic umpire over the last few years to encourage diplomatic solutions to Earth's multiple conflicts involving dozens of competing extraterrestrial groups, Inner Earth civilizations, global elites and secret space programs.
At the Super Federation meeting, Goode said he was told to relay to the assembled extraterrestrial delegations that their long term genetic experiments involving humanity needed to come to an end, and that humanity would be left alone to determine its own future. Despite some initial protests, Goode revealed that this decision was accepted by the Super Federation, making it possible for another diplomatic meeting a few days later (December 19-21, 2017) where the process for creating a new Super Federation governing human affairs would begin.
To some, what has been written so far may sound delusional and many will demand evidence to prove at least part of it before even considering it possible. At the moment, however, there is no hard evidence to substantiate Goode's claims. On the other hand, there is no hard evidence to disprove any of them either, despite determined attempts by some critics to discredit his testimony and credibilty.
In the three years that I have been researching and writing about Goode's incredible assertions, I have found no evidence of deception. Instead, I have found multiple sources corroborating his information from many different perspectives, e.g., whistleblowers/insiders, documents, and contemporary events.
My research has been documented in three books so far, which detail, compare, and analyze his amazing claims. Comprising over 1200 written pages and 1500 references, the clear conclusion reached in the Secret Space Program Series is that Goode is very credible, honest and truthful about the events he has witnessed, and taken part in.
In addition, I have met and communicated with senior military intelligence officials who have likewise accepted Goode's information as accurate, and have quietly assisted him with some very high level national security information. If Goode was perpetuating a hoax, as some of his critics contend, I doubt such high level officials would be helping him.
For those drawn to the Corey Goode information, keeping an open and discerning mind is required to fully understand what he is telling us, and how it is relevant to our lives. Goode's revelations not only inform us about key historical events and political processes that have not been publicly disclosed, but also what the future holds for us.
It's quite clear that Goode has been chosen to play a unique and special role as a witness to extraordinary galactic events and meetings occurring today. He has no other formal role except occasionally acting as a spokesperson for the Sphere Being Alliance when they choose to appear at off-world diplomatic meetings. Where Goode is used to relay information to participants even when the Sphere Being Alliance members are physically present.
This was spectacularly demonstrated at a meeting in March 2015, where afterward Goode described how he appeared on stage along with two members of the Sphere Being Alliance before roughly 120 VIPs and delegates drawn from multiple secret space programs, global elites and private civilian groups at a secret facility on the Moon called Lunar Operations Command. It was this March 2015 meeting that launched Goode into a series of meetings, abductions, and encounters, which subsequently led to the December 2017 meetings that have become the most significant to have occurred so far.
It is Goode's role as delegate for the Sphere Being Alliance, and the status this accords him from the perspective of other groups and forces both on and off-planet, that requires us to keep an open and discerning mind to what he is telling us. Goode is giving us all vital information about events that lie ahead, and we should not be distracted by the noise of competing voices wanting to distract us, intentionally or not, from important galactic developments.
This takes me to the most recent galactic meeting that Goode attended, only a few days after the December 16 Super Federation meeting near Jupiter. He discussed both of these meetings in a January 13 article and his March 27 Cosmic Disclosure interview.
Goode described being taken to a nearly identical temporal anomaly near Saturn by representatives of seven Inner Earth civilizations. The craft that transported him had a total of 40 Inner Earth participants comprising the seven groups.
Intriguingly, Goode says that these Inner Earth beings are descendants of humanity's future selves, a small group of whom time traveled into the distant past to maintain an optimal timeline. They did this to ensure that Draconian Reptilians would not overtly take over the planet, thereby establishing a global tyranny.
Goode says that when he arrived at the Saturn facility, he was met with representatives of 52 civilized worlds from the local cluster of stars in our region of the Milky Way. In his March 27 interview, Goode described the physical appearance of these representatives:
They were all humans of different types, and most of them were not Caucasian. They were different types of olive skin, brown skin, and even a kind of a tan skin. But they were representatives of each of the local 52 stars. And they are all basically our cosmic cousins. They are human beings, just different types.
He pointed out that one of these groups, the famed Olmecs who had mysteriously helped develop human civilization, were in fact extraterrestrial refugees relocated to Earth due to the Draconian control of their home world.
Goode elaborated about this in his March 27 interview:
Many, many, many times on Earth in our history, refugees have been brought from other planetary systems to stay here and live here. And they've lived here for many generations at times. That was the Mayans. But the Olmecs, when there was a major issue going on in their star system, many of them were brought here as refugees to survive here and wait out the issues there. Then they were brought back.
In past interviews, Goode has described his interactions with "Mica", the representative of the Olmec group, who had previously played Goode's role as the Sphere Being Alliance representative for his civilization.
According to Goode, neighboring star systems have experienced similar histories to our own in terms of corrupt global elites secretly allied with a group of extraterrestrials described as Draconian Reptilians. In these adjacent star systems, the Sphere Being Alliance appeared and choose a single individual to be their delegate/spokesperson in the subsequent negotiations and struggle to rid the planet of the corrupt elite control systems that plagued these worlds.
In this regard, Goode said:
Each of them have either been in contact with the Blue Avians or the Triangle-Head being and gone through a similar thing that I have in their planetary system.
Apparently, in all these worlds, the function of the Sphere Being Alliance delegate/witness was to relay what was being observed to the rest of the population. This was a critical aspect in the awakening of each planetary population, and gaining freedom from their corrupt elites and Reptilian overlords.
Well, we were told that we were witnesses, that we were the conduits for each of our collective consciousnesses, that each of our groups was a collective consciousness on our planetary systems that we were on, like here on Earth. The information I was receiving, what I was witnessing, was on behalf of the collective consciousness here in this Solar System.
At this Saturn meeting, Goode says he was chosen once again to play the spokesperson for the Sphere Being Alliance members before the assembled delegates. The three Blue Avians and Golden Triangle beings that were present said they would be leaving our physical reality and would be replaced by another two members of the Sphere Being Alliance, as Goode had previously announced in 2017.
All present at the Saturn meeting were subsequently introduced by Goode to the new Sphere Being Alliance members who "began to give us some cosmic ground rules for going forward."
They would be responsible for assisting humanity in an unprecedented era where it would not be dominated by competing extraterrestrial groups. Essentially, humanity would be fully informed about the truth of their global situation, and would then be able to determine its future free of corrupt elites and extraterrestrial interference.
Of particular interest was the appearance of a group of entities called the "Sentinels" at the Saturn meeting, who are custodians of still functional Ancient Builder Race technologies that are up to two billion years old. Up to approximately 500,000 years ago, according to Goode. Builder Race technologies were used to establish a very powerful protective grid around our local cluster of 53 solar systems (52 + Sol), to keep out aggressive extraterrestrial races until it was destroyed in an internal Solar System wide war.
The Sentinels communicated with the Sphere Being Alliance in a spectacular light show that all participants witnessed. This was very significant since it suggested that the Sentinels would continue their present role, thereby ensuring that Builder Race technologies that continue to operate would only be accessed by individuals whose ethical standards and behavior meet with the high expectations set by the Sphere Being Alliance.
Goode has previously described how "Gonzales", a U.S. Navy Lt Commander, had been turned away by the Sentinels when he approached one of the functional Builder Race installations. The Sentinel told Gonzales that he lacked humility, and a request was subsequently made for Goode to make the same trip later to learn about the installation.
Builder Race technology is particularly relevant to nations with military run secret space programs, such as the U.S. Navy's  Solar Warden, wishing to extend contemporary military concepts such as "full spectrum dominance" into outer space battlefields. It is doubtful that the Sentinels would allow Builder Race technologies to be used in this way for the military benefit of a single nation or planet.
Goode was told that a new, and  more representative, Super Federation would be assembled. Then the newly liberated and now awakened humanity would interact on a more equal basis with the different extraterrestrial groups, and would be joined by representatives from the nearby 52 star systems.
Goode also said that at the December 16 Super Federation meeting had a representative from the "Council of 200" (a corrupt elite control group) seated as the head of the Earth delegation. Presumably, our newly awakened humanity will at some point choose a more representative individual as humanity's spokesperson for Galactic affairs.
It will be very interesting to see what process is adopted by our planet's seven billion inhabitants and/or their political representatives to choose one or more delegates to a newly reconstituted Super Federation. I highly doubt the global populace will accept major nations simply choosing a representative similar to how the United Nations Secretary General is appointed without any kind of grass roots participation.
In addition, the Inner Earth beings will be represented in this expanded Super Federation, presumably opening the door for them to further interact with surface humanity, and publicly reveal themselves in the near future.
As to when all these stunning changes are going to be publicly revealed, Goode has discussed an upcoming series of solar flash events that will act as the trigger for full disclosure and humanity's awakening.
Fox News host says US has physical evidence of UFOs
The presenter of Fox news made some interesting comments during a recent interview on an episode of 'Aliens from the Past'.
Carlson is certainly no stranger to the conspiracy theories and these latest remarks, which came as he talked to the UFO research veteran, Nick pope, are no exception.
In the episode, which aired Nov. 22 in the US, Carlson stated that he had heard from a "knowledgeable" source that the US government had physical evidence of alien visitation.
He said:
"I've heard this from someone who I think is knowledgeable on the subject that there is physical evidence that the US government is holding, um, that, you know, would tell us a lot more – about what these objects are"
Intrigued, Pope asked him to confirm that he was referring to UFO wreckage.
"That is correct" Carlson replied.
Carlson interviewed Trump
In July, Carlson interviewed President Donald Trump and asked him about the possibility of being visited by an intelligent extraterrestrial race.
Trump responded by saying that he did not personally believe, but admitted that anything is possible. He also denied that the US Air Force was in possession of a crashed UFO.
However, as things stand at the moment, there is no way of knowing who might be telling the truth.
Technological Terrorism & The Dulce Base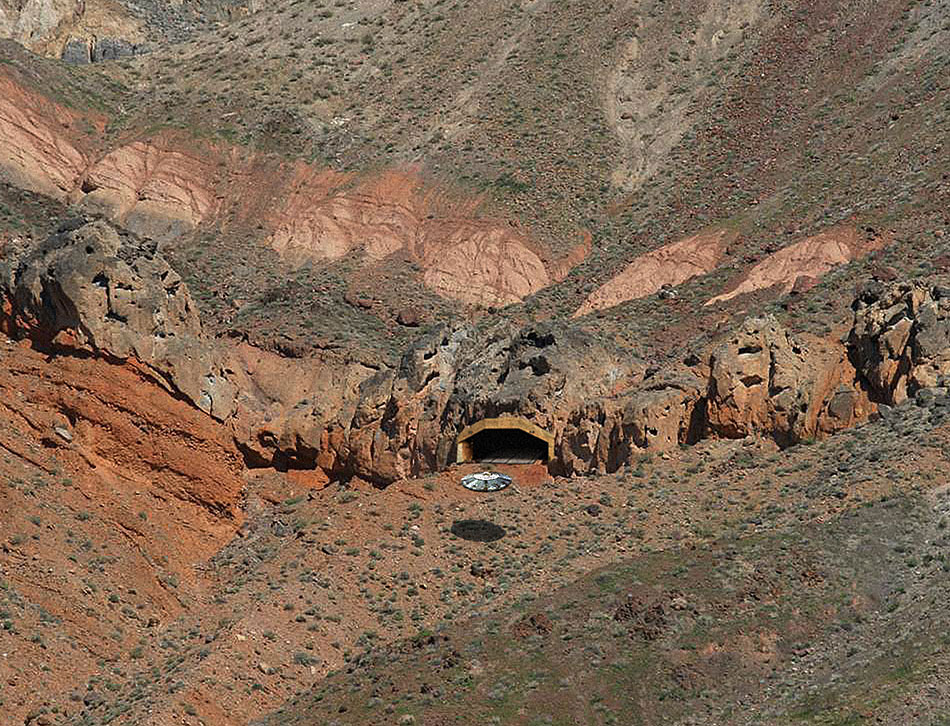 (Orbman) The elusive "Commander-X" has — through his reported connections within the Intelligence Community — released still further revelations regarding the dark secrets of Dulce. The Commander claims to be a member of "THE COMMITTEE OF 12″ [COM-12?], an obscure intelligence group which is working to educate the public about the joint fascist-alien threat to America and preserve our Constitutional-based Republic as it was established by the original founders of the United States:"…
There were over 650 attendees to the 1959 Rand Symposium. Most were representatives of the Corporate-Industrial State, like: The General Electric Company; AT&T; Hughes Aircraft; Northrop Corporation; Sandia Corporation; Colorado School of Mines, etc."Bechtel (pronounced BECK-tul, a San Francisco – based organization – Branton) is a supersecret international corporate octopus, founded in 1898. Some say the firm is really a 'Shadow Government' — a working arm of the CIA. It is the largest Construction and Engineering outfit in the U.S.A. and the World [and some say, beyond].
"The most important posts in the U.S.A. Government are held by former Bechtel Officers. They are part of 'The Web' [an inter-connected control system] which links the Tri-lateralist plans, the C.F.R., the Order of 'Illuminism' [Cult of the All-seeing Eye] and other interlocking groups…"
"MIND MANIPULATING EXPERIMENTS… The Dulce Base has studied mind control implants; Bio-Psi Units; ELF Devices capable of Mood, Sleep and Heartbeat control, etc.
"D.A.R.P.A. [Defense Advanced Research Projects Agency] is using these technologies to manipulate people. They established 'The Projects,' set priorities, coordinate efforts and guide the many participants in these undertakings. Related Projects are studied at Sandia Base by 'The Jason Group' [of 55 Scientists]. They have secretly harnessed the Dark Side of Technology and hidden the beneficial technology from the public.
"Other Projects take place at 'Area 51' in Nevada… 'Dream-land' [Data Repository Establishment and Maintenance Land]; Elmint [Electromagnetic Intelligence]; Cold Empire; Code EVA; Program HIS [Hybrid Intelligence System]: BW/CW; IRIS [Infrared Intruder Systems]; BI-PASS; REP-TILES, etc.
"The studies on Level Four at Dulce include Human Aura research, as well as all aspects of Dream, Hypnosis, Telepathy, etc. [research]. They know how to manipulate the Bioplasmic Body. They can lower your heartbeat with Deep Sleeve 'Delta Waves,' induce a static shock, then reprogram, Via a Brain-Computer link. They can introduce data and programmed reactions into your Mind [Information impregnation — the 'Dream Library'].
"We are entering an era of Technologicalization of Psychic Powers… The development of techniques to enhance man/machine communications; Nano-tech; Bio-tech micro-machines; PSI-War; E.D.O.M. [Electronic Dissolution of Memory]; R.H.I.C. [Radio-Hypnotic Intra-Cerebral Control]; and various forms of behavior control [via chemical agents, ultrasonics, optical and other EM radiations]. The Physics of 'Consciousness.'…
"SURVIVING THE FUTURE… The Dulce Facility consists of a central 'Hub.' the Security Section [also some photo labs]. The deeper you go, the stronger the Security. This is a multi-leveled complex. There are over 3000 cameras at various high-security locations [exits and labs].
"There are over 100 Secret Exits near and around Dulce, many around Archuleta Mesa, others to the source around Dulce Lake and even as far east as Lindrich.
"Deep sections of the Complex CONNECT INTO [EXTENSIVE] NATURAL CAVERN SYSTEMS.
"…INSIDE THE DULCE BASE… Security officers wear jumpsuits, with the Dulce symbol on the front, upper left side (the Dulce symbol consists of an upside-down triangle with an inverted 'T' superimposed over it – Branton)… The ID card [used in card slots, for the doors and elevators] has the Dulce symbol above the ID photo. 'Government honchos' use cards with the Great Seal of the U.S. on it. 'The Cult of the All-Seeing Eye' [The NEW WORLD ORDER], 13, '666', The Phoenix Empire… '9', 'Illuminism'… 'One out of many.' [and so on]…"
"THE PHANTOM BOARD: ABOVE THE LAW... Most meetings of 'The Dulce Board' are held in Denver and Taos [New Mexico]. A former U.S. Senator has full knowledge of Dulce. He was among the group that included a number of very prominent government figures who toured the base (i.e. most likely the upper levels only – Branton). In 1979, an 'animal mutilation' conference took place in Albuquerque, New Mexico. This meeting was used to locate researchers and determine what they had learned about the link between the 'mute' [i] operations and the 'Alien' government.
"Another Senator knows about the 'Ultra' secrets at 'Dreamland' and Dulce. Several of my official sources have confirmed this to me. So do many others in government… this is what the UFO researchers are up against…so be careful. You know more than they want you to know.
"They have also underwater bases off the coast of Florida and Peru.
"More detailed information will be released in the near future: photos, video tapes, documents, etc. Watch out for 'Special Agents' among you now.
"In the 1930's, DIVISION FIVE of the FBI knew about the 'Aliens.'
"A FASCIST cabal within this country had John Kennedy assassinated. Look to the links within the larger Umbrella… the 'WEB' of a fascist totalitarian secret police state… within the Pentagon; JCS, DIA, FBI [Division Five]; DISC/DIS and the DIA.
Note: The Defense Investigative Services insignia is a composite of the Sun's rays, a rose and a dagger, symbolizing 'The Search for Information, Trustworthiness and Danger.'
"This links with caves used for 'Initiation Rites' all over the world… ancient vaults, retreats, [underground 'bases']…" etc.
Commander 'X' also stated that: "Recently, participants in a 'field investigation' of the area near Archuleta Mesa, were confronted by two small hovering spheres. They all became suddenly ill and had to leave the area.
"We have passed the point of no return in our interaction with the 'alien' [i][html] beings. We are guaranteed a crisis which will persist until the final REVELATION [or conflict].
"The crisis is here, global and real. We must mitigate or transform the nature of the disasters to come, and come they will. Knowing is half the battle.
Read the book, THE COSMIC CONSPIRACY, by Stan Deyo…"
Bestselling Novelist Who Wrote About Vaccine Industry Deception Found Dead
The Facts:Author Jennifer Jaynes, who recently wrote a novel that reveals corruption and malevolent intent on the part of the vaccine industry, died suddenly on Monday, November 25th. No cause of death has been issued by either her parents or the authority.
Reflect On:Does it feel like the lines between fact and fiction are continuing to blur?
We are in a time in which our level of discernment has to be high, and our desire to entertain our preferred narratives needs to be grounded in what is factual and credible. The story of the recent passing of novelist Jennifer Jaynes is circulating on the internet, often gaining momentum based on speculation rather than established fact. Still, her death poses many questions that deserve to be asked, once they are grounded in what is known to be true.
We start with her online obituary which is said to have been posted by her parents:
Funeral services for Jennifer Jaynes, age 47 of Hideaway, Texas, are scheduled for 11:00 a.m. Saturday, November 30, 2019 at the Caudle-Rutledge-Daugherty Funeral Home Chapel in Lindale, Texas with Pastor David Hickey officiating. Jennifer passed away Monday, November 25, 2019. She was born October 30, 1972 in Minot, North Dakota. Jennifer was previously from Los Angeles, California and has lived in Hideaway for the past 9 years. She was an accomplished author having published 7 books and was both a USA Today Best Seller and Amazon #1 recipient.
I personally have not found any official explanation about how she died, based on a fairly thorough search on the internet. And the fact that an official statement from the family or the authorities has not come out naturally leads to speculation, especially under the circumstances we will discuss.
Social Media Speculation
The notion that Jennifer's death had been ruled a suicide and that she had been found with 2 bullet wounds to the head has already been the source of articles and forum discussions on the internet. However, much of the discussion seems to have all originated from the Facebook post below. I have contacted the woman who posted it in the hopes of substantiating her claim.
While this post seems to tie Jennifer's death in with many other suspicious suicides that have happened in recent times, note again that neither the cause of death or its ruling as a suicide has been independently established. Nonetheless, one woman who says she is a friend of Jennifer's is adamant that she believes Jennifer was murdered in part because of her latest novel, which reveals corruption in the vaccine industry.
In the thread that follows this post, Adrianna is told by another poster that Jennifer's husband has called the cause of death a rumor and requested that people stop spreading it, to which Adrianna responded that she had removed that point from her main post, but maintains her opinion: 'I believe she was murdered. She was so happy and loving and thriving.'
Malice
Jennifer's latest novel entitled 'Malice,' which was released about a year ago, certainly would have required her to dig into the nature of the vaccine industry and possibly speak to whistleblowers/insiders as part of her research. Here is a description of the book I've paraphrased from reviews by Goodreads and Review Bee:
Malice is a medical thriller revolving around Dr. Daniel Winters, who overcame alcohol addiction to become a well-respected pediatrician. All is well in his new life until the introduction of Respira, a new pharmaceutical vaccine that takes the pediatric world by storm. Respira is set to prevent colds, the flu, and other illnesses in children. Daniel's boss is adamant that Respira is a miracle drug that will be a saving grace for parents.

But as more doctors give Respira to more children, side-effects begin to occur. As the evidence mounts up against the drug, even Daniel Winters becomes unsure of the drug's safety and is faced with a choice. Daniel had known of a fellow pediatrician and his family that were found slaughtered in their home, and another doctor was murdered. There is strong suspicion that this fate could come to him if he follows his conscience.

Malice 'seems to propose a strong anti-vax argument' and forces the reader to scrutinize their thoughts on 'big pharma.'
Whether or not some formal information will come out to clarify and put to rest the speculations that are spreading on the internet about Jennifer Jaynes' death remains to be seen. As it is, because of the obvious anti-big pharma slant of her recent book, the mind naturally gravitates towards past tragedies such as the number of holistic doctors defiant of the medical establishment who were being killed mysteriously over a short period of time, which we wrote about in '10th Holistic Doctor Found Murdered In Her Home. Controversial Connections Are Surfacing.' As well, the mysterious nature and secrecy around Jennifer's cause of death has eerie similarities to our story 'Journalist Who Broke Story Of Mueller Deleting Text Messages Dies Suddenly'. Hopefully we will get some answers soon.
The Takeaway
While it is important to make sure our theories are grounded in fact, it's also important to listen to our intuitive faculties when they tell us something is not right. We don't need to jump to conclusions, but certainly there is reason to keep pressing where there is mystery and secrecy, so that we can come to a comprehensive understanding of exactly the way things are playing out in the world.