Sea Monsters and The Loch Ness Monster Explained.
For centuries, seafarers greatest fear may well have been battling a sea monster which could destroy their vessel and possibly devour the crew. There are three mythical sea creatures many early mariners held in terror, all being giants: the sea serpent, the octopus, and the squid. Perhaps some giant sea serpents of legend could have been an anaconda or water boa. They are found in tropical South America, and Africa. Besides being in trees, bushes, or tall grasses, the anaconda, like all snakes, can swim. Anacondas can grow to be 17 feet long.
There are unconfirmed reports of giant anacondas even larger; from 8 to 12 meters (26.2 feet t 39.4 feet). Pythons that grow 23 feet or more that are found in Africa, Asia, and Australia. Many of these great snakes traverse the freshwater Amazon or Congo Rivers, but both rivers will eventually empty into the Atlantic Ocean. So it would be possible for giant snakes to enter the sea during storms and floods , and stay alive in salt water for short periods of time. Imagine the shock of sailors hundreds of years ago exploring the coasts of Africa and other far way places only to see a giant snake, dozens of feet long fighting for survival in salty waters!
Stranger than boas, anacondas and other snakes in the sea would be the presence of the mysterious giant oarfish. This bony creature most often inhabits a region from temperate waters to tropics, but has been found in the sea as far north as the arctic. It does appears to be serpent like. With a teeth-less mouth, and a long scaleless snake like body the giant oarfish is a spectacle to behold. It has been sighted numerous times. The animal can reach an epic length of 36 feet, with an unconfirmed sighting of a creature 56 feet long.
Giant oarfish are rarely seen, because they typically live at ocean depths of 600 to 3,300 feet. The massive, eel-like creature is thought to have inspired tales of giant sea serpents. It is not well studied or well understood. There are rare events of sightings. Most of the oarfish witnessed come to shore presumably to die. Of the recent documented encounters, the creatures are non-threatening to mankind and in failing health.
Another monster of the sea would be the giant octopus. This slippery mollusk lives in the coastal North Pacific Ocean, along California, Oregon, Washington, British Columbia, Alaska, Russia, Japan, and the Korean Peninsula. A full sized adult specimen can grows up to 30 feet across. The giant octopus has a stranger than fiction existence, with three hearts and nine brains, blue blood and eight arms. While the giant octopus is often cited as a sea monster, perhaps the the even larger giant squid is more so.
The giant squid and colossal squids are deep ocean dwelling aquatic animals. However rare instances are told of giant squids emerging from beneath the surface of the water. These creatures can grow up to 13 meters (43 feet) for females and 10 meters (33 feet) for males. Claims of 20 meters (66 feet) or even higher have been made, but not scientifically verified. Giant squids are found in North America, Central America, Europe, Africa, Asia, and Australia. The marine monsters of lore that bear long arms with tentacles; being giant octopuses and giant squids, have been known for centuries as the "kraken" or as "krakens". Giant squids have been the inspiration for Jules Vern's "20,00 Leagues Under the Sea".
Now we come to the Loch Ness Monster, which is probably the best known aquatic monster. This creature allegedly inhabits Loch Ness; and Lake Ness in the highlands of Scotland, United Kingdom. The first account of the mythical beast goes back to the biography of the Christian Saint Columba on August 22, 565 AD.  The Saint's biography was published a century after the his death in 697 AD by Saint Adanan in a manuscript entitled "The Life of St, Columba". The biographical documentation describes the saints encounter but oddly does not tell what the Loch Ness monster looks like. St. Columba is the Catholic patron saint of Derry, Ireland and of Scotland, and Ulster County, New York. The feast day of St Columba is celebrated on the day of his death on June 9th.
In modern times the loch ness monster was commonly thought to be a living plesiosaur or a elamosaurus from the dinosaur age; this theory has been scientifically discredited on number of reasons. They include the Loch Ness being too small, not enough food, the lake being too cold, and no such dinosaur fossils being found.
A photograph of the so called Loch Ness Monster taken in 1933 by a British surgeon, Robert Kenneth Wilson, depicting what looks like the silhouette of a long necked dinosaur floating on the surface of the water has been debunked as a hoax or fraud. A man named Christian Spurling, while on his death bed, in 1994, claimed to have made a model of the monster from a toy submarine he purchased at a Woolworth store and then attaching a plastic head to it by using wood putty. The model dinosaur was clandestinely placed on the water, then seen and then photographed by the unsuspecting and respectable  Doctor Robert Wilson. Whether the event happened or not, most who view the dark image of Robert Wilson's photo claim it looks like the silhouette of a duck, goose, or grebe afloat on the water of the lake.
On September 5, 2019, an international group of scientists studied Scotland's loch Ness and found no evidence of a monster. Environmental DNA or genetic material shed by all life in loch ness, from about 250 water samples were collected, the year before, then carefully analyzed. No DNA was recovered of reptiles, dinosaurs, nor giant fish, such as catfish or sturgeon, nor of sharks, crocodiles, otters, seals, adders, nor lizards. But, a large amount of eel DNA was discovered. A theory long proposed is the Loch Ness Monster is a giant eel. Yet, the research analysis did not reveal the size of the eels of whom the DNA was overwhelmingly found. Under the conditions of the Loch's climate eels normally grow 4 feet to 6 feet in length. Professor Neill Gemmell of the University of Otago, New Zealand, led the research study. At Loch Ness, DNA was detected from many normal, living creatures that include pigs, deer, sticklebacks ( fish that have strong and clearly isolated spines in their dorsal fins. Sticklebacks have no scales, but some of the species have bony armor plates.) that includes birds, toads, frogs, and amphibians.
In regards to giant eels, the "Daily Mail" reported in an article on May 16, 2015 about a Conger eel that was found, on May 14th in the water by fishermen off the coast at or near Plymouth Fisheries, Devon, Great Britain. The crew members aboard an inshore trawler named Hope, inadvertently captured an eel that measured an astonishing 7 feet long and weighing roughly 130 pounds. The huge eel got caught in the trawler's nets and was dead by the the time it was brought out of the water.
Giant Conger eel found in Loch ness – 2015. Click on link for true story.
The Loch Ness Monster legend draws a million people a year to that region of Scotland, UK and generates 25 million Euros ($27,845,875.00) a year to the local economy. The creature can easily be a myth, but obviously there are many people that want the creature to be seen as a reality.
Eyewitnesses talk about their their encounters with humanoid insects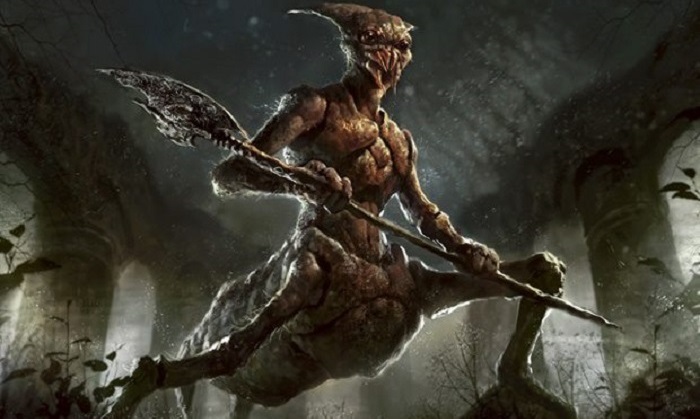 Humanoid insect-like creatures are some of the most frightening cryptids. Sudden movements, thin long limbs, similar to arachnids or cockroaches, these creatures seem to come from nightmares.
Here are some eyewitness accounts that have encountered such creatures.
This story was told in September 2016 on Coast To Coast AM paranormal radio. The narrator went camping with his family and friend in Sequoia National Park, southern Sierra Nevada, California.
This park is famous for its giant ancient redwoods. The majestic trees give the local landscape a special, fabulous atmosphere.
In the evening, while camping, the eyewitness sees something very strange there.
He tells:
"About 9 pm, all my relatives already wanted to sleep and went into their tent. Only my friend and I stayed by the fire. But, I was bored and decided to take my iPod out of my pack to listen to music with headphones.
I went to the car and opened the back door. Then suddenly I saw that there was something infront, next to a tree. In the darkness, I saw the outline of something great.
When I aimed the lantern, I swear, I saw a huge mantis, almost 2 meters tall. When I saw it I froze, I held my breath and stared at it. I was shocked.
Then, this creature stepped back and … disappeared. It was as if it had become completely invisible. I couldn't believe my eyes.
When the shock passed, I slammed the car door, ran back to the fire, and told my friend everything. I started waking my loved ones telling them about the "mantis". But, they didn't believe me, even though I was apparently horrified. They even started laughing at me.
Suddenly strange noises were heard, which others also heard. It was like a very sharp click. It was all so weird and I was really scared. "
What the creature is, the author of this story did not understand. He no longer heard or saw anything strange in the park.
The following story is taken from the archive of the researcher Albert Rosales and is taking place in Poland. An eyewitness is a tourist who goes camping in the forests of the Greater Poland Voivodeship, in the western part of the country.
The woman installed her tent near a small forest lake, and then went to look around. In the evening, she returned to the tent. As she approached her, she noticed an unusual figure crouching by the lake.
At first, she though it was another tourist, surprising as this area is very isolated and away from hiking trails. But as she began to approach, about 15 steps from the figure, she realized that she was not human.
The structure of its body was humanoid but similar to an insect. At a height (in a sitting position) it was about a meter and a half, with thin long limbs and grayish-beige color. The creature had huge black eyes, similar to the facet eyes of an insect, and on the back were thin, translucent and fragile entities such as wings.
Hearing the woman approaching, the creature turned to her. She was surprised to realize that she was not alone.
The woman shares:
"It was looking at me. I also looked at it and didn't know what it was going to do. Our meeting was casual and unexpected for both of us. "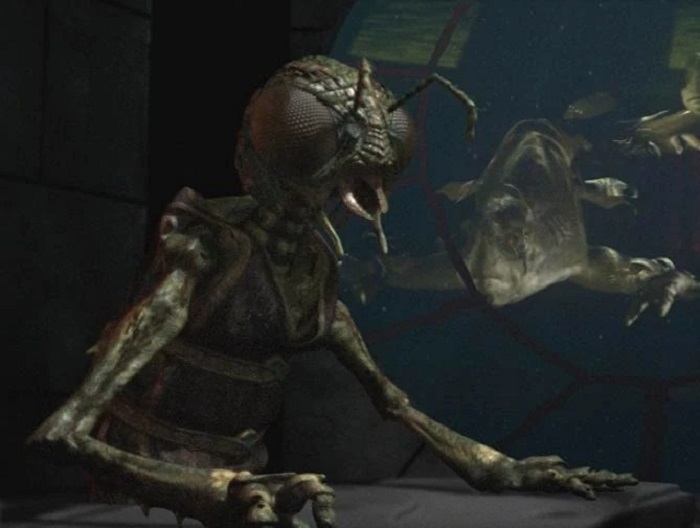 The creature quickly disappeared and the woman didn't even know where. After that, she quickly gathered her things and left the area.
The story described below happened to a resident of Ontario, Canada, and was sent to mysterious creature researcher Lon Strickler. 
At the time this was happening, the eyewitness was still a child and lived with his family in a remote mountainous area.
The Canadian says:
"The summer of 1968 turned out to be very hot and stuffy. In those years, no one had air conditioning, so we just left all the windows in the house open day and night. I slept in the nursery where my older brother and sister were in addition to my bed.
One night, I suddenly woke up to some noise. I got up and went to the open window. From there, I saw a strange creature in the backyard.
This creature was squatting beside a bush, resembling both a human and an insect. It was thin, with black shiny skin. Suddenly, it looked up at me. I saw some antennas or thin needles sticking out of his head.
That's all I remember. I don't remember what happened after that. The next morning I told my mother about it, but she decided I was just having a nightmare. But in the years that followed, I saw this creature twice more at night. I'm convinced it's not a dream. "
Another story was sent to the ufology website at MUFON and describes a strange incident that occurred in April 2016 in the vicinity of Ziggy village, Cyprus. An eyewitness said that that evening, there was a friendly party in the yard of her house with sandwiches, treats and various soft drinks.
At one point, only she and her friend stayed out. The others entered the house. Suddenly, her friend noticed a flicker moving slowly across the sky. At first, the woman thought it was a comet. But, the object was moving too slowly. For a moment, she remained completely still among the stars.
In a few minutes, this object descended so low that it was near the line of the nearby tree tops. Then it became apparent that this object had a triangular shape.
The woman says:
"We wanted to get close to it, but all of a sudden, my friend and I felt paralysed. We were lying on loungers and could hardly move.
Meanwhile, a humanoid figure emerged from this ship with the head of an ant, flaky skin on the body, like a crocodile. It had many tiny eyes and weak long limbs. This creature came very close to the fence in our yard, but then turned abruptly and disappeared into the darkness. Then the triangle ship flew west and disappeared completely.
Later, my friend and I remembered that when we were lying on deck chairs and the creature was standing by our fence, there was some strange "tool" in its hands. "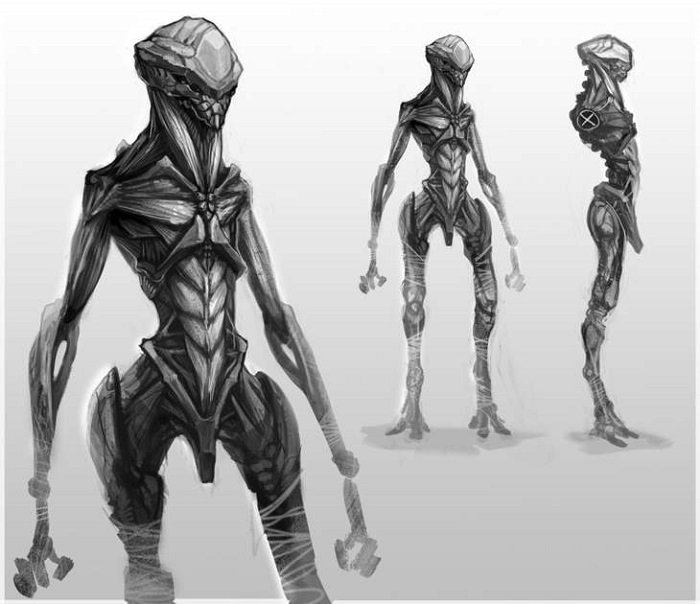 The October 8, 2017 issue of Strange Magazine published an eyewitness story that recounted an incident that occurred in 1948 in Bremen, Washington.
On her day off, Virginia Staples walked with a basket of dirty clothes to the laundry room in the basement of her apartment building. The girl regularly used washing machines in this basement and nothing unusual happened to her.
The grim cellar had long been in need of repair. In places there were holes in the walls and the floor, there were water leaks. Water was said to have seeped through the canals of the local port.
The basement looked always scary, but on this day, Virginia was especially scared. She felt a strong sense of anxiety as she went down into the basement. The light bulb barely illuminated part of the room. The rest was at dusk and the shadows seemed to be moving.
Virginia began filling one of the laundries, and the sinister sensation increased. She shares:
"I suddenly felt a lot of fear. I turned and looked at the back of the room. I froze in place. I couldn't move in fear because there was a creature in one of the holes in the floor. It had a bright orange color, its weak limbs resembled the legs of a spider, and the antennas on its head moved back and forth.
I ran out of the basement, reached my apartment, packed up all my belongings as quickly as possible, and left. I was terribly scared and couldn't even stay in this city.
I went to Seattle with my cousin. No one believes me, but God testifies to me, it really happened!
Highest number of Loch Ness Monster Sightings in Nearly 40 Years
A count of Loch Ness monster sightings in 2019 finds that the famous cryptid has been seen 18 times, which is the highest number in almost 40 years.
The count comes from the Loch Ness Monster Sighting Record, maintained by longtime researcher Steve Campbell. According to the Nessie hunter, who collects reports throughout the year and judges the credibility of the cases, the considerable number of notable sightings is the best ever recorded since 1983, when it is said that 20 different encounters occurred.
This would be continuing a trend that has been unfolding in recent years, in which Nessie's sightings are constantly increasing at a remarkable pace. To that end, for those who maintained a score, 2018 had 15 sightings, 2016 had 12 and the three years prior to each presented seven reports. These numbers contrast sharply with much of this century, as it was not uncommon for many years between 2015 and 2000 to have only one or two cases.
Campbell credited two key factors to this meteoric increase in sightings in recent years: webcams observing the waters of the famous sight, which allow anyone in the world to detect the creature, and an increase in tourism in the legendary landmark. He too reflected to a local newspaper that modern technology has helped a lot, because "in the connected digital world we live in now, people are taking pictures and sending them to us", which is considerably easier than in the "old days" where a witness would need to have his possible photo of Nessie physically revealed in a laboratory and then mailed.
It is somewhat ironic that 2019 ended with a considerable number of sightings, since it was also a year in which the legend of the monster that lurks in Loch Ness was even more publicized thanks to an environmental DNA study which suggested that the creature was a giant eel. For his part, Campbell disagreed with the findings, arguing that "Loch Ness is an open waterway. It is not a closed ecosystem ". Leaving this debate aside, as it is likely to continue for some time, the question for 2020 may be whether or not we will see another increase in sightings, or whether last year will end up being seen as the peak of Nessie sightings.
Some unclear and controversial issues in cryptozoology
Recently, the famous ufologist and paranormal researcher Nick Redfern (Nick Redfern) expressed his opinion on cryptozoology.
He says:
"Cryptozoology is actually considered a discipline that deals with the study and search of animals unfamiliar with science. However, I have to say that I prefer the name Monster Hunting, because to me, a word like cryptozoology seems too incomprehensible.
I am sure that most people, if you ask them what cryptozoology is, will have no idea. But if you tell them "monster hunting," people understand what it's all about. "
According to Lauren Coleman, director of the International Museum of Cryptozoology in Portland, "Cryptozoology" literally means the study of hidden and not yet discovered animal species.
It is estimated that 1.8 million species of living creatures on planet Earth are now known to humans, while their total number is estimated to be around 7 million (!).
Therefore, while cryptozoology is often ridiculed as pseudoscience, it is, in fact, a necessary and very important area.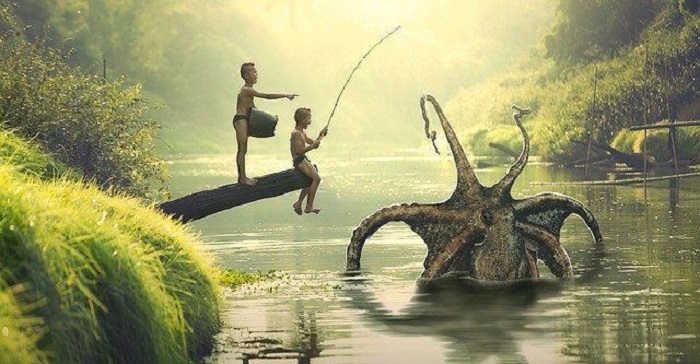 However, if you look at those creatures that cryptologists often research, it turns out that they are not really animals. Or, at least, they are not animals to the extent that we refer to the term.
For example, Yeti, Bigfoot, Yowie and others. Most Yeti researchers will say that these creatures are unknown species of large primates or have survived to this day by disappearing humanoid monkeys. But things get complicated when there are stories of Yeti in which these creatures behave much differently than familiar animals.
There are many reports that the Yeti have been observed in close proximity to UFOs. There are also many stories in which people who were too close to the Yeti experienced strange feelings of disorientation and fear, and they seemed to be controlled by these Yeti.
There are even stories where the Yeti had other "superpowers". For example, after meeting with them, some eyewitnesses experienced "wasted time syndrome". That is, some events were not in their memory and they did not remember any of what happened to them.
Some Yeti researchers believe that they are able to isolate and control infrasound, and that it can affect humans. Low-frequency sounds are unfavorable to the human nervous system.
In a February 27, 2019 in article on the Exemplore site, researcher Dermal Rozan wrote that they could emit sound waves.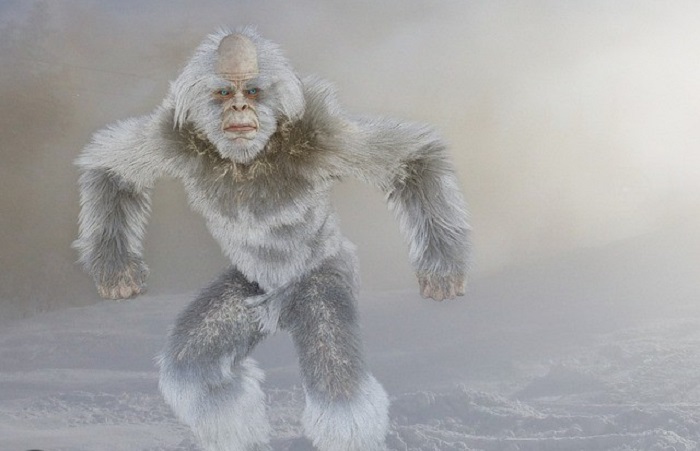 There are stories of eyewitnesses who saw the Yeti literally disappear in the bright light. Not all of these stories are so widespread. Against the backdrop of the total mass of messages, they are a minority, but they exist and cannot be thrown away simply because they do not fit into the general concept.
If the Yeti are mere primates not yet discovered by science, then they should not associate with strange flashes or UFOs, sound waves, etc. After all, not all known large humanoid monkeys, such as gorillas or chimpanzees, have been seen in these situations. If Yeti is just a monkey, then it will act like a monkey.
Another object of cryptozoology is Dogman. In the images, he is often portrayed as a werewolf and almost always described as a wolf walking vertically on both hind legs.
Eyewitness reports indicate that very often the Dogmen were seen near some ancient religious buildings, such as mounds, as well as near intersections, cemeteries or old bridges. All these places have traditionally been associated with supernatural and paranormal phenomena.
If Dogmen are any real animals, what is the reason for them to live only on ancient mounds and bridges?
Cryptologists are also interested in so-called lake monsters. The most famous of them is Nessie from the Scottish lake Loch Ness. Many Nessie seekers base their arguments on a scientific basis.
They think Nessie is a dinosaur that has survived to this day, or is another unknown animal. But if we look at Nessie's extensive research history, it turns out that Nessie is often associated with supernatural phenomena.
For example, renowned researcher Ted Holiday regularly complained that, during his attempts to film Nessie with a camera or take a picture, his equipment had collapsed at the most crucial moments. If he had managed to take pictures, then they were damaged.
Other Nessie researchers, at the most important moments, regularly began to experience strange discomfort.
The famous occultist Alistair Crowley owned privately the Boleskin House (now burnt down) on the shores of Loch Ness. It is alleged that he performed various magical rituals there.
UFOs are often seen above the lake itself, and in the 1970s, Ted Holiday met up with Men in Black near Loch Ness.
Do you find that all these creatures are probably not animals that have not yet been discovered by scientists, but are something supernatural? Should they be excluded from cryptozoology?
Yes… if cryptozoology is thought to be concerned only with the search for unexplored true flesh and blood animals.
And with Dogman, Yeti, etc., researchers must deal with another field of action – the occult and the paranormal.