Scottish Isle to Erect Statue Honoring Its Famous 'White Wife' Ghost
If you need more proof that tourism is the growth industry of the future, look no further than Scotland's  whose council is considering erecting a statue honoring a hooded female ghost who haunts a lonely stretch of road and appears in cars driven by single young men. What fun!
"I thought at the time, 'there's no moon tonight'. When I looked around the White Wife was sitting in the seat next to me. She was transparent, grey and she smiled. I'll never forget that smile. At the time it gee'd me a braa gluff, yes!"
If you understand those words, you're probably from the Shetland Islands of far north Scotland where a unique Shetlandic dialect combining Old Norse (due to the islands being part of Norway until the 15th century) and Scottish is spoken ("braa gluff" means a grand fright). In an interview with The Shetland News, noted Unst fiddler Steven Spence was describing his own encounter with the White Wife of Watlee while driving alone from Baltasound to Uyeasound on the Watlee Brae ("brae" is a road with a steep grade) when he was gluffed to find a ghost sitting next to him. The spirit disappeared before he could say anything, but Spence knew the legend of the White Wife and was sure it was her.
The Shetland News was interviewing guys with White Wife encounters after local artist Eric Burgess-Ray proposed building a life-sized statue of the hooded apparition and community council chairman Gordon Thomson agreed to sponsor it, seeing that it would make a great and "quirky" attraction that would draw tourists to the "island above all others" of the Shetland islands. According to the long-told legend, the White Wife of Watlee is the ghost of an elderly female who is looking for her son, usually near the Brig of Watlee ("brig" is a bridge). Not much else is known about the woman, why she haunts that particular stretch of road or how she or her son might have met the demise that doomed her to live on as a spirit.
"It's just one of those things you cannot believe unless it happens to you."
Unst resident Alan Hunter told The Shetland News of his own experience on the same road when an old grey woman appeared in the passenger seat of his car and stayed there for about mile before disappearing. Enough single men have seen the White Wife of Watlee that the nearby Valhalla Brewery (the UK's northernmost brewery) offers a White Wife ale – "a light ale with a golden, clean finish. It's dry, refreshing, bitter and characteristically fruity aftertaste."
Eric Burgess-Ray wants his statue approved and on display in time to help this year's tourist season because "people like a good ghost story." However, Unst already has plenty to offer. Besides being the northernmost of the inhabited British Isles, it's home to the remains of the Muness Castle, 60 Viking longhouses – three are being restored – and the Hermaness National Nature Reserve. It also already has a monument to the White Wife – a flat rock with a line drawing of her head on it.
A rock? A ghost that appears in cars needs a better memorial than that. Let's hope the White Wife of Watlee gets her well-deserved statue.
Source: Mysterious Universe
The UK'S 'Spookiest Streets' revealed in the run up to Halloween
A new guide has revealed the UK roads to avoid this October if you want to steer clear of witches, ghosts and in some cases, suicidal dogs.
With 40 of the spookiest streets and roads based on local forum research, accounts from paranormal activity experts, local historians and tourist boards, the map compiled by contact lens retailer Feel Good Contacts provides a go-to guide for those wanting to ghost hunt on the road this Halloween.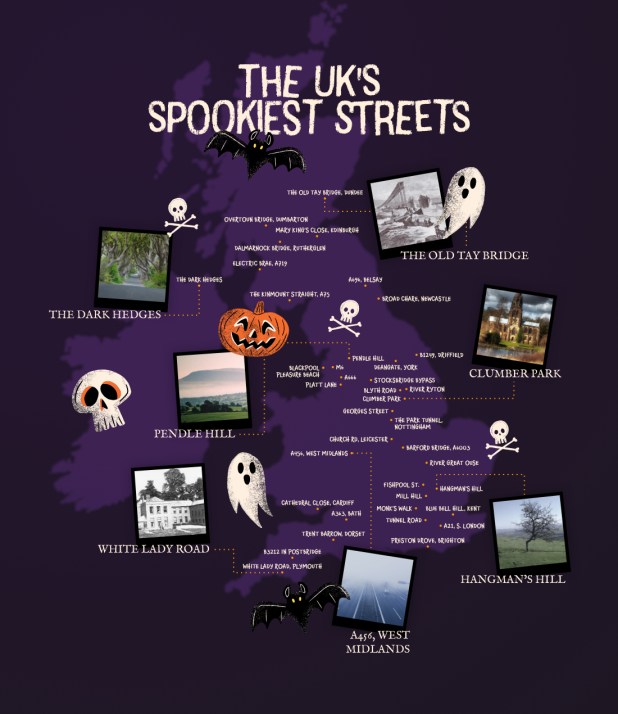 However, at a time of year where the nights draw in, and according to figures from Royal Society for the Prevention of Accidents (RoSPA) when the incidence of road traffic accidents increase, it's crucial that drivers are well prepared when it comes to driving in the dark.
Ghost story writer Janine Pipe said: "Halloween brings out the adventurer in us, it makes us want to watch horror movies and listen to tales around the campfire. It can also lead us to wanting to investigate supposedly haunted places.
"There are many roads in the UK that have links with supernatural sightings; this comes as no great surprise when you think of the number of deaths they have seen over the centuries. No matter what, tales of ghostly figures will inevitably send shivers down your spine, and whatever you believe, ghostly visions are reported ten-fold over the Halloween season.
"Is the veil between us and them really lifted during this time or are our senses merely heightened? Unless you know for sure, always make sure you drive safely and let people know where you are heading."
The sites in the guide cover the UK mainland and stretch across England, Wales and Scotland and include the following seven deadly streets:
Overtoun Bridge, Unnamed Road, Dumbarton
Location:  G82 3PQ
Known as the bridge for "doggy suicides", Overtoun bridge is reported by local tabloids as being the place for almost 600 dog deaths. Walkers report experiencing their dog becoming possessed when on the bridge, running to suddenly jump off it. If you want to visit the bridge on Halloween, just watch out for the old lady said to haunt the bridge and lure dogs into her clasp!
Blue Bell Hill (A229), Kent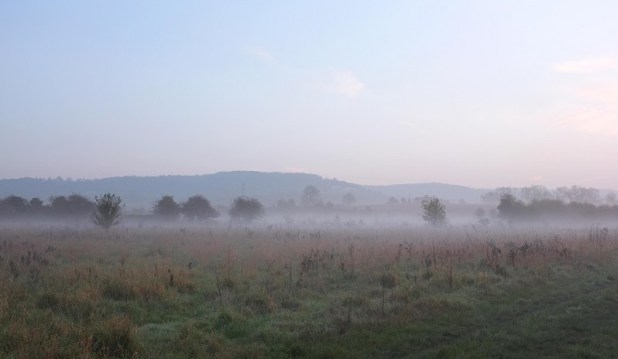 Location: ME5 9RH
This road is supposedly haunted by a young 22-year-old bride who was killed on the eve of her wedding, upon her journey home from the hen party. On the eve of 19th November 1965, Suzanne Browne and her friends died in a car accident on Blue Bell Hill in Kent. With over 50 reported sightings of the bride on this road, many report offering a young woman a lift, dropping her off, or seeing her suddenly vanish into thin air. So, if you do see Suzanne Browne on Halloween, be careful she doesn't disappear on you.
Cathedral Close, Cardiff
Location: CF5 2LA
In this spot once existed a village and road titled "Road of the dead". Dead bodies were carried along this road to the River Taf, to be buried at the now abandoned graveyard. Sights of young kids playing, laughing and singing in the area have been reported and the area is linked to mass deaths of children during the 1800s.
Hangman's Hill, Loughton
Location: G10 4AB
Hangman's Hill has gained its title for the unbelievable phenomenon of cars being able to roll up the hill. When up the hill, cars are faced with a bare field featuring nothing but a single tree. This tree is said to be where a man was hung, with rumours that the force is taking drivers to the hangman to meet their fate.
Deangate, York
Location: Y01 7AL
Bedern is an area haunted by its past; the old Industrial Ragged School is where orphans were sent to work. After the workhouse master cruelly starved the children to death, he stored their corpses in a closet to maintain their allowance money. It is said that the sound of ghostly children can be heard in this area, playing and singing in the street for all to hear…
Nan Clark's Lane, Mill Hill, London
Location: NW7 4HH
Rumour has it that Nan Clark worked in the local tavern with an incredibly jealous husband. One day, in an outrageous fit of rage, he dragged her down the lane to the lake, drowning her in front of several punters from the pub. Nan Clark is said to haunt the fields and lane, giving the area an eerie feel especially on Halloween night!
Preston Drove, Brighton
Location: BN1 6SD
For the past 150 years the "white lady" has been spotted along Preston Drove with reports of paranormal activity. She is believed to be a nun removed from the church, haunting the area for not being buried in the correct way. Locals were so terrified that they gave a proper burial for the remains of the white lady in St Peter's Churchyard, in an attempt to deter her appearances.
Offering some advice for drivers looking to check out these sites over the next few weeks, Andrew Jervis, CEO and co-founder at ClickMechanic, said:
"While I feel lucky enough to have never encountered any paranormal activity or ghosts myself while in the car, some of our mechanics have reported stories of customers becoming distracted by their surroundings on some of the UKs most remote and creepy roads.
"I would always recommend that drivers keep their doors locked if they are in a poorly lit area or feel creeped out. I would also advise drivers to make sure that they stay calm, and drive safely towards a location or route which makes them feel more at ease."
Will you be visiting these streets on Halloween?
Amelia Dyer – "Baby Farmer" Serial Killer
Amelia Dyer was a 'baby farmer' by trade, someone who, for a fee, would look after children, usually illegitimate, until a home could be found for them.
Unmarried mothers in Victorian England often struggled to gain an income, since the 1834 Poor Law Amendment Act had removed any financial obligation from the fathers of illegitimate children, whilst at the same time trying to bring up their children in a society where single parenthood and illegitimacy were very much stigmatised.
This led to the practice of baby farming in which people acted as adoption or fostering agents, in return for regular payments or a single, up-front fee from the babies' mothers.
Many businesses were set up to take in these young women and care for them until they gave birth. The mothers subsequently left their unwanted babies to be looked after by these people and often ended up in workhouses themselves. Unscrupulous carers often resorted to starving the farmed-out babies, to save money and even to hasten death.
Emelia Dyer was born in 1837 and raised in Bristol to respectable parents and trained as a nurse before deciding that 'adopting' illegitimate infants was a more lucrative career.
In 1879 she was sentenced to six months' hard labour after being found guilty on a charge of neglect. A doctor had become suspicious of the number of infants who had died while in Mrs Dyer's care and had reported the matter to the authorities. On her release she spent several periods in mental institutions before resuming her child-care activities.
In 1895 at the age of 58, she moved to Kensington Road, Reading and began advertising for babies to look after. It was not long before small bodies were being fished out of the Thames.
On the 30th of March of 1896, a bargeman recovered the corpse of 15-month old Helena Fry from the river Thames at Reading. Helena's body was wrapped in a brown paper parcel which had the name of a Mrs. Thomas and her address on it – Piggott's Road Lower Caversham. Mrs. Thomas was one of Mrs. Dyer's aliases.
It took the police some time to trace Mrs. Dyer as she had already moved on, changing her address quite frequently and also using various aliases. In the meantime, a Cheltenham barmaid, 23 year old Evelina Marmon, had answered a newspaper advert from a "Mrs Harding" seeking a child for adoption.
Under the premise of adopting them into loving homes, Amelia Dyer murdered over 300 babies.
She met "Mrs Harding" and paid her a £10 fee to take her four month old baby daughter Doris on the 31st of March 1896. She felt comfortable with the arrangement as "Mrs Harding" appeared to be a respectable and motherly person. The following day Mrs. Dyer "adopted" another child, Harry Simmons.
The police finally located Mrs. Dyer, who they kept under surveillance for several days before mounting a "sting" operation using a young woman to pose as a potential customer. She was arrested on April the 4th, 1896 when she opened the door to the person she thought would be this customer only to find two policemen standing there.
The two tiny bodies of Doris and Harry were found in the Thames on April the 10th, 1896, both wrapped in a carpet bag and both white tapes round their necks. In all, the corpses of seven babies, all of whom had been strangled, were recovered from the Thames and each one had the same white tape around their neck. She soon confessed saying, "You'll know all mine by the tape around their necks.".
She made two attempts to commit suicide in Reading police station. She came to trial before Mr. Justice Hawkins at the Old Bailey on the 21st and 22nd of May 1896 charged with Doris' murder in the first instance, so that if she was acquitted, she could be tried for another.
This was standard practice until recently in cases of multiple murder. Miss Marmon identified Mrs Dyer in court as "Mrs Harding". The defence tried to prove insanity but failed to convince the jury who took just 5 minutes to find her guilty.
Although there was strong evidence of her dubious sanity, her crimes were also appalling and the jury seemed to give far more weight to that aspect. Mr. Justice Hawkins sentenced her to death.
During her three weeks in the condemned cell, she filled five exercise books with her "last true and only confession." In a compassionate move the authorities removed her from Newgate for a few hours so that she would not have to hear the hanging of Milsom, Fowler and Seaman the day before her own execution.
The chaplain visited her on the evening of the 9th and asked her if she had anything to confess, she offered him her exercise books saying "isn't this enough?"
She was hanged the following morning on the 10th of June 1896 by James Billington,at precisely 9am, becoming at 59, the oldest woman to be executed since 1843. Asked on the scaffold if she had anything to say, she said "I have nothing to say".
Her ghost was said to haunt Newgate prison prior to it being demolished in 1902. No one will ever know the exact number of her victims but at the time of her arrest, she had been carrying on her trade for 15 to 20 years. It is believed she may have murdered as many as between 200 and 400 babies in all.
By Paul Middleton, source: Ghosts, the paranormal, myths and legends
Teacher films paranormal activity in an empty classroom
A teacher from a private school in León, Guanajuato in Mexico may have caught on video, paranormal activity in his classroom while he was in the room all by himself.
He started recording on his phone to explain that he always asks his students to leave the desks straight when they leave but noticed that one desk had moved.
He approaches the desk which had been moved and straightens it up, but just as he returns his desk another desk moves all on its own!
This freaks him out so he decides to pack up and leave the classroom.
https://www.facebook.com/SomosDLeon/videos/398767867493726/
The teacher said that he does not really believe in the paranormal or ghosts but did say that the school was built on an old orphanage that burn down many years ago.
What do you make of it?