Scientists warn of the imminent impact of a 'dark matter hurricane' on Earth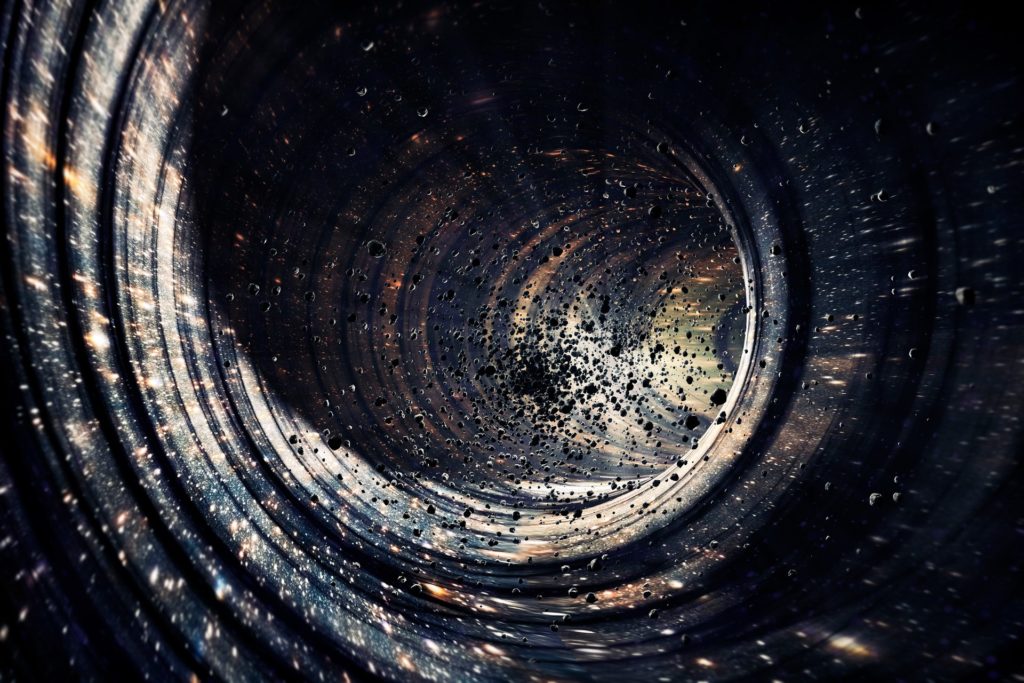 The Universe has existed for approximately 13.7 billion years, but still has many mysteries that continue to amaze astronomers to this day.
From dark energy to cosmic rays and the uniqueness of our own solar system, there are all kinds of cosmic enigmas. And possibly one of the mysteries that causes the most confusion to the scientific community is dark matter.
It can not be seen. You can not feel. You can not hear, and you can not smell or taste. Even with the most sophisticated scientific equipment in the world, there is no direct proof that the hypothetical form of matter exists. But its existence is no longer in doubt, although there are still many questions to answer about dark matter.
However, in 2015 the physics of Harvard University Lisa Randall offered a really disturbing theory, that dark matter really killed dinosaurs 65 million years ago. Dr. Randall and her collaborators suggested that dark matter could ultimately (and indirectly) be responsible for the extinction of dinosaurs.
It is known that 66 million years ago, a large celestial body at least 10 kilometers wide fell to Earth from space and ended with the dinosaurs, along with three-quarters of the other species on the planet. Dr. Randall's theory proposed that during the passage of the huge asteroid through the solar system, he found a disk of dark matter that changed his trajectory, directing him directly towards the cataclysmic impact. And now this event could happen again. Spanish scientists have warned that a hurricane of dark matter moves at high speed through the Milky Way and will impact the Earth in the near future, resulting in an apocalypse on our planet.
THE "dark matter hurricane"
A team of scientists from the University of Zaragoza, Spain, have assured that an incredibly fast hurricane of dark matter will soon impact the Earth as it advances through the Milky Way.
According to calculations made by astronomers, this dark matter hurricane apparently travels at a speed of more than 500 kilometers per second and is now widely considered one of the most turbulent space events that have been seen in the solar system.
However, experts have already made it clear that in the beginning, it should not cause any harm to our planet. In fact, analyzing this dark matter hurricane could help scientists learn more about the most mysterious particles in the Universe.
It should also be borne in mind that we will not be able to see or feel this hurricane of dark matter when it hits the Earth, but the possibilities of a direct detection of dark matter will be more during this spatial event.
So, how have astronomers managed to predict this collision if dark matter is not visible? Using data collected by the Gaia space probe from the European Space Agency (ESA), astronomers discovered a stellar current that is actually the remains of a large spheroidal dwarf galaxy that was consumed by the Milky Way many years ago.
This star system nicknamed S1 has left a flow of orbiting stars that surround the galactic center. Experts believe that S1 could be flying through dark matter at about 230 kilometers per second, while dark matter present in this current could be traveling at twice that speed, at about 500 kilometers per second.
The study, directed by Ciaran O'Hare, post-doctorate in the Department of Theoretical Physics of the University of Zaragoza, tried to investigate the impact of S1 on dark matter in the small corner of the Milky Way. After analyzing the distribution of dark matter flowing in stream S1, scientists predicted that signatures for these models could be picked up by ground detectors.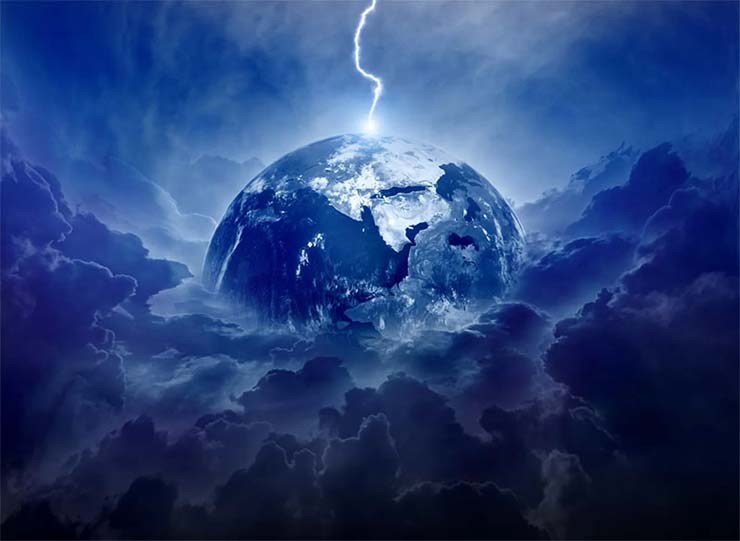 Imminent apocalypse
Although scientists have made it clear that this hurricane of dark matter should not cause any harmful effects on Earth, many believe that these unusual space events are clear signs of an imminent apocalypse.
They are based on the theory proposed by Dr. Lisa Randall, who suggested that the asteroid that killed the dinosaurs 65 million years ago was diverted by a hurricane of dark matter. Even researcher Frank Hoogerbeets, who runs the Ditrianum website, has predicted that dark matter hurricane material could cause a strong earthquake on Earth in the coming days.
"The critical geometry of 12 and 13 can trigger more seismic events and possibly larger earthquakes from 13 to 15," Hoogerbeets said. "After three years of observations, it became clear that some planetary geometry in the Solar System clearly tends to cause a seismic increase, while another geometry does not."
Hoogerbeets has also warned that the effects of all these cosmic events could cause a mega-earthquake in the next Christmas period. And, as if that were not enough, conspiracy theorists believe that the arrival of Nibiru, also known as Planet X, is the culprit of these unusual phenomena in the Universe.
Asteroid Almost Twice as Big as London's Shard Tower Heading Toward Earth
Tesla and SpaceX CEO Elon Musk has previously claimed that the Earth has no defense against giant asteroids approaching the planet, with NASA and SpaceX currently developing systems that would help to redirect space rocks from bumping into the Earth.
A monster asteroid larger than the world's largest buildings, including London's the Shard, will be passing near the Earth at a speed of 23,112 km per hour on 14 September, Live Science reported, citing the Center for Near Earth Object Studies (CNEOS).
The huge space rock called 2000 QW7 is approximately measured to be between 290 and 650 meters in diameter, which in comparison to 311-metre the Shard and 828-metre Burj Khalifa seems quite immense.
Nevertheless, it is quite unlikely that the giant will hit the Earth, according to CNEOS, as 2000 QW7 will pass within 0.03564 astronomical units from our planet, which is around 5.3 million km.
As the asteroid, just like our planet, orbits the Sun, the last time it approached the Earth was around 18 years ago, on 1 September 2000, and it is expected to come close again in 2038 (if we survive this time).
Previously Tesla and SpaceX CEO Elon Musk had sparked fears about Earth not being able to defend itself against giant asteroids, such as the 99942 asteroid Apophis known as "God of Chaos", that are considered potentially dangerous if they come within 7.4 million km from Earth, according to space organizations.
Elon Musk's SpaceX and NASA are reportedly working together now on an asteroid redirect mission impeding the arrival of Apophis in April 2029, which will test Earth's ability to defend itself against giant asteroids.
Sputniknews
Elon Musk Warns 'God of Chaos' Asteroid May Hit Earth In 2029
A decade from now, a huge potentially hazardous asteroid, named after the ancient Egyptian deity of evil and destruction, will whizz by the Earth with a one in 45,000 chance of hitting our planet.
NASA has already begun preparations for the impending arrival of asteroid 99942 Apophis, also known as the "God of Chaos", which will pass within 31,000 kilometres of Earth's surface on 13 April 2029.
God of Chaos
Set, also known as Seth and Suetekh, was the Egyptian god of war, chaos and storms, brother of Osiris, Isis, and Horus the Elder, uncle to Horus the Younger, and brother-husband to Nephthys. His other consort was the goddess Tawaret, a hippo-headed deity who presided over fertility and childbirth. He is one of the first five gods created by the union of Geb (earth) and Nut (sky) after the creation of the world. His name is usually translated as "instigator of confusion" and "destroyer" and he was associated with disorder, foreign lands and people, and the color red.
Potential danger
Roughly the size of four football fields (approx 340 meters across), if the space rock were to hit Earth, it would smash us with the force of 15,000 nuclear weapons detonating simultaneously.
However, Musk rightly cautions that the entire Apophis narrative is a little overblown: during its close flyby in 2029, the asteroid will come within 37,600km (23,363 miles) of our planet, just a tenth of the distance between Earth and the Moon. Scary but not quite apocalyptic.
The scientists suggest while it will travel more than the width of the full Moon within a minute when it screams past Earth on April 13, 2029, the giant asteroid will more likely provide a magnificent spectacle for stargazers than the doom of all life on Earth.
NASA's preparations
While NASA scientists have been preparing to study the giant rock as it swings past Earth, one particular space connoisseur has been unfazed by the issue.
Elon Musk, Tesla, SpaceX and The Boring Company CEO, took to Twitter to reassure his pal, podcast host Joe Rogan, who had retweeted an article about the "God of Chaos" that 99942 Apophis was not a subject of concern – for now.
In fact, NASA and Musk's SpaceX are working together on the space agency's first spacecraft impact asteroid redirect mission, which will be a key test before the actual need to protect the planet from a giant rock approaching the planet.
Under the so-called Double Asteroid Redirection Test, which is scheduled for June 2021, one of SpaceX's Falcon 9 rockets will launch in the direction of asteroid 65803 Didymos (or "Didymain") and its tiny satellite Didymoon to see if it could redirect the rock from its intended path. To that end, the space agency has paid $69 million to Musk's venture.
Aside from this, NASA announced earlier this year that it had teamed up with international partners to perform a "tabletop exercise" on how to handle a hypothetical asteroid on a collision course with Earth.
source: sputnik
Debunking the Persistent Myth that Trump Opposes War
Caitlin Johnstone, Contributor
Waking Times
Whenever I criticize the foreign policy of the current US administration, I always get some pushback from Trump supporters who insist that this president is doing more good than harm by "fighting the Deep State" and, even more commonly, by "keeping us out of wars".
This notion that Donald Trump is some kind of peace president, or even the notion that he puts any more inertia on the US war machine than his predecessor did, is contradicted by all facts and evidence we have available to us. Trump has not ended a single one of the wars his predecessors started, and has added dangerous escalations against Venezuela, Iran, and nuclear-armed Russia.