Scientists reverse ageing in mice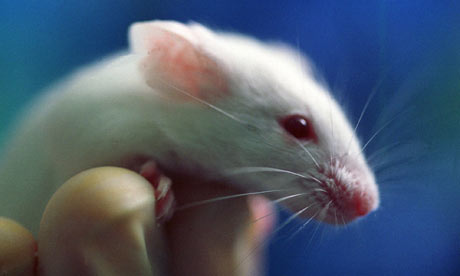 Harvard University researchers believe it may soon be possible to regenerate human organs.
The quest for a cure to ageing has taken another step forward following new research that has succeeded in reversing the ageing process in mice. The experimental treatment not only slowed down the ageing process but actually rejuvenated aged organs. In the future it is possible that similar treatments could be administered to human patients in an effort to combat age-related problems such as dementia, heart disease and strokes.
"This could lead to strategies that enhance the regenerative potential of organs as individuals age and so increase their quality of life," said study leader Ronald DePinho. "Whether it serves to increase longevity is a question we are not yet in a position to answer."
Harvard scientists were surprised that they saw a dramatic reversal, not just a slowing down, of the ageing in mice. Now they believe they might be able to regenerate human organs.
Watch YouTubers Build a Functional Half-Scale Cybertruck, Because Why Not?
Cybertruck Mini?
Tinkerers behind YouTube account "The Hacksmith" are building a half-scale model of Tesla's recently announced Cybertruck — and yeah, it'll be able to be driven, just like the real thing.
You won't be able to drive this on the road though — no way it's passing any kind of real inspection. But it will fit into your garage and weigh far, far less than 10,000 pounds.
The electric pickup revealed earlier this year has become quite the sensation in large part thanks to a brutalist design, featuring crude angles. It almost looks like something out of an early Tomb Raider video game.
Cyber-Golf Cart
So far, the Hacksmith team has assembled the body, made out of bent and plasma-cut pieces of 1/8 inch stainless steel. The pieces are held together by welds.
Parts for the drivetrain were taken from a decommissioned golf cart, including steering and suspension. The team is planning to install two powerful electric motors at each axle.
You can follow the progress of the Cybertruck model over the next few weeks over at the team's YouTube channel.
READ MORE: Half-Scale Tesla Cybertruck Recreation Is Almost Better Than the Real Deal [The Drive]
This is the world's first commercial flying car
The world's first commercial flying car is already on sale. It is equipped with two retractable propellers and rear wings.
The vehicle was presented during the Miami Art Week 2019 by the Dutch company PAL-V International. It is called Liberty, and its price is around 600,000 dollars.
It has Dutch engineering and Italian design, it is already in active production and has at least 70 anticipated.
"As soon as Nicolas Cugnot invented the car and the Wright brothers made their first successful flight, people began to dream of combining the two in a flying car."
'It turned out to be more complicated than initially estimated: a complex puzzle. However, once resolved, it would create maximum freedom in mobility', said the executive director of the company, Robert Dingemanse.
When will it be available?
The first units are expected to reach their owners in 2021. However, it must be borne in mind that to handle it, it is necessary to have not only the driver's license, but also the pilot's license.
The new car has two versions, the Pioneer and the sports version. Robert Dingemanse explained that the Pioneer version differs from Liberty by its a complete carbon package. He also revealed that only 90 flying cars will be manufactured in this version.
Features of the flying car
The PAL-V, a three-wheeled vehicle that can carry up to two passengers and 20 kilos of cargo, is basically a hybrid between a car and a helicopter.
According to the company website, the PAL-V has a four-cylinder engine and is capable of flying at an altitude of up to 3,500 meters. The vehicle, which is made with carbon fiber, titanium and aluminum and weighs only 664 kilograms, uses gasoline for cars and can reach maximum speeds of 180 km / h in the air and 160 km / h on land.
It also has both a ground and air system similar to that of a motorcycle in which the pilot-driver tilts the machine with a control lever.
It also stands out that the PAL-V converts from car to gyrocopter in just 10 minutes and can accelerate from 0 to 100 km / h in less than 9 seconds.
Health authorities have confirmed a case of a rare type of smallpox in a UK patient
A patient in England has been diagnosed with a rare case of monkeypox, as reported by Public Health England (PHE).
The rare viral infection is similar to smallpox, and though it is milder, it can be fatal.
It has been reported that the individual was in Nigeria and that he would have contracted the disease there. Later, upon returning to the United Kingdom, he stayed in the southwest of England where the disease occurred.
Upon symptoms, he was transferred to the Guy's and St Thomas' NHS Foundation Trust , a center specializing in infectious diseases in London.
The health authorities have taken the necessary measures to prevent the virus from spreading to other people.
The PHE said in a statement:
As a precaution, PHE experts are working closely with NHS colleagues to implement rapid infection control procedures, including contact with people who may have been in close contact with the individual to provide health information and advice. "
But experts are not very worried about contagion, because monkeypox does not spread easily among people and the risk of affecting the population is quite low, said Dr. Meera Chand , PHE consulting microbiologist.
Although the infection usually occurs mildly and people get better without treatment; Some individuals may develop very serious symptoms, with a percentage of 1 to 10 percent of patients dying from the disease during outbreaks, according to the World Health Organization .
The symptoms presented are similar to those of smallpox but milder. First, fever, headaches, muscle aches, back pain, swollen lymph nodes, chills and exhaustion. Subsequently rashes may appear on the skin , starting on the face and spreading throughout the rest of the body.
This is not the first time a patient has been infected with smallpox in the United Kingdom. In 2018, there were three cases after a person was diagnosed with the disease. The individual had also returned from Nigeria.
Source: Gov.uk / IFL Science