Scientists Now Believe the Universe Itself May Be Conscious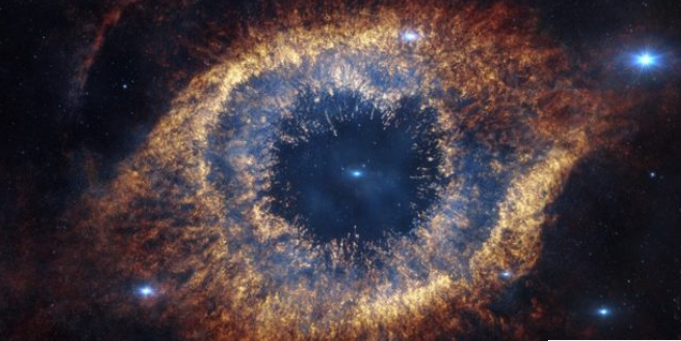 You don't have to look far to find outlandish theories on the nature of the cosmos and human consciousness. These days, notions once relegated to science fiction are finding their way into esoteric academic journals, and from there, into mainstream discourse. One example of this is the Simulation Argument, recently championed by Elon Musk; another is 'time crystals,' a tantalizing non-linear phase of matter. The newest symphony of mind jazz being broadcast across the Internet posits new ideas about the embattled theory of "panpsychism," or the belief that mind is a fundamental property of the physical universe and is imbued into all states of matter.
A new paper, published by physicist Gregory Matloff, has brought the idea back into scientific discussions, promising experimental tests that could "validate or falsify" the concept of a ubiquitous "proto-consciousness field." Matloff also pushes the controversial idea of volitional stars, suggesting there is actually evidence that stars control their own galactic paths.
As absurd as the theory sounds, it has several prominent adherents, including British theoretical physicist Sir Roger Penrose, who introduced panpsychism three decades ago. Penrose believed consciousness arises from the properties of quantum entanglement. He and anesthesiologist Stuart Hameroff authored the Orchestrated Objective Reduction (Orch-OR) hypothesis, which asserts, among other things, that consciousness results from quantum vibrations inside microtubules.
In 2006, German physicist Bernard Haisch took the idea further and proposed that consciousness arises within a "quantum vacuum" any time there is a significantly advanced system through which energy flows.
Neuroscientist Christof Koch, another proponent of panpsychism, approaches it from a different angle, using integrated information theory to argue that consciousness is not unique to biological organisms.
"The only dominant theory we have of consciousness says that it is associated with complexity — with a system's ability to act upon its own state and determine its own fate," Koch argues. "Theory states that it could go down to very simple systems. In principle, some purely physical systems that are not biological or organic may also be conscious."
Matloff and other scientists are moving the argument into a new phase: experimentation. Matloff intends to study the behavior of stars, specifically analyzing an anomaly in stellar motion known as Paranego's Discontinuity. Matloff wants to know why certain cooler stars appear to emit jets of energy pointed in one direction, a characteristic that seems oddly and inexplicably ubiquitous in the galaxy. In 2018, he plans to use results from the Gaia star-mapping space telescope to show that the anomaly may be a willful stellar action.
Meanwhile, as Matloff studies cosmic activity on the grandest scale, Koch approaches the experimental phase of the theory using brain-impaired patients. He wants to know if their information responses match underlying neurochemical foundations of consciousness. He plans to test this by wiring the brains of mice together to see if their minds merge into a larger information system.
Panpsychism certainly has critics, as well. In an article for The Atlantic entitled "Why Panpsychism Is Probably Wrong," Keith Frankish writes:
"Panpsychism gives consciousness a curious status. It places it at the very heart of every physical entity yet threatens to render it explanatorily idle. For the behavior of subatomic particles and the systems they constitute promises to be fully explained by physics and the other physical sciences. Panpsychism offers no distinctive predictions or explanations. It finds a place for consciousness in the physical world, but that place is a sort of limbo."
The quote expresses a general sense that panpsychism oversimplifies the hard problem of consciousness in the universe, an opinion many scientists share. However, Matloff, Penrose, and other proponents continue undertaking the job of venturing outside the margins of accepted science to try reconciling intractable contradictions and anomalies exposed by quantum theory.
Mysterious green object spotted just above the surface of Jupiter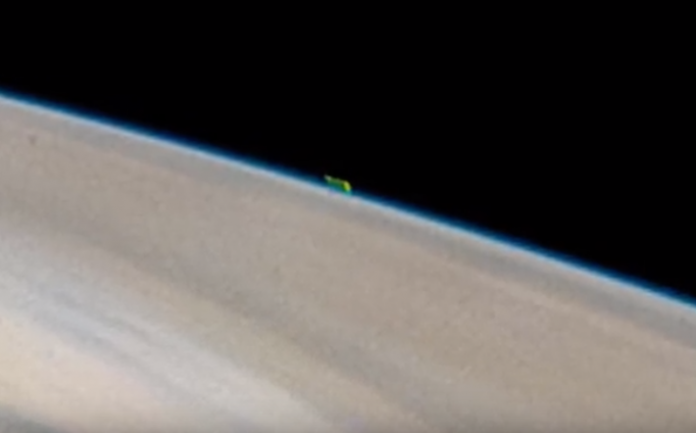 What appears to be a massive greenish-colored object was captured in an image above the planet Jupiter.
What looks like a "massive unidentified structure" can be seen in the image.
Tyler from Secure team explains in the following video:
What could it be? Please comment below and share
US Air Force: Don't Worry About Those Weird Lights and Booms Sunday, It's Just a Spaceship
If you're in the vicinity of Vandenberg Air Force Base in California Sunday evening (Oct. 7), you might hear some strange booming and see some weird lights in the sky. But the Air Force would like you to know that there's no need to worry; something entirely normal is going on — a rocket that heaved its way up into space will be falling back to Earth, correcting its trajectory with "multiple engine burns," and then (if all goes well) settling comfortably back on its landing struts in the vicinity of its launch site.
The Air Force released the warning because, while Floridians have had ample time to grow comfortable with the spectacle of SpaceX landings, this will be the first attempt to land a Falcon 9 rocket on the West Coast. It will not, however, be the first launch from Vandenberg:
The rocket is currently scheduled to launch at 7:21 p.m. local time, carry the SAOCOM 1A satellite into space, and return to Earth shortly afterward.
According to a Facebook post by the Air Force's 30th Space Wing at Vandenberg, "local residents" can expect to see something of the rocket itself as it returns to the base, while people as far as Santa Barbara, Ventura and San Luis Obispo counties may hear thunderclap-like sonic booms, depending on the weather.
SpaceX launched its Falcon 9 rocket from Vandenberg Air Force Base in California on Dec. 22, 2017, with bystanders on the ground getting a gorgeous light show.
Credit: Maxwell Harris/Getty Images
Source www.space.com
Elon Musk shows off plans for a Mars outpost and says it could be complete by 2028
Elon Musk has revealed the first glimpse of a SpaceX base on Mars.
Musk tweeted the pictures with the simple caption 'Mars base alpha'.
It shows the firm's Big F***ing Rocket (BFR) on the surface of the red planet, with a dome base in the background, and what appear to be solar panels.
It a response to a question about the base and when it could be build, Musk tweeted 'Probably 2028 for a base to be built'.
It comes as SpaceX chief operating officer Gwynne Shotwell, 54,confirmed SpaceX's intentions to launch the rocket for the first time in 2020, with missions to the moon and Mars planned for 2022 and 2024 respectively.
'We would like to put large cargo on the surface of the moon by 2022,' she told the Air Force Association's annual symposium in Maryland.
'And we have our eyes on the prize to send people to Mars in 2024.'
She admitted those plans might 'sound crazy, but everything we've ever done has sounded crazy to people.'
The top part of the BFR rocket has 40 cabins, which could hold up to six passengers each.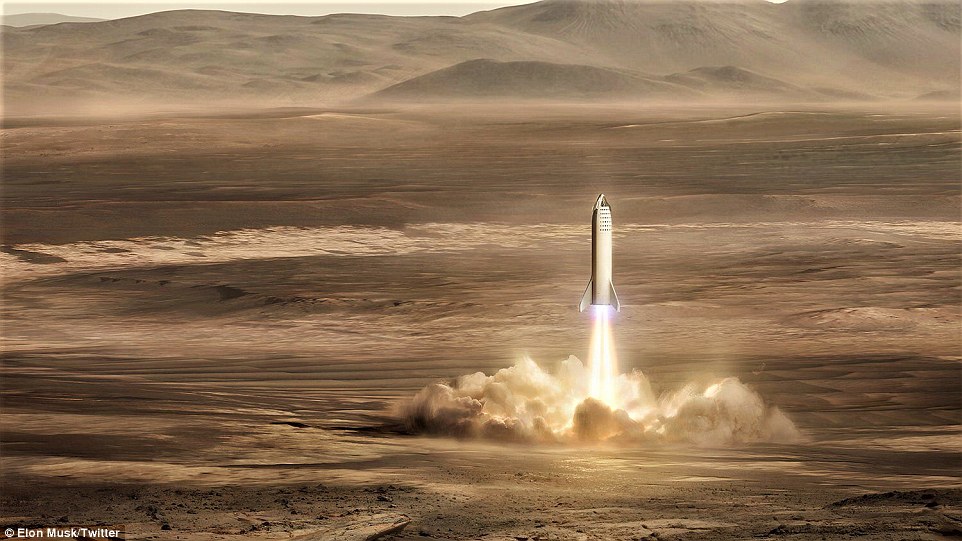 The powerful launch vehicle will have the capacity to lift 150 tons into space and consist of two stages – both of which are reusable.
Shotwell said: 'I hope to be doing hot tests next year with the second stage, the spaceship, and make an orbital flight in 2020.
Earlier this month Musk revealed a Japanese billionaire and online fashion tycoon, Yusaku Maezawa, will be the first man to fly on the BFR SpaceX rocket for an approximately seven-day trip around the Moon as early as 2023, and he plans to bring six to eight artists along.
Maezawa, 42, will be the first lunar traveler since the last U.S. Apollo mission in 1972.
He paid an unspecified amount of money for the privilege.
Continue Reading: https://www.dailymail.co.uk/