Scientists Now Believe the Universe Itself May Be Conscious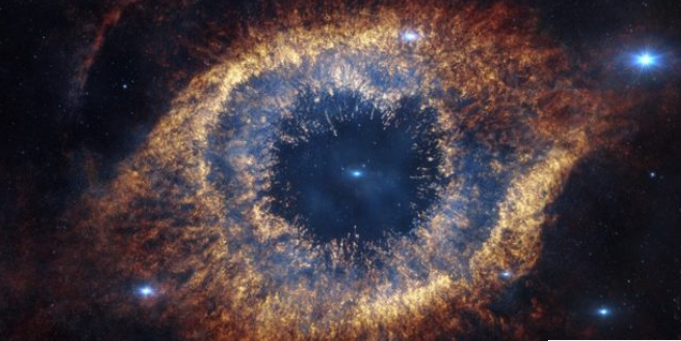 You don't have to look far to find outlandish theories on the nature of the cosmos and human consciousness. These days, notions once relegated to science fiction are finding their way into esoteric academic journals, and from there, into mainstream discourse. One example of this is the Simulation Argument, recently championed by Elon Musk; another is 'time crystals,' a tantalizing non-linear phase of matter. The newest symphony of mind jazz being broadcast across the Internet posits new ideas about the embattled theory of "panpsychism," or the belief that mind is a fundamental property of the physical universe and is imbued into all states of matter.
A new paper, published by physicist Gregory Matloff, has brought the idea back into scientific discussions, promising experimental tests that could "validate or falsify" the concept of a ubiquitous "proto-consciousness field." Matloff also pushes the controversial idea of volitional stars, suggesting there is actually evidence that stars control their own galactic paths.
As absurd as the theory sounds, it has several prominent adherents, including British theoretical physicist Sir Roger Penrose, who introduced panpsychism three decades ago. Penrose believed consciousness arises from the properties of quantum entanglement. He and anesthesiologist Stuart Hameroff authored the Orchestrated Objective Reduction (Orch-OR) hypothesis, which asserts, among other things, that consciousness results from quantum vibrations inside microtubules.
In 2006, German physicist Bernard Haisch took the idea further and proposed that consciousness arises within a "quantum vacuum" any time there is a significantly advanced system through which energy flows.
Neuroscientist Christof Koch, another proponent of panpsychism, approaches it from a different angle, using integrated information theory to argue that consciousness is not unique to biological organisms.
"The only dominant theory we have of consciousness says that it is associated with complexity — with a system's ability to act upon its own state and determine its own fate," Koch argues. "Theory states that it could go down to very simple systems. In principle, some purely physical systems that are not biological or organic may also be conscious."
Matloff and other scientists are moving the argument into a new phase: experimentation. Matloff intends to study the behavior of stars, specifically analyzing an anomaly in stellar motion known as Paranego's Discontinuity. Matloff wants to know why certain cooler stars appear to emit jets of energy pointed in one direction, a characteristic that seems oddly and inexplicably ubiquitous in the galaxy. In 2018, he plans to use results from the Gaia star-mapping space telescope to show that the anomaly may be a willful stellar action.
Meanwhile, as Matloff studies cosmic activity on the grandest scale, Koch approaches the experimental phase of the theory using brain-impaired patients. He wants to know if their information responses match underlying neurochemical foundations of consciousness. He plans to test this by wiring the brains of mice together to see if their minds merge into a larger information system.
Panpsychism certainly has critics, as well. In an article for The Atlantic entitled "Why Panpsychism Is Probably Wrong," Keith Frankish writes:
"Panpsychism gives consciousness a curious status. It places it at the very heart of every physical entity yet threatens to render it explanatorily idle. For the behavior of subatomic particles and the systems they constitute promises to be fully explained by physics and the other physical sciences. Panpsychism offers no distinctive predictions or explanations. It finds a place for consciousness in the physical world, but that place is a sort of limbo."
The quote expresses a general sense that panpsychism oversimplifies the hard problem of consciousness in the universe, an opinion many scientists share. However, Matloff, Penrose, and other proponents continue undertaking the job of venturing outside the margins of accepted science to try reconciling intractable contradictions and anomalies exposed by quantum theory.
Martian sand dune looks like Starfleet logo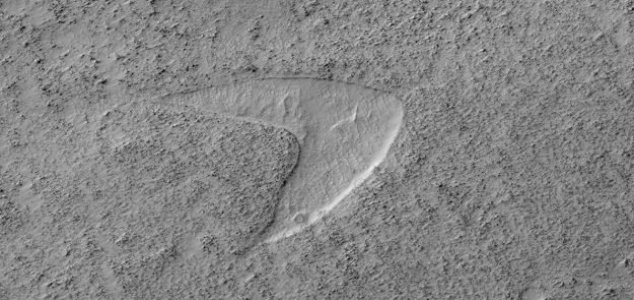 Image Credit: NASA
The dune looks very similar to the Starfleet logo. 
New images taken by NASA's MRO HiRise camera show a sand dune formation with a rather familiar shape.
The photographs, which were captured by NASA's Mars Reconnaissance Orbiter, have prompted some rather tongue-in-cheek references to Star Trek's iconic insignia.
"Enterprising viewers will make the discovery that these features look conspicuously like a famous logo," the HiRise team at the University of Arizona wrote in a Tweet.
Star Trek references aside, this intriguing formation and others like it have been helping scientists to learn more about the Red Planet's atmosphere, temperature and topography.
This, in turn, will also help NASA to better plan out future manned missions.
Caption Spotlight (12 Jun 2019): Dune Footprints in Hellas

Enterprising viewers will make the discovery that these features look conspicuously like a famous logo.

More: https://t.co/CAq5xBbDwf

NASA/JPL/University of Arizona#Mars #science pic.twitter.com/N5MfKQPiYt

— HiRISE (NASA) (@HiRISE) June 12, 2019
Source:
IB Times
Why Lockheed Martin Is Designing A Tiny Home To Orbit The Moon
NASA wants to build another space station, but this one won't live in a close orbit around Earth. Within the last year, NASA has begun planning for a much smaller astronaut outpost in orbit around the Moon, a new destination dubbed the Gateway. The idea is for this space station, which will be a fraction of the size of the International Space Station, to serve as a place for astronauts to live and train for excursions to and from the lunar surface.
A crucial piece of hardware needed for this Gateway will, of course, be habitats — spaces for a handful of astronauts to do research, exercise, sleep, and eat. But what exactly does it take to build a habitat for deep space? NASA has tasked six companies with figuring that out, through the space agency's NextSTEP program. Through a public-private partnership, companies like Boeing and Bigelow Aerospace are creating and executing their own designs for modules that could house astronauts in the environment around the Moon.
Another one of those companies is Lockheed Martin, a longtime contractor for NASA located in Colorado. Lockheed is currently working on a cylindrical deep-space habitat that will provide about 882 cubic feet of livable space, which is about the size of a bedroom for up to four astronauts to roam around in.
And just like designing a tiny home, Lockheed has gotten creative with storage. For instance, the design calls for water to surround the hull of the habitat, to be used as drinking water but also to be used as shielding for deep-space radiation. The habitat also has a treadmill on its ceiling; but, in orbit around the Moon, the microgravity environment means there is no ceiling. So every bit of exposed wall is used for a different purpose. The habitat will also include a workstation, as well as sleeping bags for the crew and storage for food and other essential living materials.
In the third episode of Space Craft season 2, we got to visit a mockup of Lockheed Martin's deep-space habitat at the company's headquarters in Denver. However, what we saw was just for show: a glimpse of what the final design might look like. We also were able to use augmented reality and virtual reality to get a better feel of what the final look of the habitat will be like. Currently, Lockheed Martin is building its first prototype of the habitat in Florida, so that NASA can analyze its design by 2019.
Meanwhile, Lockheed is also building another key piece of spacecraft hardware for NASA, one that will be used to potentially transport astronauts to and from this deep-space habitat. It's a capsule called Orion, and it's become a big part of NASA's plans for the future. We also got to test out a simulation of what it might be like to dock the Orion capsule to the habitat — what future astronauts will do to get to their deep-space home.

Source www.theverge.com
Your name can be on Mars in the year 2021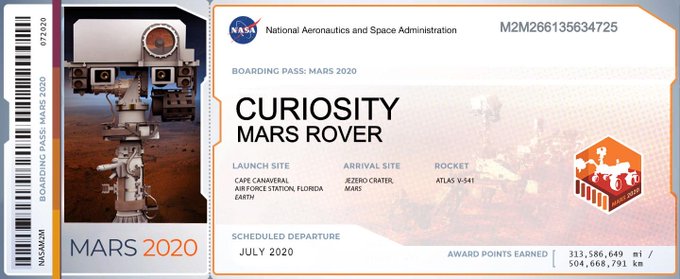 NASA has launched a campaign for anyone who wishes to send their name to Mars, in the form of a boarding pass digitized on a chip incorporated in the next Mars 2020 mission. 
«Do you want to accompany me on Mars? Send your name to the surface of the red planet with the next rover of NASA, Mars 2020 », published the Twitter account of Curiosity, which explores our planetary neighbor since 2012.Ver imagen en Twitter
The tweet is completed with a link to a website that offers the form to fill out for the issuance of the personalized boarding pass. For example, we have completed ours, and Mystery Planet will be included among the names that will appear on the chip of the new rover to explore Mars.The ticket also includes "frequent flyer points", which add to the previous ones if you were attentive and participated, for example, in similar initiatives for other NASA missions, such as InSight and Parker Solar Probe al Sol (in our case we have accumulated more than 614,000 million kilometers!).
To send your name CLICK HERE . You have time until September 30.
Mars 2020
The Mars 2020 mission is scheduled to be launched in July 2020 from Cape Canaveral, and its arrival is expected in February 2021 in the Jezero crater.
The rover, which weighs about 1,000 kilograms, will look for signs of microbial life, as well as make climatic and geological investigations, collect samples and pave the way for future human exploration and colonization.
Source: NASA