Samsung's Brain Erasing Hypnosis Program Does What 24 Hour Cable News Has Been Doing To You For Years
Something happens when you finally decide to turn off the television and stop tuning into the 'programming' being pumped into your head. The mind clears. You begin to focus on your own life and things that actually matter to you personally. And, you stop losing time into the bottomless void that is television.
You see, television is a form of hypnotism. Whenever you pass by a screen it grabs your attention and draws you in. The moving images are created by flickering light, and since we are visually oriented creatures, television flicker rates can alter brainwaves and induce hypnotic states.
"It's been demonstrated that well within two minutes of watching television, most people enter a hypnotic alpha state bordering on theta, [a trance-like state induced by the flicker of the television broadcast signal]. Viewers in this state are no longer able to critically evaluate, discern, or pass judgement from their own moral database on the material being viewed. The information just flows, unimpeded, into their subconscious year in and year out." ~Jeff Rense
Twenty-four-hour cable news takes this to the next level by adding in constantly scrolling text, background motion graphics that typically move in a swirling patterns, and anchors that are accompanied by rapidly changing text bullets and video inlays.
So much is always happening so fast. And it's no accident that the production is so sophisticated, as it is designed to entrance you and keep you in front of the TV. This is why you can sit down on the couch and hours go by in a blink. Time lost to the ether.
The BBC World graphic logo is a fun example:
I've often wondered if this type of mental manipulation is the reason why the news cycle is so effective at making important events disappear from public consciousness.
Samsung recently introduced an interesting new service that consumerizes hypnotic television for your convenience.
It's called 'Unspoil Me'.  It hypnotizes you to forget something you've already seen, so that you can watch it over and over with the feeling of it being new again. This is the perfect Orwellian mind control tool.
As noted by Vigilant Citizen:
Samsung's Swedish site includes a bizarre feature called Unspoil Me – a 23-minute hypnosis session comprised of swirling patterns, mesmerizing music and a hypnotherapist controlling your mind. The aim is to get your brain to forget your favorite TV show in order for you to watch it again – as if it was the first time.

No, this is not a joke. The firm actually seems pretty serious about this. The session was created by certified hypnotists Ulf Sandström and Fredrik Praesto. Before starting, the site asks participants to consent to some terms and conditions including the following:

"3. Before starting the experience I guarantee that I'm over 18 years old, fully mentally healthy and not suffering from any neurological problems or epilepsy. If not, I guarantee that I will contact a doctor before I take part of the experience. If I suffer from abnormally low blood pressure, I will also consult with a doctor before taking part of the experience.

4. I am aware that the experience (self hypnosis) could have real effects and I am prepared to forget the whole, or parts of my favorite TV series.

5. I ensure my sole purpose of using Unspoil Me is for its intended purpose, and I will therefore only think about a film clip or a tv-series which I will have the possibility to forget."

The tool also requires participants to put on headphones, to isolate themselves in a tranquil place and to watch the entire thing without interruption. It also recommends a night's sleep before re-watching the "erased" TV show. [Source]
It's a fascinating and interesting concept that combines technology with psychology and entertainment, and if I wanted to live out a dystopian sci-fi nightmare, I'd sit the wife and kids down every Friday night and erase Stranger Things from our brains and spend our weekends re-watching it.
But I learned a long time ago from being hooked on hypnotic cable news that life is just too rich and meaningful to piss away in a corporate-induced trance on your couch. Which is why they keep making this stuff more sophisticated and more hypnotic. You're not supposed to walk away.
We know at a deep level the subconscious mind can be our greatest ally or our greatest enemy, and in world where corporations and propagandists are trying everything possible to penetrate your subconscious mind to influence your buying habits and decision-making functions, it is absolutely critical to protect the mind and only allow it to be influenced by content that serves you in a beneficial way.
Plus, this is just plain creepy. Check it out for yourself, here, and let me know if you were brave enough to do the whole program.
About the Author
Dylan Charles is the editor of Waking Times and co-host of Redesigning Reality, both dedicated to ideas of personal transformation, societal awakening, and planetary renewal. His personal journey is deeply inspired by shamanic plant medicines and the arts of Kung Fu, Qi Gong and Yoga. After seven years of living in Costa Rica, he now lives in the Blue Ridge Mountains, where he practices Brazilian Jiu Jitsu and enjoys spending time with family. He has written hundreds of articles, reaching and inspiring millions of people around the world.
This article (Samsung's Brain Erasing Hypnosis Program Does What 24 Hour Cable News Has Been Doing To You For Years) was originally created and published by Waking Times and is published here under a Creative Commons license with attribution to DylanCharles and WakingTimes.com. It may be re-posted freely with proper attribution, author bio, and this copyright statement.
Yes, fear is the power of control
"… The young devil to the old:
– How did you manage to send so many souls to hell?
Old devil:
– Through fear!
Young:
– Well done! And what were they afraid of? Wars? Hunger?
Old:
– No … Disease!
Young:
– They weren't sick? Weren't they dying? Wasn't there a medicine?
Old:
-….. got sick. They died. There was a cure …
Young:
– I do not understand…
Old:
– We accidentally decided that the only thing that needs to be preserved at any cost is LIFE !!!
They stopped hugging … They stopped greeting each other !!! They left all human contact …. They left everything that made a person human!
They were left without money. They lost their jobs.
But they chose to fear for their lives, even if they didn't have bread to eat.
They believed what they heard, read the newspapers and blindly believed everything they read.
They gave up freedom.
They never left the house again. They never went anywhere. We never visited friends and family again. The whole world has turned into a huge prison with convicts – volunteers.
They accepted everything !!! All this to live another miserable day …
They didn't live, they died every day!
It was too easy to take their pitiful soul … "
Clive Lewis "Letters from a Senior to a Junior Devil".
From the book "Balamut's Letters" (1941)
Havana Syndrome again? CIA officers are mowed down by a mysterious disease
A CIA officer in Moscow experienced symptoms of the so-called "Havana syndrome" in 2017. This became known to The New York Times with reference to sources in diplomatic circles.
CIA officer Mark Polimepulos, who helped lead covert operations in Russia and Europe, complained about the manifestation of mysterious symptoms. According to the newspaper, in December 2017, he felt severe dizziness, which later developed into a prolonged migraine, forcing him to retire. At that time, Polymerpoulos was 48 years old.
It is noted that such a case was not the only one. Similar symptoms were experienced by the staff of the American ambassadors in Cuba and China in 2016-2018. However, the exact number of cases and the place where this happened is not named. It is alleged that the US diplomats have tried to influence in a similar way around the world.
At the same time, the US State Department was unable to establish an unambiguous reason that caused the "Havana syndrome." Among other things, it was assumed that the diplomats may have been exposed to an unidentified sound effect.
In 2017, it was reported that, beginning in late 2016, American diplomatic officials and their relatives in Cuba began to complain of symptoms such as hearing loss, nausea, headaches and balance disorder. 
The Associated Press received audio footage of the attack and described the harassing sounds as "the high-pitched sound of crickets combined with fingernails scratching on a board." Then the American government suggested that Russia or China could be the culprit.
Many victims are still undergoing rehabilitation. Specialists from the University of Pennsylvania performed magnetic resonance imaging and revealed visible changes in the structure of the brain in the diplomatic missions.
Differences were found in 23 men and 17 women who complained of health problems while on diplomatic duties in Havana. Scientists have yet to figure out what causes the unusual symptoms.
How Russia and the United States nearly started a nuclear war in 1995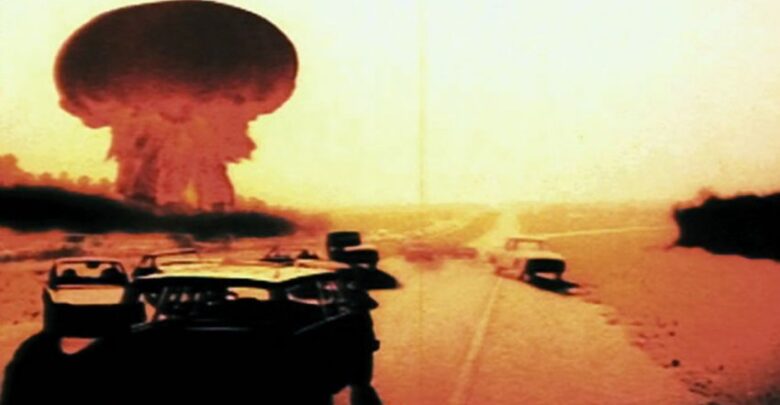 The Norwegian meteorological rocket incident remains the only time in history that the Russian president has activated his nuclear briefcase.
On January 25, 1995, Doomsday could have come in the world: the Russian Federation was preparing to launch a nuclear strike on the United States. How did it come about that the states that left the confrontation of the Cold War in the past and had just normalized relations with each other found themselves on the verge of mutual destruction?
The beginning of the war?
The cause of the crisis was an ordinary Norwegian meteorological rocket. Its launch from the small island of Anneia at 7 am local time (10 am Moscow time) towards Spitsbergen caused a stir in Russia.
Black Brant XII. Legion Media / ZUMA Press
Equipped with scientific equipment to study the aurora borealis, the Black Brant XII was similar in size to the nuclear-powered American Trident D-5 ballistic missile, intended for launch from submarines. In addition, it flew along a trajectory along which, as the Russian Defense Ministry believed, American missiles would fly in the event of a nuclear war.
In December 1994, Norway informed 28 states, including Russia, about the planned launch, but did not give a specific date, limiting itself to specifying the period: from January 15 to February 10 of the next year. Due to bureaucratic delays, this information did not reach the Russian Missile Warning System, which sounded the alarm.
Decisive minutes
An emergency meeting with the country's top political and military leadership was convened in the Kremlin. Defense Minister Pavel Grachev, Chief of the General Staff Mikhail Kolesnikov and President of the Russian Federation (as Supreme Commander-in-Chief) Boris Yeltsin had three strategic missile forces control terminals activated – the so-called nuclear suitcases.
Vladimir Sayapin / TASS
The military believed the lone missile could have been fired to create an electromagnetic pulse that knocked out Russian radars and communications systems. Following it, a massive blow could be expected.
For several tense minutes, as leaders watched it flight, it was decided whether Russia would launch a nuclear strike against the United States.
"Little is known today about what Yeltsin said at the time, given that it could have been some of the most dangerous moments in the entire history of the nuclear era," The Washington Post journalist, David Hoffman wrote three years after the incident : "They make it clear that the Cold War nuclear readiness system continues to operate, and how catastrophic its consequences could be, despite the fact that the feud between the great powers is already over."
The situation was discharged only when it became clear that the rocket had gone towards Spitsbergen (not far from which it fell into the ocean). The nuclear cases have been deactivated.
Russian President Boris Yeltsin (center) and Russian Defense Minister Pavel Grachev (right). Igor Mikhalev / Sputnik
The incident with bringing Russia's Strategic Nuclear Forces to combat readiness, soon became the property of the world community. When, four years later, the Norwegians were about to repeat their launch of Black Brant XII and reported this to the Russian Foreign Ministry, the US additionally warned all key Russian military departments about it through their channels. As a result, this time there were no unpleasant surprises.
Source: rbth.com