The Talking Board Historical Society will be revealing Ouijazilla this October is Salem, MA.
Rick Ormortis Schreck, the Vice President of the Talking Board Historical Society whose family has been dubbed the "real-life Addams Family," has been hard at work preparing to crush the current world record holder for the world's largest Ouija board.
The massive board, which has been named Ouijazilla, was constructed out of wood and hand-painted by Schreck in the classic Ouija style.
"So I finally am able to talk about the Top Secret project that I have been working on since last Summer," Schreck posted on Instagram. "It has been a Hell of a journey and. It ain't over yet. Stay tuned for sneak peeks at the Monster!"
Ouijazilla will be unveiled in Salem this October. More info here.
World's Largest Ouija Board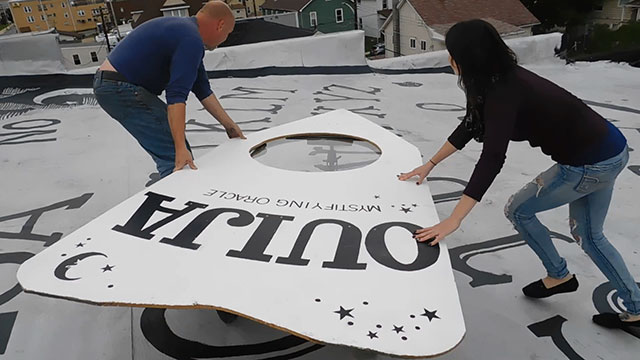 The Grand Midway Hotel in Windber, Pennsylvania currently holds the Guinness World Record for the Ouija board they painted on their roof in 2016 along with the accompanying ten-foot planchette on wheels.
I'm thrilled to see what kind of monster Ouija Schreck has created.