Russians Claim 'Indisputable Proof' of Yeti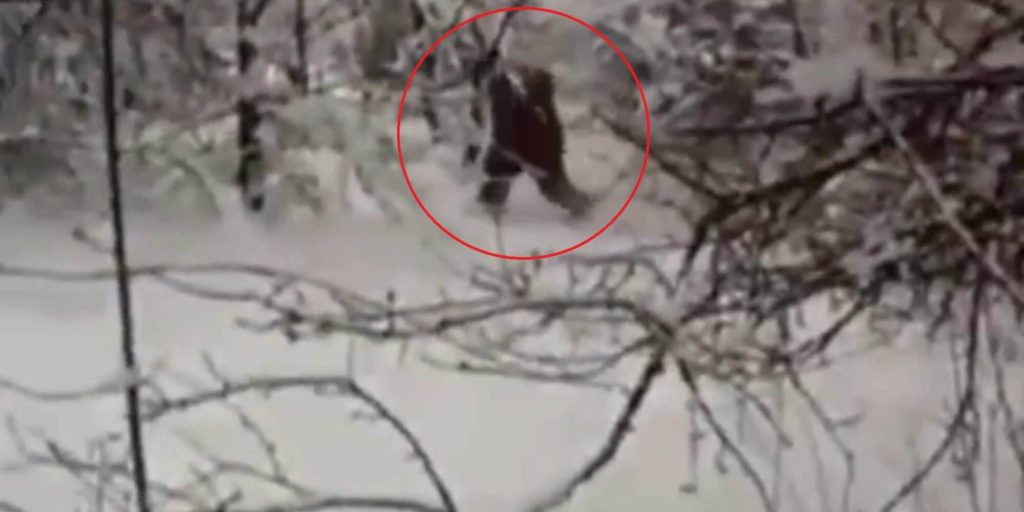 Russian researchers looking for the yeti — the Asian version of the North American Bigfoot — claim to have found "indisputable proof" of the long-sought mystery beast in Siberia.
There isn't a ton of evidence to work with — just a few strands of hair and some tracks in the snow — but it's enough that the research team says its 95 percent sure that the yeti exists. Others, however, are mighty skeptical of the findings.
The yeti is said to be muscular, covered with dark grayish or reddish-brown hair, and weigh between 200 and 400 pounds. The yeti is relatively short compared to Bigfoot, averaging only about six or seven feet in height.
Despite dozens of expeditions into the remote mountain regions of Russia, China and Nepal, both creatures' existence remains unproven. Sir Edmund Hillary, who was the first to scale Everest with sherpa Tenzing Norgay, found no evidence of the creature. Famous mountaineer Reinhold Messner also spent months in Nepal and Tibet, climbing mountains and researching yeti reports following his own sighting. In his book "My Quest for the Yeti" (St. Martin's Griffin, 2001), Messner concludes that large native bears are responsible for yeti sightings and tracks.
This is, of course, not the first time that searchers have claimed strong, or even indisputable, proof of the yeti. In 2007, American TV show host Josh Gates claimed he found three mysterious footprints in snow near a stream in Nepal's region of the Himalaya Mountains. Locals were skeptical, suggesting that he simply misinterpreted a bear track. No follow-up information ever emerged, and the "Gates track," once touted internationally as strong evidence of the yeti, is now largely forgotten. 
Last year, a strange, nearly hairless animal was captured by hunters in the Sichuan province of China. Researchers and news reports suggested that a yeti had finally been captured alive, though the proclamation turned out to be premature: embarrassed officials eventually admitted it was nothing more than a mangy civet — a small, catlike animal native to the region.
The Russian search for the yeti was conducted, in part, by a small group of researchers invited to participate in a "yeti conference." Apparently, the team found some gray hairs in a clump moss in a Russian cave in the Kemerovo region in western Siberia. According to a spokesman for the Kemerovo region, "During the expedition to the Azasskaya cave, conference participants gathered indisputable proof that the Shoria mountains are inhabited by the 'Snow Man.' They found his footprints, his supposed bed, and various markers with which the yeti uses to denote his territory."
If true, it's an amazing find. Yet it's not clear why, if the researchers are certain that the cave had been recently (and actively) used by the yeti, they didn't simply set up cameras to record the creatures, or wait for the animals to return to the cave, where they could be trapped and captured alive, offering conclusive proof of their existence.
Some Russians view the announcement with considerable suspicion and skepticism, suggesting that the sudden discovery is a publicity stunt to increase tourism in the impoverished coal-mining region. So far it seems to have worked, as hundreds of people have come to tour the cave. In fact, the event seemed more of a media circus than a scientific expedition when former Russian heavyweight boxer Nikolai Valuyev recently toured the cave "searching" for the yeti, to great media attention.
If populations of yetis — like Bigfoot — really exist, they have somehow managed to avoid leaving any physical traces of their presence: no bodies, bones, teeth, hair, scat, or anything else. Of course, just because these creatures have never been found is not conclusive proof that they don't exist. All new evidence should be carefully and scientifically analyzed; however, if history is any guide this latest yeti discovery will soon fade away, leaving proof of the creature's existence in question.
Bodies Of Mythical Creatures Unearthed In A Mysterious British Mansion
Numerous wooden boxes with mythical creatures and strange paperwork were discovered by a fluke in the basement of a deserted British mansion.
Since forever, mythical creatures such as fairies and dwarfs were thought to be just that – mythical. In the latest contemporary era, many people claimed evidence there is much than just a fable.
In 2006, construction workers were bulldozing a place to make way for a new suburban block. All of a sudden, they came across an old mansion which used to belong to a man named Thomas Theodore Merrylin.
In the old house's basement, they discovered many peculiar boxes of wood.
At the thought of finding something precious, the workers started opening the crates one by one.
Surprisingly, however, they didn't find some valuable treasure but rather plentiful weird creatures. The findings were later entitled as the Merrylin Cryptid Collection.
The ex-owner of the British mansion, Thomas Theodore Merrylin, was born in 1782 in Hellingshire, North England. He was a Crypto-naturalist, Zoologist, and Xeno-Archaeologist.
His favorite hobby was gathering different uncatalogued specimens as part of his compilation.
But likely one of his weirdest traits is that he had an incredible lifetime of 160 years.
Later accounts reveal that he looked as he was 40 years old when he was actually 80. This detail was very weird at the time and now as well.
Merrylin began a trip through the US to exhibit his unique compilation to the public. In the beginning, his bewildering acquirement was put on center stage.
However, later, considering the dogmatic viewpoint at the time, he was marked as a hoax by the rest of the cryptozoologists.
During his journey, he met many outstanding biologists and mathematicians. He captured the attention of everyone not only with his collection of mythical creatures but with his knowledge in science and chemistry as well.
Alongside the wooden crates, workers also found Merrylin's diary. His records contained mysterious insights of quantum mechanics which wasn't yet set up to endure at the time the notes were written.
Theodore was later accused of stealing by another collector of rare species. His notoriety was on the brink, so he decided to go into obscurity. His profile never returned to the scientific community again.
In 1942, a man purporting to be Theodore granted a building to an orphanage in London requiring only one condition: the basement never to be unlocked.
The man was in his 40s, so people assumed he was probably a relative of Marrylin. This was the last time anyone heard something from him.
Documentary Tracks Down Wisconsin Werewolf Legend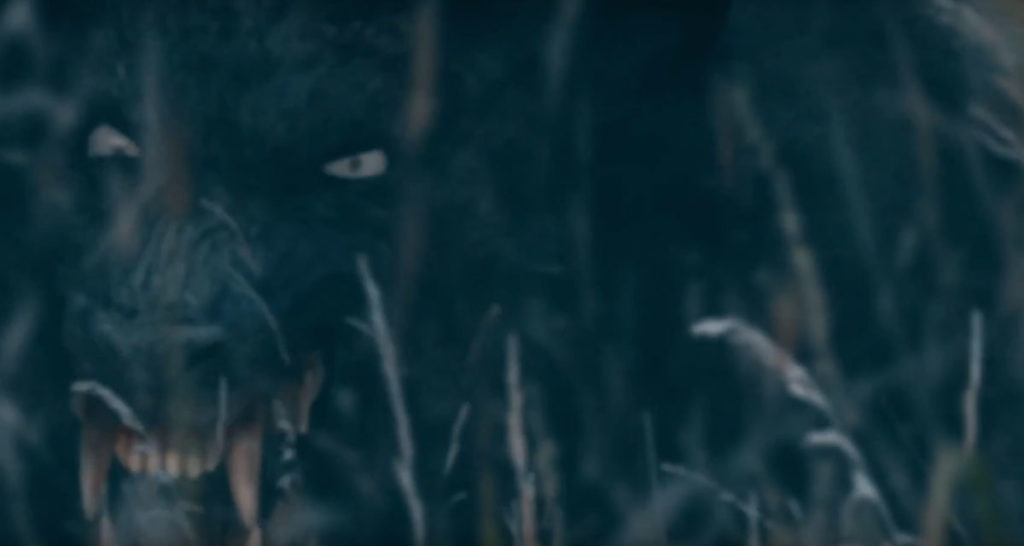 The latest documentary from Seth Breedlove and Small Town Monsters tracks down one of Wisconsin's strangest legends, the beast of Bray Road.
Small Town Monsters has produced a series of fantastic documentaries about some of the strangest backroads legends and lore from around the country. But, as a native of the great weird state of Wisconsin, I am the most excited about their latest project: The Bray Road Beast.
A clip from the film was released earlier this week of an eyewitness discussing the possible occult origins of the Beast of Bray Road, but now we have a full-length trailer exploring the phenomena of werewolf sightings in Wisconsin and around the country.
About The Bray Road Beast
"In 1989 a country road outside of the Wisconsin town of Elkhorn became the center of a media frenzy unlike anything the world had ever seen," Small Town Monsters writes. "'People were seeing, what looked to them, like a werewolf…' said Linda Godfrey the newspaper reporter who brought the story to light in a local publication called 'The Week'. In fact, many people -locals and out-of-towners alike- had sightings and encounters with the creature that came to be known as The Beast of Bray Road. Many of these sightings were largely ignored or under-reported… that is, until October 5th when the new documentary film, The Bray Road Beast will unlock decades of history relating to 'werewolf' sightings around the US.
"The film explores not only the infamous Elkhorn creature sightings but also centuries of Werewolf legends and myths from across the globe. From the predominant theory that witnesses merely saw an undiscovered species of large wolves to more bizarre aspects of the phenomena, no stone is left unturned in this 66 minute film, shot on location in and around Wisconsin. The seventh film from award-winning filmmaker, Seth Breedlove, arrives on streaming platforms and DVD."
The film, directed by Seth Breedlove and narrated by Lyle Blackburn, hits streaming platforms and DVD on October 5th. There will be a special sneak-preview screening of The Bray Road Beast at HorrorHound Indianapolis on Saturday, August 25th, and a Wisconsin premier at this year's Milwaukee Paranormal Conference.
Visit smalltownmonsters.com for more information.
Massive Black 'Dire Wolf' Chases Dog – Who created this HUGE Creature?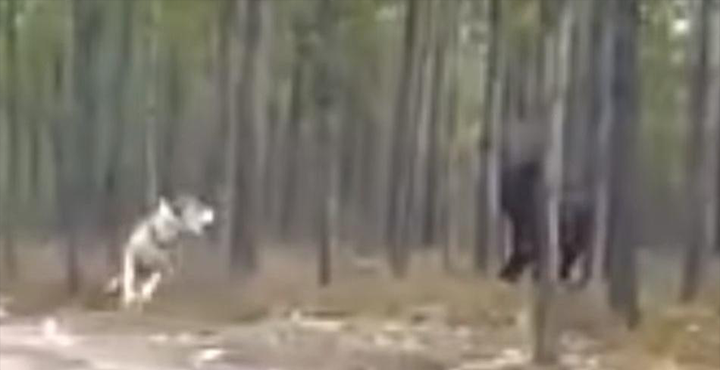 Unidentified giant animal attacks dog walker in the woods.
Not much is known about the origin of the grainy footage. It is believed that it was filmed somewhere in the United States of America in about 2015. However, the specific location of the incident and the person who captured the footage is still a mystery.
In the footage, a dog can be heard barking anxiously as the dark colored creature begins shifting in the trees. All of sudden, the black creature springs upwards and charges straight towards the dog which presumably disturbed it. Initially, the two animals keep their distance from each other but eventually, the spooked creatures attacked each other.
What happened when the enormous beast and the dog actually squared up to each other the camera does not manage to capture the incident. However, given the worried shouts of the dog's owner and the distressed yelping from the dog suggests that the encounter was violent and that the canine didn't stand much of a chance against the enormous mystery animal.
The footage has sparked a number of theories about what it could have been. Recently, there have been several sightings of enormous wolves giving rise to speculation that this could be a rare species of a wolf which was believed to be extinct. Others have said that it may well have been that the animal was just a particularly large wolf. More fancifully, some have suggested that the animal could have been a pony although even wild horses are not known for acting in such an aggressive manner and tend to flee from dogs rather than confront them.
Other people have suggested that this creature could have even been supernatural. Some have suggested that it could be a man and dog hybrid creature although this is considered to be rather unlikely.
Video: