Russian Witches Cast Spells to Help Vladimir Putin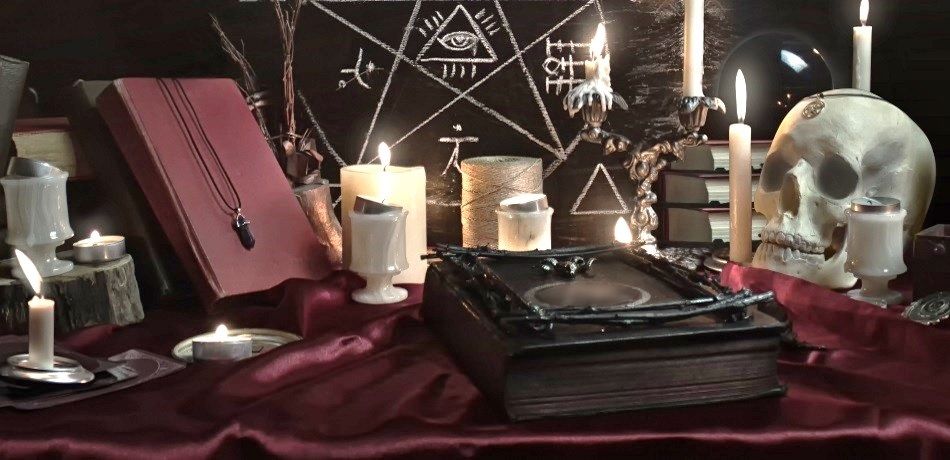 If I've lost the witches, I've lost Russia.
No need to worry, President Putin. That paraphrasing of U.S. President Lyndon Johnson's comment about trusted news commentator (no, that's not an oxymoron – at least it wasn't in 1968) Walter Cronkite's scathing analysis of the Vietnam War is pure fiction. A group of witches in Russia have taken it upon themselves to cast spells upon the enemies of Putin and Russia. Did you just feel a needle pass through your heart or your head? Did any world leaders?
"He who hears and does not hear, who sees and does not see, who was and will be, will not forget my word: Rise the great power of Russia, direct the path of Vladimir Putin truly and righteously, through my word. Breathe, Mother Earth, embracing Russia on all sides."
The Moscow Times and Russia Today reported on this (both sites have pictures and a video) and other spells cast this week in Moscow on behalf of Vladimir Putin by Alyona Polyn, founder of The Empire of the Strongest Witches, whose website describes the purpose of the organization:
"The main and most important objective of the EMPW is to improve the vital activities of the Earth and increase the quality of life for the people possessing knowledge – those required for the Earth to ensure interaction."
That doesn't sound so bad, does it? The group calls for the planting of trees – not real trees but "ritual" ones that that execute "the powerful energy rituals for the recovery of the Earth." So, it sounds like The Empire of the Strongest Witches is in favor of a green world, not one based on fossil fuels. Is this really the kind of help President Putin is looking for?
Asked exactly who Putin needed support and protection against, the witches did not provide specifics. One explained that the curses were against "all who attack him" and said that "spiteful critics" must be silenced.
That makes more sense. Support the president by cursing his enemies and critics. (In some countries, these are two different groups.)   There are probably a few other world leaders who would like that kind of support from their country's witches, although none can pull them together in the kind of numbers Russia has. The Moscow Times provided these figures:
"According to Russian Health Ministry data, around 800,000 people earned a living from performing as folk healers, psychic mediums and other similar services in 2017."
Not only does Russia (and President Putin) have a lot of witches, they're organized — with The Empire of the Most Powerful Witches calling itself the "mother of all witches and witchers" and keeper of a list of legitimate witches that anyone can access to make sure they're dealing with an authorized spell giver and not a "charlatan." Alyona Polyn herself is available at the Empire's headquarters in Moscow, where:
"We have gathered here to make the world better off through Russia."
The Empire of the Most Powerful Witches states that it loves the entire Earth and "disliking any country is denying a part of the Earth, same as disliking any part of your body. A noble cause … but can they really help Mother Earth by helping Father Putin?
What will happen if Putin loses the witches? We may not want to find out.
SOURCE: Mysterious Universe
A Very Pagan Christmas Special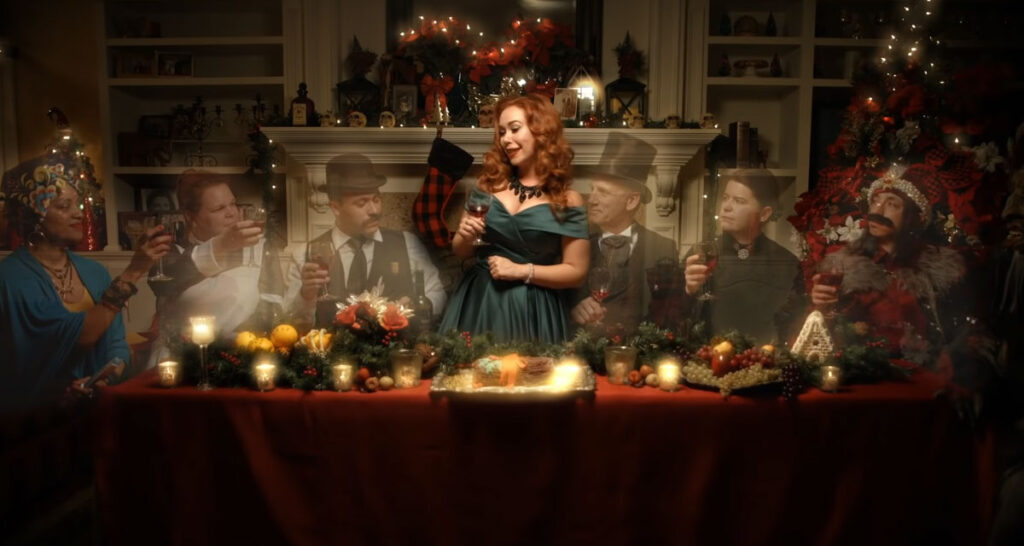 Explore the dark origins of Christmas with this pagan Christmas special from Macabre Mondays.
When you dig just under the surface of modern Christmas you begin to find the joyous holiday full of ghosts, monsters, and other darkness. For creeps like us it's basically a second Halloween. Colder, yes, but with equal amounts of macabre merriment.
Macabre Mondays host Malia Miglino invites you to join her festivities as she explores the holiday's pagan roots:
Human sacrifice, Yule logs, mistletoe…what do all 3 of these things have in common? Easy – Christmas AND Paganism. I'm breaking the door open on the origins of Christmas and Creeps, it's DARK.

From the ancient Romans who celebrated Saturnalia to the Vikings who poisoned human sacrifices with mistletoe to Charles Dickens ghost stories….the history of Christmas is long, varied, dark and stolen. So grab some wine, prepare a feast and settle in for a crazy night of lore and Yule while I celebrate with some of my favorite ghosts of Christmas's past.
For more Macabre Mondays subscribe on Youtube right here.
Satanic 'Snaketivity' on Display for Christmas in Illinois Capitol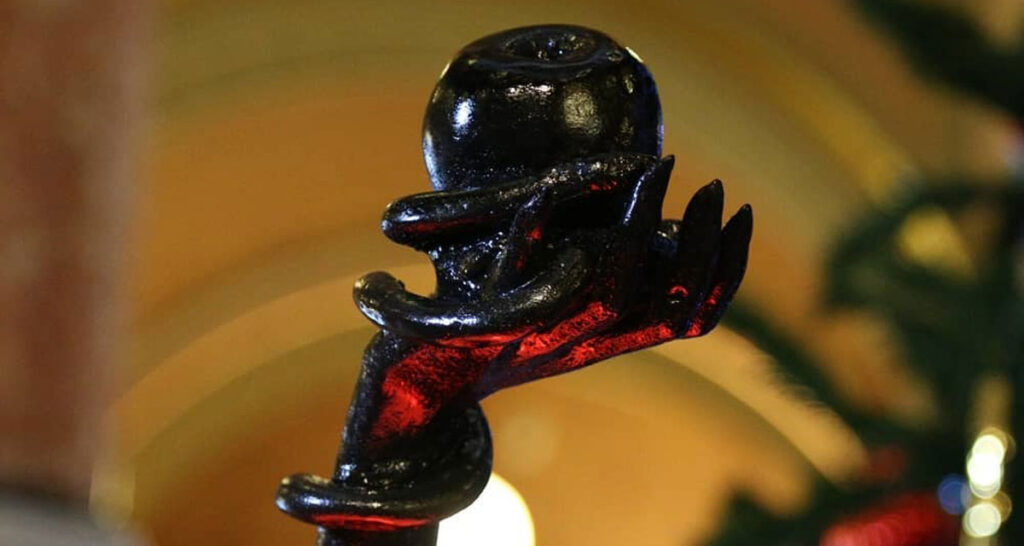 The Satanic Temple of Chicago installed a sculpture of a hand holding an apple with a snake wrapped around it for the holidays.

Snaketivity on display in Springfield, Il.
"Fill your eyes and ears with Satanic holiday cheer! The Snaketivity is here!" the Satanic Temple of Chicago posted on Instagram this week.
The "Snaketivity" is a black resin sculpture of a hand holding an apple with a snake wrapped around it. The base reads, "Knowledge is the greatest gift." It is currently on display for the holiday season in Springfield alongside a menorah, a Christmas tree, and a Nativity scene.
More weird holiday cheer:
When the Satanic Temple announced the plan in November, they wrote that the Snaketivity would be "bringing a message to the Illinois state capital that religious freedom means freedom of representation for ALL religions… not just the ones that don't offend Christians."
With a plea to "Please consider what you may do to help us bring Satan to Springfield!," the group raised $1,700 on GoFundMe for their Satanic holiday display.
"I suppose it is their free speech rights to do that, so I can't deny that. But do I agree with it? Absolutely not," one interviewee told WBMF News. "I can't disagree with the statement in itself but when it's coming from a satanic or a cult group, my response would be that everything about Satan is a lie."
"I think it's inappropriate because it's not something that should be displayed for a lot of people to be offended by," said another. "I would be offended by that myself."
The statue will remain on display in the Illinois State Capitol until Dec. 29.
Exquisite New Edition of 16th Century Occult Tome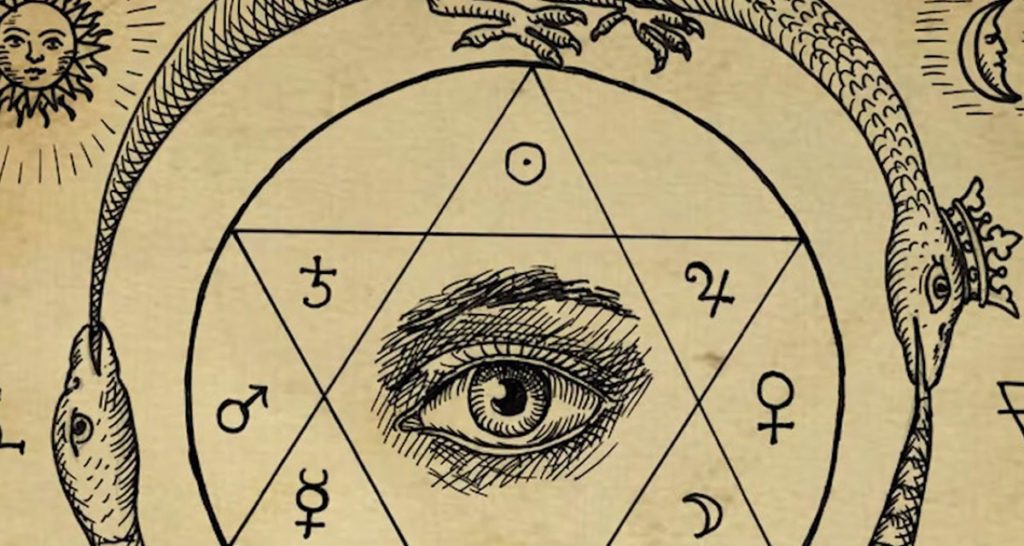 Bring this once banned book of science and the occult back to life with a beautiful new edition from Black Letter Press.

Black Letter Press is crowdfunding an exquisitely illustrated new edition of Natural Magick by Giambattista della Porta, the 1558 book about the occult that was listed in an idex of forbidden books.
From the IndieGoGo campaign:
Natural Magick was first published in 1558. Giambattista della Porta was a magus, or a natural magician, who searched nature for similarities that would serve to build a broad template of forced understanding of seeming likenesses, looking for the great connector in the exceptional and the unusual, the stuff outside of the formerly Aristotlean world.

Porta writes in the first chapter, defining the word "magic": "Magic took her name and original [sic] from Persia… In the Persian language, a Magician is nothing else but one that expounds and studies divine things; and it is the general name of wise-men in that country… Magic was begun in Persia by Zoroastres". Therefore it is not a book of ceremonial magic, spells or any religious topics but an encyclopedic work of natural wonders, a gold-mine of information and clever wishfulness written at a time when science was still in its infancy. Magic is described as a specific science of natural objects.

Natural Magic concerns itself with a variety of subjects della Porta had investigated such as magic, alchemy, optics, geometry, cryptography, magnetism, agriculture, the art of memory, munitions, and many other topics, all grouped together and refined, distilled, into a compendium of natural knowledge.

While some of della Portas described Experiments on living animals and Humans might seem curious and quite cruel to the modern reader, his researches in optics were visionary. He gave the world the first published description of the convex lens and the camera obscura. Though he did not invent these, his work is perfecting and describing them, and their inclusion in Natural Magick, contributed to the dissemination of this knowledge.

The first edition of Natural Magic (1558) ended up on the spanish Index of forbidden Books due to Porta's naturalistic approach to witchcraft and necromantic arts. A second version in 1589 was purged of the infamous – and one of the few passed on – recipes for a witches unguent. Della Porta speculates in this banned chapter, that the witches flight and orgiastic encounters with demons and the devil had a natural explanation. Hallucinogenic plants were used to create the flying ointment – a material substance with occult, but non-demonic properties.
A new edition of Natural Magick by Giambattista Dell Porta from Black Letter Press
Back this project on IndieGoGo right here.