Russia has unveiled a powerful new laser weapon which it claims can take down targets 'within fractions of second'.
The space age laser, named the Peresvet after a sixteenth century Russian warrior monk, is already being deployed and used by Russia's armed forces – according to the country's government.
Remarkable footage showing the weapons system in action was posted on the Russian defence ministry's social media account on Wednesday.
It showed the advanced laser system being brought out of a hangar and activated remotely by a soldier.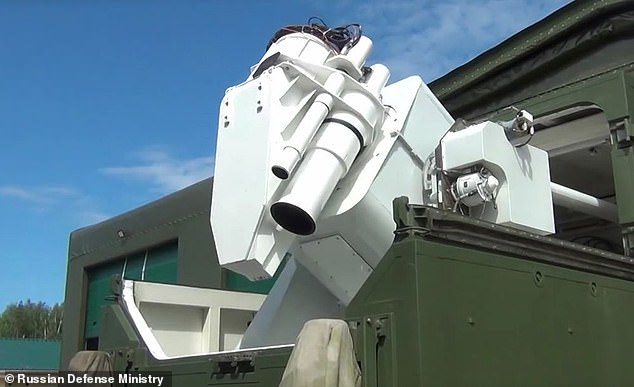 Little is known about the potency of Vladimir Putin's latest piece of kit as the Russian government has revealed nothing about its capabilities.
However, similar weapons systems which have been developed in other countries are used to take down planes and missiles by disabling their electronics from miles away.
Russian Deputy Defense Minister Yuri Borisov told his ministry's newspaper Krasnaya Zvezda on Monday that the machine can 'take down targets within fractions of a second'.
'We can talk a lot about laser weapons and movies were made about them a long time ago and fantastic books have been written, and everyone knows about this,' Borisov said.
'But the fact that these systems have started entering service is indeed today's reality.'
'Starting from last year laser systems have been entering service that allow disarming a potential adversary and hitting those facilities, which are the targets,' he added, saying such a device could take out targets 'within fractions of a second.'
The Peresvet programme has been shrouded in secrecy, with Vladimir Putin playing his cards close to his chest about the potential of the technology in a speech earlier this year.
During his State of the Nation Address on March 1, Russian President Vladimir Putin said that 'significant progress' was achieved in Russia's laser weaponry program and 'there are all reasons to believe that we are one step ahead our rivals in this sphere.'
However, he gave no further details, saying only that the time was not ripe at that moment.
'I do not want to reveal more details. It is not the time yet. But experts will understand that with such weaponry, Russia's capacities for defending itself have multiplied.'
Read More: https://www.dailymail.co.uk/