Russia is creating a laser cannon death ray to shoot down satellites in orbit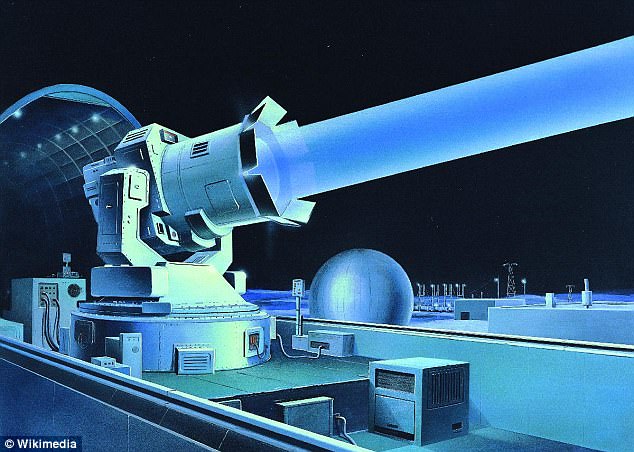 Russia is building a laser cannon death ray capable of targeting and destroying objects in space.
The enormous weapon will be the size of a telescope, and will zero-in on orbital debris that poses a threat to nearby ships, Russia has confirmed.
But despite assurances the cannon will only be used to blast space debris, experts fear the cannon could become a vital part of the Vladimir Putin's arsenal.
The latest revelation comes weeks after a US Air Force chief warned that space wars could break out between superpower nations 'within years'.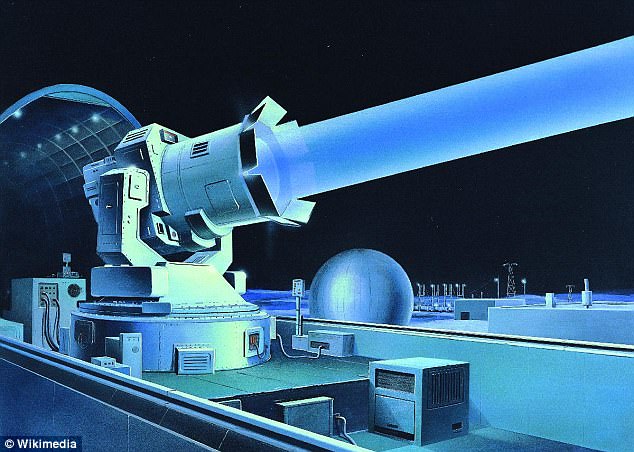 Researchers working for a subsidiary of Roscosmos, the Russian equivalent of Nasa, have already started work on the laser cannon.
The Scientific and Industrial Corporation 'Precision Instrument Systems' (NPK SPP) team want to convert a telescope at the Altay Optical-Laser Centre (AOLTs) near Savvushka, some 45-miles (70 km) from the Kazak border.
'The scientists intend to use the massive soon-to-be-built telescope at the Altay Optical-Laser Centre and convert it into a laser cannon,' a report submitted to the Russian Academy of Sciences has revealed.
'The device is expected to be powered by a solid-state generator, though the project team has yet to choose which model to use.'
According to the report, the scientists hope to fit the cannon with an 'optic detection system which includes a solid-state laser.'
The weapon is expected to be able to gradually vaporise space debris using laser ablation.
The latter works by focusing a beam onto a surface to strip it of a material, like water.
Laser ablation does generate much excess heat and can be used to cause objects to evaporate or, when using a more powerful beam, transform into a plasma.
According to United States Space Surveillance Network, there are more than 21,000 space debris objects larger than 10cm (3.9 inches) orbiting the Earth at any given time.
These include abandoned launch vehicle stages and other debris from past missions, as well as nonfunctional spacecrafts and fragmented scraps.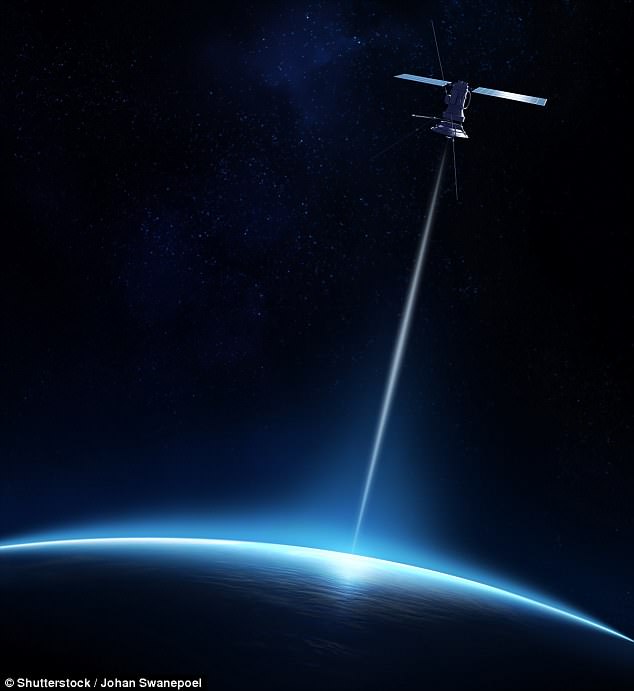 Roscosmos scientists say that if the issue of space debris is not addressed soon, it could clog up Earth's orbit and make launches almost impossible in one or two centuries time.
Russia is not only looking to ground-mounted cannons to fire lasers into space.
Earlier this year, it was revealed the country had created plane-mounted lasers to form part of an anti-satellite system.
According to an anonymous source quoted by Russian news agency Interfax, weapons maker Almaz-Antey has 'completed work on an anti-satellite complex'.
The system includes a laser mounted onto an aircraft as well as relevant ground control gear and radar that will help the device to find targets.
It will utilise a brand-new, as-yet-unnamed type of aircraft, the source said.
Source: http://www.dailymail.co.uk/
Russia's Next-Gen Combat Suit is Getting Tech That's Resistant to Nuclear Blasts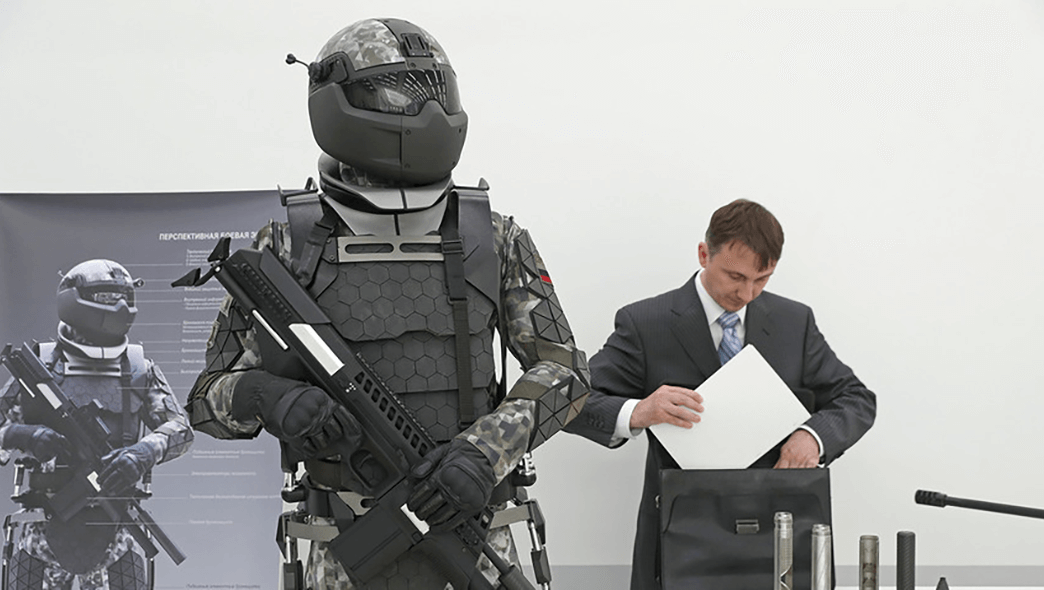 Russia has a new battle suit that seems to be visually inspired by Star Wars's Imperial Shadow Stormtroopers. While Russia's version likely doesn't come with a cloaking device, the high-tech armor does have a few tricks up its sleeves, including nuclear blast resistant tech.
The suit was developed by Rostec and is called the Ratnik-3. The latest upgrade to the new armor includes a reportedly nuclear blast resistant watch. According to a statement released by the press office, the Chief Designer for the Life Support System of the Soldier Combat Outfit at the Central Scientific Research Institute for Precision Machine Engineering, Oleg Faustov, says "The watch, which we have included in the Ratnik outfit, retains its properties upon the impact of radiation and electromagnetic impulses, for example, upon a nuclear blast."
The watch also features a self-winding mechanism and operates under water.
Other perks of the 59 items Rostec has included in the suit include a powered exoskeleton, which is said to give soldiers greater strength and stamina; the latest in bulletproof body armor tech; and a full face-covering visor and helmet equipped with a video game-esque heads-up display (HUD). According to Russian state-owned media outlet Tass, the weight of the completed combat gear will be reduced by 30% when it is released for use in the field.
The Ratnik 3 is expected to be ready for use by 2022.
Next-Gen War
The future of how we will one day wage war is being developed now. The United States is also working on a high-tech combat suit of its own. The suit, inspired by pop culture, has been dubbed the Iron Man.
Weapons are also getting next-gen upgrades, with laser weapons currently being deployed in various forms around the world. The United States Navy has the Laser Weapons System (LaWS)mounted on the USS Ponce, an amphibious naval transport dock, to defend against drone strikes and eventually incoming missiles. China has also previously given its soldiers laser weapons designed to blind opponents.
In the sky, killer drones the size of a quadcopter have been developed to carry weapons. The Air Force is even training soldiers to get the military ready for combat in space with extraterrestrials or other hostile interests.
Of course, with all these developments, it maybe good to be reminded what a nuclear showdown would do to the planet—and hope that these future technologies rarely have to be put to use.
Source futurism.com
They record a zombie deer in the garden of a house in the United States, will the infection started to humans?
A few days ago we wrote how the "zombie deer virus" has become a real problem in the United States, since it has spread to 24 states and two Canadian provinces, and experts warn that it is spreading to humans, being a potential risk too urgent to ignore. In fact, the "zombie deer virus" is called the Chronic Attrition Disease (also known as Chronic Wasting Disease or CWD).
The symptoms of this disease is that deer, elk, reindeer, and deer quickly lose weight, coordination and become aggressive; in other words, they become zombies. At the moment there have been no cases of CWD in humans, although experts are sure that we will see cases in the coming months. However, scientists do not know what kind of effects the "zombie deer virus" will have on people. For its part, the Centers for Disease Control and Prevention (CDC, for its acronym in English), has acknowledged that the CWD could be more widespread than is believed. Therefore, they recommend that hunters do not shoot or manipulate deer meat that has strange behavior.
So far it was a warning about a possible infection. But in the last hours, they have begun to spread videos that show how the first zombie deer approach populated areas.
The zombie deer
A zombie deer has been recorded in the garden of a person, which has caused panic in social networks to consider that the images show how the CWD is spreading to humans. In the video, posted on the profile of a person named Javonte Watson , you can see a deer in a garden at night. But the animal has large red bumps all over its body, especially on the face. The person who records is surprised by the state of the deer while eating.
"This is a zombie deer that is alone in Cleveland, does anyone explain this?" Says Watson.
When the deer looks at the person without fear, you can see even larger bulges on their other side, including a huge one hanging below the mammal's mouth. It must be said that this video was shared on social networks last year, although this has not prevented the great impact it has had now, especially after the warning about the spread "zombie virus of the deer" to humans.Without a doubt, the terrifying images have provoked thousands of comments, with users assuring that this is the evidence that fiction surpasses reality. In addition, it has been inevitable the similarity with the South Korean film "Train to Busan (Train to Busan)", where at the beginning you can see a zombie deer. There have also been many who say that the CWD is a disease created in a laboratory to eradicate part of the population.
Reality surpasses fiction
The CDC warning that the CWD may be more widespread than is believed, has made conspiracy theorists begin to ensure that the US government is aware that we are facing an imminent "zombie apocalypse". Moreover, they claim that the recent declaration of national emergency by order Donald Trump, which is supposedly an attempt to build its border wall, is actually the first stage of containment in the face of the imminent threat.
As we already published in Esoteric and Paranormal World, the US Department of Defense prepared a strategy to combat a more than possible zombie apocalypse. The plan, called "CONOP 8888", is a document established in three parts. The first step is to maintain a defensive plan to protect humanity from the zombies, which would be this plan; the second step would be to establish procedures to eradicate the threat, the national emergency of Trump; and the third step will be to restore society through martial law.
It seems that the case in Cleveland would be the definitive evidence of what many scientists have been warning for years. Researchers at Kent State University in Ohio said in 2015 how a pandemic of this kind could spread around the world and the devastating effects on humanity. And wounded up to this point, it may be necessary to heed the recommendations of the scientific community, that if a zombie apocalypse occurs it will have to go towards the Rocky Mountains, located in the western sector of North America.
Researchers from Cornell University believe that less populated or rural areas "could resist for at least a month" while the zombie apocalypse lasts. It is true that there are many unanswered questions about the disease of the zombie deer, but as scientists have said, we will have to wait to see the effects on humans, although it may be too late.
What do you think about the Cleveland zombie deer? Is it the first step to the real zombie apocalypse?
Giant Asteroid Could Devastate Cities on Earth, Turn Them to Powder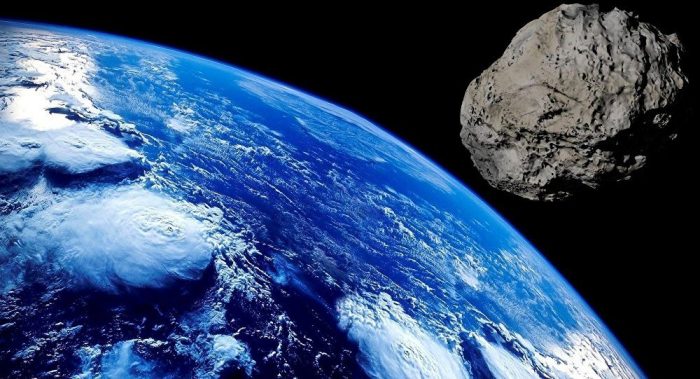 "…first predicted collision date is just 10 years from now."
via Sputniknews:
Princeton University graduate, physicist Jay Melosh's golden tips on how to avoid an asteroid collision with our planet and the thousands of deaths that that would entail have emerged only now, with the closest predicted year when it may happen being 2029. Yet, NASA came to believe several years ago, that it is a bit more likely to occur in 2068.
Jay Melosh, an American geophysicist whose scientific interests involve impact cratering estimates, played out a shocking scenario, of a gigantic, 370-metre wide asteroid, code named Apophis 99942, coming into direct contact with Earth.
As early as 2004, when the asteroid was first spotted, NASA suggested that a collision might happen in 2029, with the year further changed to 2036, and finally to 2068, with the space agency admitting on 21 February 2013 that there is a 1/150,000 chance of a direct impact with Earth in 50 years' time.
Melosh, who completed his physics and geology degrees at Princeton University, outlined the scenario in Amazon Prime's "Asteroid Trackers" as early as in 2009, but its relevance is particularly well-felt as of today, as the first predicted collision date is just 10 years from now.
"In space, we would use a mirror like a magnifying glass. As we hit the asteroid, we begin to vaporise material and, as it vaporises, the asteroid gets pushed the other way", he said, adding that all that needs to be done is the velocity of the asteroid to undergo a minute change of one centimetre a second.
Melosh expressed certainty that this tiny annual shift away "will push it off a collision course and save Earth".
He previously voiced a chilling assumption that if Apophis or a similar-sized space rock did strike Earth, then it could wipe out a whole city, or the lion's share of one.
"If something like Apophis were to strike a city – let's say it fell on Boston – it could create a ten-kilometre-wide crater. Almost all of metropolitan Boston would be destroyed", Melosh shared, providing a scary description of the way humans would feel should this happen, such as an intolerable heat, like of "there were six suns in the sky".
"Clothing would ignite, you would suffer third-degree burns, it would be devastating", Melosh summed up.
Meanwhile, the European Space Agency's Near-Earth Object Coordination Centre is increasingly concerned about another space rock, the asteroid 2018XB4, which was only discovered in December 2018 and is preliminarily estimated to be about 70 meters in diameter. It has recently been included in the top 10 potentially most hazardous Near Earth Objects (NEOs/) and currently ranks fifth on the list.
Sputniknews