Ruins Of Ancient City Found In Antarctica?
A California TV crew missing since November 2002, a video they left behind and a mission by U.S. Navy SEALs are the key elements in a story that claims extensive ancient ruins have been found under the ice of Antarctica. That's according to archaeologist and adventurer Jonathan Gray of World Education Research Ltd in his free newsletter Archaeology News Flash.
A spokesman for the company is reported to have said at the time that "The U.S. government said it will seek to block the airing of a video found by Navy rescuers in Antarctica that purportedly reveals that a massive archaeological dig is underway two miles (3,200 meters) beneath the ice."
"The AtlantisTV production crew that shot the video is still missing." reports Gray.
Attorneys for the Beverly Hills-based AtlantisTV stressed at the time that the company's primary concern was for the safety and welfare of the crew.
But they stated they would vigorously oppose any attempts to censor material that is clearly in the public interest and public domain.
The icy continent of Antarctica, they pointed out, belongs to no nation. The U.S. has no jurisdiction there."
McMurdo Station Antarctica
Credit: Wikipedia
"That video is the property of AtlantisTV, said a company spokesman, We shot it. It's ours. And as soon as it is rightfully restored to us, were going to air it. End of story."
WATCHED BY NAVY OFFICERS
"Two Navy officers who saw the tape described its contents to National Science Foundation (NSF) researchers upon their return to the Amundsen-Scott Station at the South Pole," asserts Gray in his recent newsletter.
Credit: NSF
So reported sources at McMurdo Station, the main American base in Antarctica."
They said it showed spectacular ruins and other things they couldn't go into, an NSF scientist reported.
"We chalked it up to some kind of subzero-induced delusion," he said, "until a helicopter full of Navy SEALs landed and picked them up and took off. Now, were scratching our heads."
Officials of the U.S. Naval Support Task Force in Antarctica predictably denied the story or the possession of any video shot by the missing AtlantisTV crew.
Navy sources said they found the video in an abandoned supply dump 100 miles (160 kilometers) west of Vokstok Station.
Are you keeping up with the astonishing secrets of our past?  You can sign up for Jonathan Gray's Newslatter here
At least four YouTube posters think there just may be a lost city on the continent of Antarctica.
A team of researchers are claiming that they have discovered three ancient pyramids on the ice covered continent of Antarctica. Exact details are sketchy, but the team have released three intriguing pictures of their discovery. according to Stephen Hannard ADGUK
The international team comprises researchers from the United States, and several other, are from various European countries. Two of the huge pyramid structures were found approximately 10 miles inland, the third one not far from the coastline, clearly visible from ocean.
The team are currently planning an expedition to reach one of the pyramids to find out if it is a natural or an artificial structure. No further Details have been reported from the team as of 29 August 2012. More news is pending. Im undecided on this one guys until further confirmation, so as always you decide.
[youtube https://www.youtube.com/watch?v=stKJJ6xWYFY?feature=player_detailpage&wmode=transparent]
Ancient Pyramids Discovered In Antarctica – Lost City Of Atlantis?
[youtube https://www.youtube.com/watch?v=YoxzYUjk4-M?feature=player_detailpage&wmode=transparent]
Antarctica Underground city found by Russian satellite
[youtube https://www.youtube.com/watch?v=o_sXVOIoJX4?feature=player_detailpage&wmode=transparent]
Civilization Found melting out of ice in Antarctica!?
[youtube https://www.youtube.com/watch?v=GKbN6zcSm58?feature=player_detailpage&wmode=transparent]
Explorer and archaeologist Jonathan Gray discussed discoveries that demonstrate advanced ancient technology with George Noory on Coast To Coast A.M. Because such artifacts don't match current academic beliefs they are often suppressed, with evidence destroyed or hidden, he said, citing the Smithsonian Institution, and countries such as Peru, America, Israel, New Zealand, France, and Australia as being involved in covering-up evidence. [youtube https://www.youtube.com/watch?v=6eeuRGBqIZE?feature=player_detailpage&wmode=transparent]
Some of the suppressed ancient discoveries he highlighted:
A kind of glassware in Egypt and Peru that can be bent like plastic. Screen projectors used in Egyptian temples, with movement and sound simulation. Artifacts and buildings left on the moon– Chinese records speak of trips to the moon. The 'Black Knight' satellite– ancient races talked about putting up satellites. An ancient underground complex discovered in Southern California that included star charts on aluminum sheets. Micro-techology found in Russia, with some objects as small as 1/1000th of an inch. Maps of the ancient world that showed Antarctica as free of ice and populated.
Gray also spoke about his challenge to the work of Zecharia Sitchin, who contends that an ET race, the Annunaki, visited Earth from the planet Nibiru. Sitchin's translations of Sumerian cuneiform does not match the accepted dictionary meanings, he commented.
Biography:
International explorer, archaeologist and author Jonathan Gray has traveled the world to gather data on ancient mysteries. Over the past 37 years, he has penetrated some largely unexplored areas, including parts of the Amazon headwaters. He has also led expeditions to the bottom of the sea and to remote mountain and desert regions of the world.
In the course of his explorations, Jonathan began to uncover evidence of surprising out of place artifacts. According to what he was taught at school, these were impossible! They simply should not exist! And these were not just isolated anomalies. There was a global pattern to them, suggesting an ancient worldwide civilization of astonishing proportions.
His book, Dead Men's Secrets, catalogues more than a thousand pieces of evidence of a lost super science and technology, including dozens of achievements ahead of our day.
The Book Archaelogist Jonathan Gray stumbled upon something that shocked him: a whole cache of "out of place" items that should not exist. And they weren't just in one place. There was a global pattern to them. This pattern showed a lost science and technology. This content was of tremendous value.
MACHINERY: Did you know that the Egyptians bored into granite rock with drills that turned 500 times faster than modern power drills?
ANCIENT AMERICA: Did you know that a Chinese mapping survey of North America in 2200 BC described a sunrise over the Grand Canyon, black opals and gold nuggets in Nevada, and seals frolicking in San Francisco Bay?
Dead Men's Secrets is an assemblage of astonishing discoveries… A lost super science emerges from the sea floor, jungle and desert sands of our planet… over 1,000 forgotten secrets. See this world as you've never seen it before.
The Alaskan mound graveyard of gigantic human remains
Well-known American zoologist, Ivan T. Sanderson, told a peculiar story about a letter he accepted from Alan Makshir, an engineer assigned on the Aleutian Island of Shemya during World War II.
During the construction of a landing field, his working crew demolished a group of hills and apparently, underneath some sedimentary layers, they found human remains. The Alaskan heap was actually a burial ground of enormous human remains that included skulls and log leg bones.
The skull was around 22 inches from base to crown and 11 inches wide. A common adult's skull measures about 8 inches from back to front, thus, this implies such a large cranium belonged to an immense creature.
The ancient titans had a double row of teeth and unduly flatheads.
Moreover, every skull had an accurate cut hole in its upper part, which is part of the process called trepanning. The tradition of compressing the skull of an infant in order for it to grow in an elongated shape was a usual procedure for the ancient Peruvians, the Mayas, and the Flathead Indians of Montana.
Mr. Sanderson made effort to collect additional evidence when he later received another letter which confirmed his doubts. Both letters suggested that the Smithsonian Institution gathered the mysterious remains but nothing further was explained.
Sanderson is sure this Institution has the evidence in their hands but he is curious why they don't publish their information. He asked: "Is it that these people cannot face rewriting all the textbooks?"
The Alchemy and Artistry of Fayum Portraits
Her rapt, black eyes gaze out, as though she is waiting for one to ask her a question. Her necklace –a braid twirled and tucked in the crown of her head–hints in a noble position, as does her purple tunic, dangling earrings, and pile of necklaces dappled with pearls and gemstones. It's been several millennia, therefore flecks of paint have sloughed off of the lifelike portrait, which has been fastened to her body during Egypt's Coptic period, nearly 2,000 years ago.
Images such as this one, at the selection of the National Gallery of Art, are usually described as precursors to Western portraiture and also have captivated researchers for years. Known as Fayum paintings, for the Egyptian site where they have been excavated, they straddle both Greco-Roman and Egyptian styles. A thousand or so of those beguiling two-dimensional busts are currently in museums across the globe, where scientists have peppered them with queries and high tech imaging research.
To decode an early artist's process or substances, researchers frequently analyze small samples they have scraped out of a painting, which may show, for example, the makeup of wax and paints and the sequence in which they had been applied. Researchers now frequently attempt using less-invasive, but still quite comprehensive, approaches. Last winter, for instance, a team in Northwestern enlisted a machine-learning algorithm to monitor brush strokes and establish the roots of different pigments on one of those paintings. Now, a group at the University of California, Los Angeles (UCLA) and the National Gallery has employed a hybrid of three methods to find out more about this painting's composition–and the civilization which produced it.
In a paper recently published in Nature Scientific Reports, the researchers explain how they used hyperspectral diffuse reflectance, luminescence, and X-ray fluorescence together, which enabled them to analyze everything from minerals in the pigments to underdrawing which was concealed in the finished edition. This approach also helped them connect artistic"production technology [and] other ancient 'industries' and practices, such as mining, metallurgy, pottery, dyeing, pharmacopeia and alchemy," Ioanna Kakoulli, a materials scientist at UCLA, and also one of the study's lead authors, said in a statement.
"The decoration of [the figure's] garment is an excellent example of craftsmanship in real life being reflected within the painting," said UCLA graduate student and coauthor Roxanne Radpour in a statement.  The Stockholm Papyrus, an alchemy compendium composed in Greek in A.D. 300, holds more than 150 recipes, for example a handful for mixing up batches of madder dye, that was extracted from roots and utilized to imbue fabrics using a purple-red colour, such as the one visible on this particular figure's dress. Just like it, in fact. Her posthumous portrait has been painted using the exact same assortment of pigment which coloured a garment she might have worn in life.
The lady's individuality and life narrative have slipped into the sands of time, but it does not mean there still isn't a lot to learn about her.
Gobekli Tepe | The Mysterious Temple More Than 10.000 years Old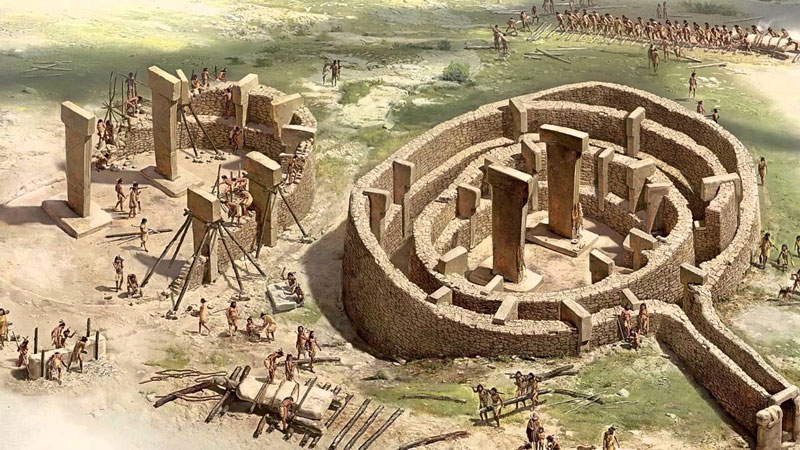 A place in southeastern Turkey, on the Syrian border, has been amazed in recent years by archaeological discoveries that change the way we look at people who lived 10,000 years ago. In the Gobekli Tepe site, stone poles of tens of weight were found in large circles and sculpted. And everything dates back 11,500 years ago, the sanctuary being, apparently, built by hunters who did not know the wheel, neither the writing, nor the pottery, nor did they practice agriculture. Far from being a myth, Gobekli Tepe has been accepted by specialists, but its significance raises controversy, and many challenge the radical changes proposed by new discoveries.
Gobekli Tepe in Turkey is the oldest architectural complex on the planet. Surprisingly, it began to be carefully researched barely 20 years ago.
It can hardly be categorized in any way, for a simple reason: no one has any idea who built it, how – and especially – why. In this article we present some fascinating things about Gobekli Tepe.
As much as we would have liked to come up with answers in this article, the Gobekli Tepe topic actually forced us to ask more questions about the history we learned at school.
In S-E Turkey, a few tens of km from the Syrian border and near a town called Sanliurfa, a hill has attracted archaeologists since the '70s, mostly by a large amount of limestone found there.
In 1994, when a German archaeologist, Klaus Schmidt was amazed at a large number of pieces of crema found and he realized that in ancient times there were many people working on building something big.
He decided to start digging and the first stone poles with bas-reliefs that showcased different animals: foxes, scorpions, savages, and birds.
From here, a stunning story has begun, and we now know from geomagnetic research that there are 20 circles made up of stone poles that reach more than 5 meters high and 15 tonnes in weight.
The striking aspect is that it all dates from 10,000 to 11,500 years ago, thousands of years before Stonehenge, the Egyptian Pyramids, and the invention of writing.
Schmidt, who discovered the site and supervised the work for nearly 20 years, died in the summer of 2014, but his theories questioned how we see the beginnings of complex civilizations that could have been spurred by religion, and not the economy.
The Official Version of Archeology.
According to the archaeologists, the population of Gobekli Tepe was organized into groups of hundreds of hunters that mainly caught Antilopinae. These people built a monument believed to be 6,500 years older than Stonehenge and about 7,000 years older than the Egyptian pyramids.
Created by unknown builders, Gobekli Tepe is proof of the existence of a sophisticated society on Earth, 12,000 years ago. But how many thousands of years have these people been on the planet when they created Gobekli Tepe? There is still no answer to this question.
Gobekli Tepe is at a distance of nearly 10 kilometers from Urfa, an ancient city in Turkey. It is one of the most important archaeological sites on the planet, in the vicinity of the mythological "Gardens of Eden" and near the parallel of 33 degrees.
Until today, the experts have not discovered who has built this wonderful massive complex, which seems from another world. Gobekli Tepe is considered the first temple on earth. A large part of the complex is still underground.
Gobekli Tepe, a 12,000-year-old riddle
Who built it has made colossal efforts to ensure that the monument will survive for thousands of years. The builders used a simple as an idea method, so exhausting to put into practice. They stamped everything with the ground …
Gobekli Tepe was first researched – and then totally ignored – by anthropologists at the University of Chicago and the University of Istanbul in the 1960s. Researchers thought the mound was just an abandoned medieval cemetery.
Archaeologists have spoken, including the theory that Gobekli Tepe was a place of burial. However, there was no tomb found in the area.
Gobekli Tepe is sometimes called "Stonehenge of the Desert". The complex consists of a series of oval and circular stone structures built on the top of a hill.
Archaeologists believe that the whole complex was built 12,000 years ago. However, they have no explanation for the existence of an advanced culture in Upper Mesopotamia at the end of the last ice age.
It is supposed that, at that time, the planet was inhabited by hunter-gatherer communities trying to survive in very severe climatic conditions.
Since the rediscovery of the Gobekli Tepe complex (after nearly 50 years of abandonment), the first site excavations were made by Professor Klaus Schmidt of the German Institute of Archeology in 1995.
Until now, excavation and geomagnetic analysis results have shown that there are at least 20 temples – circular structures – in the area.
All stone pillars at Gobekli Tepe are built in the shape of the letter "T". Monoliths have heights between 3 and 6 meters and weigh 60 tons each.
Even with today's technology, it would be very difficult to move and assemble these monoliths.
Researchers have calculated that about 500 people would have needed to handle these enormous posts.
But in a world of chaos where every "semi-savage" individual struggled to survive, how – and by whom – were these people organized?
It remains a total mystery as to how the ancient people could carry out such a monumental project with all that this effort implied: carving the stone, finishing the strands, transporting and assembling them, and later closing the complex with the earth.
It seems absurd and frustrating, but we do not know anything else about complexity. We only know: someone from the night of history built it, and then buried it.
Archaeologists claim that, in order to complete the Gobekli Tepe project, there were stoned craftsmen, people with knowledge of the transport of heavyweights, planners, and priests, who carried out and supervised rituals.
What kind of rituals? Here's another unanswered question. This whole system of organization exists 12,000 years ago – proves the Gobekli Tepe complex.
The builders of this magnificent place must have been part of an advanced society with complex hierarchical relationships, but about which we do not know anything today. The theory has been advanced that the "T" -like pillars are stylized human beings, especially since they each depict human extremities (hands, feet).
Besides, there were several strange signs carved on the pillars. These are foxes, snakes, boars, cranes and wild ducks. They appear to be real or mythological animals and stars and planets.
What's stranger is that some of the artifacts found in the area are very much like ancient objects in South America (Peru, Bolivia), Asia (Indonesia), and Easter Island.
Gobekli Tepe was built very … strange. The first pillars were seated on a straight square platform. A mound of earth was built over them, over which other structures were laid, for two thousand years.
The final layer, which covered everything like a capsule, supports the last stone structures.
These were made more rudimentary than those buried in the earth. As if the first people were more technologically advanced than those who built the last stage of the Gobekli Tepe project.
The irregular, puzzle-shaped walls of blocks weighing more than 20 tons each have a unique style that was thought to be specific to lost civilizations in South America.
The irregular, puzzle-shaped walls of blocks weighing more than 20 tons each have a unique style that was thought to be specific to lost civilizations in South America.
This until similar structures began to be observed in Italy, Easter Island, Egypt, but also in Greece, Albania, Saudi Arabia and Japan.
Even if they were built thousands of years and thousands of miles away, the special architectural pattern that all these walls follow is the same, unmistakable.
It is also the most difficult in the world. And that's because each stone place has to be carved with great precision so that all the pieces fit perfectly, in an absolutely unique layout.
Laboratory tests have shown that such walls resist even the most powerful earthquakes. Moreover, it has been found that if they are subject to seismic shocks, the walls "gather," all the pieces behave as a unitary, organic ensemble.
The need to believe in the gods was before anything else
Schmidt's theory overthrow the rooted theory that first people became sedentary, specialized in agriculture, organized in complex settlements and only then built sanctuaries.
Gobekli Tepe would be a proof that the need to believe in gods and divine them was before agriculture and people with rudimentary means built fantastic efforts on the complex.
An agricultural revolution has changed everything. 10,000 years ago there was a transition from "wild" to "domesticated" cereals, grown in an organized and cared way. In wild cereals, the production was small because the beans shriveled from the spice immediately after baking and the harvest were impossible.
Organically harvested cereals are possible and farmers could take advantage of their work.
After the end of the last ice age, over 11,000 years ago, it is believed that people "domesticated" the animals and plants and settled in villages that had more than 500 inhabitants. After these developments, religion emerged from the need for social cohesion.
Gobekli Tepe proposes a completely different theory: immediately after the climatic conditions improved, people felt the need to create the first forms of spirituality and built sanctuaries.
According to the theory, from the need to nourish the people who came to the sanctuary began to domesticate the animals and create an organized agriculture.
The theory of the first temple built by hunters-martyrs was challenged, the most vocal being a Canadian anthropologist on the E.B. Banning, who says that 11 years ago, Gobekli Tepe was a covered home site where people held magic and religious rituals.
Banning says that the people of those times did not need a special temple because they could combine the sacred and the profane in the place where they took their daily lives. He also says that it is very possible for the inhabitants of Gobekli Tepe to have practiced agriculture at an early stage, so they had a safe source of food.
It is impossible to reconcile the two theories and so few traces of ten millennia ago that certainties cannot be found.
But it is certain that the monumental rings are 6,000 years older than Stonehenge and 7,000 than the pyramids. And although the "father" of the site, Klaus Schmidt, died this summer, digging is continued by Lee Clare, who says the site is more fascinating because it puts more questions than answers. "Some had 30, 40 or 50 tons, probably carrying them on the logs.
Clare says that those who made these constructions were specialists of their time and had to be fed, so domestic animals and the cultivation of cereals must have been a consequence of what is happening in the sanctuary.
References: