Ruins Of Ancient City Found In Antarctica?
A California TV crew missing since November 2002, a video they left behind and a mission by U.S. Navy SEALs are the key elements in a story that claims extensive ancient ruins have been found under the ice of Antarctica. That's according to archaeologist and adventurer Jonathan Gray of World Education Research Ltd in his free newsletter Archaeology News Flash.
A spokesman for the company is reported to have said at the time that "The U.S. government said it will seek to block the airing of a video found by Navy rescuers in Antarctica that purportedly reveals that a massive archaeological dig is underway two miles (3,200 meters) beneath the ice."
"The AtlantisTV production crew that shot the video is still missing." reports Gray.
Attorneys for the Beverly Hills-based AtlantisTV stressed at the time that the company's primary concern was for the safety and welfare of the crew.
But they stated they would vigorously oppose any attempts to censor material that is clearly in the public interest and public domain.
The icy continent of Antarctica, they pointed out, belongs to no nation. The U.S. has no jurisdiction there."
McMurdo Station Antarctica
"That video is the property of AtlantisTV, said a company spokesman, We shot it. It's ours. And as soon as it is rightfully restored to us, were going to air it. End of story."
WATCHED BY NAVY OFFICERS
"Two Navy officers who saw the tape described its contents to National Science Foundation (NSF) researchers upon their return to the Amundsen-Scott Station at the South Pole," asserts Gray in his recent newsletter.
Amundsen-Scott Station
So reported sources at McMurdo Station, the main American base in Antarctica."
They said it showed spectacular ruins and other things they couldn't go into, an NSF scientist reported.
"We chalked it up to some kind of subzero-induced delusion," he said, "until a helicopter full of Navy SEALs landed and picked them up and took off. Now, were scratching our heads."
Officials of the U.S. Naval Support Task Force in Antarctica predictably denied the story or the possession of any video shot by the missing AtlantisTV crew.
Navy sources said they found the video in an abandoned supply dump 100 miles (160 kilometers) west of Vokstok Station.
Are you keeping up with the astonishing secrets of our past?
At least four YouTube posters think there just may be a lost city on the continent of Antarctica.
A team of researchers are claiming that they have discovered three ancient pyramids on the ice covered continent of Antarctica. Exact details are sketchy, but the team have released three intriguing pictures of their discovery. according to Stephen Hannard ADGUK
The international team comprises researchers from the United States, and several other, are from various European countries. Two of the huge pyramid structures were found approximately 10 miles inland, the third one not far from the coastline, clearly visible from ocean.
The team are currently planning an expedition to reach one of the pyramids to find out if it is a natural or an artificial structure. No further Details have been reported from the team as of 29 August 2012. More news is pending. Im undecided on this one guys until further confirmation, so as always you decide.
Explorer and archaeologist Jonathan Gray discussed discoveries that demonstrate advanced ancient technology with George Noory on Coast To Coast A.M. Because such artifacts don't match current academic beliefs they are often suppressed, with evidence destroyed or hidden, he said, citing the Smithsonian Institution, and countries such as Peru, America, Israel, New Zealand, France, and Australia as being involved in covering-up evidence.
Some of the suppressed ancient discoveries he highlighted:
A kind of glassware in Egypt and Peru that can be bent like plastic.
Screen projectors used in Egyptian temples, with movement and sound simulation.
Artifacts and buildings left on the moon– Chinese records speak of trips to the moon.
The 'Black Knight' satellite– ancient races talked about putting up satellites.
An ancient underground complex discovered in Southern California that included star charts on aluminum sheets.
Micro-techology found in Russia, with some objects as small as 1/1000th of an inch.
Maps of the ancient world that showed Antarctica as free of ice and populated.
Gray also spoke about his challenge to the work of Zecharia Sitchin, who contends that an ET race, the Annunaki, visited Earth from the planet Nibiru. Sitchin's translations of Sumerian cuneiform does not match the accepted dictionary meanings, he commented.
Biography:
International explorer, archaeologist and author Jonathan Gray has traveled the world to gather data on ancient mysteries. Over the past 37 years, he has penetrated some largely unexplored areas, including parts of the Amazon headwaters. He has also led expeditions to the bottom of the sea and to remote mountain and desert regions of the world.
In the course of his explorations, Jonathan began to uncover evidence of surprising out of place artifacts. According to what he was taught at school, these were impossible! They simply should not exist! And these were not just isolated anomalies. There was a global pattern to them, suggesting an ancient worldwide civilization of astonishing proportions.
His book, Dead Men's Secrets, catalogues more than a thousand pieces of evidence of a lost super science and technology, including dozens of achievements ahead of our day.
The Book
Archaelogist Jonathan Gray stumbled upon something that shocked him: a whole cache of "out of place" items that should not exist. And they weren't just in one place. There was a global pattern to them. This pattern showed a lost science and technology. This content was of tremendous value.
MACHINERY: Did you know that the Egyptians bored into granite rock with drills that turned 500 times faster than modern power drills?
ANCIENT AMERICA: Did you know that a Chinese mapping survey of North America in 2200 BC described a sunrise over the Grand Canyon, black opals and gold nuggets in Nevada, and seals frolicking in San Francisco Bay?
Dead Men's Secrets is an assemblage of astonishing discoveries… A lost super science emerges from the sea floor, jungle and desert sands of our planet… over 1,000 forgotten secrets. See this world as you've never seen it before.
(Via Beforeitsnews)
Was an Angel filmed over a house extinguished by firefighters?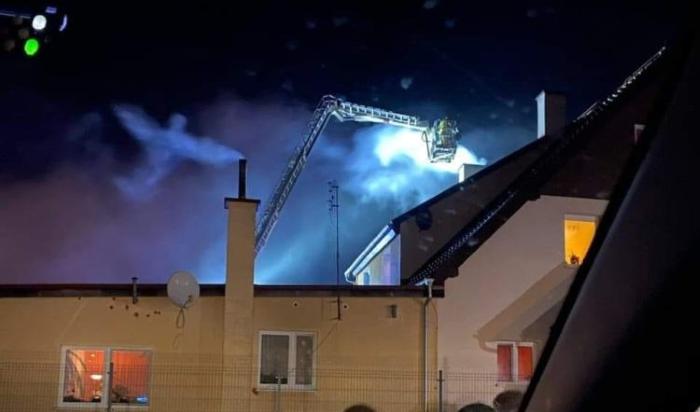 Having appeared on the network, this photo caused a lot of comments – from the fact that it really was a Guardian Angel who guarded the firefighters during work, to those who assured that all this was just an illusion, no more complicated than a cloud in the shape of a lamb.
At the end of December 2020, while extinguishing a fire in the Polish village of Maldyty, an Angel hovered over the firemen, or at least something like an Angel. This photo appeared on the Facebook page of the Maldyta fire station and generated many comments.
"This is something that was formed during the last extinguishing of the fire from the ignition of soot in the chimney in Maldyty. Write in the comments your thoughts about it," was written under the picture on their FB page.
Poles are known to be very religious and there are plenty of people willing to comment on the picture.
Many indeed believed that the Angel oversaw the work of the firemen and, perhaps, even helped them to extinguish the fire. But there were also enough of those who believed that it was all just a random silhouette between clouds in the sky and pareidolia (illusion). The photo was taken by an unspecified person sitting in the cab of a car parked next to the burning house.
"Christians have always believed in the existence of guardian spirits. Some call them Guardian Angels. The Bible confirms their existence," Pastor Leszek Kozheniecki told reporters, commenting on this photo.
By the way, Kozhenetskiy is a well-known Polish pastor who believes in the existence of supernatural beings.
Three years ago, he told the press that he had driven out the evil spirit that settled in his house in Turza Wielka. One of the firefighters who worked on the extinguishing of the house that night said:
"If we have this kind of protection watching over us, I am pretty calm about safety during work."
The skeleton of a mysterious "prehistoric beast" found in Antarctica?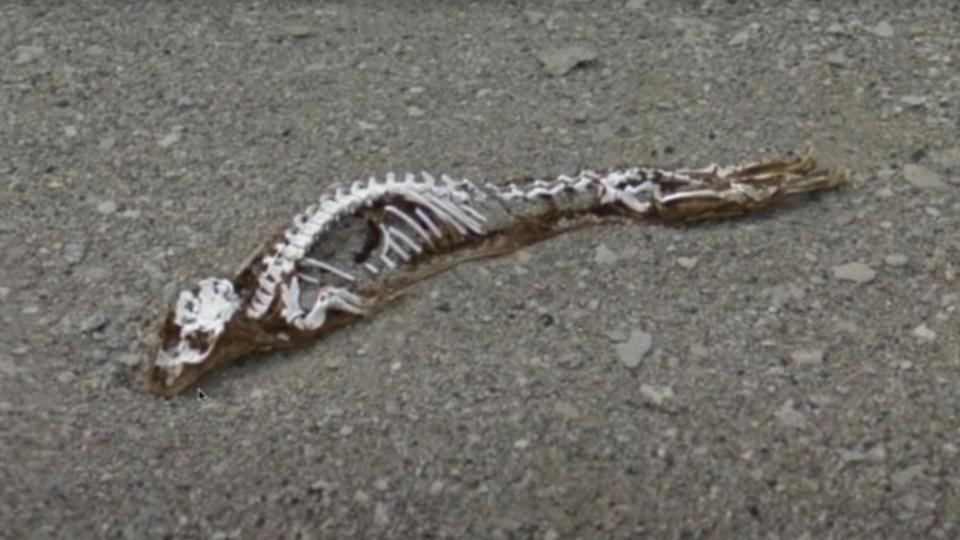 Blogger MrMBB333 shared an image of a "mysterious creature." It was discovered 80 kilometers off the coast of Antarctica in a remote region of Antarctica, according to the Sun.
According to the blogger, the pictures are screenshots from the Google Earth service, which were sent to him by his subscriber and conspiracy theorist under the nickname BONKERS.
They estimate the length of the remains at 3.6-6 meters.I don't know if it was frozen for thousands of years or appeared recently,- the blogger said.
MrMBB333 believes the skeleton belonged to a dinosaur. He came to this conclusion by examining the front and hind limbs of the creature. His subscribers are sure that these are the remains of a seal.
A google search for seal skeleton images shows a pretty good match,- one of them wrote.
Other subscribers call the skeleton "suspicious". They explain that "seals have no hind legs." Another wrote that the remains belonged to an alligator or some other reptile.
In the comments, conspiracy theorists also expressed their opinion that "Antarctica is full of unexplained phenomena that may be related to ancient aliens."
It is also believed that most of the "discoveries" made by users of Google Earth can be explained by the unusual shape of ice or other natural phenomena.
MrMBB333 uploaded his investigation video to YouTube on January 5. Since then, the video has been watched more than 200,000 times.
150 thousand years old Metal pipes in Tibet, contradict the official history
It is said that there is a mountain in Tibet that contains a network of special formations that extend to the nearest lake. Many researchers believe that this is an artificial pipeline system. But, strangely enough, its origin dates back to the era of the Neanderthals.
This mountain rises about 40 km from the city of Dalingha in the Tibetan Autonomous Region. It is called Baigongshan (White Mountain). In the world, it is better known for the wonderful formations that are in its heart and wide surroundings – they are called the Baigong pipes.
This miracle has been the subject of controversial discussions for many years. Some believe they are a natural formation, but there are many who are sure that someone built them in the distant past to drain the lake. They base their arguments on research results, but there is a catch; the mysterious aqueduct should have appeared 150 thousand years ago. Traces of settlements around the mountain are not even older than 30 thousand years. So who could build metal pipes inside an uninhabited mountain?
There are three caves at the foot of Mount Baigongshan, two of them have already collapsed and are inaccessible, but the largest of them has since been the target of many tourists who come to the area.
The cave looks like it was artificially created by someone. Visibility is enhanced by a massive pipe about forty centimeters in diameter that sticks out of the stone.
Another apparently hollow pipe of the same diameter ran into the cave from the top of the mountain. Another one came from the bottom of the cave somewhere below.
At the entrance to the cave, you can see several other pipes with a diameter of 10 to 40 cm. All this gives the impression of the remains of some ancient system or mechanism. About 80 meters from the cave, Lake Toson sparkles with a large number of scattered pipes on the beach.
They stretch from east to west and have a diameter of 2 to 4.5 cm, these archaeological finds are described by the Chinese scientist Liu-Shaolin:
The unmistakable rust color indicates that they are made of metal. And their craftsmanship showcases advanced attachment techniques. Who could have built such a complex pipe system? Only one who knew well what he was doing and why.
The version that such an engineering miracle was created by the Chinese disappears immediately. The inhabitants of the Middle Kingdom could not build something like that 150 thousand years ago. As the authors of many amazing inventions, bureaucracy became one of them. Therefore, it is simply impossible to imagine that such a large-scale and, without exaggeration, a great construction project was reflected in any ancient Chinese source. Any emperor, during whose reign this happened, would make sure that his great deed was not forgotten by descendants.
Baigong tubes are another unsolved mystery in human history. This find once again refutes the facts of the official history. Where is the true and where is the misconception? Maybe there will be people among the readers who will logically explain the origin of the ancient aqueduct.