Ruins of Aleister Crowley's Cursed House on Loch Ness for Sale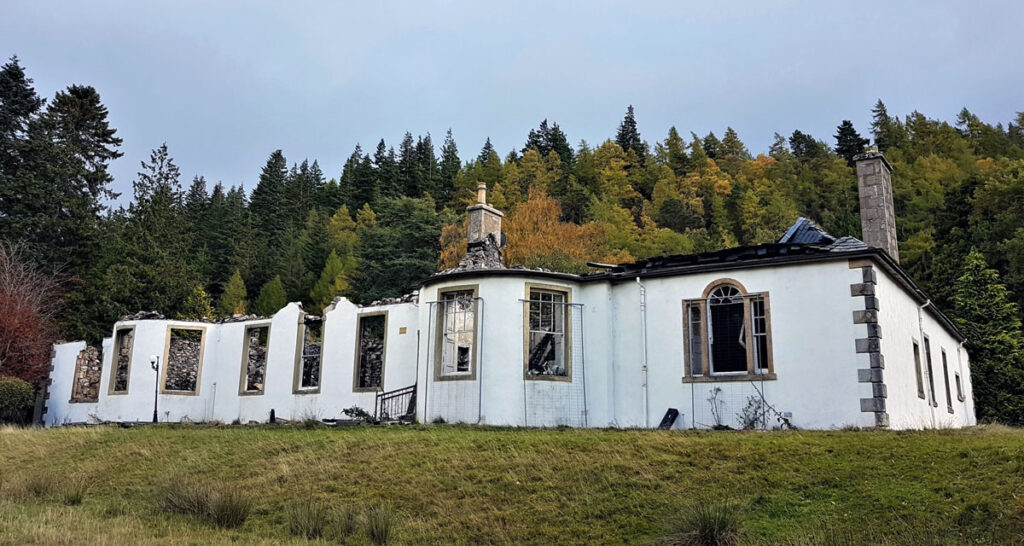 You can buy the ruins of Boleskine House, where "the wickedest man in the world" carried out black magic rituals for years.

The ruins of Boleskine House. Photo by Mark Wallbank
The BBC reports that Boleskine House, former home of occultist Aleister Crowley, and later owned by Led Zeppelin guitarist Jimmy Page, is for sale. After a fire tore through the manor in 2015, though, there isn't much left.
"The selling agent Galbraiths said echoes of its former splendour are all that remain of Boleskine House," the BBC article says, "but added that there is an opportunity to restore it into an outstanding property."
Aleister Crowley purchased Boleskine for the purpose of conducting a ritual that required very specific architecture. "The first essential is a house in a more or less secluded situation," Crowley explained. "There should be a door opening to the north from the room of which you make your oratory. Outside this door, you construct a terrace covered with fine river sand. This ends in a 'lodge' where the spirits may congregate."
Boleskine was the perfect location.
"The demons and evil forces had congregated round me so thickly that they were shutting off the light," Crowley wrote of his experiments there. "It was a comforting situation. There could be no more doubt of the efficiency of the operation."
Some believe those evil forces still linger.

Aleister Crowley in ceremonial dress
"At Boleskine, Crowley was said to have summoned 115 spirits, including Lucifer," the BBC wrote in an article about a film crew who experienced unexplained phenomena there while filming a documentary about Crowley. "The occultist also embarked on a complicated, six-month 'power-giving' black magic ceremony called Abra Melin. But he was interrupted in the middle of the ritual by his grand master, the head of the Golden Dawn, who called him to Paris. It is claimed Crowley didn't have time to banish the spirits he brought to Boleskine."
"The Rites of Abramelin the Mage require prior months of preparation, celibacy and abstinence from alcohol and include, among much else, 'the summoning of the 12 Kings and Dukes of Hell,' the Scottish Daily Mail wrote. "Crowley's subsequent orgiastic ceremonies and 'sacraments' are too disgusting to detail in a family newspaper. But, fatefully, he was interrupted. Amidst all his chanting, sodomy and the sacrifice of terrified cats and goats, the sorcerer was called away to Paris – and Boleskine folk believe he never got round to banishing the dreadful forces he had summoned to the house."
While Crowley's activities certainly didn't help, Boleskine already had a bizarre reputation long before the "Great Beast" conducted his rituals there.
The Boleskine Kirk once stood on the shady shore of Scotland's Loch Ness where the manor is now. If the land is cursed, it may have begun with the church.
According to historical writings, an early minister of the parish had to fend off a pesky wizard who was reanimating the dead.

Boleskine cemetery overlooking Loch Ness
In An Account of the Kirk of Boleskine, Alan Dawson wrote that "Thomas Houston (1648 -1705)
was noted as having to contend with a notorious wizard – AN CRUINAIR FRISEAL (the Fraser Crowner or maker of circles, as wizards do) who had raised the bodies in the churchyard and Thomas had to make haste to lay them to rest again."
Sometime later the church is said to have burned to the ground during a sermon, killing everyone inside.
When a bishop visited the old kirk in 1762, he wrote that it was "the poorest edifice of any kind I ever
looked upon as is also the Manse. The Church-yard is quite open without any walls where you see plenty of human bones above ground and the Floor of the Kirk is overspread with them…..Dogs are seen carrying away the human bones in their teeth.
Soon after, Colonel Archibald Fraser built Boleskine House on the charred remains of the church.
"Colonel Fraser was a firm Jacobite," The Scottish Daily Mail wrote, "but all the land surrounding his pocket had belonged to Simon Fraser, the 11th Lord Lovat, who flip-flopped once too often on the Stuart cause and (after the failure of the '45) was the last person in Britain to be executed by beheading. Boleskine House, then, was the equivalent of two jabbed fingers at the lake Lovat."
The house remained in the Fraser family until 1899 when they sold it to then 23-year-old Aleister Crowley. Several tragedies took place during his time there.
"The black magician also took pleasure in the suffering that his sinister practices apparently brought to local villagers," The Guardian wrote when a piece of the land was put up for sale in 2009. "He bragged about how an employee of the Boleskine estate got drunk one night – after 20 years of abstinence – and attempted to kill his wife and children. The family of Crowley's lodge keeper, Hugh Gillies, also suffered a series of tragedies. First his 10-year-old daughter died suddenly at her school desk and a year later his 15-month-old son died of convulsions on his mother's knee."
Crowley sold Boleskine House in 1913.

Boleskine House in 1912
In 1960, then owner Major Edward Grant killed himself with a shotgun in Crowley's former bedroom. The housekeeper, 78-year-old Anna MacLaren, had a premonition of the suicide. She had been alone picking vegetables in the garden when she heard a gunshot from the house. She went into the house, but there was no one there. Seven days later, though, at about the same time of day, she found her boss dead.
"I went in and found him with most of his head blown off," she recalled. "The family dog was playing with a bone. Police told me later the bone was part of the major's skull."
A young couple later moved in. The wife was blind, and within a few months her husband abandoned her there.
Filmmaker Kenneth Anger spent the summer of 1969 in the house. During that time he witnessed a heavy painting float off the wall and come to rest on the floor.
Jimmy Page bought the house the following year.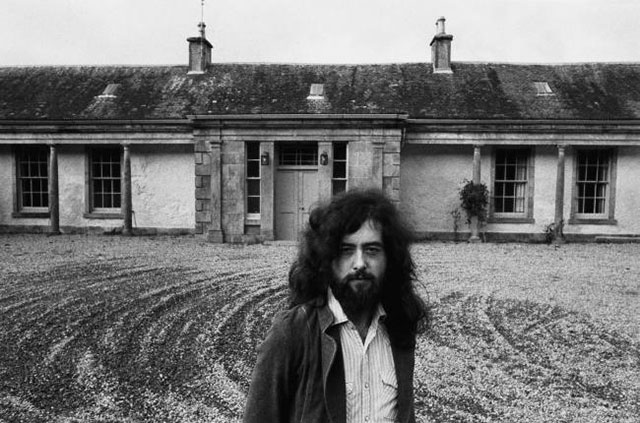 Jimmy Page at Boleskine House in 1973
In a January 1975 Rolling Stone interview, the interviewer said, "You live in Aleister Crowley's home. Crowley was a poet and magician at the turn of the century and was notorious for his black magic rites."
Page was fascinated by Crowley, but he was interested in the house for the rest of its history, as well.
"Strange things have happened in that house that had nothing to do with Crowley," Page responded in the interview. "The bad vibes were already there."
Page, who spent no more than 6 weeks at Boleskine in the 20 years he owned it, asked his childhood friend Malcolm Dent to move in and restore it.
"Jimmy Page caught me at a time in my life when I wasn't doing a great deal and asked me to come up and run the place," Dent told the Inverness Courier in 2006. "I never did establish why he fixed on me."
Dent lived at Boleskine for a long time and raised his family there.
"All the main rooms look out across the loch and you're 300 feet up so you have some dramatic views," he said. "We loved living there. It was a great house to raise children in and they loved it there, in spite of its history and in spite of the peculiar happenings that went on there."
Dent knew nothing of Boleskine's history or Crowley when he moved in.
"I arrived a total skeptic, to a degree I still am, but there are things at the house you can't explain," he said.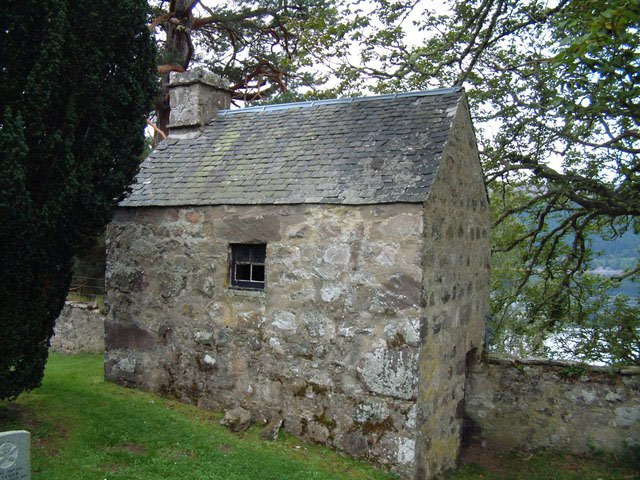 Mortuary house in the Boleskine cemetery
"A girl who stayed for the night awoke screaming that she had been attacked 'by some kind of devil,'" the Scottish Daily Mail writes. "Another night, Dent was roused by what sounded like a wild animal clawing and snorting by his bedroom door: he dared not open it till daybreak. There was nothing there, 'but whatever was there was pure evil.'"
Doors would suddenly spring open as if someone was running through them, and slam in the middle of the night, and rugs would be found piled up the following morning.
"We just used to say that was Aleister doing his thing," Dent said.
"One of the most famous stories is that the head of Simon Lord Lovat, beheaded for treason following the 1745 Jacobite rebellion, can be heard rolling around the floor at Boleskine," the Inverness Courier wrote, "even though the house dates only from the 1760s."
"At the time of his death, he was supposedly casting his mind back to the heart of the Highlands," Dent explained. "Just above us is Errogie, which is the geographical centre of the Highlands, and the nearest consecrated ground is Boleskine."
Another story that Dent says everyone loves involves seven chairs Page bought from the Cafe Royal in London.
"Jimmy got those chairs specifically because one of them had Aleister Crowley's name on it," Dent said. "Each of the chairs belonged to a famous person and had a nameplate on the back and front – Marie Lloyd, Billy Butlin, James Agate, Ruldolph Valentino, William Orpen and Jacob Epstein."
Dent says Crowley's chair was always placed at the head of the table. But, after the chairs underwent repairs, they kept finding Crowley's chair switched with Marie Lloyd's.
"The kids couldn't have done it and we didn't know why this was happening," Dent said. "Then I realized the guy who did the repairs didn't know which plaque went with which chair and hadn't put them back on the right ones."
But, according to Dent, the strangest thing about the house may have been its visitors.
"I had them from every corner of the world," he said. "A lot of them were nutters. A lot of them were downright dangerous lunatics. They will still be turning up today. The house is on the map as an occult centre and you're not going to get rid of Crowley's legacy that easily."
Jimmy Page sold Boleskine to Ronald and Annette MacGillivray in 1992. The couple turned it into a guest house. They despised any mention of Crowley, and insisted nothing unusual ever happened there. Locals say the MacGillivrays tried to erase Crowley's presence, whitewashing the interior and covering the stone floor with carpet to hide the magical symbols painted there. Their efforts failed several times, villagers claimed, alleging the symbols would reappear as the paint dried.
While filming a 2000 BBC documentary called The Other Loch Ness Monster, a priest and minister blessed the project, and clerics were called in to keep the crew safe…just in case. Still, they experienced their share of unexplained happenings.
"The film crew working on the BBC documentary were attacked by a plague of beetles, suffered repeated equipment failures and experienced strangely similar nightmares about Crowley," the Sunday Mail wrote.
Photos taken at the graveyard just down the hill (where a rumored tunnel from the house was said to lead) were ruined by "a strange circular halo of fog" according to producer Garry Grant. "It wasn't lens flare or a fault in the camera," he said. "I'd never seen anything like it before."
In another incident, lights exploded, fuses burned out and camera stands fell over during a late-night shoot in the graveyard, showering the crew in glass. One crew member's phone kept ringing intermittently, while another's alarm clock would go off at the same time every day.
The MacGillivrays sold Boleskine in 2002 to new Dutch owners who used it as a vacation home. They were not there on December 23, 2015 when a fire scorched Boleskine, leaving nothing but the external walls by the time firefighters arrived. They determined the fire began in the kitchen, but the cause was never identified.
Today, the burned out ruins are all that remain of Boleskine House. The shell of Aleister Crowley's unholy home and nearly 23 acres of cursed land on Loch Ness can be yours for £510,000.
Dark Horoscope: What Kind Of Demon Are You According To Your Zodiac Sign?
It turns out that in the horoscope you can find out what kind of demon you are by your zodiac sign. Yes, according to esotericists, each of us has our own dark side, which obeys a certain representative of the underworld. And by the way, it doesn't always hurt us. Sometimes the demon's patronage even helps. 
If you want to know what kind of demon you are by your zodiac sign , then look for yourself in the list below. By the way, the dark horoscope begins unconventionally with Capricorn.
Capricorn – demon Dagdarion
It is believed that Capricorn is the most demonic sign of the zodiac due to its external resemblance to the appearance of Satan or Baphomet. Dagdarion, on the other hand, may look like a toothy fish, a satyr or a devil. This is a demon of coldness and indifference. He gives Capricorn strength of character and the ability to resist other people's emotions, helps to reach career heights and find useful contacts. But from a negative point of view, Dagdarion can make Capricorns into insensitive, proud, arrogant, calculating manipulative people.
Aquarius – the demon Bechemiron
Bechemiron is not one, but many demons, similar to hippos, can also take the form of a cat, dog, wolf or fox. Such a patron demon brings clairvoyance, prophetic dreams and strong intuition to his charges. However, he can also plunge a person into groundless fantasies and illusions. Therefore, it is so important for Aquarius not to lose touch with reality.
Pisces – demon Neshemiron
Neshemiron looks like a skeleton entwined with snakes, or a mermaid. It helps Pisces to better understand themselves and feel other people. Empty dreams, irresponsibility and spinelessness are the vices with which Neshemiron endows his wards. A person can waste his whole life, being lazy and considering himself an underestimated society.
Aries – demon Byriron
Byriron is the creation of Samael, the prince of the fallen angels. This is a child of fire, who has an active, cruel and fearless character. What is the use of it for Aries? It raises their fighting spirit and endows them with determination, helps them become a leader, an insightful and firm person. But the patronage of Byriron makes Aries too aggressive, power-hungry and despotic. Therefore, spiritual practices, yoga and meditation are recommended for representatives of this sign in order to learn how to pacify a storm of emotions in themselves. In addition, Byriron makes Aries show cowardice and "hide in the bushes" when it would be necessary to express their opinion.
Taurus – demon Adimiron
Adimiron is a creature in the form of a half-lizard, half-lion. This demon endows Taurus with a strong-willed and unyielding character. It is believed that the lion's part of the body of Adimiron gives his wards physical strength, and the part of the reptile's body – a "cold head", rationality and concentration. However, in addition to such gifts, this demon can make Taurus very stubborn, withdrawn and greedy individuals. Therefore, it is very important for them not to cling to the material world.
Gemini – the demon Celladimiron
Celladimiron is a Cerberus-like entity. He gives Gemini the ability to easily and quickly adapt to changing external conditions and circumstances. However, the dark side of Celladimiron's patronage is the inability to find oneself and one's place in life. Representatives of this sign run the risk of losing their true self, so they should engage in self-knowledge.
Cancer – demon Shehiriron
Shehiriron is a spirit of water, similar to a demonic reptile, insect, mollusk or crustacean with a human face. The most important gift that Cancers have in store from this spirit is the ability to make all their dreams and fantasies come true. But along with them, empty chores, obsessive thoughts, fears and phobias come into the life of Cancers. Sometimes representatives of this sign suffer from insomnia more often than others.
Lion – demon Shelhabiron
Shelhabiron is a werewolf-like fire spirit. It gives Leo the endurance and the ability to deal with very difficult and responsible tasks, as well as creativity. But on the dark side, Leos can be vicious, ruthless, heartless, and aggressive. Therefore, it is important for representatives of this sign to mobilize their own resources and direct all their internal forces in the right direction.
Virgo – demon Cefariron
According to the description, Cefariron is a half-living and half-dead entity. She helps Virgo see the truth, be an honest and impartial person, and also not pay much attention to public opinion. But all this, in turn, can make the representatives of this sign of people depressed and indifferent to the joys of life. Therefore, they are encouraged to practice positive thinking and not forget to devote time to what they like.
Libra – demon Obiriron
Obiriron is a demonic spirit similar to a golem or a leprechaun. It helps Libra find inner stability. Obiriron has power over time and can give as much of it as needed so that Libra can achieve what they want. However, because of this, the representatives of this sign relax and stop doing anything, thinking that everything will work out by itself. Therefore, the main advice for Libra is not to be lazy.
Scorpio – demon Neheshithiron
Neheshithiron is a demon that looks like a devil insect with a human head. From Scorpios, he makes aggressive and strong personalities. He also helps the representatives of this sign to transform and evolve. It is important for Scorpios to listen to their heart and go through life their own way, because otherwise Neheshitiron, wanting to return a person to his own path, may begin to destroy his life.
Sagittarius – demon Nahashiron
And the last demon according to the sign of the zodiac is the patron saint of Sagittarius, Nakhashiron. It is a demon that looks like a reptile with a dog's head. He helps Sagittarius to deal with the disadvantages of their character and become a strong and whole person. Nakhashiron provides the representatives of this sign with continuous movement towards the goal, giving them energy for transformation. The negative influence of the demon is reflected in the fact that a person can not withstand such a rapid development and get sick. Therefore, Sagittarius needs to streamline their lives as much as possible so as not to waste energy in vain.
Christian writer recorded the voice of Satan?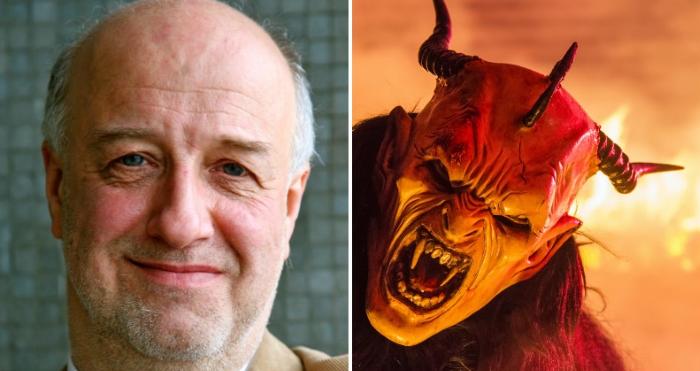 This week, foolishly, apparently, one author claimed to have recorded the real voice of Satan. To promote the new book, Christian author Roderick Millington published a track … of the devil himself, supposedly saying, "Come into the fire, come to me."
The electronic voice phenomenon has been the subject of controversy in the world of paranormal research for many years. Television shows such as Ghostbusters have publicly showcased the results of EVH, often manipulating frequencies to "reveal" a free voice shouting from the great beyond.
Whether you believe in the paranormal or not, Millington's "Voice of Satan" recording will make you raise an eyebrow.
"I confess right away that until recently I was one of the cynics who laughed at those who believe in the devil," the author begins. "Then I heard his voice and everything changed." He continues: "As I sat at my desk trying to figure out what Satan might have spoken to me directly, after a while my breath came back, my mind became clearer and I knew what I had to do. This book is the result. "
This book is titled "The Devil's Playground" and contains 21 supposed recordings of EVP demons along with Satan himself. However, you don't need to buy a book to hear Satan's voice! All you have to do is click here and scroll down to the "Come on fire, come to me" web player.
Rock and metal have a rich history of audio files, with religious leaders striving to find feedback and subliminal messages hidden in songs.
Led Zeppelin was accused of hiding the message "He'll give you 666" in the song, and Judas Priest and Ozzy Osbourne were put on trial after fans died.
No group was found guilty of a crime.
Hollywood studios are built on the blood of babies – Mel Gibson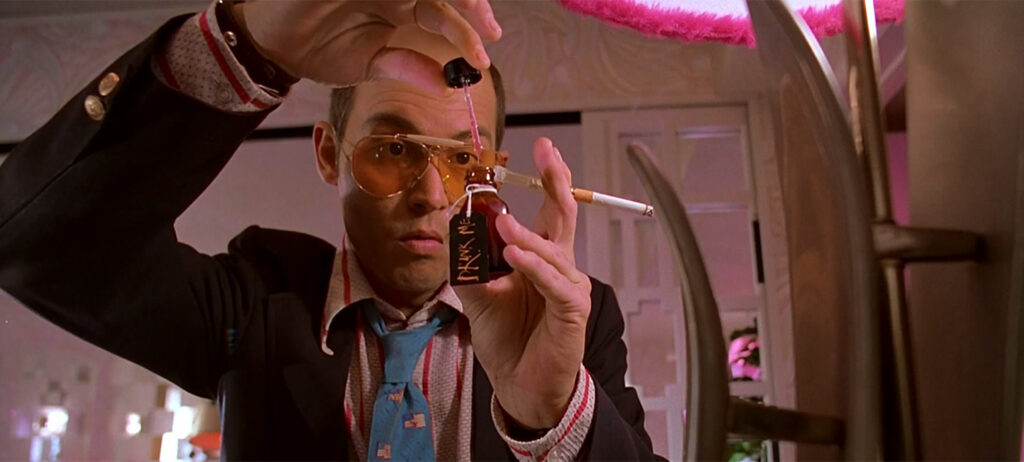 American film actor Mel Gibson criticizes both Hollywood and the morals of the American establishment – tough and unusual. Essentially, he blames a significant portion of the American elite for ritual Satanism. (before that, a similar terrible confession was made by another famous American actor Jim Carrey).
For this, he was blacklisted by the leadership of the US "creative world" in 2006. Since then, the actor has been working outside the system.
Gibson appeared in the prime time of the British BBC channel, in the Graham Norton show, on Friday January 19, where he answered guests' questions:
He said key players in the movie business "get their kicks from destroying the sanctuary of children" as they "thrive on breaking every God-given taboo known to man."
"These people follow their own religion and use it for moral guidance. It's not the sort of religious teachings you folks would ever hear about. They perform sacred rituals that are sick and totally at odds with the moral fabric that binds most patriotic Americans. The worst part: It's an open secret in Hollywood and everyone wants in on it."
He explained how he had been blacklisted by Hollywood's controlling oligarchs in 2006 for voicing his opinions about the industry that clashed with their liberal agenda.
He said that since then he has been "working outside of the system" which has given him a fresh perspective, saying:
"It's difficult to comprehend, I know, and I'm sorry that I am the one to break this to you, but Hollywood is an institutionalized pedophile ring. They use and abuse kids for their own sick 'spiritual beliefs,' if you can even call them that. I don't fully understand it myself, but they harvest these kids for their energy and feast on their blood. They don't do it mercifully either, they scare the sh*t out of them before they sacrifice them. The more innocent the child, the more terrified they are, the more they thrive on it," said the Braveheart star.
What does that mean? They aren't doing this as some form of artistic expression, they are harvesting the blood of children and eating their flesh because they think it gives them some sort of 'life force.'
"If the child was mentally and physically suffering when they died, then it gives them 'extra life force. I don't understand why they do that, but that's what they do. Most of us have a moral compass that guides us through life, right? These people don't have that, or if they do, it's pointing in the opposite direction."
Gibson, who has spent the last 30 years working inside and outside of the Hollywood regime, says that the industry's hierarchy "thrives on abuse, pain, torture, stress, and suffering.
According to Gibson, the desire to inflict such abuse isn't limited to just the elite, but only "those at the top of the food chain can afford such a 'luxury,'" although, it's a "goal for most people in the industry."
According to Gibson, this perversion isn't just the latest fad but has been a deep-threaded culture in Hollywood for generations, and is something popular among both men and women.
This happened "in the green room behind the curtains" immediately after the show:
https://twitter.com/MxMarineMom/status/1242626874112487424
Jennifer Lopez Desperately calls to Fellow SATANISTS as she Breaks Down Emotionally:
Can anyone believe him?
Most likely you can. In his revelation, Gibson publicly declared an epidemic of parasites that control Hollywood and personally participate in child sacrifices and pedophilia:
"every studio in Hollywood is bought and paid for with the blood of innocent children," he said, adding: "The most valuable currency in Hollywood is it's the blood of infants … key players in the movie business get adrenaline from this process and enjoy breaking the bans. "

"They have a blatant disregard for ordinary people. Destroying people's lives is just a game for them – the more they can hurt, the better the sensations. Children are just food for them. They revel in pain and fear, and the younger, the better. "
And then comes the phrase, which should be emphasized: "These people follow their religion and use it for moral guidance." What religion in human society justifies cannibalism and human sacrifice? This question should be asked by each of us.
– Satanism?
– Sure! But not only him. Let us recall the cases of ritual killings, which are widely known.
"They perform sacred rituals that ordinary people will cause bouts of nausea, and are completely in conflict with the morality that binds most patriotic Americans. The worst thing about all this is that it's an open secret in Hollywood and everyone wants to get involved. " (A very timely documentary was filmed on this very difficult topic. ]]>Galina Tsareva's film entitled Octopus ]]>– ed.)
"It's hard to understand, I know, and I'm sorry that I'm the one who opened your eyes, but Hollywood is the deadly legalized patrimony of pedophiles. They use kids to realize their scary sick fantasies. They take these children because of their energy and are saturated with their blood. They don't do it mercifully, they first put them in a state of horror before sacrificing them. "
"The more innocent a child, the better for them. What does it mean? They do not do this as some form of artistic expression: they simply drink the blood of children and eat their flesh, because they think that it gives them some kind of "vitality". "The more a child suffers mentally and physically when he dies, the more he gives them extra vitality." (These satanic rituals are designed to "feed" the demons with psychic energy, and those nonhumans who perform them drink blood that is saturated as a result of the child's inhuman suffering with ADRENOCHROME – a powerful drug that, in addition to "coming", also gives a powerful "rejuvenation" of the body – .)
"Hollywood is saturated with innocent children's blood. There have always been indications of pedophilia and cannibalism, but for many years they have been unprovable, mysterious, or symbolic. I have been familiar with this practice since the beginning of the 2000s, and I would be in serious danger if I ever talk about it. I do not mean only my career, I mean that my life will be in jeopardy, the life of my family will be in danger. I can talk about it only now, when these people, industry leaders, are already dead now. "
"Children are like" premium currency "and have a higher value than anything you can think of. They literally trade these children as currency for services, roles in films, kickbacks … "
According to Gibson, these terrible crimes (pedophilia, infanticide, cannibalism and ritual sacrifices) did not appear in recent years, they have ancient and not American roots. "If you investigate this phenomenon, you will find hidden facts in the shadow of any gloomy era in history. These dark, multidimensional occult practices have been used in secret societies for hundreds of years. Hollywood uses this for social programming and mind control, and their message is projected into the psyche of the American people … "
In what a famous American actor said, the rituals of a satanic human sacrifice are clearly described. It is also indicated that many people know about the existence of the secret structure of Satanists in Hollywood – but they are silent! Meanwhile, the occult powers of Hollywood are using their vast resources "for social programming and controlling the consciousness of the American people." I must say, very successfully used.
The key question is whether the Trump administration and the FBI will then initiate an investigation into the testimony of Hollywood ritual killings, or will the US authorities blame it on Gibson's creative extravagance?
We also note that on the sites that published material exposing Mel Gibson, there are many other creepy publications.
For example, Sylvester Stallone bluntly accuses Barack Obama of being a former U.S. secret homosexual, stating: "I have nothing against homosexuals, but I am against any lies" (Sylvester Stallone: ​​'Pathetic' Obama Is' Closet Homosexual Living A lie ')
]]>
Jim Carrey's article talks about the practice of ritual cannibalism in Hollywood for Christian Christmas (Jim Carrey: Hollywood Elites 'Eat Whole Babies' For Christmas). The author writes that criminal perverts are trying to distort and pervert the soul of the American people and change the whole world.
Adrenochrome: Evil Drug Of The Super Elite, Harvested From Terrorized Children:
Pizzagate, Spirit Cooking, Occult And Beyond:
Katy Perry's New Video Suggestive Of Cannibalism And Pedophile Lingo:
Pizzagate: Pedophilia, Child Sex Trafficking & Those Who Participate:
Materials about secret societies, humanoid mutants
About how the development of sex robots is being conducted so that perverts can conceive children with predefined properties (Sex Robots To 'Give Birth' After Sex With Humans Using Genetic Engineering).
Etc.