Ruins of Aleister Crowley's Cursed House on Loch Ness for Sale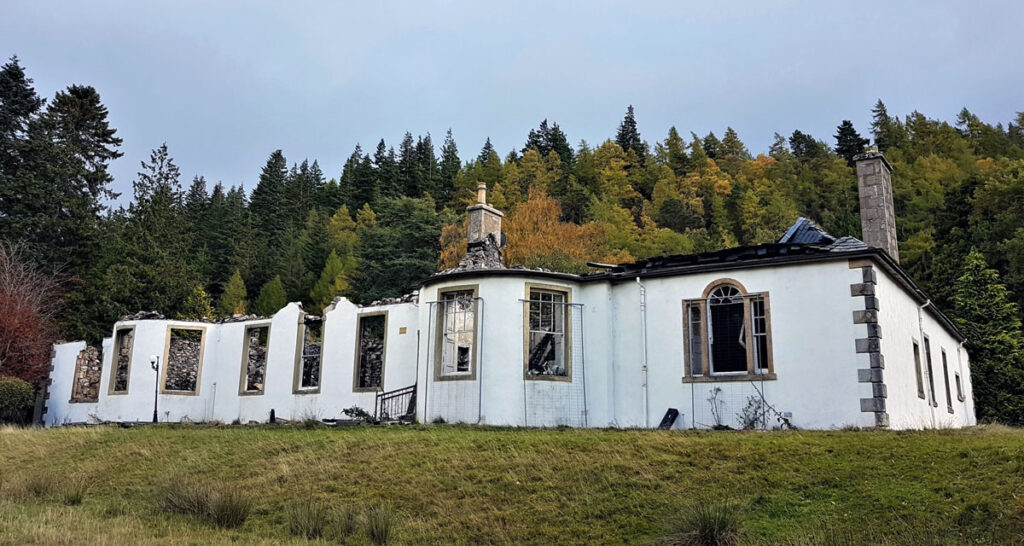 You can buy the ruins of Boleskine House, where "the wickedest man in the world" carried out black magic rituals for years.

The ruins of Boleskine House. Photo by Mark Wallbank
The BBC reports that Boleskine House, former home of occultist Aleister Crowley, and later owned by Led Zeppelin guitarist Jimmy Page, is for sale. After a fire tore through the manor in 2015, though, there isn't much left.
"The selling agent Galbraiths said echoes of its former splendour are all that remain of Boleskine House," the BBC article says, "but added that there is an opportunity to restore it into an outstanding property."
Aleister Crowley purchased Boleskine for the purpose of conducting a ritual that required very specific architecture. "The first essential is a house in a more or less secluded situation," Crowley explained. "There should be a door opening to the north from the room of which you make your oratory. Outside this door, you construct a terrace covered with fine river sand. This ends in a 'lodge' where the spirits may congregate."
Boleskine was the perfect location.
"The demons and evil forces had congregated round me so thickly that they were shutting off the light," Crowley wrote of his experiments there. "It was a comforting situation. There could be no more doubt of the efficiency of the operation."
Some believe those evil forces still linger.

Aleister Crowley in ceremonial dress
"At Boleskine, Crowley was said to have summoned 115 spirits, including Lucifer," the BBC wrote in an article about a film crew who experienced unexplained phenomena there while filming a documentary about Crowley. "The occultist also embarked on a complicated, six-month 'power-giving' black magic ceremony called Abra Melin. But he was interrupted in the middle of the ritual by his grand master, the head of the Golden Dawn, who called him to Paris. It is claimed Crowley didn't have time to banish the spirits he brought to Boleskine."
"The Rites of Abramelin the Mage require prior months of preparation, celibacy and abstinence from alcohol and include, among much else, 'the summoning of the 12 Kings and Dukes of Hell,' the Scottish Daily Mail wrote. "Crowley's subsequent orgiastic ceremonies and 'sacraments' are too disgusting to detail in a family newspaper. But, fatefully, he was interrupted. Amidst all his chanting, sodomy and the sacrifice of terrified cats and goats, the sorcerer was called away to Paris – and Boleskine folk believe he never got round to banishing the dreadful forces he had summoned to the house."
While Crowley's activities certainly didn't help, Boleskine already had a bizarre reputation long before the "Great Beast" conducted his rituals there.
The Boleskine Kirk once stood on the shady shore of Scotland's Loch Ness where the manor is now. If the land is cursed, it may have begun with the church.
According to historical writings, an early minister of the parish had to fend off a pesky wizard who was reanimating the dead.

Boleskine cemetery overlooking Loch Ness
In An Account of the Kirk of Boleskine, Alan Dawson wrote that "Thomas Houston (1648 -1705)
was noted as having to contend with a notorious wizard – AN CRUINAIR FRISEAL (the Fraser Crowner or maker of circles, as wizards do) who had raised the bodies in the churchyard and Thomas had to make haste to lay them to rest again."
Sometime later the church is said to have burned to the ground during a sermon, killing everyone inside.
When a bishop visited the old kirk in 1762, he wrote that it was "the poorest edifice of any kind I ever
looked upon as is also the Manse. The Church-yard is quite open without any walls where you see plenty of human bones above ground and the Floor of the Kirk is overspread with them…..Dogs are seen carrying away the human bones in their teeth.
Soon after, Colonel Archibald Fraser built Boleskine House on the charred remains of the church.
"Colonel Fraser was a firm Jacobite," The Scottish Daily Mail wrote, "but all the land surrounding his pocket had belonged to Simon Fraser, the 11th Lord Lovat, who flip-flopped once too often on the Stuart cause and (after the failure of the '45) was the last person in Britain to be executed by beheading. Boleskine House, then, was the equivalent of two jabbed fingers at the lake Lovat."
The house remained in the Fraser family until 1899 when they sold it to then 23-year-old Aleister Crowley. Several tragedies took place during his time there.
"The black magician also took pleasure in the suffering that his sinister practices apparently brought to local villagers," The Guardian wrote when a piece of the land was put up for sale in 2009. "He bragged about how an employee of the Boleskine estate got drunk one night – after 20 years of abstinence – and attempted to kill his wife and children. The family of Crowley's lodge keeper, Hugh Gillies, also suffered a series of tragedies. First his 10-year-old daughter died suddenly at her school desk and a year later his 15-month-old son died of convulsions on his mother's knee."
Crowley sold Boleskine House in 1913.

Boleskine House in 1912
In 1960, then owner Major Edward Grant killed himself with a shotgun in Crowley's former bedroom. The housekeeper, 78-year-old Anna MacLaren, had a premonition of the suicide. She had been alone picking vegetables in the garden when she heard a gunshot from the house. She went into the house, but there was no one there. Seven days later, though, at about the same time of day, she found her boss dead.
"I went in and found him with most of his head blown off," she recalled. "The family dog was playing with a bone. Police told me later the bone was part of the major's skull."
A young couple later moved in. The wife was blind, and within a few months her husband abandoned her there.
Filmmaker Kenneth Anger spent the summer of 1969 in the house. During that time he witnessed a heavy painting float off the wall and come to rest on the floor.
Jimmy Page bought the house the following year.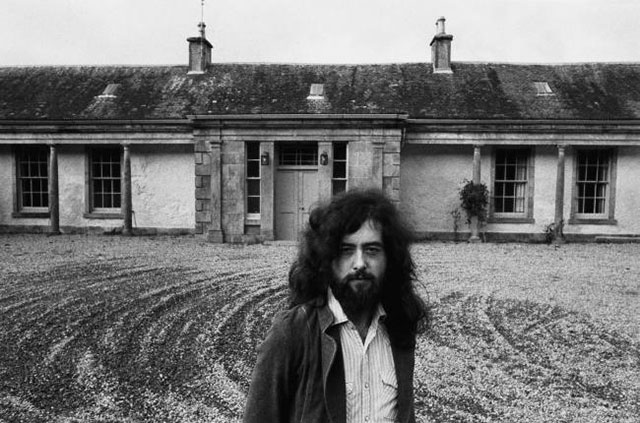 Jimmy Page at Boleskine House in 1973
In a January 1975 Rolling Stone interview, the interviewer said, "You live in Aleister Crowley's home. Crowley was a poet and magician at the turn of the century and was notorious for his black magic rites."
Page was fascinated by Crowley, but he was interested in the house for the rest of its history, as well.
"Strange things have happened in that house that had nothing to do with Crowley," Page responded in the interview. "The bad vibes were already there."
Page, who spent no more than 6 weeks at Boleskine in the 20 years he owned it, asked his childhood friend Malcolm Dent to move in and restore it.
"Jimmy Page caught me at a time in my life when I wasn't doing a great deal and asked me to come up and run the place," Dent told the Inverness Courier in 2006. "I never did establish why he fixed on me."
Dent lived at Boleskine for a long time and raised his family there.
"All the main rooms look out across the loch and you're 300 feet up so you have some dramatic views," he said. "We loved living there. It was a great house to raise children in and they loved it there, in spite of its history and in spite of the peculiar happenings that went on there."
Dent knew nothing of Boleskine's history or Crowley when he moved in.
"I arrived a total skeptic, to a degree I still am, but there are things at the house you can't explain," he said.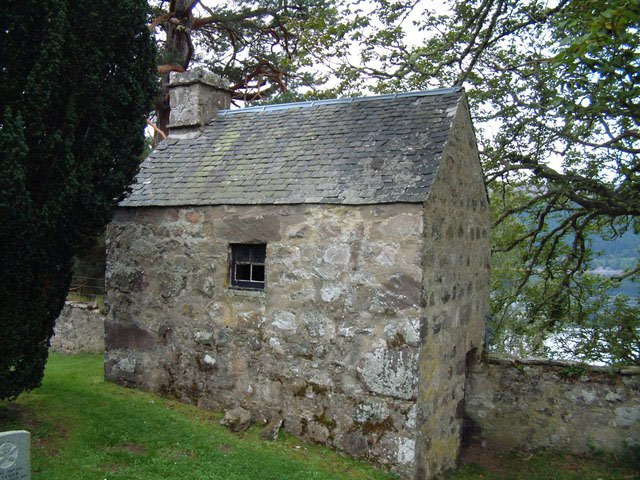 Mortuary house in the Boleskine cemetery
"A girl who stayed for the night awoke screaming that she had been attacked 'by some kind of devil,'" the Scottish Daily Mail writes. "Another night, Dent was roused by what sounded like a wild animal clawing and snorting by his bedroom door: he dared not open it till daybreak. There was nothing there, 'but whatever was there was pure evil.'"
Doors would suddenly spring open as if someone was running through them, and slam in the middle of the night, and rugs would be found piled up the following morning.
"We just used to say that was Aleister doing his thing," Dent said.
"One of the most famous stories is that the head of Simon Lord Lovat, beheaded for treason following the 1745 Jacobite rebellion, can be heard rolling around the floor at Boleskine," the Inverness Courier wrote, "even though the house dates only from the 1760s."
"At the time of his death, he was supposedly casting his mind back to the heart of the Highlands," Dent explained. "Just above us is Errogie, which is the geographical centre of the Highlands, and the nearest consecrated ground is Boleskine."
Another story that Dent says everyone loves involves seven chairs Page bought from the Cafe Royal in London.
"Jimmy got those chairs specifically because one of them had Aleister Crowley's name on it," Dent said. "Each of the chairs belonged to a famous person and had a nameplate on the back and front – Marie Lloyd, Billy Butlin, James Agate, Ruldolph Valentino, William Orpen and Jacob Epstein."
Dent says Crowley's chair was always placed at the head of the table. But, after the chairs underwent repairs, they kept finding Crowley's chair switched with Marie Lloyd's.
"The kids couldn't have done it and we didn't know why this was happening," Dent said. "Then I realized the guy who did the repairs didn't know which plaque went with which chair and hadn't put them back on the right ones."
But, according to Dent, the strangest thing about the house may have been its visitors.
"I had them from every corner of the world," he said. "A lot of them were nutters. A lot of them were downright dangerous lunatics. They will still be turning up today. The house is on the map as an occult centre and you're not going to get rid of Crowley's legacy that easily."
Jimmy Page sold Boleskine to Ronald and Annette MacGillivray in 1992. The couple turned it into a guest house. They despised any mention of Crowley, and insisted nothing unusual ever happened there. Locals say the MacGillivrays tried to erase Crowley's presence, whitewashing the interior and covering the stone floor with carpet to hide the magical symbols painted there. Their efforts failed several times, villagers claimed, alleging the symbols would reappear as the paint dried.
While filming a 2000 BBC documentary called The Other Loch Ness Monster, a priest and minister blessed the project, and clerics were called in to keep the crew safe…just in case. Still, they experienced their share of unexplained happenings.
"The film crew working on the BBC documentary were attacked by a plague of beetles, suffered repeated equipment failures and experienced strangely similar nightmares about Crowley," the Sunday Mail wrote.
Photos taken at the graveyard just down the hill (where a rumored tunnel from the house was said to lead) were ruined by "a strange circular halo of fog" according to producer Garry Grant. "It wasn't lens flare or a fault in the camera," he said. "I'd never seen anything like it before."
In another incident, lights exploded, fuses burned out and camera stands fell over during a late-night shoot in the graveyard, showering the crew in glass. One crew member's phone kept ringing intermittently, while another's alarm clock would go off at the same time every day.
The MacGillivrays sold Boleskine in 2002 to new Dutch owners who used it as a vacation home. They were not there on December 23, 2015 when a fire scorched Boleskine, leaving nothing but the external walls by the time firefighters arrived. They determined the fire began in the kitchen, but the cause was never identified.
Today, the burned out ruins are all that remain of Boleskine House. The shell of Aleister Crowley's unholy home and nearly 23 acres of cursed land on Loch Ness can be yours for £510,000.
Who and why he removed 10 pages from the Devil's Bible?
One of the largest medieval manuscripts is the so-called Codex Gigas, also known as the Devil's Bible, because it has a large image of the Devil on one of the pages .
The weight of the book is 75 kg, its width is 49 cm and its height is 89 cm. It is estimated that it would take at least 30 years for one person to write and draw the whole book.
According to legend, however, it took only one night to do so for an unknown monk living in the 13th century AD. The same monk was imprisoned in a cell for violation of discipline and vows, and a much more severe punishment awaited him. In an attempt to avoid punishment, the monk decided to surprise the superiors with a book that described " all the knowledge of the earth ."
To write this book, the monk turned to the Devil himself for help. In exchange for his soul, the Devil created the Codex Gigas overnight.
Initially, the Devil's Bible was stored in the monastery in Podlazice, in the territory of modern-day Czech Republic, near the town of Chrudim. After a while it was moved to the monastery in Brumov. In 1648, it was stolen by Swedish soldiers and taken to Sweden as a prey. In 1649 the manuscript was placed in the Royal Library of Stockholm, where it is still preserved.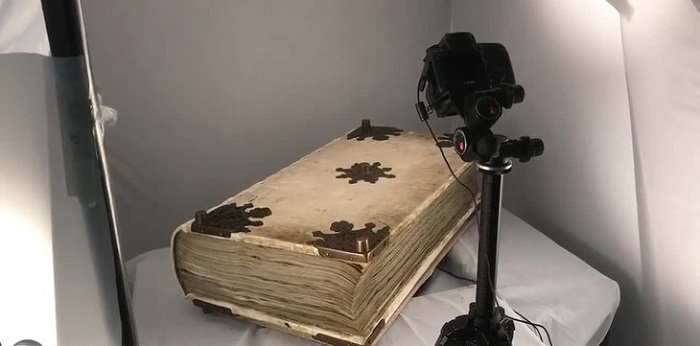 There are 310 pages in the Devil's Bible, but there were 320 pages before. So, 10 pages were taken and what was written in them is still unknown to anyone.
It is officially believed that the statutes of the Benedictine monastery are written on these 10 pages, but many conspiracy theorists are sure that no one would extract the written rules of the monastery from such a huge and valuable book, and that the missing pages clearly contain much more important information.
For example, the prophecies about the Apocalypse. Or, the so-called "devil's prayer", the reading of which, under certain conditions, is described on the vanished pages to summon the Devil. At the same time, the sheets did not just fall out of the bound book because of old age and decay. They have been deliberately removed. They were cut off from the Codex and this is evident from the cropping of these pages.
None of the historians knows when and by whom these pages were removed. In the 16th century, one of the mystics of the Paracelsus Circle became interested in the Code, and in 1590, his student visited the Brumov Monastery to study it.
The Code also attracts the attention of the Holy Roman Emperor – Rudolf II, who sought occult information in it. He even ordered the Codex to be transported to his Prague Castle. Then the legend of the Devil's Bible began to spread. Most probably, it was Rudolf II who tore these pages, finding in them the occult records he needed.
Another oddity of Codex Gigas is that no one has even tried to rewrite this book. In those centuries, when printing was not yet invented, important manuscripts were constantly rewritten to reproduce.
Moreover, even more voluminous and complex texts have been rewritten than the Devil's Bible.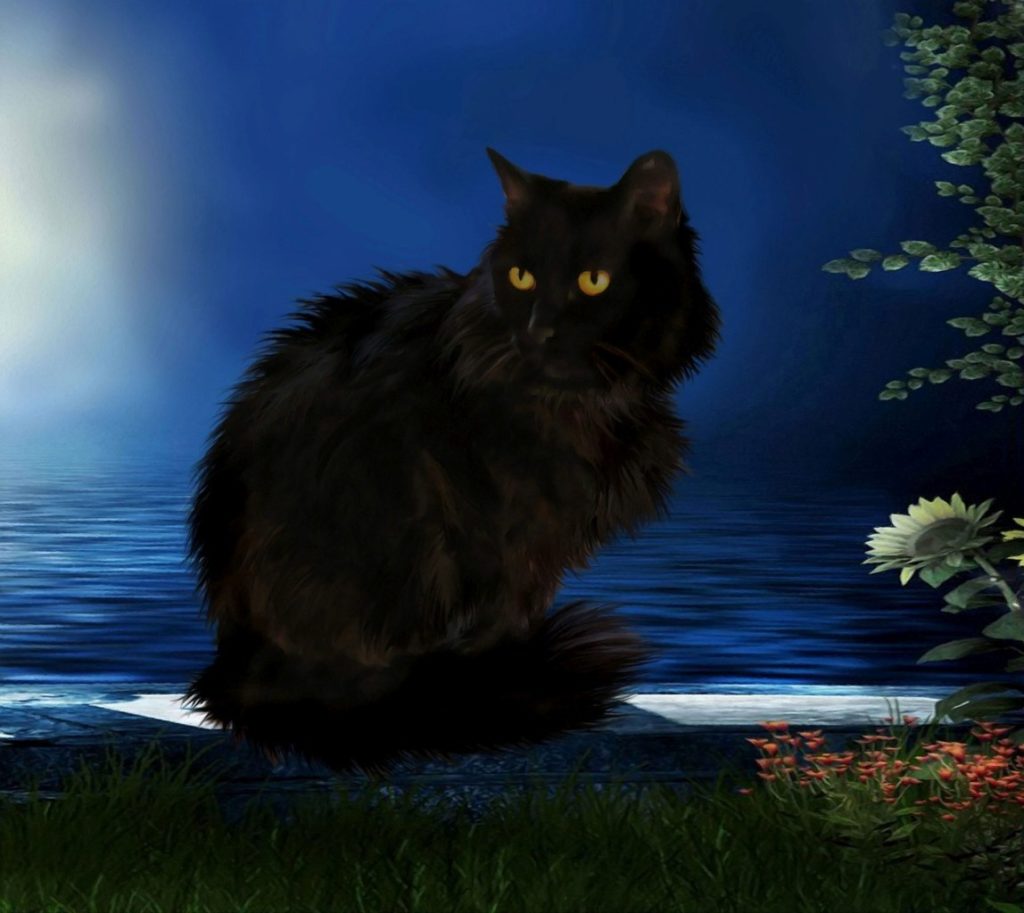 In some areas where people live, black cats that are completely black in fur, are a rarity, and this factor adds to their mysterious trait. Also, in the night, a black cat can be practically invisible, so people in the darkness see just the two eyes of the cat, which can be a pale shade of green, orange, or yellow or be amber colored.
Many superstitious people were terrified, thinking an invisible creature or demon with 2 eyes or simply 2 floating, glowing eyes were staring at them in the dark. Black cats were the traditional and most common creatures that lived with witches even though witches had other animals around them, at times, as rats, dogs, ferrets, birds, frogs, toads, and hares. These small animals were often kept in pots or baskets lined with sheep's wool and fed various things including milk, bread, meat, and blood. Often, such animals would have the same affectionate nick names or common names that parents give their children.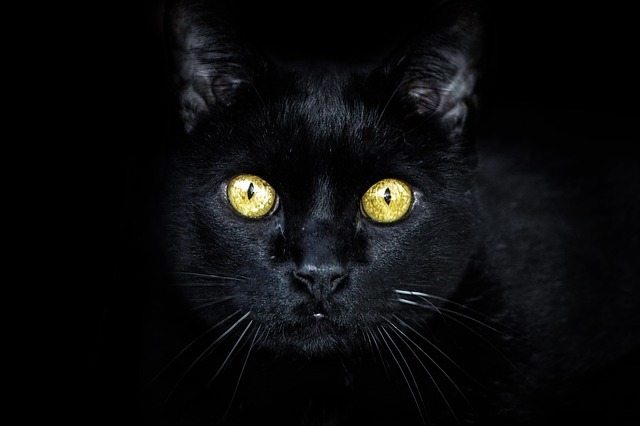 When a person, for example, an old lady, especially a person who lives alone, has, for example, a pet black cat; there are people who strangely talk to their pets as though they are human beings and can understand every word. Centuries ago, when belief in witchcraft was very strong, many people that saw and heard a person talking to an animal seriously wondered if the animal was a spirit or demon in animal form that attends and obeys its master- a witch. The occult name for such an animal is called a familiar. There are other reasons that can make people further wonder if a person is a witch; as that person being unnaturally mean; highly aggressive; hateful in personality, and if such a person were also very ugly, it would add to their resentment by others.
The American author, Edgar Allen Poe (1809-1849) wrote a short horror fiction story called "The  Black Cat" that would reinforce the idea of a black cat having supernatural powers. In that story, a black cat gets its revenge against its owner who has abused it, then horribly mutilates it, and later kills it.Once, in the 1970's, there was an occult supplier who sold, among many other things, tall candles in the shape and color of a black cat. The sales pitch was that the black cat, being a symbol of bad luck, when burned in candle form would destroy that black cat image and this became a ritual for good luck.For many, many years, black cats have gotten a bad rap; a really unfair, undeserved reputation of being evil and harmful to humans. Some people, over the years, tried to undo; reverse this situation by claiming that black cats are actually good luck. In certain parts of Europe, for instance, black cats are looked upon as actually bringing good luck.
Some folks, centuries ago, thought that at times a witch's familiar or familiars was a person or people that , from the power of witchcraft, got turned into an animal or animals as punishment for somehow angering a witch.Black cats began to develop an association with evil in the minds of various people, centuries ago, from the extreme worry that any black cat there was could be a demon in disguise. Many people developed a great fear, distrust, and revulsion to all black cats and would chase them away, at times even throwing small objects as stones at the animals.Various people began to believe that the black cat, from its demonic significance, brought bad luck, especially if a black cat crosses your path.
Satanic pacts to create "immortal guerrillas" in Colombia?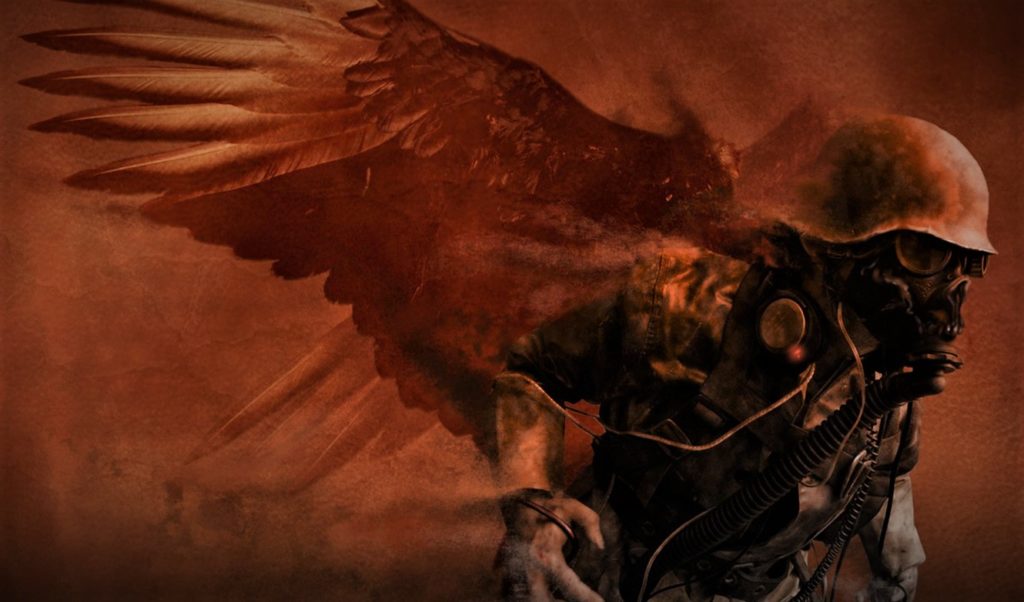 For many years Colombia has been hit by a dangerous guerrilla that has not been eliminated, why? The reason could be more macabre than many think: Satanic covenants.
People who, in one way or another have had contact with the guerrillas, tell how they have witnessed guerrillas who are shot, get up and continue fighting armed, some with a simple machete.
Although it sounds like something impossible, it is a speech that is repeated constantly among the interviewees. One of the most chilling stories tells us how, during a night like any other, a squad of paramilitaries was awakened and taken to a hill in the jungle.
In front of them lay a boy who was, if anything, 16 years old. The women were trained on the other side and the commander, with a machete in hand, called one of them and handed it to him, ordering him to behead him.
The woman said she could not do it and, in a threatening voice, the commander shouted: "He who does not serve to kill, serves to be killed."
With nothing else to do, the woman dropped the machete on the supplicant boy, but could not finish the work. The commander took the machete and with a certain blow, beheaded the young man in front of everyone.
Without hesitation, he got up and exclaimed: "Welcome to the ACC, I am commander 030 and I must deliver three thousand souls to the devil."
"Commander 030" was one of those immortal soldiers who, based on satanic covenants and sacrifices, had obtained eternal protection. To this myth are added declarations of United States military factions that have faced the Colombian guerrillas.
Some say they shot them with AK47 rifles and saw how, without any protection, they received the bullets and they did not pass through them.
They simply did not harm them beyond a bruise. Other more extremists say they have seen them become invisible, heal at great speeds and disappear from one moment to another.
Many communities that live in nearby areas where the guerrilla is alive, tell how these people use prayers, rituals, sacrifices and satanic pacts.
These stories are supported by the latest findings made by the Colombian and US military, where they have found "picket houses" with prisoners, still alive, dismembered.
Some captured say that this is part of one of the many satanic rituals and pacts they perform for their protection. Sounds really amazing and macabre at the same time.
But many of these guerrillas have been seen killing soldiers armed with guns using a simple machete, which leads us to really think about the chances of this being real …