Robots are learning to conduct their OWN science experiments in an attempt to outdo humans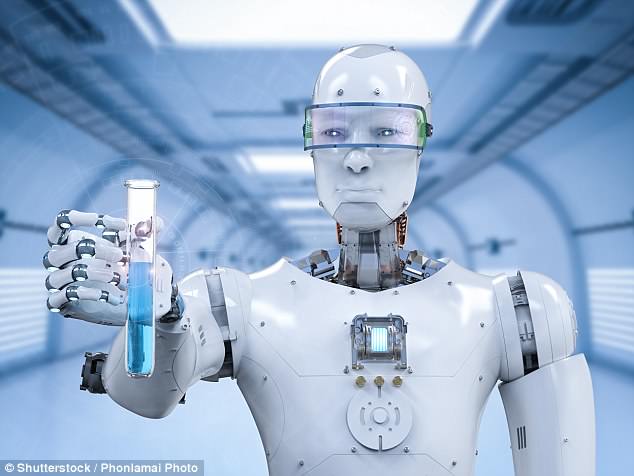 Robots are getting ever closer to outperforming humans in all aspects of life – even when it comes to learning about how the world works.
Researchers at Toyota are using artificial intelligence to speed up the discovery of the ideal chemical makeup for electric car batteries.
AI-powered robot arms engineered by the team place precise drops of chemical reagents in test tubes under the guise of human supervisors.
Over the next few months, the machine intelligence behind the system will take over the planning of experiments as well, according to Toyota.
Researchers said the 'robot graduate student' will decide how to modify the concentrations of the ingredients it's testing without the need for human assistance.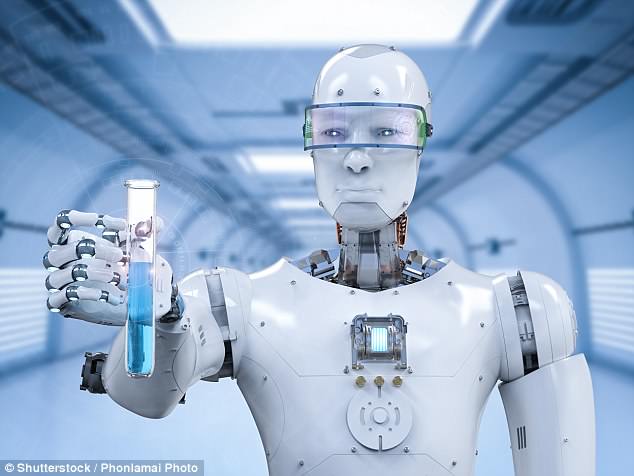 'It's automating not only the manual part of doing the experiment but also the planning part,' Brian Storey, the Toyota Research Institute scientist leading the project, told Bloomberg.
Dr Barnabás Póczos, a machine learning researcher at Carnegie Mellon University in Pittsburgh who is also working on the project, added: 'I can easily imagine cases in which AI would recommend experiments to try to synthesise a chemical molecule that you wouldn't think possible, but the AI will be able to do it.'
Automakers have been investing heavily in developing new batteries and fuel cells to increase the range of electric vehicles.
Mr Storey said Toyota's AI is helping to identify new materials for batteries and fuel and run computer tests to narrow down the field for simulation tests by researchers.
The research is in-part pursuing a replacement for platinum as a fuel-cell catalyst.
'We don't have a ton of platinum on this planet and it costs a lot money,' he told Reuters in 2017.
'Platinum is a great catalyst, but is there another compound out there that uses little platinum or no platinum at all?'
Toyota is investing around £25 million ($35 million) in its North American research arm, the Toyota Research Institute (TRI).
The Institute is collaborating with a number of US academic institutions including the University of Michigan and the Massachusetts Institute of Technology, and British material sciences company Ilika.
A number of other projects around the world are using artificial intelligence to drive research efforts, Bloomberg reports
AI designed to identify and categorise patterns has been deployed to identify wild dolphin calls from hydrophone recordings.
Similar software has been used by astronomers to detect the dull glow of planets in telescopic images of distant galaxies.
The discovery of the Higgs boson, the so-called God particle, in 2012 utilised an algorithm that searched through billions of particle tracks produced within Switzerland's Large Hadron Collider.
According to Mr Storey, AI could one day help scientists boil down the fundamental principles of physics to reveal the secrets of the universe.
He told Bloomberg: 'People have wondered if you could have the computer automatically figure out the principles underlying physics.
'I don't think we're going that far out now.'
Source: http://www.dailymail.co.uk/
13 spooky vintage board games to play this Halloween
Battle monsters, ghosts, voodoo curses, boobytrapped mansions, haunted carnival rides, and more with these vintage spooky board games.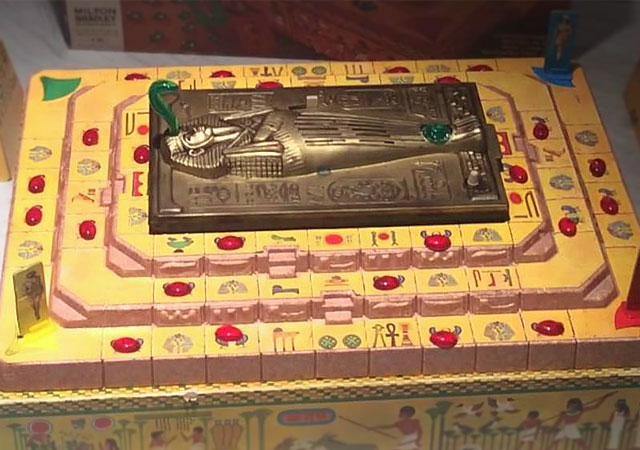 Voice of the Mummy board game
The Ouija board is the only board game known to cause so much fear that people refuse to touch it. But these vintage board games from the 1960s, 70s, and 80s are considerably spookier. We're talking about games where a mummy's voice echos from its tomb, an electronic Deathhead determines if you win a battle against demons or perish, a game where you put voodoo curses on the other players, and plenty of haunted mansions with traps, treasures, and monsters lurking around every corner.
With their eerie box art and creepy themes, these board games will add some spooky fun to the Halloween season without putting your mortal soul in danger.
1. Seance (1972)
Your dear Uncle Everett has died in this rare board game from Milton Bradley. According to the directions, Everett was a spiritualist. He believed his spirit would return from the grave to guide the distribution of his wealth.
Although he left the bulk of his estate to his parrot, players (his nieces and nephews, of course) gather in his creepy Victorian mansion to hold a seance and bid on his remaining possessions of unknown value. Everett's ghostly voice emanates from an actual record player hidden inside the seance table. When everything has been bought, Uncle Everett reveals how much each item is worth, or how much each player owes in taxes.
The player with the most money wins.
"When the game is over and the room is plunged into darkness," the instructions read, "it is said that the image of Uncle Everett may be seen."
2. Ghost Castle (1985)
Based on Milton Bradley's earlier Which Witch? and Haunted House (The Real Ghostbusters board game was also a re-themed version of this), players had to collect ghost card and avoid traps as they made their way up the stairs to close the coffin lid and "lay the ghost."
3. Mystic Skull: The Game of Voodoo (1964)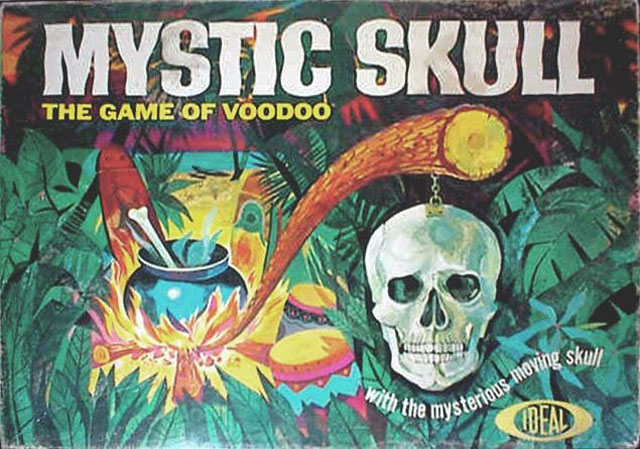 Each player is a witch doctor with a voodoo doll. When you stir the cauldron, the Mystic Skull spins and determines where you will place the next pin in your opponents doll.
4. Escape from Frankenstein (1983)
Players move around Frankenstein's castle looking for the key that matches their color, hoping to reach the laboratory and shut off the power before the monster comes alive.
5. Green Ghost (1965)

The Green Ghost board is on stilts, players can fall through trap doors, there's keys, bat feathers, bones, snakes, ghost children, pets, and it was the first board game to glow in the dark. I have no idea what you need all of these things, but the inclusion of everything creepy means it's obviously amazing.
6. Alien (1979)
Aliens have invaded the Nostromo. Each player is an astronaut trying to make their escape on the shuttle while using their own personal xenomorph to eliminate other players. While it may seem tempting, please refrain from laying eggs inside your opponents.
7. Ghost Train (1974)
Based on the Ghost Train amusement park ride, this game simulates the experience by including sudden and jolting changes of direction, dead stops, getting stuck, and mechanical ghosts. I'm keeping my fingers crossed for the expansion pack where you have to buy tickets, wait in line, and exit the ride feeling like you got seriously ripped off.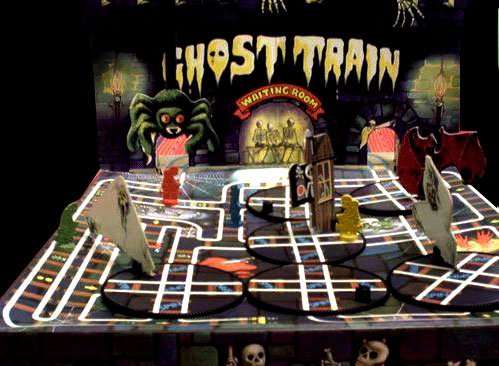 8. Mystery Mansion (1984)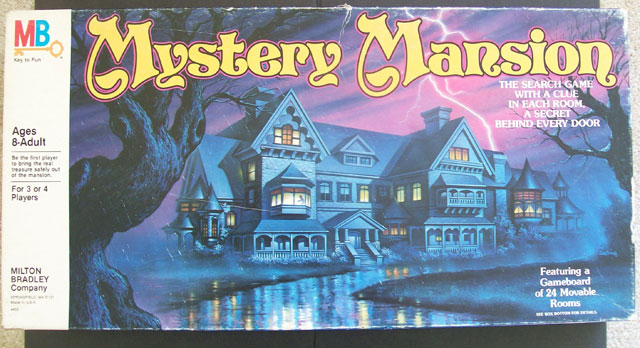 Roll the dice and search for clues as you build a Victorian mansion room by room in hopes of finding a treasure chest filled with gold and jewels rather than cobwebs and dust.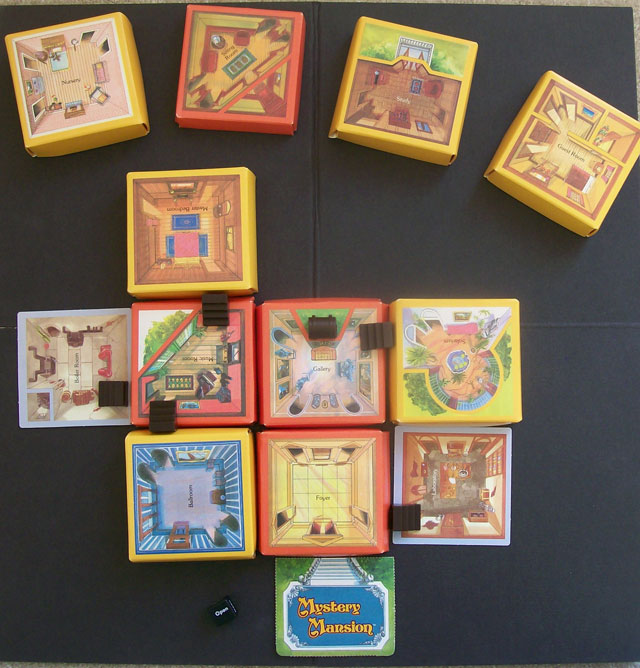 9. Voice of the Mummy (1971)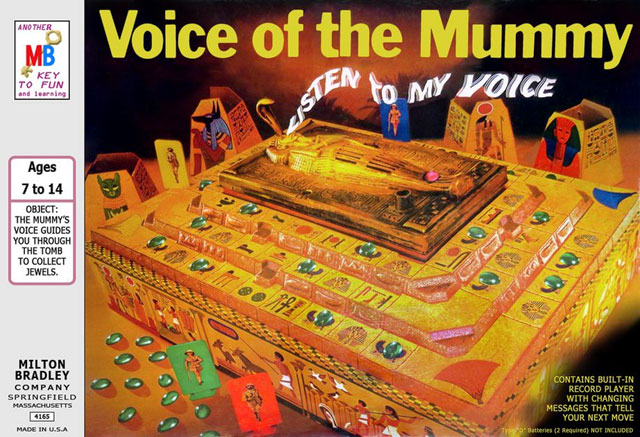 The precursor to Seance, Voice of the Mummy also has a record player inside. The mummy doles out instructions while players race around the three levels of the sarcophagus collecting gems. All the fun of looting tombs without all those pesky death curses.
10. Scream Inn (1974)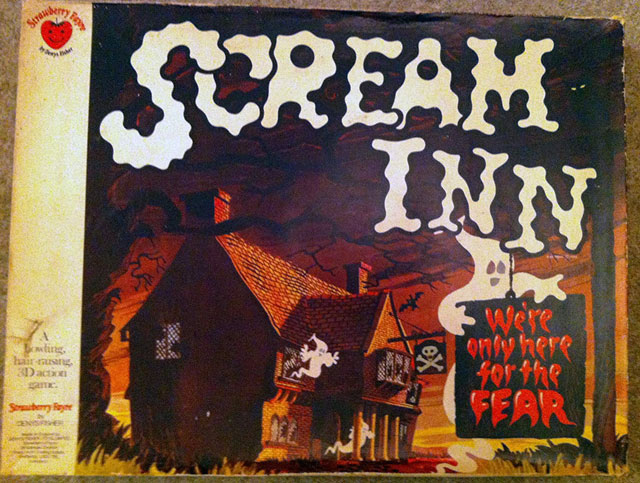 With a slogan like "We're only here for the fear!" this must be the world's first (only?) dark tourism board game. Players spin the wheel and try to get all of their pieces out of the haunted inn without disturbing a ghost.
11. Superstition (1977)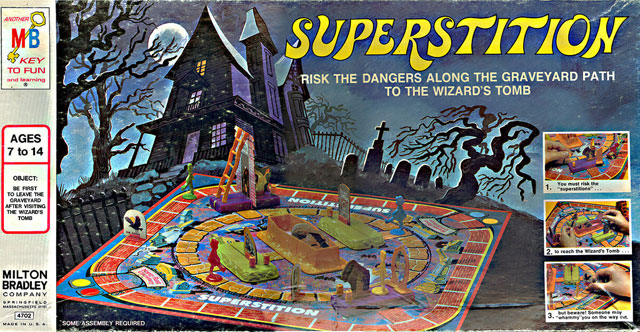 Players wander around a cemetery trying to reach the Wizard's Tomb, but the graveyard is full of rubberband-powered traps with superstitions like a black cat and a broken mirror that may fling your piece off the board.
12. It from the Pit (1992)
Players have to dash for the treasure chest while a giant green mechanical monster tries to pull their tiny plastic explorers into the pit full of bubbling green goo.
13. Horror House (1986)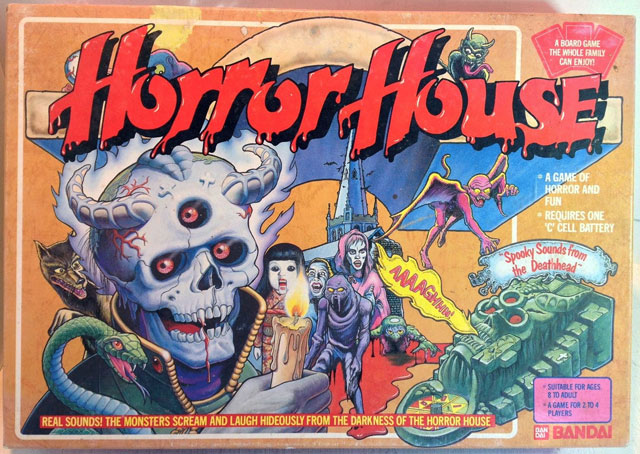 Face off against 45 monsters from around the world (including the dreaded Umbrella Monster!) in this electronic board game from Bandai. Players move through the house fighting these monsters while the Deathhead Roulette determines the outcome of each battle. The demons scream if you win. If you lose, a wicked laugh emanates from the Deathhead.
Be careful with this one, though. Bandai recommends you never play alone.
Which of these spooky board games was your favorite to play when you were young? Let me know in the comments below.
This Newly Approved European Copyright Law Is Going To Break The Internet
The European Parliament just approved a new sweeping copyright law that could make the internet a much worse place for pretty much everyone.
Today, the parliament voted on the "Copyright Directive", a piece of legislation intended to protect the digital property of digital publications. It passed — 438 members of parliament (MEP) for, 226 against. That's a big deal because it includes two extremely controversial provisions: Article 11 and Article 13.
Article 11 is meant to give publishers on the internet the ability to make an extra buck by imposing a "link tax." Put simply, it's supposed to shift some of the massive profits away from powerful news aggregators like Facebook and Google by allowing smaller publishers to charge them each time the aggregators link to their sites.
The problem? Publishers who can afford to charge news aggregators like Facebook and Google lower rates will thrive. Smaller publishers who can't afford the cutthroat rates will be boxed out.
Article 13 forces platforms like YouTube to filter all newly uploaded content for any copyright infringing material using specially implemented algorithms. News outlets have been referring to these as "censorship machines,"; others have declared Article 13 as starting a "war on memes" since these filters could easily end up flagging the endlessly-shared, slightly-altered images.
Unsurprisingly, the internet is not in love with that decision. High-profile internet personalities like Wikipedia founder Jimmy Wales have already voiced their discontent. Article 13 could end up having a direct negative impact on freedom of speech because sites must carefully monitor every upload to ensure they don't infringe any copyright. If YouTube is any example, those kinds of filters aren't exactly foolproof — content creators on the video platform have been complaining for years about how YouTube has been mistakenly flagging their content for copyright infringement.
Even though the European Parliament passed the Copyright Directive, it's not locked into law quite yet. There's still one more Parliament vote in January. If the Directive passes then, it will be up to individual EU member countries to decide on how to put it into practice, and that could open up a huge range of adoption and enforcement. As we have seen with the General Data Protection Act, implementing far-sweeping new rules on the world wide web is far from straightforward, and it will take a lot of time until EU members have decided on how to implement them.
Though we're a long way from a link tax, critics of the new law think the European Parliament's decision sends a strong message: in Europe, free speech might be at risk.
READ MORE: European Parliament Approves Catastrophic Copyright Bill That Threatens the Internet [Gizmodo]
More about EU copyright law: The EU's Proposed New Copyright Laws Show No Government Knows How to Govern The Internet
Photos show unexplained cattle mutilation in Australia – Dead cows found in paddock with udders, ears and tongues removed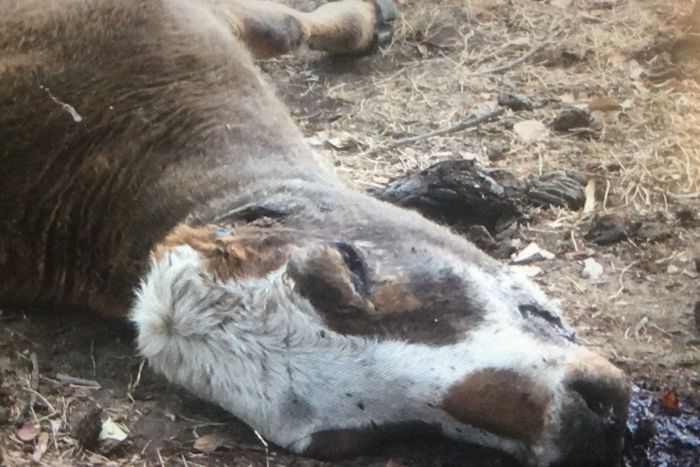 Tara Cassidy
ABC News
A north Queensland couple has been left baffled by a bizarre finding on their property, which seems like something straight from a horror film.
Graziers Mick and Judy Cook were working on their property in Cloverly, north-west of Mackay, when Mr Cook noticed a dead cow carcass which appeared to have had its body mutilated, with its entire udder, ears and tongue removed.
Warning: This story contains images and content that some readers may find disturbing.
"It was like it had been surgically removed, I certainly couldn't do as neat a job with a very sharp knife, and it definitely wasn't an animal," Mr Cook said.
"I thought at first it might have been poisoned, but then I got closer … I saw the body parts missing, there was no blood, even where the parts had been removed, no sign of struggle, just dead.
© ABC Tropical North: Kim Kleidon
Photo Cloverly graziers Mick and Judy Cook were baffled by the bizarre finding on their property.
"There was just no reason or rhyme for it to be done the way it was done, people don't use those parts, it's just not something you would wish on your worst enemy."
On the same trip, Mr Cook said he travelled down a little further on his property, about an hour's drive from his house on rough terrain, when he found another dead cow.
The second one looked like it had been there for some time.
"By that point we are probably two hours from your nearest neighbour, it's very mountainous country … there's no way anyone can get there unless they come straight past our house.
"When I got down there I noticed another carcass, this one was a bit more deteriorated, looked like it had been rotting there for a bit.
"We don't know how it happened, but we got onto the neighbours just to let them know."
Local veterinarian David Lemmon said in his 40 years working in the industry, often with livestock, he had never heard of or seen anything like it.
"I deal with everything, you know – all creatures great and small. And I can't think of any explanation for it, that's not normal human behaviour is it? That's something quite bizarre and ill, I would say the person that has done that is not mentally stable.
"We're talking eyes, we're talking ears, we're talking udders. No, I've never heard of anything like that ever, that's something or someone very ill who's done that."
© ABC Tropical North: Supplied
A dead cow found at Eungella near Mackay with its udder, ears and tongue removed.
In a statement, Queensland Police said it had not been notified about the cow mutilations, however, Mr and Mrs Cook said they had attempted to contact local police unsuccessfully.
Not the first sighting
According to Mr Cook, he and his wife came across two dead cows with their udders removed around the same area about ten years prior.
"I didn't think much about it at the time, we didn't really say anything about it," he said.
"We just thought it was a bit strange, let it go and put it to the back of our minds.
"But when we saw it again just recently we decided to tell someone, we came back later and my daughter tried to do some research, she found a YouTube link to other similar stories.
"They basically said other people around the world have been finding similar cases since '75 and starting in Yankeeland, it's even left police confused."
Cases of cow mutilation and murders have been reported around the world for over four decades, with carcasses found, sometimes one or two, sometimes dozens, with body parts such as ears, lips, eyes, noses, anuses and genitalia removed with "surgical precision".
Speculation surrounding who – or what – might be responsible for the killings and mutilations ranged from satanic worshipers and government agents to aliens.
In the mid 70s the American FBI launched an investigation into the widespread cow deaths, however, were unable to offer a conclusion stating that their investigation was hindered by a lack of jurisdiction.
While no solution has been confirmed to date, some scientists have also attempted to justify the findings, stating they could simply be ordinary decomposition or even carrion animals.
Animals such as vultures, Tasmanian devils and coyotes often eat soft tissue body parts first which could explain why parts of the mouth, tongue, anus and eyes are often the parts found missing on the cows.
Scientists have also explained that when an animal dies, blood will naturally begin to clot and coagulate, creating the appearance that it had disappeared.
They weren't, however, able to offer an explanation for the mass number of cow deaths over the years – for now it remains a mystery.