33 years have passed since the release of the famous film "RoboCop" directed by Paul Verhoeven, and who would have thought – this Robocop is practically here. Crowds of them roam the streets among us, but naive US citizens do not yet know about this.
The rise and rise of the covid-driven police state, fueled by advances in technology, has spawned a display-equipped helmet that is sure to delight the world's most anxious security officials. It is called a "smart helmet" and it can check airport passengers, for example, for the COVID-19 virus, as well as provide other important records to the employee with the scanner.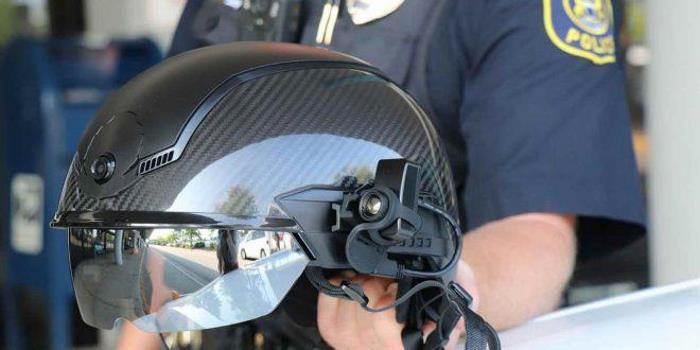 Thus, an interesting situation arises: the City Hall of Flint, Michigan, cannot provide residents of the city with clean drinking water, but money for futuristic robotic police officers was quickly found and now, for example, travelers at Bishop International Airport can see a crowd of Robocops live.
Under the guise of checking passengers for COVID-19, a smart helmet made by KeyBiz in Italy can scan people's body temperatures over 20 feet. However, the Smart Helmet is not limited to body temperature scans that any laser-guided thermometer can do.
The helmet has a built-in facial recognition server workstation that can provide a police officer with all the information about a client – from the license plate of his car to the name of his favorite dog. And it doesn't matter if you are a terrorist or a citizen completely loyal to the authorities – you will still be scanned.
Helmets are already in use both in Italy and around the world. Michigan website ABC12 reports that if someone has a temperature of over 100.4 degrees Fahrenheit, the person is removed from the crowd and the police conduct an urgent investigation of their health, obviously worried whether the person is too sick to go out into the city or travel further.
ABC12 writes: All airport passengers who have recorded temperatures above 100.4 degrees will be asked to leave the terminal building after police conduct limited coronavirus contact tracing to find out which areas of the building may have been affected.
We have long warned our readers that the COVID-19 pandemic will be used as a "good reason" to invade our privacy. Now, it looks like glorious times have come.
And now the invasion of your privacy will be more and more every day. And everything will fall under the aegis of fears for your health, everything will be done only to protect you from the damned pandemic.
Well, of course – America will be protected from terrorism. And now all this makes us yearn for the good old days, when the only danger in flight was the smell of cigarette smoke from the on board passengers.