Researchers Recommend Replacing Aspirin with this Natural Alternative
As far back as the 5th century BC, the Greek physician Hippocrates wrote about the use of a bitter powder extracted from willow bark that reduced fevers and eased aches and pains. Native Americans also used an infusion of willow bark for similar purposes. What was this remarkable "healing" principle within the bark that relieved disease?
Known as salicylic acid (from the Latin salix, willow tree), this pain-killing compound is widely distributed throughout plants, where it functions as a hormone. The more vegetables and fruits you consume, the more likely you are to have a physiologically significant concentration of salicylic acid in your blood. This is why, for instance, vegans and vegetarians generally have higher levels than most grain- and meat-based consumers. [1]
The chemical acetyl-salicylic acid, commonly known as aspirin, is a synthetic form of salicylic acid, a compound which is formed when salicin, a bitter compound naturally found within plants like white willow bark, is broken down within the human body. Salicylic acid can also be synthesized endogenously from benzoic acid, and its urinary metabolite, salicyluric acid, has been found to overlap levels in patients on low-dose aspirin regimens. Cell research indicates that salicylic acid compounds (known as salicyclates) actually compare surprisingly well to aspirin in reducing inflammatory activity.[2]
While salicylic acid is found naturally in plants as salicylates, acetyl-salicylic acid does not exist in nature, is not formed as byproduct of natural salicylate consumption,[3] and is produced only through industrial synthesis. For example, this is one method of synthesis:
Acetylsalicylic acid is prepared by reacting acetic anhydride with salicylic acid at a temperature of <90 deg C either in a solvent (e.g., acetic acid or aromatic, acyclic, or chlorinated hydrocarbons) or by the addition of catalysts such as acids or tertiary amines."[4]
Also, the chemical modification of natural salicylic acid with an acetyl group results in the acetylation of hemoglobin,[5] essentially chemically altering the natural structure-function of our red blood cells and subsequent hemodynamics. In essence, aspirin, a semi-synthetic compound, makes the blood tissue itself semi-synthetic.
This could be why aspirin has been linked to such a broad range of unintended adverse health effects, including but not limited to:
Gastric Ulcer [6]
Hearing Loss/Tinnitus[7] [8] [9] [10] [11] [12]
Cerebral Bleeding [13]
Influenza Mortality [14]
Reye Syndrome
Crohn's Disease[15]
Helicobacter Pylori Infection[16]
We have a section on our database dedicated to indexing the under-reported, unintended adverse effects of aspirin, related to 50 diseases. We also have a section which indexes research on natural compounds studied to prevent, reduce or reverse Aspirin-Induced Toxicity.
According to US EPA statistics, up to 500 thousand pounds of the chemical was produced in the United States in 1998 alone.[17] Millions the world over take it for pain relief, including your typical headache, but also for the prevention of heart attacks and stroke.
Taking a "baby aspirin," i.e. an 81 mg dose, is considered safer — which it is relative to a 325 mg "adult dose" – but is known to cause widespread and significant gastroduodenal damage. A study published in 2009 in the journal Currrent Medical Research & Opinion titled, "Gastroduodenal toxicity of low-dose acetylsalicylic acid: a comparison with non-steroidal anti-inflammatory drugs," found the following:
Data suggest that ASA causes significant gastroduodenal damage even at the low doses used for cardiovascular protection. These effects (both systemic and possibly local) may be pharmacodynamically distinct from the gastroduodenal toxicity seen with NSAIDs.[18]
Another 2009 study found that 80% of healthy individuals who uses short-term (14 days), low-dose aspirin experienced small intestinal toxicity, including small bowel mucosal breaks and mucosal inflammation. [19] Also, there are reports of esophageal mucosal lesions induced by low-dose aspirin and other antiplatelet medications mimicking esophageal malignancy.[20]
Data suggest that ASA [aspirin]causes significant gastroduodenal damage even at the low doses used for cardiovascular protection. These effects (both systemic and possibly local) may be pharmacodynamically distinct from the gastroduodenal toxicity seen with NSAIDs.[21]
Hemorrhagic side effects, in fact, are one of the greatest challenges facing those who use aspirin for prevention. By taking a drug which prevents clotting, aspirin can work too well, resulting in bleeding disorders or events, some of which may be life-threatening, even lethal.
So, given the serious, unintended adverse health effects of aspirin therapy, what are some evidence-based natural alternatives?
Researched aspirin alternatives include
Pycnogenol: A human study published in 1999 in the journal Thrombotic Research found that pycnogenol was superior (i.e. effective at a lower dosage) to aspirin at inhibiting smoking-induced clotting, without the significant (and potentially life-threatening) increase in bleeding time associated with aspirin use.[22] The abstract is well worth reading in its entirety:
The effects of a bioflavonoid mixture, Pycnogenol, were assessed on platelet function in humans. Cigarette smoking increased heart rate and blood pressure. These increases were not influenced by oral consumption of Pycnogenol or Aspirin just before smoking. However, increased platelet reactivity yielding aggregation 2 hours after smoking was prevented by 500 mg Aspirin or 100 mg Pycnogenol in 22 German heavy smokers.
In a group of 16 American smokers, blood pressure increased after smoking. It was unchanged after intake of 500 mg Aspirin or 125 mg Pycnogenol. In another group of 19 American smokers, increased platelet aggregation was more significantly reduced by 200 than either 150 mg or 100 mg Pycnogenol supplementation. This study showed that a single, high dose, 200 mg Pycnogenol, remained effective for over 6 days against smoking-induced platelet aggregation. Smoking increased platelet aggregation that was prevented after administration of 500 mg Aspirin and 125 mg Pycnogenol.
Thus, smoking-induced enhanced platelet aggregation was inhibited by 500 mg Aspirin as well as by a lower range of 100-125 mg Pycnogenol. Aspirin significantly (p<0.001) increased bleeding time from 167 to 236 seconds while Pycnogenol did not.
These observations suggest an advantageous risk-benefit ratio for Pycnogenol." [emphasis added]
Pycnogenol also has about as many "side benefits" as aspirin has side effects.
Policosanol: Already well-known for its ability to modulate blood cholesterol levels as effectively as statins, but without their notorious side effects, this sugar cane wax extract has been found to be as effective as aspirin at inhibiting clotting, but at a lower, safer dose.[23]
There are actually a broad range of natural compounds, including foods and spices, with demonstrable platelet-inhibiting activity. You will find a list of them on our natural platelet inhibitor pharmacological actions page. Another highly relevant section on our website is the Thrombosis Research page.
Ultimately, however, cardiovascular disease and heart attacks, for instance, are not caused by a lack of aspirin.
References
[1] C J Blacklock, J R Lawrence, D Wiles, E A Malcolm, I H Gibson, C J Kelly, J R Paterson. Salicylic acid in the serum of subjects not taking aspirin. Comparison of salicylic acid concentrations in the serum of vegetarians, non-vegetarians, and patients taking low dose aspirin. J Clin Pathol. 2001 Jul ;54(7):553-5. PMID: 11429429
[2] Pharmacokinetics of aspirin and salicylate in relation to inhibition of arachidonate cyclooxygenase and antiinflammatory activity. Proc Natl Acad Sci U S A. 1987 Mar ;84(5):1417-20. PMID: 3103135
[3] P L Janssen, M B Katan, W A van Staveren, P C Hollman, D P Venema. Acetylsalicylate and salicylates in foods. Cancer Lett. 1997 Mar 19 ;114(1-2):163-4. PMID: 9103279
[4] [Ullmann's Encyclopedia of Industrial Chemistry. 6th ed.Vol 1: Federal Republic of Germany: Wiley-VCH Verlag GmbH & Co. 2003 to Present, p. V31 725 (2003)]
[5] K R Bridges, G J Schmidt, M Jensen, A Cerami, H F Bunn. The acetylation of hemoglobin by aspirin. In vitro and in vivo. J Clin Invest. 1975 Jul;56(1):201-7. PMID: 237937
[6] Gastroduodenal toxicity of low-dose acetylsalicylic acid: a comparison with non-steroidal anti-inflammatory drugs. Curr Med Res Opin. 2009 Nov;25(11):2785-93. PMID: 19788350
[7] Analgesic use and the risk of hearing loss in men. Am J Med. 2010 Mar;123(3):231-7. PMID: 20193831
[8] Hearing loss in a woman on aspirin: the silent pharmacokinetic parameter. Ther Drug Monit. 2009 Feb;31(1):1-2. PMID: 19155962
[9] Too much of a good thing: long-term treatment with salicylate strengthens outer hair cell function but impairs auditory neural activity. Hear Res. 2010 Jun 14;265(1-2):63-9. Epub 2010 Mar 6. PMID: 20214971
[10] Long-term administration of salicylate enhances prestin expression in rat cochlea. Int J Audiol. 2009 Jan;48(1):18-23. PMID: 19173110
[11] Behavioral assessment and identification of a molecular marker in a salicylate-induced tinnitus in rats. Neuroscience. 2010 Feb 17;165(4):1323-32. Epub 2009 Dec 1. PMID: 19958810
[12] Salicylate-induced degeneration of cochlea spiral ganglion neurons-apoptosis signaling. Neuroscience. 2010 Jun 16;168(1):288-99. Epub 2010 Mar 15. PMID: 20298761
[13] Predictors of mortality in trauma patients with intracranial hemorrhage on preinjury aspirin or clopidogrel. J Trauma. 2008 Oct;65(4):785-8. PMID: 18849791
[14] The effect on mortality of antipyretics in the treatment of influenza infection: systematic review and meta-analysis. J R Soc Med. 2010 Oct;103(10):403-11. PMID: 20929891
[15] Aspirin in the aetiology of Crohn's disease and ulcerative colitis: a European prospective cohort study. Aliment Pharmacol Ther. 2011 Sep ;34(6):649-55. Epub 2011 Jul 26. PMID: 21790683
[16] Helicobacter pylori infection in bleeding peptic ulcer patients after non-steroidal antiinflammatory drug consumption. World J Gastroenterol. 2011 Oct 28 ;17(40):4509-16. PMID: 22110282
[17] Toxnet.nlm.nih.gov, Hazardous Substances Data Base: Aspirin
[18] Neville D Yeomans, Christopher J Hawkey, Wayne Brailsford, Jørgen Naesdal. Gastroduodenal toxicity of low-dose acetylsalicylic acid: a comparison with non-steroidal anti-inflammatory drugs. Curr Med Res Opin. 2009 Nov;25(11):2785-93. PMID: 19788350
[19] Incidence of small bowel injury induced by low-dose aspirin: a crossover study using capsule endoscopy in healthy volunteers. Digestion. 2009;79(1):44-51. Epub 2009 Feb 26. PMID: 19246922
[20] Esophageal mucosal lesion with low-dose aspirin and prasugrel mimics malignancy: a case report. World J Gastroenterol. 2011 Sep 21 ;17(35):4048-51. PMID: 22046096
[21] Gastroduodenal toxicity of low-dose acetylsalicylic acid: a comparison with non-steroidal anti-inflammatory drugs. Curr Med Res Opin. 2009 Nov;25(11):2785-93. PMID: 19788350
[22] M Pütter, K H Grotemeyer, G Würthwein, M Araghi-Niknam, R R Watson, S Hosseini, P Rohdewald. Inhibition of smoking-induced platelet aggregation by aspirin and pycnogenol. Thromb Res. 1999 Aug 15;95(4):155-61. PMID: 10498385
[23] M L Arruzazabala, S Valdés, R Más, D Carbajal, L Fernández. Comparative study of policosanol, aspirin and the combination therapy policosanol-aspirin on platelet aggregation in healthy volunteers. Pharmacol Res. 1997 Oct;36(4):293-7. PMID: 9425618
NTP nuclear rocket engine will take humans to Mars in just three months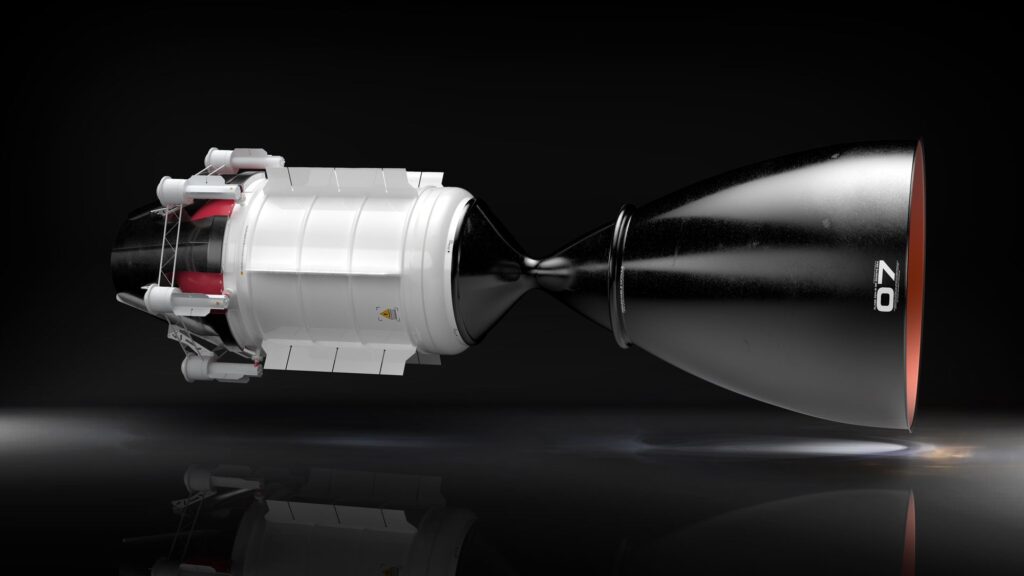 Although the romance of the peaceful atom has subsided since the mid-1960s, the idea of ​​using nuclear reactors for "civilian" purposes is still regularly returned. The new nuclear rocket engine (NRM) will deliver a man to Mars much faster than is possible now.
The danger of cosmic radiation is much more serious than the risk of infection from an accident with such an engine. The most dangerous of all the constraining vectors for projects of sending people to other bodies in the solar system is cosmic radiation. Radiation from our star and galactic rays can seriously damage the health of the mission crew. Therefore, when planning flights to Mars, engineers and scientists try to reduce travel time as much as possible.
One promising way to get to the Red Planet in just three months could be a new NTP engine. Its concept was developed and submitted to NASA by Ultra Safe Nuclear Technologies ( USNC-Tech ) from Seattle, USA. The name of the unit is simply deciphered – Nuclear Thermal Propulsion ( NTP ), that is, "thermal nuclear power plant". The novelty differs from its previously created or invented counterparts in the most secure design.
A key component of USNC's development is mid – grade uranium fuel "pellets". They contain 5% to 20% of the highly reactive isotope U- 235 coated with zirconium carbide ceramics. This degree of enrichment lies roughly halfway between the "civilian" nuclear power plants and the military. The proprietary ceramic coating technology makes the tablets incredibly resistant to mechanical damage and extreme temperatures.
The company promises that their fuel elements are significantly superior in these parameters to those currently used at nuclear power plants. As a result, the engine will have a higher specific impulse with a lower degree of uranium enrichment than in earlier versions of NRE. In addition to the flight to Mars, among the goals of the ambitious project are other missions within the solar system. The perspectives of the concept will soon be considered by specialists from NASA and the US Department of Defense ( DoD ). Perhaps departments will even allow its commercial use by private companies.
Theoretically, NRE based on modern technologies can have a specific impulse (SR) seven times higher than that of chemical jet engines. And this is one of the key performance parameters. At the same time, unlike electric and plasma ones, the ID of a nuclear rocket engine is combined with high thrust. One of the limiting factors in the use of NRE, in addition to safety issues, are extremely high temperatures in the reactor core.
The higher the temperature of the gases flowing out of the engine, the more energy they have. And accordingly, they create traction. However, mankind has not yet come up with relatively inexpensive and safe materials that can withstand more than three thousand degrees Celsius without destruction. The solution created by USNC will operate at the limit of modern materials science (3000 ° C) and have a specific impulse twice that of the best liquid-propellant engines.
The official press release does not specify which working body will be used in NTP . Usually, in all NRE projects, the reactor core heats hydrogen, less often ammonia. But, since we are talking about a long-term mission, the creators could have chosen some other gas. Keeping liquid hydrogen on board for three months is no easy task. But you still need to invent something for the way back.
Scientist Peter Scott-Morgan is set to become "the world's first complete cyborg"
Two years ago scientist Peter Scott-Morgan was diagnosed with motor neuron disease, also known as Lou Gehrig's disease, and today he is still fighting for a new life, not just for survival.
This October, Dr. Scott-Morgan is on track to become the world's first full-fledged cyborg, potentially giving him more years of life.
The world's first complete cyborg
It was in 2017 that Dr. Peter Scott-Morgan (a brilliant robotics writer, scientific writer, and talented speaker) was diagnosed with degenerative motor neuron disease that ultimately paralyzed his entire body except his eyes.
The diagnosis is understandably grim, especially considering that he has only two years to live, but he has not given up the fight.
Teaming up with world-class organizations with expertise in artificial intelligence, Dr. Scott-Morgan is transforming himself into what he calls "the world's first fully fledged cyborg."
"And when I say 'Cyborg', I mean not just that some kind of payment will be implanted in me, I mean that I will become the most advanced human cybernetic organism ever created on Earth for 13.8 billion years. My body and brain will be irreversibly changed, "says Dr. Scott-Morgan.
What does it mean to be human
According to Dr. Scott-Morgan, he will become part robot and part living organism. Moreover, the change will not be one-time, but with subsequent updates.
"I have more updates in the process than Microsoft ," says Dr. Scott-Morgan.
AI-powered creative expression
The cyborg artist is a great example of the power of human-AI collaboration. AI uses the data that make up Peter's digital portrait ( articles, videos, images, and social media ) and is trained to recognize key ideas, experiences, and images.
Peter will introduce a theme, AI will suggest composition, and Peter will apply images to suggest style and mood. Peter will direct the AI ​​to render a new digital image that none of them could create alone.
A unique blend of AI and human, reflects Peter's creative and emotional self – a critical aspect of what it means to be human.
Peter 2.0
This October, Dr. Scott-Morgan will undergo what he calls the latest procedure that will transform him into "Complete Cyborg".
October 9 he tweeted a photo of himself, writing the following:
"This is my last post as Peter 1.0. Tomorrow I will trade my vote for potentially decades of life as we complete the last medical procedure for my transition to Full Cyborg, in the month that I was told statistically I would be dead. I am not dying, I am transforming. ! Oh, how I LOVE science !!! ".
Japan has developed an inflatable scooter that weighs practically nothing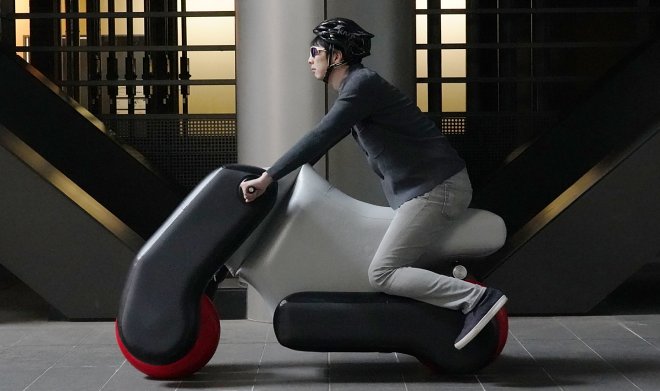 The University of Tokyo engineers have developed the Poimo inflatable electric scooter, which is created individually for each owner. It is enough to send your photo to the manufacturers – and a personal optimized model will be assembled for you.
The scooter is designed with a special program for the body size of a particular user and his specific fit. Moreover, each owner is free to make any changes to this model. If he makes any changes to the drawing, the program will automatically redesign the electric bike to maintain its strength, stability and controllability. When the model is finished and approved, it is handed over to the manufacturer.
The scooter consists of seven separate inflatable sections that are constructed from durable fabric and sewn with straight stitch. It remains to add electronic components – in particular, a brushless motor and a lithium-ion battery.
The finished electric scooter weighs about 9 kg and can travel at speeds up to 6 km / h (that is, slightly faster than a pedestrian). It can work for an hour on one charge.
This is how the current version of Poimo looks like in action: