Researchers Explain Why Flu Shots Don't and Can't Work
Flu vaccine season is already in full swing, with banners outside pharmacies urging: "Get Your Flu Shot Now." What's not advertised, however, is just how lackluster the vaccine is. The most commonly used flu shots protect no more than 60% of people who receive them; some years, effectiveness plunges to as low as 10%. Given that a bad flu season can kill 50,000 people in the United States alone, "10% to 60% protection is better than nothing," says Michael Osterholm, an epidemiologist at the University of Minnesota in Minneapolis. "But it's a terribly inadequate vaccine for a serious public health threat." Now, researchers are striving to understand why it fails so often—and how to make a markedly better one.
They're questioning what was once received wisdom: that the vaccine fails when manufacturers, working months ahead of flu season, incorrectly guess which strains will end up spreading. And they're learning instead that the vaccine may falter even when the right strains were used to make it, perhaps because of how it is produced or quirks of individual immune systems.
"It's much more complicated than we thought," Osterholm says. "I know less about influenza today than I did 10 years ago."
The influenza vaccine teaches the body to produce antibodies against the head of the virus's surface protein, hemagglutinin (HA). Those antibodies ideally prevent HA from attaching to cellular receptors, thwarting infection. But HA's head is highly mutable, which is why vaccinemakers must come up with a new formula every year.
For many decades, researchers believed the flu vaccine offered solid protection if it was a good match to the circulating strains; studies from the 1940s through the 1960s routinely showed an efficacy of 70% to 90%. But those studies relied on a misleading methodology. Without a simple way to detect the virus in the blood, researchers measured antibody levels, looking for a spike that occurs after infection.
Then in the 1990s, sensitive polymerase chain reaction tests enabled researchers to actually measure viral levels, and they told a different story. It turned out that some people who did not have the big antibody spike after exposure—and were therefore counted as a vaccine success—actually did show a jump in viral levels, signalling infection. Earlier assessments had exaggerated vaccine efficacy. What's more, efficacy was sometimes low even when the vaccine and circulating strains appeared well matched. Something else was afoot.
Loss of confidence
For decades, tests suggested the flu vaccine worked extremely well, but in the past 15 years a better test revealed many infections in vaccinated people who would previously have been deemed protected.
The circulating strains continue to mutate after the vaccine is made, and the resulting "escape mutants" are often blamed for vaccine failure. But Arnold Monto, an epidemiologist at the University of Michigan School of Public Health in Ann Arbor, is skeptical that escape mutants play a major role. In a preprint published 15 August on bioRxiv, his team reports sequencing influenza DNA from 249 viral specimens collected from people over five influenza seasons. They found loads of HA mutations, as expected, but most weakened the virus, making it "unfit," meaning it could not transmit human to human. Viable escape mutants, Monto concludes, are too rare to explain the failures seen year after year.
Danuta Skowronski, an epidemiologist at the BC Centre for Disease Control in Vancouver, Canada, instead blames mutations in the vaccine strain itself. The most common influenza vaccine contains an "inactivated" virus, which manufacturers grow in chicken eggs. As Skowronski's team first reported in 2014, the virus can mutate while it is growing in the eggs, resulting in a vaccine unable to block circulating strains.
"I think [these mutations] play an enormous role," says viral immunologist Scott Hensley of the University of Pennsylvania. He has preliminary evidence that egg-adapted mutations were behind the weak protection seen with the vaccine used in the 2016–17 season, he says. He also points to a recent study by another group that compared an egg-grown vaccine with one that contained genetically engineered HA, which sidesteps the mutation issue. The engineered vaccine offered more solid protection. That suggests a way to improve current vaccines, Hensley says. "I'd be shocked in 15 years if any of our flu vaccines are grown in eggs."
Hensley notes another way to reduce the odds of failure: improving the techniques for choosing the vaccine strains. Vaccinemakers largely rely on an old technique that exposes ferrets—which differ from humans—to candidate vaccine strains and then assesses whether they can stop viral isolates from people naturally infected with the circulating strains. Genetic comparisons, he says, would yield a better match.
Understanding the immune responses that correlate with protection could also help refine vaccines. Immune responses to targets other than HA's head, including HA's stem and a second viral surface protein, neuraminidase, receive scant attention. Further complicating the picture is the immunologic legacy of multiple exposures to influenza each year—from the vaccine and from wild-type virus. "What is the effect of primary and subsequent exposure to the virus?" asks Adolfo García-Sastre, an influenza vaccine researcher at the Icahn School of Medicine at Mount Sinai in New York City. "It makes it very difficult to come up with hard data about what's going on."
Hensley's group has shown that the immune system is also biased by a child's first exposure to flu, which leaves a ghost that affects responses to subsequent vaccines. This may explain why middle-aged people in 2013–14 were unusually hard-hit by a viral mutant that did not infect most vaccinated people, his team has reported. The team's studies showed that in this age group, the vaccine elicited antibodies to a similar—but not identical—HA they had seen as kids, and the resultant immune response missed the target. "These first exposures really shape how we respond our entire lives," Hensley says. Immunologist Rafi Ahmed at Emory University in Atlanta last year reported that long-lived memory B cells to flu, which produce antibodies, can crowd out B cells that would otherwise respond to novel infections.
Other evidence suggests that repeated vaccinations can blunt the immune response to some HAs. "We don't understand enough about the effects … to make any recommendations right now," says Edward Belongia, an epidemiologist at the Marshfield Clinic Research Institute in Wisconsin, who led a recent meta-analysis. "The best strategy remains to get a vaccine every year." This is especially true for the elderly or immune-compromised people: Even if a vaccine fails to prevent infection, they may suffer less severe disease if immunized.
The BC Centre's Skowronski says many influenza researchers are hesitant to discuss problems with the vaccine "because they're afraid of being tainted with the antivaccine brush."
She says that's a mistake. "This immunization program has been predicated on assumptions on top of assumptions. Unless we have these discussions, we'll never have improved vaccine options. And I don't think it's antivaccine to want your vaccine program to be the best that it can be," she adds.
Skowronski thinks the field must more aggressively pursue a universal influenza vaccine that would work against many strains and last for years. Anthony Fauci, director of the U.S. National Institute of Allergy and Infectious Diseases in Bethesda, Maryland, agrees. He wants to accelerate that work by creating a new consortium of top researchers, which he hopes next year's budget can fund. "I'm going to make universal influenza vaccine my top priority over the next couple years," Fauci says. "We've got to do better."
Japan has developed an inflatable scooter that weighs practically nothing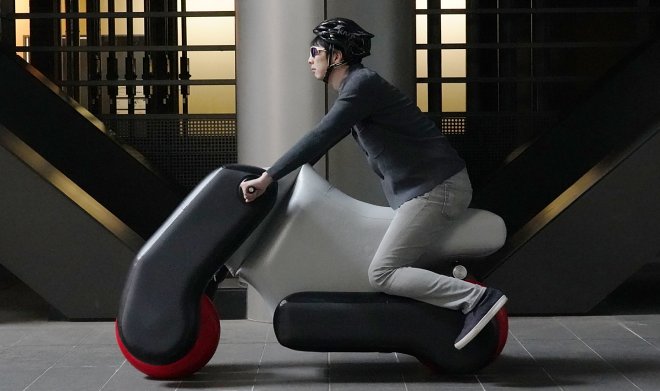 The University of Tokyo engineers have developed the Poimo inflatable electric scooter, which is created individually for each owner. It is enough to send your photo to the manufacturers – and a personal optimized model will be assembled for you.
The scooter is designed with a special program for the body size of a particular user and his specific fit. Moreover, each owner is free to make any changes to this model. If he makes any changes to the drawing, the program will automatically redesign the electric bike to maintain its strength, stability and controllability. When the model is finished and approved, it is handed over to the manufacturer.
The scooter consists of seven separate inflatable sections that are constructed from durable fabric and sewn with straight stitch. It remains to add electronic components – in particular, a brushless motor and a lithium-ion battery.
The finished electric scooter weighs about 9 kg and can travel at speeds up to 6 km / h (that is, slightly faster than a pedestrian). It can work for an hour on one charge.
This is how the current version of Poimo looks like in action:
Excerpts from Elon Musk's speech at the Martian Society convention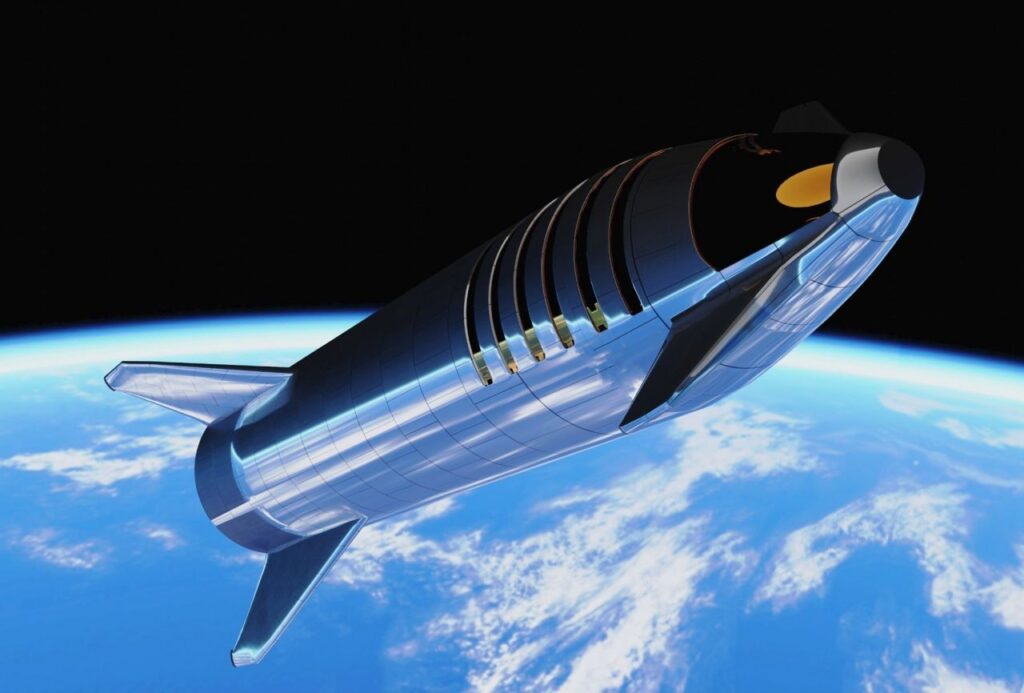 Elon Musk's comments with questions relayed from the Mars Society Membership by Dr. Robert Zubrin, James L. Burk, and Carie Fay. Following Elon's 30 min time, Dr. Zubrin took additional questions. This special event was part of the 2020 Mars Society Virtual Convention from October 14-18, 2020.
About Starship Test Schedule:
– entering orbit – with a probability of 80% -90% will take place in 2021
– the probability of the return of the ship and the 1st stage in this flight is 50%
– test of refueling in orbit – 2022
– Starship lunar version – 2022 or 2023
– Starship flight to Mars – around 2024
The goal of the Starship is to build a self-sufficient settlement on Mars as quickly as possible. Musk does not rule out the possibility that this will not be achieved during his lifetime. According to his rough estimates, to create a self-sufficient city, it will be necessary to deliver 1 million tons of cargo, which corresponds to 4-5 million tons in a low Earth orbit. Modern single-use launch vehicles are capable of removing less than 1% of this value.

"Disposable launch vehicles are completely stupid. They are a waste of time. I think people need to stop wasting time on this. If you try to sell a disposable plane, you will be thrown out of the office. If you try to sell a disposable car, you will also be thrown out of the office. "
A series of questions and answers followed:

What is the best landing site on Mars?
– I'm not sure about that. But I can name the criteria. The first of these is latitude: most likely it will be in the northern hemisphere, far enough to the north to have water ice, but to still have enough sunlight.It also needs to be low to get the most benefit from atmospheric braking.
How do you prioritize mission priorities: research, infrastructure construction, and science?
– The first will be the construction of a fuel plant.

A question from a teenager who wants to become an engineer and robot maker with a dream to work at SpaceX: what is the most important education in order to become an engineer?
– There are many varieties of this profession: you can be an aerospace engineer, in the field of electronics, software, or a chemical engineer involved in creating safe production of fuels. I think physics is a good foundation for critical thinking.
Boring Company was originally conceived as a tunnel manufacturing firm on Mars?
– No. It was originally something of a joke. I thought tunnels were a good solution to reduce the traffic problem in cities and improve the quality of life by turning parking lots into green parks. To do this, you need to go to 3d [get away from the "flat" infrastructure – approx. per.]. I think tunnels are good for Mars too. But there you need a lot lighter equipment: you don't care about mass on Earth, but you will have to take care of it a lot when going to Mars.
At Boring Company, have you learned a lot of technology that might come in handy on Mars?
– I think, yes.
Do you have any tips for young people who love Mars but don't know how to participate in its settlement?
– I think any strong advocate of the need to conquer Mars matters. People often don't even think about it. I often talk to people who don't even know about it. Therefore, I consider it important for humanity and consciousness in general to bring a discussion about this to society. Talking about it with friends and acquaintances – I think this is what we should do. In my estimate, we will spend less than 1% of our efforts on Mars exploration, exactly less than healthcare, perhaps even less than cosmetics – this will be enough to make life multi-planetary. But this requires people to start talking about it 100 times more often. I think this is what really matters. [the entire cosmonautics of the world is $ 424 billion a year, while cosmetics is $ 532 billion, and tobacco production is $ 849 billion – approx. per.]
What's the coolest part about Starship development?
– I think the coolest detail is the ability to work with a great group of engineers and come up with interesting solutions. I think the best thing is the opportunity to work with smart and creative people who come up with solutions that were not available before. This is a great reward.

What do you focus on when hiring, especially with regard to engineers?
"We're looking for signs of exceptional ability. Or at the very least, striving to do exceptional things at SpaceX.
Are you planning to make a Mars-Earth communication system like Starlink?
– Yes, I think we will use a laser, probably launched into orbit, to avoid atmospheric diffraction. Thus, it will be a laser beam going from the orbit of the Earth to the orbit of Mars. And also relay satellites in solar orbit, since the laser beam cannot be sent through the Sun [when it is between Mars and Earth – approx. per.].
Can Starship be used for other destinations like Venus and other planets?
– Starship will be able to travel to any target in the solar system that has a solid surface when fuel depots appear. It is not the kind of transport that will take us to other stars, but when we become a multi-planetary species, we will create a demand for innovation in space travel that will ultimately lead us to interstellar travel.
Cern Scientists Plan an Impressive Experiment – They Will Come Into A Parallel Universe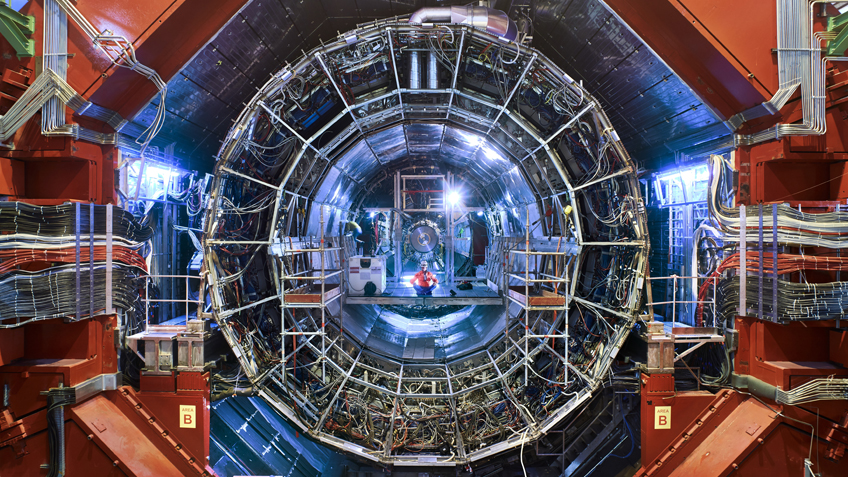 Cern scientists are once again preparing to impress the entire planet and become the focus of discussions with the new experiment they are planning.
An experiment that, if it brings the fascinating result that scientists have in mind, will change the way we think about the world , will take place in the next few days at the Large Hadron Collider, the European nuclear center, Geneva CERN Research.
The astonishingly LHC complex, the largest, most energetic elemental accelerator in the world, will be "fired" for the first time to its highest energy levels, in an effort to detect – or even create – tiny black holes.
If it succeeds, then, a completely new universe will be revealed – rewriting not only the books of physics, but also the books of philosophy!
It is possible, however, that gravity from our universe will "leak" into this parallel universe, as LHC scientists say.
From the Higgs boson to dark matter and the parallel universe
According to the British Express, the experiment is sure to "trigger" the critics, who are worried about the LHC, many of whom warn that the elementary particle accelerator will mark the end of our universe, creating a of the black hole.
Nevertheless, Geneva has remained … intact since 2008, when the LHC began its spectacular "work".
The first scientists at the Large Hadron Collider proved the existence of the Higgs boson – a key building block of the universe – and the LHC appears to be on track to locate "dark matter" – a previously undetectable force now considered that it constitutes the majority of matter in the universe, being, in fact, the reason why the latter is constantly expanding and moving away.
So next week's experiment is considered to change the game.
The truth is out there
Mir Faizal, one of three heads of the three natural groups behind the experiment, said:
"Like many parallel sheets, which are two-dimensional objects (width and length) can exist in a third dimension (height) , so parallel universes can also exist in higher dimensions. We anticipate that gravity can leak into extra dimensions, and if that happens, then tiny black holes can be produced in the LHC.

Normally, when people think of the multiverse, they think of the interpretation of quantum mechanics by many worlds, where every possibility is realized. This cannot be tested and so it is a philosophy and not a science. We do not mean this with parallel universes. What we mean is real universes, in extra dimensions. The truth is out there."