"Humankind has developed more technology in the past 100 years than in the previous 2,000 years.  Why?  The answer is simple:  the influence of the "Old Empire" over the mind and over the affairs of Mankind has been diminished by The Domain.
A renaissance [i] (Footnote) of invention on Earth began in 1,250 AD with the destruction of the "Old Empire" space fleet in the solar system.  During the next 500 years, Earth may have the potential to regain autonomy and independence, but only to the degree that humankind can apply the concentrated genius of the IS-BEs on Earth to solve the amnesia problem.
However, on a cautionary note, the inventive potential of the IS-BEs who have been exiled to this planet is severely compromised by the criminal elements of the Earth population.  Specifically, politicians, war-mongers and irresponsible physicists who create  unlimited weapons such as nuclear bombs, chemicals, diseases and social chaos.  These have the potential to extinguish all life forms on Earth, forever.
Even the relatively small explosions that were tested and used in the past two years on Earth have the potential to destroy all of life, if deployed in sufficient quantities. Larger weapons could consume all of the oxygen in the global atmosphere in a single explosion! [ii] (Footnote)
Therefore, the most fundamental problems that must be solved in order to ensure that Earth will not be destroyed by technology, are social and humanitarian problems.  The greatest scientific minds of Earth, in spite of mathematical or mechanical genius, have never addressed these problems.
Therefore, do not look to scientists to save Earth or the future of humanity.  Any so-called "science" that is solely based on the paradigm [iii] (Footnote) that existence is composed only of energy and objects moving through space is not a science.  Such beings utterly ignore the creative spark originated by an individual IS-BE and collective work of the IS-BEs who continually create the physical universe and all universes.  Every science will remain relatively ineffective or destructive to the degree that it omits or devaluates the relative importance of the spiritual spark that ignites all of creation and life."
– Excerpted from the Top Secret transcripts published in the book ALIEN INTERVIEW, edited by Lawrence R. Spencer
---
FOOTNOTES:
[i] "… Renaissance…"
The Renaissance (from French Renaissance, meaning "rebirth"; Italian: Rinascimento, from re- "again" and nascere "be born") was a cultural movement that spanned roughly the 14th through the 17th century, beginning in Italy in the late Middle Ages and later spreading to the rest of western Europe. It encompassed a revival of learning based on classical sources, the development of linear perspective in painting, and educational reform. The Renaissance saw developments in most intellectual pursuits, but is perhaps best known for its artistic aspect and the contributions of such polymaths as Leonardo da Vinci and Michelangelo, who have inspired the term "Renaissance men".
However,  it was not until the nineteenth century that the French word Renaissance achieved popularity in describing the cultural movement that began in the late 13th century"  (1200 AD – 1300 AD).
The term was first used retrospectively by the Italian artist and critic Giorgio Vasari (1511-1574) in his book The Lives of the Artists (published 1550). In the book Vasari was attempting to define what he described as a break with the barbarities of gothic art: the arts had fallen into decay with the collapse of the Roman Empire and only the Tuscan artists, beginning with Cimabue (1240-1301) and Giotto (1267-1337) began to reverse this decline in the arts. According to Vasari, antique art was central to the rebirth of Italian art.
During the 12th century in Europe, there was a radical change in the rate of new inventions and innovations in the ways of managing traditional means of production and economic growth. In less than a century, there were more inventions developed and applied usefully than in the previous thousand years of human history all over the globe. The period saw major technological advances, including the adoption or invention of printing, gunpowder, spectacles, a better clock, the astrolabe, and greatly improved ships. The latter two advances made possible the dawn of the Age of Exploration.
Alfred Crosby described some of this technological revolution in The Measure of Reality : Quantification in Western Europe, 1250-1600 and other major historians of technology have also noted it.
The earliest written record of a windmill is from Yorkshire, England, dated 1185.
Paper manufacture began in Italy around 1270.
The spinning wheel was brought to Europe (probably from India) in the 13th century.
The magnetic compass aided navigation, first reaching Europe some time in the late 12th century.
Eyeglasses were invented in Italy in the late 1280s.
The astrolabe returned to Europe via Islamic Spain.
Leonardo of Pisa introduces Hindu-Arabic numerals to Europe with his book Liber Abaci in 1202.
The West's oldest known depiction of a stern-mounted rudder can be found on church carvings dating to around 1180."
– Reference:  Wikipedia.org
[ii] "… explosions that were tested and used in the past two years on Earth have the potential to destroy all of life…"
"A doomsday device is a hypothetical construction — usually a weapon — which could destroy all life on the Earth, or destroy the Earth itself (bringing "doomsday", a term used for the end of planet Earth).
Doomsday devices have been present in literature and art especially in the 20th century, when advances in science and technology allowed humans to imagine a definite and plausible way of actively destroying the world or all life on it (or at least human life). Many classics in the genre of science fiction take up the theme in this respect, especially The Purple Cloud (1901) by M. P. Shiel in which the accidental release of a gas kills all people on the planet.
After the advent of nuclear weapons, especially hydrogen bombs, they have usually been the dominant components of fictional doomsday devices. RAND strategist Herman Kahn proposed a "Doomsday Machine" in the 1950s which would consist of a computer linked to a stockpile of hydrogen bombs, programmed to detonate them all and bathe the planet in nuclear fallout at the signal of an impending nuclear attack from another nation. Such a scheme, fictional as it was, epitomized for many the extremes of the suicidal logic behind the strategy of mutually assured destruction, and it was famously parodied in the Stanley Kubrick film from 1964, Dr. Strangelove or: How I Learned to Stop Worrying and Love the Bomb. It is also a main topic of the movie Beneath the Planet of the Apes, in parallel with the species extermination theme. Most such models either rely on the fact that hydrogen bombs can be made arbitrarily large (see Teller-Ulam design) or that they can be "salted" with materials designed to create long-lasting and hazardous fallout (e.g.; a cobalt bomb).
There are many unconfirmed, anecdotal reports of a Soviet doomsday device involving a 200-megaton hydrogen bomb sheathed in (or, alternately, "salted" with) a highly radioactive material, usually said to be cobalt, of sufficient quantity to saturate the earth's atmosphere with deadly fallout should the device be detonated. Details regarding this device vary according to the source, but enough similarities in the dozens of different stories exist to suggest at least some basis in truth. According to various sources, at some point between 1967 and 1985, the device was designed but never constructed; built but never activated; built and activated, but dismantled at the end of the cold war; or designed and constructed in such a manner that it can never be de-activated, and is still in existence today. Tales of its location and means of operation are equally diverse: it was in an underground bunker west of Moscow, Siberia, the Ukraine, etc.; it was installed on a special rocket booster that would deliver it to the upper atmosphere upon activation; it was actually a series of bombs placed at intervals along the western border of the USSR; it was to be detonated upon command from the Kremlin, automatically by a special computer, a seismic trigger, or upon detection of incoming missiles. Many more versions exist, such as one with the device being permanently installed in the hold of an unmarked tramp freighter, steaming randomly from port to port in the North Sea."
– Reference:  Wikipedia.org
[iii]  "… paradigm…"
"Historian of science Thomas Kuhn gave this word its contemporary meaning when he adopted it to refer to the set of practices that define a scientific discipline during a particular period of time. Kuhn himself came to prefer the terms exemplar and normal science, which have more exact philosophical meanings. However, in his book The Structure of Scientific Revolutions Kuhn defines a scientific paradigm as:
what is to be observed and scrutinized
the kind of questions that are supposed to be asked and probed for answers in relation to this subject
how these questions are to be structured
how the results of scientific investigations should be interpreted
Alternatively, the Oxford English Dictionary defines paradigm as "a pattern or model, an exemplar."
– Reference:  Wikipedia.org
The cast of Ghost Hunters to host panel at AlienCon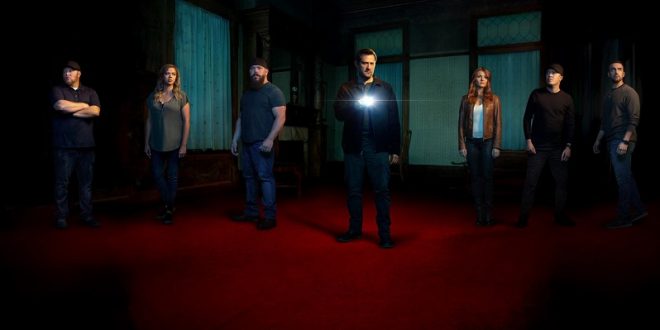 AlienCon the world's first convention dedicated to seeking the truth about extraterrestrial existence and solving the mysteries of the universe, has announced new program details for the October 4-6 event in Dallas, Texas. A+E Networks previously announced celebrity guests at AlienCon Dallas will include HISTORY's "Ancient Aliens" contributors Giorgio A. Tsoukalos, David Childress, Nick Pope, Caroline Cory, Jason Martell, John Brandenburg, Travis Taylor, and Jonathan Young.
The entire cast of A&E's "Ghost Hunters," one of the most successful paranormal series of all time, joins AlienCon Dallas for a panel discussion, Inside the World of A&E's "Ghost Hunters," on Saturday, October 5 at 2:20pm.
Have you ever wondered what it takes to investigate the paranormal? Hear from paranormal expert Grant Wilson and his new team of investigators. For the first time ever, this team of seven paranormal investigators – Wilson, Daryl Marston, Kristen Luman, Brandon Alvis, Mustafa Gatollari, Brian Murray and Richel Stratton – are sharing their approach to investigations, the cutting-edge technology they use, and how they research and prepare to go into a hunt.
Panel:  Inside the World of A&E's "Ghost Hunters"
Saturday, 10/5 at 2:20PM 
Grant Wilson, team leader/executive producer, and panel moderator
Daryl Marston, co-lead investigator
Kristen Luman, co-lead investigator
Mustafa Gatollari, site analyst/researcher/paranormal investigator
Brandon Alvis, tech manager/paranormal investigator
Richel Stratton, paranormal investigator
Brian Murray, paranormal investigator
There will also be two panel discussions regarding the Skinwalker Ranch
Panel: The Secret of Skinwalker Ranch
Friday 10/4 at 1:40PM
Panel: The Future of Skinwalker Ranch
Saturday, 10/5 at 11:00AM
Fans can learn more about ticket packages, special celebrity guests, and up-to-the-minute AlienCon Dallas programming information by visiting TheAlienCon.com.

AlienCon, owned by A+E Networks® in partnership with Prometheus Entertainment and produced by Mischief Management, LLC, is a three-day fan event inspired by HISTORY®'s hit series, Ancient Aliens®. AlienCon offers the opportunity for like-minded people to come together to challenge existing beliefs and seek disclosure of all kinds in an environment that inspires discovery and discussion.  The event will feature over 150 hours of original programming, sneak peeks and exclusive panels. Attendees can meet and mingle with their favorite celebrity guests.
More information can be found on the AlienCon website: TheAlienCon
A Taos Close Encounter of the Hunters and Aliens Kind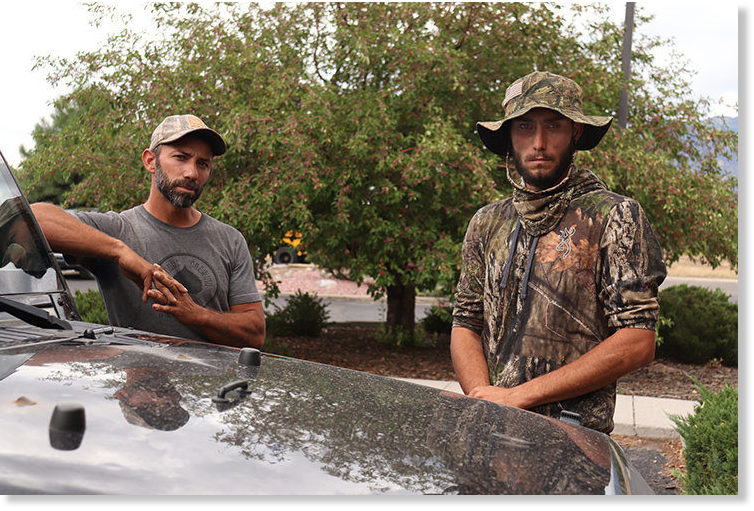 © Jesse Moya/Taos News
Staci Matlock
Taos News
From left, Josh Brinkley and Daniel Lucero were out bow hunting for elk near Cerro de la Olla Monday (Sept. 2) northwest of Taos when they had a strange encounter with a gigantic white structure that then disappeared. A day earlier, Brinkley saw what he thought were two hunters, but later described as oddly clothed "very tall figures with oversized heads." The two men are still trying to figure out what they saw.
Bow hunters Josh Brinkley and Daniel Lucero, dressed in camouflage gear, looked a little uncomfortable sitting in chairs at a local newspaper.
The Santa Fe County residents had just come into Taos after several days in rugged terrain near Cerro de la Olla, also called Pot Mountain, northwest of town near Ute Mountain.
They had a strange tale to tell and they weren't sure of their reception.
"We're a couple of guys that don't believe in much, but we believe now," Brinkley said.
They went hunting for elk.
They encountered aliens or something else so strange they don't know what to call it.
Brinkley, 41, said he's been going to the Pot Mountain area hunting for 15 years. He had never seen anything particularly odd.
He said he works construction and on movie sets. He's a family guy who doesn't want anyone to think he's crazy.
He and Lucero have worked together for eight years.
They say they aren't prone to seeing things and didn't particularly believe in aliens.
Odd Figures
Opening morning of bow hunting season was Sunday (Sept. 1). The two men had gone a couple of days early to scout the area for elk. Lucero, 26, had never been there.
They set up along the tree line on different sides of a field and waited. After three hours and no elk, Brinkley became restless. It was about 9:30 a.m.
"I take off walking, creeping around through the woods, looking for elk," Brinkley said.
He reached the top of the mountain where there's a caldera, a kind of wide bowl left behind by a collapsed volcano. He went to the edge on the southwest side. As he walked to the edge he noticed two figures on his side of the caldera. He thought at first they were hunters. But, they were "very tall shapes of these beings, standing side by side, staring right at me," he said.
He walked toward them across the brushy field. He estimates they were about 35 yards away. As a bow hunter, where measuring distance is critical to hitting a target, he said he's pretty adept at it. He went around the bush and looked again. The figures were gone.
He looked around and didn't see them. "Figured I would talk to them. They were gone, just gone," Brinkley said.
He thought more about what he had seen: With their lower half concealed by bushes in the caldera, he had only seen them from the waist up. "The shape that would be like their heads, it looked like they had huge hoods on. It looked like two ribbons coming off either side to a point at the top and bottom (like a banana). The right side was black, left side was white and a little shiny. Torsos were kind of black, I couldn't see many details. It definitely looked like clothes. In middle of the oval was just gray."
He thought maybe it was the back of hunters' heads. "But it looked too strange, too crazy."
Later, he drew what he could remember of them in a leather bound sketchbook he carries with him. And he drew what he saw next.
Weirded Out
Brinkley hurried back to where Lucero was still waiting. Still no elk. "I was a little weirded out," he told his friend.
He told Lucero he had seen a couple of hunters and that's probably what had scared off the elk. He couldn't bring himself at first to say what he might have just imagined.
They went back to camp. "I couldn't take it any more," Brinkley said. "I told him what I saw was weird. They were too tall, their heads were too big to be hunters."
"Anyone who knows me knows I don't tell these weird stories."
Lucero said he had known something was up when Brinkley had walked quickly and noisily up to his position at the field. Normally his friend is quiet, a hunter's slower, more measured speed through the bushes.
After Brinkley told him, Lucero felt a little weird, too. "I didn't know what to believe," Lucero said.
Brinkley kind of wrote off what he saw.
A Strange Structure
On Labor Day (Sept. 2), they headed out again to hunt early in the morning and hiked all around the area. No elk. They got back to their Jeep at about 2:30 p.m.
"We couldn't figure out why there was no elk," Brinkley said.
They decided to drive to the other side of the mountain and see if there were other hunters or four-wheelers scaring off the elk. As they drove, the men saw no signs of any wildlife at all, they said.
They drove about 10 minutes, when they saw it. They both work with movie sets. At first they thought it was a movie base camp. "It's this big tent structure, like a circus tent, 50-60 feet tall. Coming off the left of it was this long building, almost like what you would build for an archery lane for target practice. It was a third the height, but really long, maybe a couple hundred feet."
They were about a quarter mile away and couldn't see the bottom of the structure.
They watched it for about a minute as they drove.
"What is it," he asked Lucero, "a base camp for a movie? Or are they building an alien ship set?"
They drove down a little hill, lost sight of the structure for at most five seconds, Brinkley said.
"When we topped the hill, it was gone. Just gone."
Lucero said he was watching it the whole time while Brinkley drove except for those few seconds. "There was no dust, there was nothing," Lucero said.
They drove around the area searching for what they had seen until dark.
Nothing.
"I just know it was real," Brinkley said. "It was huge and white and then gone."
'Profoundly Unsettling'
When the two men reached a place with cell signal, they told a few friends what they had seen. They thought about calling the Air Force. A friend put them in touch with Peter Davenport, longtime executive director of the National UFO Reporting Center in Washington state.
Davenport confirmed they had called him. "It was a dramatic story," he said. "If it is true, it is profoundly unsettling."
He said out of the thousands of calls he gets every year about supposed alien sightings, they rarely describe seeing aliens on the ground.
They aren't the first hunters to see something they can't explain. Four hunters in Challis, Idaho, in 2000 described having a large triangular craft hover a couple of hundred feet above them before moving off over the mountains.
After listening to some 350,000 phone calls over 25 years, Davenport thinks he can tell those that are credible.
This was one of them, he said.
Brinkley and Lucero said they weren't drinking and weren't on drugs.
The hardest thing is telling their story. "People probably think we are insane," Brinkley said
He said he didn't believe in UFOs. "I sure do now," he said.
Lucero said he doesn't know about aliens. "I just know I've never seen anything that big just disappear."
"The two aliens, you can say I imagined that. But you cannot explain something that big just — gone," Brinkley said.
After telling their strange tale, the hunters did what they came to do – go try one more time to find elk.
New Mexico Hunters Have ET Encounter on Pot Mountain
Let's answer a few of the obvious questions right away. Yes, there really is a Pot Mountain in New Mexico. No, it has nothing to do with marijuana. Yes, that may absolve the two ET-spotting hunters from accusations that they were high when they claim to have seen two tall big-headed, half-black/half-white aliens on Pot Mountain. No, they weren't trying to be politically correct with that description. Yes, one saw the creatures and both saw something that was either their tent or their means of transportation. And no, they didn't take any pictures. However, it's an interesting story and UFO expert believes their sincerity in telling it.
"We're a couple of guys that don't believe in much, but we believe now."
Josh Brinkley and Daniel Lucero were still in their bow-hunting camouflage clothing when they told their story to the Taos News. The friends and co-workers have been hunting together for elk for years, but this was Lucero's first time on Cerro de la Olla – an inactive volcanic mountain northwest of Taos named Mountain of the Pot or Pot Mountain because of its pot shape. Brinkley brought him there a few days before the September 1 opening day of elk season to scout for some good spots. However, he was alone and wondering why there were no elk around when he had his first close encounter.
"[I noticed the] very tall shapes of these beings, standing side by side, staring right at me. The shape that would be like their heads, it looked like they had huge hoods on. It looked like two ribbons coming off either side to a point at the top and bottom (like a banana). The right side was black, left side was white and a little shiny. Torsos were kind of black, I couldn't see many details. It definitely looked like clothes. In middle of the oval was just gray."
Brinkley estimated the creatures were 35 feet from him. As he walked around a bush to get a better look, they disappeared. He told the Taos News that he returned to Lucero but hesitated before telling him about the unbelievable encounter with the two tall beings. They returned to the same area the next day and still saw no elk. That's when both hunters had a close encounter of the tent kind.
"It's this big tent structure, like a circus tent, 50-60 feet tall. Coming off the left of it was this long building, almost like what you would build for an archery lane for target practice. It was a third the height, but really long, maybe a couple hundred feet."
As they drove around to get closer, they lost sight of the structure for less than five seconds. When they had a view again of where it was … it wasn't.
"When we topped the hill, it was gone. Just gone. There was no dust, there was nothing, I just know it was real. It was huge and white and then gone."
They had no further encounters. In addition to the Taos News, they told their story to Peter Davenport, the executive director of the National UFO Reporting Center, who was intrigued by the witnesses claiming to see actual alien creatures and added this comment to the report of the call.
"NUFORC was impressed with what we perceived to be the apparent sincerity of the caller during the telephone conversation with him."
One discrepancy between the two accounts – NUFORC says there were three witnesses while the Taos News says there were only Brinkley and Lucero. That might be cleared up with an official written account to NUFORC by the witnesses, but that hasn't happened yet.
What did Josh Brinkley and Daniel Lucero see? Taos is well-known as a center for New Age beliefs, but it and New Mexico in general have had their share of strange incidents and alien encounters, ranging from the mysterious Taos hum to the Roswell UFO crash to extraterrestrials living in caverns near Dulce to the alleged 1948 'flying saucer' crash in Hart Canyon near Aztec with 14 to 16 small humanoid corpses found in the wreckage.
Is the incident on Pot Mountain just a good title for a major motion picture or a real close encounter? It would have helped their case to have photos instead of drawings and another witness who is not also a friend and co-worker. It would have also helped if there were footprints of the ETs and imprints or other evidence of the mysterious tent.
Keep looking up … unless hunting season has started.
Source: Mysterious Universe