Removing Children's Tonsils and Adenoids Increases Risk for 28 Diseases, Study Finds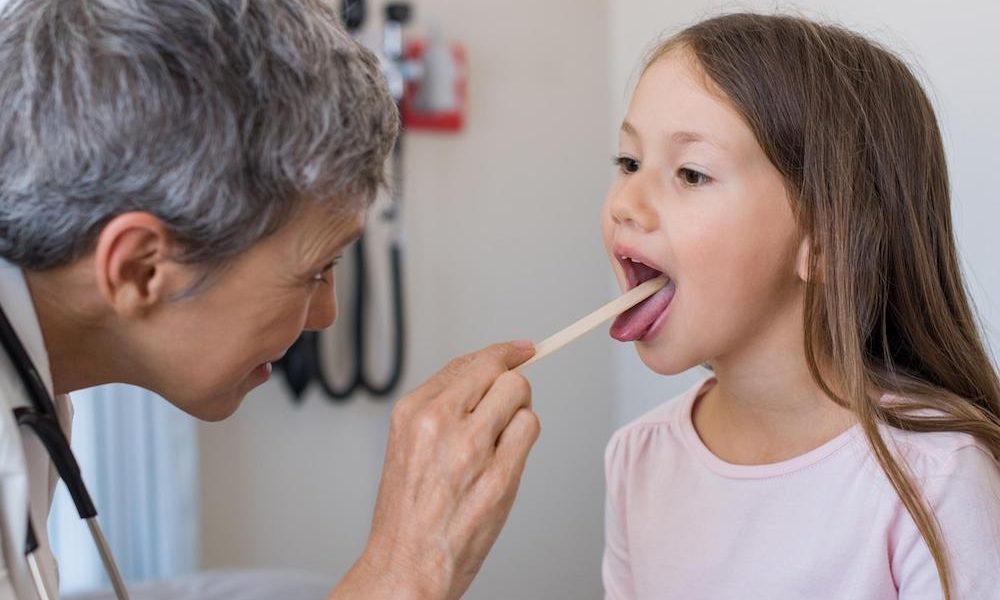 The Facts:This article was written by Sayer Ji, Founder of Greenmedinfo LLC, where it originally appeared. Posted here with permission.
Reflect On:While the conventional medical establishment calls for the removal of "broken" or "defective" body parts, a watershed study on the long-term effects of tonsillectomy and adenoid removal calls into question the propriety of this surgery.
If you were a child born in the U.S. from the 1950s through the 1970s, odds are high that either you or someone you know has undergone a tonsillectomy or adenoidectomy. I was one of those children. When I was in kindergarden, I had my adenoids removed. I was already suffering from severe bronchial asthma, requiring emergency treatment at the hospital several times a year, and somtimes as often as three times a month. The adenoid surgery was performed ostensibly to 'relieve' sinus obstruction. But following the procedure, my symptoms worsened. By the time I was sixteen I needed another sinus obstruction surgery, this time for sinus polyps and a deviated septum.
While instances have gone down in recent decades, tonsillectomies and adenoidectomies are still two of the most common surgeries performed on children worldwide. Since the first documented instances of tonsil and adenoid removal, the risks-versus-benefits of the procedures were questionable at best, but a recently released Danish study may have finally tipped the scales against this 'standard of care.'
According to "A Brief History of Tonsillectomy," the tonsils are lymphoid organs located at the entrance of the digestive and respiratory systems, the inflammation of which has led to three thousand years of documented extraction procedures. Tonsils are often removed in children when they become inflamed or infected—a common occurrence before puberty—despite being an instrument of immune system defense that can help the body ward-off other types of infection. More than half-a-million tonsillectomies are performed each year in the United States on children under the age of 15 years.
Indicated as a standard treatment for children with a variety of ear, nose, and throat complaints, it is an understatement to say that tonsillectomies are over-prescribed. Tonsils are frequently removed as a prophylactic measure to prevent recurrent infections, rather than as a last resort to restore health in rare and extreme cases. The same is true for adenoid removal. Doctors who blindly follow prevailing medical trends often fail to render fully informed consent to parents, who then lack an accurate understanding of both the risks and limitations of these "routine" surgeries. This unquestioning climate presents still-unknown risks to the long-term well-being of millions of kids around the globe.
A June 2018 study of over a million Danish children has added a compelling argument against tonsillectomies being performed so casually. In a first-ever study on the long-term effects of tonsillectomy, researchers from the University of Melbourne in Australia and the University of Copenhagen in Denmark, accessed the health records of 1.2 million children from the years 1979 to 1999. Of the total number of children studied, 11,830 had underwent tonsillectomy (removal of tonsils), 17,460 had an adenoidectomy (removal of adenoids, lymph glands located up and behind the tonsils which defend against infection), and 31, 377 had a combined procedure during which both tonsils and adenoids were removed. No other serious health issues were present among focus group children.
Data were analyzed from the twenty-year period beginning when the children were <15 years of age, spanning into their 30s, providing a range of data capable of indicating development of a variety of long-term health conditions. According to one of the lead authors of the study, Dr Sean Byars, "We calculated disease risks depending on whether adenoids, tonsils, or both were removed in the first 9 years of life because this is when these tissues are most active in the developing immune system."
Published in the Journal of the American Medical Association Otolaryngology Head and Neck Surgery, results have compelled scientists to call for "renewed evaluation of alternatives" to this too-common procedure. The impact of tonsil and/or adenoid removal surgery on future health outcomes was deemed "considerable." Children who had undergone tonsillectomies were found to have a nearly three-fold increase in the risk of developing certain diseases of the upper respiratory tract, including asthma, influenza, pneumonia, chronic bronchitis, and emphysema. Removal of adenoids in addition to tonsils more than quadrupled chances of developing allergies, inner-ear inflammation, and sinusitis.
While researchers admit that a tonsillectomy may aid in the short-term reduction of ENT (ear, nose, and throat) infections and their associated discomforts, observation of health trends over the long-term strongly suggest that these gains are short-lived, producing no long-term reductions in abnormal breathing, nor chronic sinusitis, two of the most common reasons for performing tonsillectomies.
Instead, risks for these problems were either significantly increased, or not significantly different than for children on whom no tonsillectomy or adenoidectomy were performed. Shockingly, unrelated health problems such as certain skin diseases, eye and parasitic infections, were 78% more prevalent in adults who had undergone one of these surgeries, as compared to adults who still had their tonsils.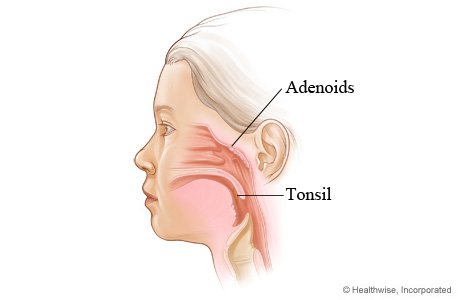 Researchers postulate that these glands may form a protective barrier between invasive bacteria and viruses seeking to take hold in the sensitive and receptive tissues of the lungs and throat. The positioning of these glands may provide an important filtering function in this vital intersection where our breath collides with the detritus of the outside world. Considering the study found a sharp increase to risk factors for more than 28 diseases, do results indicate that these seemingly innocuous glands play a larger role in immune system functioning than has previously been credited?
It's clear, according to Dr. Byers, that these findings support, at minimum, delaying tonsil and adenoid removal surgeries to allow for the complete development of a child's immune system. It is also clear that prevailing medical wisdom needs to evolve beyond the viewpoint that our internal organs perform in isolation, and malfunctioning body parts can simply be removed without affecting the whole. "As we uncover more about the function of immune tissues and the lifelong consequences of their removal, especially during sensitive ages when the body is developing, this will hopefully help guide treatment decisions for parents and doctors." Dr. Byers expressed. It is imperative that the medical establishment integrates new findings such as these with immediacy, so that another generation of young people don't suffer due to rigid conformance with such misguided traditions.
As far as my own experience with adenoid removal at age six, I would go on to experience over a decade of non-stop recurrent asthma attacks requiring emergency intervention, and as I said, sinus surgery as a young adult to correct worsening obstruction in my sinus passages. Clearly my own personal experience with this procedure confirms what the study has discovered: the procedure, generally speaking, makes one's health worse over time.
It is also worth noting that the conventional medical establishment routinely recommends organ removal as a 'standard of care.' For instance, in "Beware of Organ Removal for "Cancer Prevention": Jolie's Precautionary Tale," I deconstruct the media's portrayal of Jolie's decision to have her breasts (and later ovaries) removed due to the perceived 'death sentence' incurred by being identified as a BRCA1/2 gene 'mutation' bearer. Her subsequent decision to have her breasts removed was not only considered advisable but heroic, as portrayed and amplifed globally by the mainstream media. Organs such as the thyroid, breast, and prostate, thanks to aggressive and misguided cancer screening programs, are being routinely removed from millions under threat of certain death by medical prognosticactors, who are unwitting, modern day equivalents of fortune-tellers and witch doctors; yet, many of these so-called "cancers" are actually benign lesions of epithelial origin, according to the National Cancer Institute itself. 
I hope studies like reported on here contribute to countermanding this disturbing way of thinking about the body and disease risk and that the precautionary principle and the founding medical ethical principle of 'do no harm' be re-instated as supervening guidance in determining the 'standard of care.'
To learn more about natural remedies for sore throat and throat infections, check out the abstracts in the GreenMedInfo research database.
---
Sayer Ji is founder of Greenmedinfo.com, a reviewer at the International Journal of Human Nutrition and Functional Medicine, Co-founder and CEO of Systome Biomed, Vice Chairman of the Board of the National Health Federation, Steering Committee Member of the Global Non-GMO Foundation.
NTP nuclear rocket engine will take humans to Mars in just three months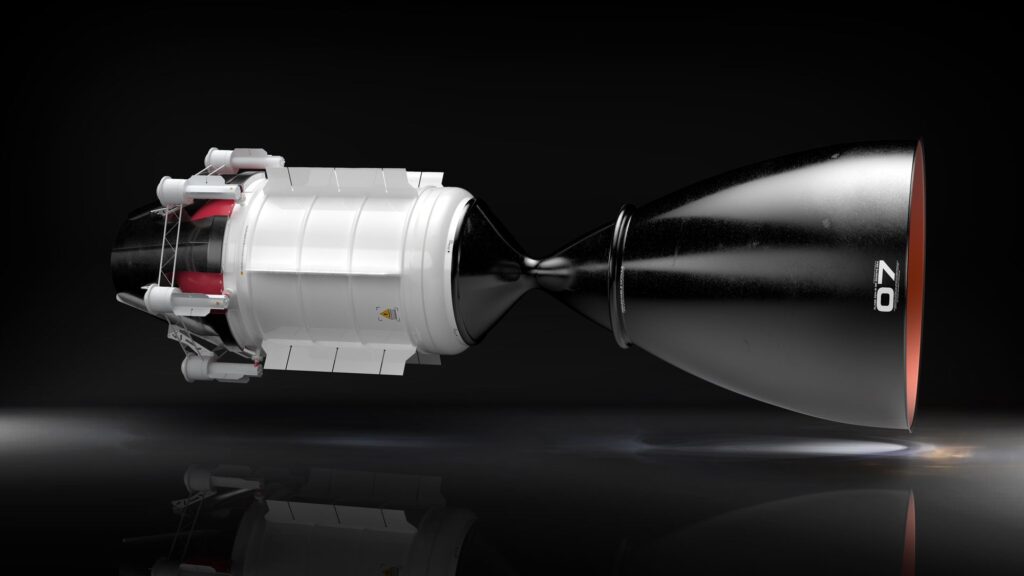 Although the romance of the peaceful atom has subsided since the mid-1960s, the idea of ​​using nuclear reactors for "civilian" purposes is still regularly returned. The new nuclear rocket engine (NRM) will deliver a man to Mars much faster than is possible now.
The danger of cosmic radiation is much more serious than the risk of infection from an accident with such an engine. The most dangerous of all the constraining vectors for projects of sending people to other bodies in the solar system is cosmic radiation. Radiation from our star and galactic rays can seriously damage the health of the mission crew. Therefore, when planning flights to Mars, engineers and scientists try to reduce travel time as much as possible.
One promising way to get to the Red Planet in just three months could be a new NTP engine. Its concept was developed and submitted to NASA by Ultra Safe Nuclear Technologies ( USNC-Tech ) from Seattle, USA. The name of the unit is simply deciphered – Nuclear Thermal Propulsion ( NTP ), that is, "thermal nuclear power plant". The novelty differs from its previously created or invented counterparts in the most secure design.
A key component of USNC's development is mid – grade uranium fuel "pellets". They contain 5% to 20% of the highly reactive isotope U- 235 coated with zirconium carbide ceramics. This degree of enrichment lies roughly halfway between the "civilian" nuclear power plants and the military. The proprietary ceramic coating technology makes the tablets incredibly resistant to mechanical damage and extreme temperatures.
The company promises that their fuel elements are significantly superior in these parameters to those currently used at nuclear power plants. As a result, the engine will have a higher specific impulse with a lower degree of uranium enrichment than in earlier versions of NRE. In addition to the flight to Mars, among the goals of the ambitious project are other missions within the solar system. The perspectives of the concept will soon be considered by specialists from NASA and the US Department of Defense ( DoD ). Perhaps departments will even allow its commercial use by private companies.
Theoretically, NRE based on modern technologies can have a specific impulse (SR) seven times higher than that of chemical jet engines. And this is one of the key performance parameters. At the same time, unlike electric and plasma ones, the ID of a nuclear rocket engine is combined with high thrust. One of the limiting factors in the use of NRE, in addition to safety issues, are extremely high temperatures in the reactor core.
The higher the temperature of the gases flowing out of the engine, the more energy they have. And accordingly, they create traction. However, mankind has not yet come up with relatively inexpensive and safe materials that can withstand more than three thousand degrees Celsius without destruction. The solution created by USNC will operate at the limit of modern materials science (3000 ° C) and have a specific impulse twice that of the best liquid-propellant engines.
The official press release does not specify which working body will be used in NTP . Usually, in all NRE projects, the reactor core heats hydrogen, less often ammonia. But, since we are talking about a long-term mission, the creators could have chosen some other gas. Keeping liquid hydrogen on board for three months is no easy task. But you still need to invent something for the way back.
Scientist Peter Scott-Morgan is set to become "the world's first complete cyborg"
Two years ago scientist Peter Scott-Morgan was diagnosed with motor neuron disease, also known as Lou Gehrig's disease, and today he is still fighting for a new life, not just for survival.
This October, Dr. Scott-Morgan is on track to become the world's first full-fledged cyborg, potentially giving him more years of life.
The world's first complete cyborg
It was in 2017 that Dr. Peter Scott-Morgan (a brilliant robotics writer, scientific writer, and talented speaker) was diagnosed with degenerative motor neuron disease that ultimately paralyzed his entire body except his eyes.
The diagnosis is understandably grim, especially considering that he has only two years to live, but he has not given up the fight.
Teaming up with world-class organizations with expertise in artificial intelligence, Dr. Scott-Morgan is transforming himself into what he calls "the world's first fully fledged cyborg."
"And when I say 'Cyborg', I mean not just that some kind of payment will be implanted in me, I mean that I will become the most advanced human cybernetic organism ever created on Earth for 13.8 billion years. My body and brain will be irreversibly changed, "says Dr. Scott-Morgan.
What does it mean to be human
According to Dr. Scott-Morgan, he will become part robot and part living organism. Moreover, the change will not be one-time, but with subsequent updates.
"I have more updates in the process than Microsoft ," says Dr. Scott-Morgan.
AI-powered creative expression
The cyborg artist is a great example of the power of human-AI collaboration. AI uses the data that make up Peter's digital portrait ( articles, videos, images, and social media ) and is trained to recognize key ideas, experiences, and images.
Peter will introduce a theme, AI will suggest composition, and Peter will apply images to suggest style and mood. Peter will direct the AI ​​to render a new digital image that none of them could create alone.
A unique blend of AI and human, reflects Peter's creative and emotional self – a critical aspect of what it means to be human.
Peter 2.0
This October, Dr. Scott-Morgan will undergo what he calls the latest procedure that will transform him into "Complete Cyborg".
October 9 he tweeted a photo of himself, writing the following:
"This is my last post as Peter 1.0. Tomorrow I will trade my vote for potentially decades of life as we complete the last medical procedure for my transition to Full Cyborg, in the month that I was told statistically I would be dead. I am not dying, I am transforming. ! Oh, how I LOVE science !!! ".
Japan has developed an inflatable scooter that weighs practically nothing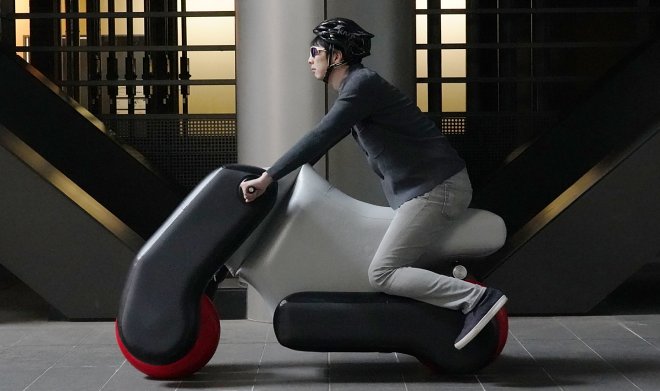 The University of Tokyo engineers have developed the Poimo inflatable electric scooter, which is created individually for each owner. It is enough to send your photo to the manufacturers – and a personal optimized model will be assembled for you.
The scooter is designed with a special program for the body size of a particular user and his specific fit. Moreover, each owner is free to make any changes to this model. If he makes any changes to the drawing, the program will automatically redesign the electric bike to maintain its strength, stability and controllability. When the model is finished and approved, it is handed over to the manufacturer.
The scooter consists of seven separate inflatable sections that are constructed from durable fabric and sewn with straight stitch. It remains to add electronic components – in particular, a brushless motor and a lithium-ion battery.
The finished electric scooter weighs about 9 kg and can travel at speeds up to 6 km / h (that is, slightly faster than a pedestrian). It can work for an hour on one charge.
This is how the current version of Poimo looks like in action: