Remains of missing Wisconsin teacher found near a popular hiking spot in Slovenia, officials say
The human remains that were discovered near a popular hiking spot have been confirmed as those of a Wisconsin teacher who has been missing since June, Slovenian police announced on Saturday.
Police in the country's capital of Ljubljana said that identification tests established the death of Jonathan Luskin, 25, of Wisconsin. Police said the remains were discovered on Dec. 23 at Iski Vintgar gorge displayed no signs of foul play.
Luskin was reported missing to Slovenian authorities on July 25. Family members said Luskin, who worked as a teacher in Hong Kong, traveled with them in Austria and Germany before parting in June. The family said Luskin wanted to extend his trip with a visit to Slovenia.
The man's mother, Susan Stone, told ABC News in August that the last time she saw her son was when he departed Vienna to head to Ljubljana by train. She said her son texted a friend in Hong Kong through WhatsApp to tell them he arrived in Slovenia and wanted to hike at the Triglav National Park. She said her son planned on traveling throughout Europe, Greece and Croatia after visiting Slovenia.
Stone said she reported her son missing to the U.S. State Department on July 20 after she didn't hear from him for weeks.
Mysterious and Sinister Black Insects Blanket the Snow in Russian City
When playing a game of "What's the weirdest thing you can imagine happening" (don't tell me I and my friends are the only ones who play this), it pays to google your crazy idea first because 9 times out of 10, it already happened in Siberia or somewhere else in Russia (this isn't cheating, according to the official rule book). Black snow? Check. Green snow? Check. Black living snow? No need to google it … we already did and it's true. Plausible explanation? Safe for humans? Something sinister behind their appearance? Let the game continue!
This story comes from the village of Balasheika (or Balasheyka) in the Samara region, a heavily-populated urban area in the southeastern part of Russia at the convergence of the Volga and Samara rivers near the border with Kazakhstan (in case you want to go and see this for yourself). According to Pravda.Ru, residents of Balasheika awoke on the morning of March 12 to that everything outside looked to be covered with a black snowfall. Fearing it was caused by coal pollution like the black snowfall in multiple places this winter across Russia (some being so embarrassing that local officials painted it white – only in Russia!) and worried their children would run out and taste it, parents went out to inspect it and were confronted with a nightmarish scene far worse … the black snow appeared to be alive and moving! (Watch the video here.)
Upon closer inspection, they saw that the movement was caused by a blanket of insects they assumed had fallen from the sky in the previous night's snowfall. While waiting for an official answer (or for someone to google it), they assumed the tiny bugs were blown in from Kazakhstan (it's always Kazakhstan) during recent heavy "cyclonic" winds. Before you use this in your next game of "What's the weirdest thing?", that's the wrong answer.
"These creatures are known as Collembola springtail insects, and they do not fall down from the sky. They crawl from under the ground to the surface, and they will return there as soon as it gets warmer."
Actually, they're more commonly called "snow fleas," which is a misnomer since they're neither fleas nor snow nor even insects. Collembola are hexapods that are not considered to be insects because they have internal mouthparts. They're omnivorous, free-living organisms that prefer moist conditions and are named Collembola for their collophore (a straw-like body tube used for excretion and maintaining water balance) and their abdominal, spring-like furcula that is used for jumping when threatened. They generally live in decaying matter and one of the world's most abundant tiny creatures, with about 100,000 per square meter of ground. Even in those numbers, their minute size, while visible to the naked eye, still makes them hard to see … except for the snow fleas, which sometimes emerge from winter hibernation when the temperature is warm enough to trick them into thinking it's spring but not enough to melt the snow, giving the contrast that makes them easy to spot.
"These insects are absolutely safe for humans, domestic animals and grain crops. They may emerge on the ground surface too early, when it gets unusually warm for a few days."
Pravda.Ru knows what its readers are thinking. Being wrongly called "fleas" makes Collembola springtails subject to the same fears of fleas, which truly deserve to be feared and avoided by warm-blooded creature. However, Collembola springtails are truly harmless and in fact are beneficial as lab test subjects for the early detection of soil pollution.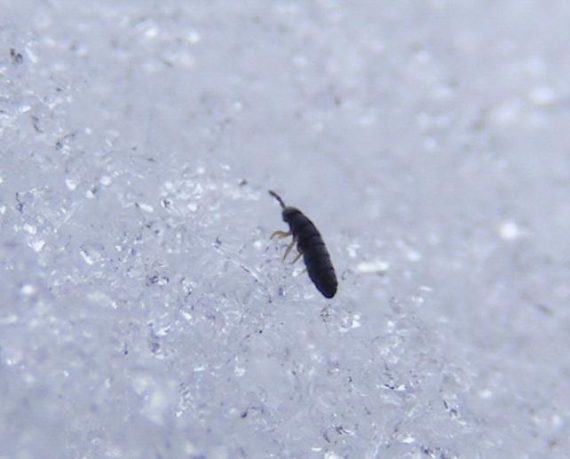 Conspiracy theorists may also know of Collembola springtails for their alleged use as biological weapons during the Korean War. They were rumored to have been infected by the U.S. military with anthrax, dysentery, cholera and small pox and dropped by airplanes on enemy villages. The rumors surfaced again in 1971-72 when the Nixon administration ordered all biological weapons stored at the Pine Bluff Arsenal in Arkansas to be destroyed. The government denied snow fleas were ever used as six-legged biological weapons carriers.
Were they? Are they? Should the good folks of Balasheika be fearful of the sudden appearance of huge numbers of snow fleas? Should they question their government? Our? Anybody's?
It's too bad we can't ask the bugs.
Source: Mysterious Universe
Unipiper Teams up with Portland Brewing to Support Local Weird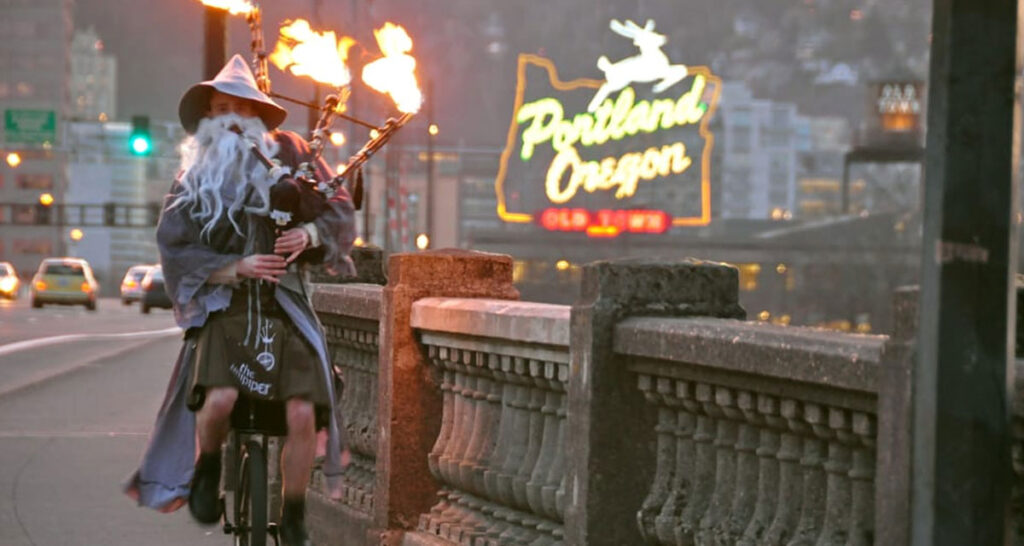 Portland Brewing and the Unipiper join forces to celebrate Portland's weird with a collaborative beer, the Unipiper Hazy IPA.

The Unipiper with his Hazy IPA from Portland Brewing Co.
Just about everything I know about Portland I learned from Chuck Palahniuk's travel guide Fugitives and Refugees. I've never been there, but I know when I finally have a chance to visit, I may not be strong enough to leave it behind. The city has a vibrant culture of weird, and now the Portland Brewing Co. has joined forces with one of the city's most beloved street performers to celebrate it.
Portland is home to the world's smallest park (just two feet in diameter and dedicated on St. Patrick's Day, 1976, as "the only leprechaun colony west of Ireland,"), the shanghai tunnels, the Pecularium museum of the "freakybuttrue," a vegan strip club, the internet's premier "cat rapper" Moshow, and countless other artists, performers, and landmarks.
One of the most well known is the Unipiper, a man who rides around Portland on his unicycle playing flame-throwing bagpipes while dressed as Darth Vader, Bigfoot, and other famous characters.
From the Unipiper's website:
The origin of The Unipiper is shrouded in mystery, but reportedly stems from an incident with local-resident Brian Kidd involving a bite from a radioactive unicycle incurred while playing the bagpipes, granting him the power to make people smile. Ever since, he has roamed the streets of Portland, protecting its citizens from all that is normal and standing up to those that would seek to silence the weird.
Kidd, the mild-mannered alter ego behind the Unipiper's many masks, has teamed up with Portland Brewing Co. to create the first in a series of "Keep Portland Weird" collaborative brews intended to highlight each collaborator's contribution to the city's weird culture.
The result is the Unipiper Hazy IPA, a "smooth and juicy" 6.2% ABV beer with a tangerine citrus and fruit "pop" that, according to Portland Brewing, is "perfect for a couple pints while light enough to not weigh you down on your unicycle ride to goat-yoga class."
But there's more to this beer than drunken unicycling. Proceeds will help launch the Unipiper's new nonprofit that is dedicated to finding and supporting the weird people and places of Portland.

"The Unipiper Hazy IPA is not just another beer though! That would be too normal!" Kidd says. "It also signals the beginning of a new era in Portland's ever evolving weirdness – the founding of Weird Portland United, a charitable effort that has been a dream of mine for years. Thanks to the seed donation from Portland Brewing, Weird Portland United will help create a weirder tomorrow where everyone is inspired to contribute to the city's now famous culture of weird."

And this is why the events of last night are a little hazy.
Unipiper Hazy IPA is now available throughout the Portland region in limited edition 22oz bottles silk screened with an illustration by local artist Beth Kerschen as well as 6-packs of 12oz cans.
Find it here.
Strange Object Spotted on the Surface of Mars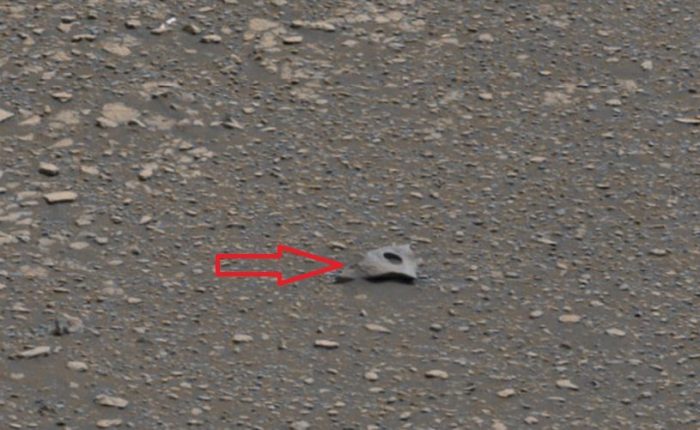 WhatsUpInTheSky37 posted a video discussing an odd piece of metallic looking material found on the surface of Mars which seems to possess manufactured characteristics.
The strange object which has a perfect circular hole in the middle was previously spotted by Neville Thompson who posted it on his Gigapan for SOL 2013.
The object does not appear to be from the rover or other vehicle since there are no obvious tracks around it.
Headline image via credit:
NASA