Recorded tape revealed: Roswell officer speaks from the grave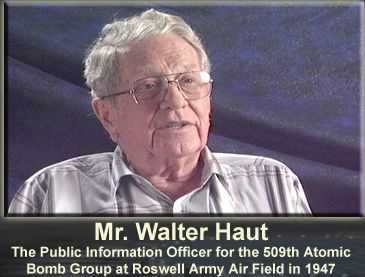 A Lieutenant Colonel and Press Officer at Roswell Army Air Field (RAAF) in 1947 left a testament to the reality of fallen ET in a rare audio recording that was meant to be heard after his death. A portion of it is revealed here publicly for the first time.
It is in this taped message that Walter Haut (a decorated bombardier and Purple Heart recipient) first openly acknowledged his personal witness to an alien-piloted craft found on the desert floor in New Mexico. And people who knew Walter well have now come forward about what he had said about the matter very early on- and why he did not release all of this information until the winter of his life.
Walter would of course go on to sign a notarized declaration in December, 2002 of his full knowledge of the Roswell incident as a piloted, extraterrestrial event. This was famously reported in mainstream media based on the publication of the bestseller Witness to Roswell and the work of the book's authors Tom Carey and Don Schmitt.
But it was four years before this in 1999 that Walter Haut had admitted for the first time to someone outside of a small circle what he knew about the entirety of the Roswell event. And he allowed it to be recorded.
Like the notarized affidavit, Walter did not wish this 1999 recorded confession released until some point after his death, which occurred in 2005 at age 83. This enabled him to honor his oath during his life to the ultimate secret: the recovery and retrieval of beings not from earth.
As Press Officer at RAAF in July of 1947, Walter Haut composed the famous Press Release that was dictated to him by Colonel William Blanchard, Base Commander and close personal friend.  Walter was made to state that the "flying disc" reported crashed near Roswell earlier was now known to be merely an errant weather balloon, initially confused as something more. The release was carried in the Roswell papers and the world over.
In 2002 Walter elected to come clean for history about what really had happened. None of the press reports he was made to distribute were true. Walt said that there was in fact a small craft that was piloted that had crashed. He saw it and the debris and one of the extraterrestrial beings.  This announcement made headlines and brought Roswell back in the news like never before in the preceding 60 years that the crash had occurred.
In 1999 pioneering New Mexico researcher Wendy Connors interviewed Walter in-person for the record about Roswell. She was tenacious in her questioning. She was accompanied by one of her associates at the time, Dennis Balthaser.
Wendy is now in  poor health but has graciously and generously entrusted me with access to her years of research materials, now in the care of an archivist located in the Pacific Northwest.
In the interview, tape running, Wendy Connors asks Walter about his knowledge of any beings that may have been associated with the craft that fell at Roswell. Walter hesitatingly replies to her:
"It was a relatively small body, comparable to, oh, maybe to an 11 year old or a 10 year old child."
In other parts of the tape (hopefully to be released in its entirety at a later date) Haut does say just a bit more.
He speaks of the childlike body having been partially covered by a tarp.
He also speaks of having personally witnessed the craft wreckage from the crash stored in a hangar at the base after the crash and offers details on this.
He makes mention that the bodies may have been taken to Lovelace Clinic afterwards.
Here is a 26 second snippet of the recording, in MP3 format:
http://others.homestead.com/Haut.mp3
Very little known is that Walter did give hints to the ultimate secret that he had held- to a very select few.
Robert Shirkey was the Base Operations Officer at RAAF in 1947. Before he passed, Shirkey told his son that back in 1989 Walter had personally confessed to him that he had he has personal knowledge that the object that crashed in the desert could only have been from another world, and that he had seen it.
Lloyd E. Nelson was a PFC who clerked for Haut in the RAAF Public Information Office in 1947. He remembers Walt coming into their office at the time and showing to him small pieces of wreckage debris including an I-Beam that was small and had writing on it. He was also shown a ceramic type piece of material that appeared broken off. Both Officer Jesse Marcel who was confirmed at the site and Walter told Nelson to say nothing.
This confirms details of Haut's much later signed confession in 2002. In the early 2000s, Nelson called Walter to find out more about the material. Nelson said, "To my dismay, Walter would not confirm to me anything. He knew that I was there but he would not admit it, not even to me."
Base Finance Officer Richard C. Harris told Roswell researcher and author Kevin Randle in the mid-1990s that Haut did know about the bodies from the crash having been stored in the base hangar. He knew this because Haut asked Harris at the time of the event if he would like to see them. Harris, apparently not wishing such a sight, did not.
Fred Wilcox (a civilian employee at Roswell Army Air Field in 1948) was an acquaintance of Haut. In 2000, Wilcox said that in 1955 a mutual female friend of theirs' told him that Walt had confided in her privately that he was actually at the crash scene and that there were alien bodies.
Walt's wife "Pete" Haut said that for years after the crash incident that Haut received visits from an Air Force Intelligence officer that he knew from his days in the service. Pete states, "Anytime that there was a 'flap' about UFOs in the news anywhere in the country, he would show up. He would always manage to talk about hos the Air Force had explained away this sighting or that."
Towards the end of his life, Haut himself said that he would receive regular phone threats for many years after the incident. He said to one researcher, "There were so many calls I lost track of them- about 20 years of it."  One of these calls was from the retired Colonel son of a late General who told Haut, "Lieutenants should know how to keep their mouths shut."
Among Walter's personal affects were found Christmas cards from the former head of the CIC intelligence at Ft. Worth, TX, Milton Knight. One of the cards read, "I still say that there were no bodies at Ft. Worth."
We hear in his own words here (with more to follow) that Walter admits his personal witness to the ET reality of Roswell. And we see here that others from his far past were privilidged to know his secret. This shows that Walter Haut was not in any way "coached" about his 2002 affidavit, as some critics suggest. It shows that he was of sound mind and that he offered the final secret of the found bodies willingly, if not reluctantly.
APOLLO 11 photographed an Alien Base on the Moon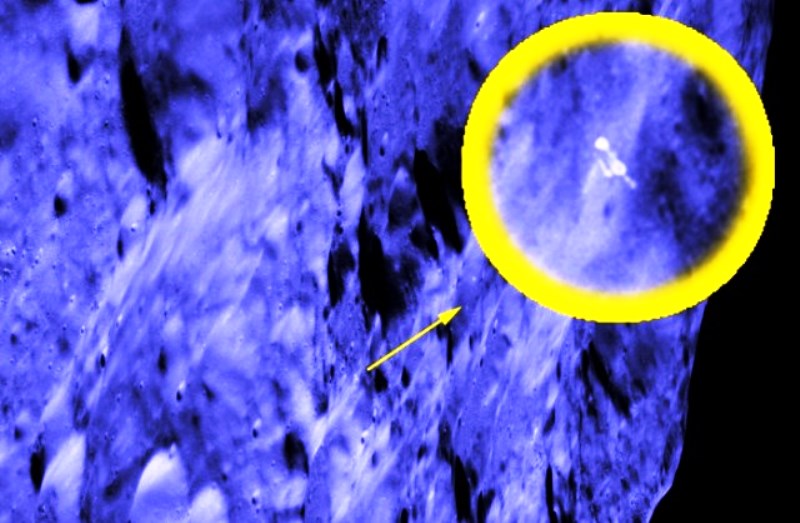 A photograph taken from the online archive of the Apollo 11 mission reveals what appears to be a base (or outpost) on the far side of the moon. The object appears to be on the surface of the moon and is well lit. It is symmetrical with a long separate shaft, as if they were corridors joined by two small spheres, one in the center and one at the end.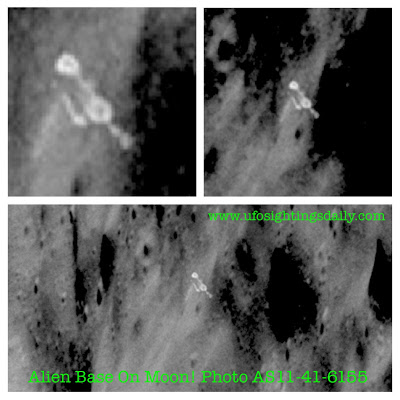 Photo AS11-41-6155 is significant but informants (insiders of NASA) stated that the space agency regularly destroys images that show any evidence of alien life or unknown artificial structures. The photo taken from the Apollo 11 mission does not seem to have been digitally modified in any way and can be a surprising visual proof of alien life on the far side of the moon. Here's what the Skywatcher Scott Waring, who first discovered the photo, commented on his discovery:

"I need to introduce you to my discovery, and what appears to be some sort of unknown Object on the Lunar Terrain or UFO, which appears on one of the images of the Apollo 11 mission. So I took some screenshots so I could see the object in excellent details. It looks to me like some sort of crystal tube with something that looks like an antenna or some kind of special weapon … I don't know what it is, but we can't understand. The first image is the original one, which shows a lot of unknown objects on the surface of the Moon! ".
The object is well lit and symmetrical and appears to be an artificial structure of some kind. Significantly, researchers and personalities linked to NASA environments have come forward to affirm that the space agency itself and the affiliated government agencies have a precise policy, that is to destroy or alter the photographs that reveal artificial structures on the moon or in space.
Karl Wolfe, for example, claims that he witnessed the removal of images related to alien structures detected by the Apollo mission. NASA, the NSA and the US Air Force cooperate to remove these images of the Apollo mission, in addition to satellite images when they are assimilated. The Washington Times had the opportunity to publish the testimony of informant Karl Wolf, a former Air Force sergeant who was assigned to the National Security Agency. Wolf said that mysterious structures were discovered on the far side of the Moon when the United States mapped the lunar surface before the Apollo landing in 1969.
Another informant, Dr. Ken Johnston, who was a manager of the photo analysis and data control department at NASA, said that in one of the many photos, there was one showing artificial structures on the Moon and later, he was asked to destroy the images. Johnston refused and was fired by NASA.
If the tampering and destruction of Apollo 11 photographs, in addition to satellite images of the moon's surface, is a regular policy implemented by NASA and various US government agencies. Wolf and Johnston declare that the image AS11-41-6155 may have remained unchanged in the object it represents. Certainly, the two informants confirm, this image may have escaped NASA (see image above). The photo is very large (40 megabytes) and a careful examination is needed to discover the anomalous object. In conclusion, the Apollo 11 mission and the image AS11-41-6155 may be the test, or the smoking gun, concerning the presence of an alien base on the far and dark side of the Moon.
'Discovery' Space Shuttle photographed an Alien Spaceship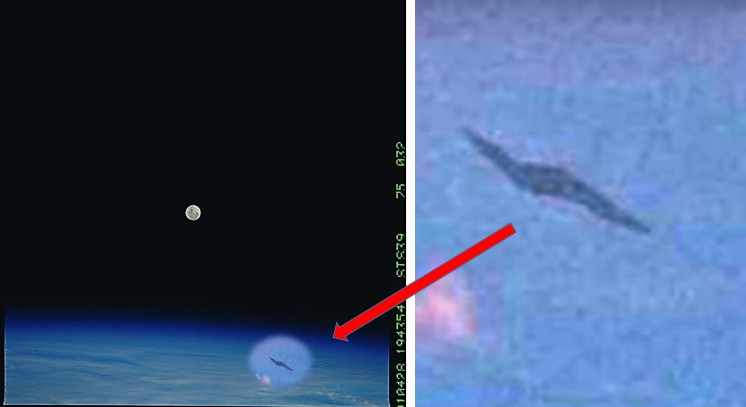 The UFO researcher and Alien hunter Scott Waring, has found photographic material from the NASA archive, coming from the 'Discovery' Space Shuttle, where mysterious presences can be observed in the space.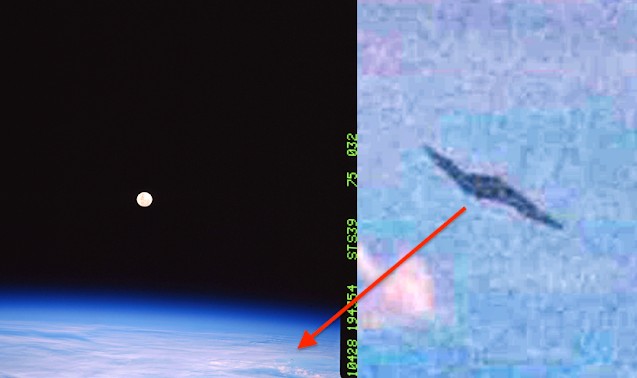 "I was looking through the NASA archive photos and saw this beautiful photo on the Moon taken from the Discovery Shuttle. I didn't think I would find anything at the time, I just thought it was a beautiful photo. I zoomed in and set it to auto focus and found something extraordinary"
"There was a huge object, a UFO, visible in the lower right corner of the photo. I have never reported a UFO of this form. It is very rare and unlike anything I expected. And yet, there it was, above the clouds of sunset in Earth's orbit, visible in a photograph at the NASA website. This is 100% proof of the existence of beings from other worlds who watch over the earth ". by Scott C. Waring
Former NASA Astronaut Admits To Seeing UFOs Aboard Space Station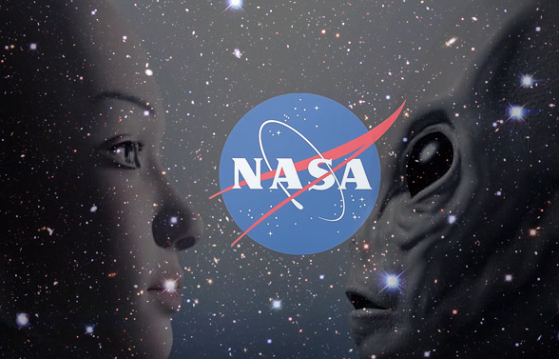 Jerry Linenger has revealed there were multiple instances that made the entire space crew aboard the International Space Station scratch their heads. Linenger, a former NASA astronaut, referred to the anomalies as unidentified flying objects while requested the media not to take him out of context.
Linenger admitted to seeing multiple bizarre objects or unexplained things during his five-month stay in space.  He recalled how he and colleagues could only guess and ask among themselves what they witnessed. He claimed to have seen stuff that made him call his crewmates over.
Linenger, who's also a former captain of the U.S. Navy Medical Corps, not only stayed at NASA's ISS but also did a stint at the Russian Space Station Mir, which operated from the mid-1980s to 2001.
Along with two Russian crewmates, he spent five months at the SS Mir, which was situated 50 million miles above Earth while orbiting the planet 2,000 miles. He was the first American astronaut to perform a spacewalk from a non-American space station while wearing a foreign space suit.
Linenger has made a disclaimer, though, that he made no mention of seeing aliens but only UFOs.