Recorded tape revealed: Roswell officer speaks from the grave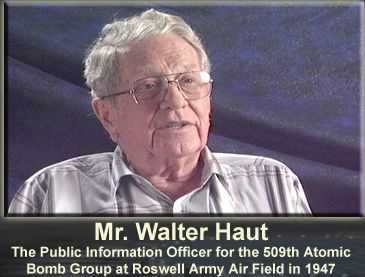 A Lieutenant Colonel and Press Officer at Roswell Army Air Field (RAAF) in 1947 left a testament to the reality of fallen ET in a rare audio recording that was meant to be heard after his death. A portion of it is revealed here publicly for the first time.
It is in this taped message that Walter Haut (a decorated bombardier and Purple Heart recipient) first openly acknowledged his personal witness to an alien-piloted craft found on the desert floor in New Mexico. And people who knew Walter well have now come forward about what he had said about the matter very early on- and why he did not release all of this information until the winter of his life.
Walter would of course go on to sign a notarized declaration in December, 2002 of his full knowledge of the Roswell incident as a piloted, extraterrestrial event. This was famously reported in mainstream media based on the publication of the bestseller Witness to Roswell and the work of the book's authors Tom Carey and Don Schmitt.
But it was four years before this in 1999 that Walter Haut had admitted for the first time to someone outside of a small circle what he knew about the entirety of the Roswell event. And he allowed it to be recorded.
Like the notarized affidavit, Walter did not wish this 1999 recorded confession released until some point after his death, which occurred in 2005 at age 83. This enabled him to honor his oath during his life to the ultimate secret: the recovery and retrieval of beings not from earth.
As Press Officer at RAAF in July of 1947, Walter Haut composed the famous Press Release that was dictated to him by Colonel William Blanchard, Base Commander and close personal friend.  Walter was made to state that the "flying disc" reported crashed near Roswell earlier was now known to be merely an errant weather balloon, initially confused as something more. The release was carried in the Roswell papers and the world over.
In 2002 Walter elected to come clean for history about what really had happened. None of the press reports he was made to distribute were true. Walt said that there was in fact a small craft that was piloted that had crashed. He saw it and the debris and one of the extraterrestrial beings.  This announcement made headlines and brought Roswell back in the news like never before in the preceding 60 years that the crash had occurred.
In 1999 pioneering New Mexico researcher Wendy Connors interviewed Walter in-person for the record about Roswell. She was tenacious in her questioning. She was accompanied by one of her associates at the time, Dennis Balthaser.
Wendy is now in  poor health but has graciously and generously entrusted me with access to her years of research materials, now in the care of an archivist located in the Pacific Northwest.
In the interview, tape running, Wendy Connors asks Walter about his knowledge of any beings that may have been associated with the craft that fell at Roswell. Walter hesitatingly replies to her:
"It was a relatively small body, comparable to, oh, maybe to an 11 year old or a 10 year old child."
In other parts of the tape (hopefully to be released in its entirety at a later date) Haut does say just a bit more.
He speaks of the childlike body having been partially covered by a tarp.
He also speaks of having personally witnessed the craft wreckage from the crash stored in a hangar at the base after the crash and offers details on this.
He makes mention that the bodies may have been taken to Lovelace Clinic afterwards.
Here is a 26 second snippet of the recording, in MP3 format:
http://others.homestead.com/Haut.mp3
Very little known is that Walter did give hints to the ultimate secret that he had held- to a very select few.
Robert Shirkey was the Base Operations Officer at RAAF in 1947. Before he passed, Shirkey told his son that back in 1989 Walter had personally confessed to him that he had he has personal knowledge that the object that crashed in the desert could only have been from another world, and that he had seen it.
Lloyd E. Nelson was a PFC who clerked for Haut in the RAAF Public Information Office in 1947. He remembers Walt coming into their office at the time and showing to him small pieces of wreckage debris including an I-Beam that was small and had writing on it. He was also shown a ceramic type piece of material that appeared broken off. Both Officer Jesse Marcel who was confirmed at the site and Walter told Nelson to say nothing.
This confirms details of Haut's much later signed confession in 2002. In the early 2000s, Nelson called Walter to find out more about the material. Nelson said, "To my dismay, Walter would not confirm to me anything. He knew that I was there but he would not admit it, not even to me."
Base Finance Officer Richard C. Harris told Roswell researcher and author Kevin Randle in the mid-1990s that Haut did know about the bodies from the crash having been stored in the base hangar. He knew this because Haut asked Harris at the time of the event if he would like to see them. Harris, apparently not wishing such a sight, did not.
Fred Wilcox (a civilian employee at Roswell Army Air Field in 1948) was an acquaintance of Haut. In 2000, Wilcox said that in 1955 a mutual female friend of theirs' told him that Walt had confided in her privately that he was actually at the crash scene and that there were alien bodies.
Walt's wife "Pete" Haut said that for years after the crash incident that Haut received visits from an Air Force Intelligence officer that he knew from his days in the service. Pete states, "Anytime that there was a 'flap' about UFOs in the news anywhere in the country, he would show up. He would always manage to talk about hos the Air Force had explained away this sighting or that."
Towards the end of his life, Haut himself said that he would receive regular phone threats for many years after the incident. He said to one researcher, "There were so many calls I lost track of them- about 20 years of it."  One of these calls was from the retired Colonel son of a late General who told Haut, "Lieutenants should know how to keep their mouths shut."
Among Walter's personal affects were found Christmas cards from the former head of the CIC intelligence at Ft. Worth, TX, Milton Knight. One of the cards read, "I still say that there were no bodies at Ft. Worth."
We hear in his own words here (with more to follow) that Walter admits his personal witness to the ET reality of Roswell. And we see here that others from his far past were privilidged to know his secret. This shows that Walter Haut was not in any way "coached" about his 2002 affidavit, as some critics suggest. It shows that he was of sound mind and that he offered the final secret of the found bodies willingly, if not reluctantly.
Mysterious floating White Orbs spotted in Kansas City sky
Two mysterious white orbs were spotted in the Kansas City sky Thursday night, prompting widespread speculation on their nature. 
"We honestly have no explanation for the floating objects over Kansas City," The National Weather Service tweeted Thursday.
​
While some speculated that the balloon-like objects flying near Kansas City International Airport might have been launched by Google or the Defense Advanced Research Projects Agency (DARPA), others had a slightly more creative explanation: aliens.
​However, KMBC reporter William Joy put most of the extraterrestrial theories to bed, tweeting that a spokesperson from DARPA confirmed that "given the position, it is likely one of their balloons in test flight."
On June 17, DARPA launched three balloons from Cumberland, Maryland, as part of its flight tests for its Adaptable Lighter Than Air (ALTA) program.
​According to DARPA's website, the goal of the ALTA program is to "develop and demonstrate a high altitude lighter-than-air vehicle capable of wind-borne navigation over extended ranges."
​"The balloons can fly at altitudes of more than 75,000 feet. While they do not have independent propulsion, the ALTA vehicle is designed to navigate by changing altitude and thus taking advantage of different wind profiles aloft," DARPA adds.
DARPA is an agency of the US Department of Defense that develops new technologies for use by the military.
Video: The Most Significant Leak About Extraterrestrial Craft Just Went Public
A quote I love to use in many of my articles comes from Apollo 14 astronaut Dr. Edgar Mitchell. He said, "yes there have been crashed craft, and bodies recovered." (source)
The thought that governments and/or rogue agencies around the world have been involved in taking down and even possibly revere engineering possible extraterrestrial craft is nothing new. Available to the public are statements from the highest ranking positions within government and the military, and there are also declassified documents that hint toward the same idea.
For example, former Canadian Defence Minister Paul Hellyer once told the public that the protocol with regards to UFOs was to "shoot first and ask questions after." Dr. David Clarke, an investigative journalist, reader and lecturer at Sheffield Hallam University in England who was also the curator for The National Archives UFO project from 2008–13 uncovered documents showing that the Royal Air Force was desperate to capture one of these UFOs and reverse engineer it. You can see those and read more about it here.
Most Significant Leak?
Check out our video segment on this new leak, or read more below.

More recently, what some are calling the most significant leak in UFO history has been made public – and it may be one of the strongest documents linking UFOs to extraterrestrials.
The document goes into detail about a meeting that was had between Dr. Eric Davis, and Vice Admiral Thomas Ray Wilson. Who is Eric Davis? He is a very well known scientist, and quite the legend. For many years he was a member of the National Institute for Discovery Sciences (NIDS)(Owned by Robert Bigelow), the Chief Science Officer of EarthTech Int'l, Inc. and the Institute for Advanced Studies at Austin in Austin, Texas; and he is the Owner/Chief Executive/Chief Scientist of Warp Drive Metrics who consults and contracts for the Department of Defense. He is also an Adjunct Professor in the Early Universe, Cosmology and Strings Group at the Center for Astrophysics, Space Physics & Engineering Research at Baylor University in Waco, TX.
Admiral Thomas Ray Wilson was the Director of the Defense Intelligence Agency from July 1999 to July 2002, prior to that he was the Director of Intelligence for the Joint Chiefs of Staff.
The document is in the form of notes that were written by Davis after their meeting that took place in 2002, regarding a series of events that took place during the spring of 1997, when Wilson was Deputy Director of Intelligence for the Joint Chiefs of Staff.
Since the leak of this document, there has been no denial publicly by Davis regarding the authenticity of these documents, and the focal point of the document is about a meeting (and what happened after that meeting) that took place in 1997 between UFO researcher Dr. Steven Greer, Admiral Wilson, Dr. Edgar Mitchell (Apollo 14 astronaut) and other high ranking individuals within the military. This meeting was spoken about by Dr. Greer and Dr. Mitchell nearly four years prior to the leak of these documents, so it's all very interesting. In the episode, we actually play footage of Mitchell confirming and talking about this meeting as well as Greer.
The documents point towards a program that involves the crash retrieval of extraterrestrial craft, that are "not made of this earth, not made by man."
You can view the entire document here.
if you missed the video embed above of myself and Joe Martino having a discussion about these documents in detail, you can watch it here.
The Takeaway
"There is a serious possibility that we are being visited and have been visited for many years by people from outer space, from other civilizations." – Lord Admiral Hill-Norton, Former Chief of Defence Staff, 5 Star Admiral of the Royal Navy, Chairman of the NATO Military Committee
The fact that we are not alone has huge implications from science to technology, to history and possible metaphysical/spiritual implications as well. It really opens up Pandora's Box, and it is one out of many examples that are allowing us to see how humanity has been conditioned to think a certain way, limit our reality, despite all of the evidence, that conflicts with long held belief systems.
At the end of the day, the idea that there are other highly advanced, intelligent lifeforms in the universe, or multiverse, and possibly other dimensions that are and have been visiting our planet, and others, for a very long time is most likely just the very tip of the ice-berg.
This is not a new discovery. We have had this type of knowledge of UFOs and ETs for a very long time, culture and elites have simply suppressed this knowing.
Source www.collective-evolution.com
More US Senators Receive Classified Briefing on UFO Sightings
Three more U.S. senators received a classified Pentagon briefing on Wednesday about a series of reported encounters by the Navy with unidentified aircraft, according to congressional and government officials – part of a growing number of requests from members of key oversight committees.
One of them was Sen. Mark Warner (D-Va.), the vice chairman of the Senate Intelligence Committee, whose office confirmed the briefing to POLITICO.
"If naval pilots are running into unexplained interference in the air, that's a safety concern Senator Warner believes we need to get to the bottom of," his spokesperson, Rachel Cohen, said in a statement.
The interest in "unidentified aerial phenomenon" has grown since revelations in late 2017 that the Pentagon had set up a program to study the issue at the request of then-Sen. Harry Reid (D-Nev.). Officials interviewed multiple current and former sailors and aviators who claim to have encountered highly advanced aircraft that appeared to defy the laws of aerodynamics when they intruded on protected military airspace – some of which were captured on video and made public.
The Navy has played a prominent role in light of the testimony of F/A-18 pilots and other personnel operating with the USS Nimitz aircraft carrier battle group off California in 2004 and the USS Theodore Roosevelt in the Atlantic in 2015 and 2016.
The growing congressional interest is credited for playing a major role in the service's recent decision to update the procedures for pilots and other personnel to report such unexplained sightings, which POLITICO first reported in April.
"In response to requests for information from Congressional members and staff, Navy officials have provided a series of briefings by senior Naval Intelligence officials as well as aviators who reported hazards to aviation safety," the service said in a statement to POLITICO at the time.
The Navy had no immediate comment on Wednesday, and few details of the latest secret sessions were available.
They come several days after President Donald Trump told ABC News that he, too, had been briefed on the reports. "I did have one very brief meeting on it," he said. "But people are saying they're seeing UFOs. Do I believe it? Not particularly."
But several current and former officials with direct knowledge describe the Capitol Hill briefing as the latest for members of Congress and their staff representing the Intelligence, Armed Services and Defense Appropriations panels.
"There are people coming out of the woodwork," said one former government official who has participated in some of the meetings.
A current intelligence official added: "More requests for briefings are coming in."
The sessions have been organized by the Navy but have also included staff from the under secretary of Defense for Intelligence, the sources said. Both were not authorized to talk publicly about the briefings.
Advocates for giving the mystery greater attention say they hope Congress will take more formal steps, such as requiring the Department of Defense to collect and complete a detailed analysis of data collected by satellites and other means of unidentified craft intruding into military airspace or operating under the sea.
Bryan Bender
Politico