How do we recognize an alien intelligence ?
"They could be staring us in the face and we just don't recognize them. The problem is that we're looking for something very much like us, assuming that they at least have something like the same mathematics and technology."
The intriguing remark was made by Lord
Martin Rees
, a leading cosmologist and astrophysicist who is the president of Britain's Royal Society and astronomer to the Queen of England. Rees believes the existence of extra terrestrial life may be beyond human understanding."I suspect there could be life and intelligence out there in forms we can't conceive. Just as a chimpanzee can't understand quantum theory, it could be there as aspects of reality that are beyond the capacity of our brains," Rees observed.
An alien might have four limbs, just like we humans. Or it might sport 17 tentacles, depending on evolutionary pressures. We can observe, quantify and describe such things. But how can we truly gauge the workings of an alien mind?
A new paper, publishing in Acta Astronautica in February, and reported in NASA's Astrobiology offers a preliminary exercise meant to get us to think outside our own box in assessing alien intellect. The exercise is called COMPLEX, which stands for "COmplexity of Markers for Profiling Life in EXobiology." The project compares various non-human intelligences—including animals, microbes and machines—to each other (rather than humans) and across several categories of behavior and mental capability.
"The goal of COMPLEX would be to prepare ourselves for assessing other species if we find life in space," said Denise Herzing, the study's author and a biologist at Florida Atlantic University.
The research could be critical to astrobiology, which relies heavily on understanding Earthlings to gauge what's possible on other planets. Across the dizzying array of Earth's biota, "intelligence" is an awfully tricky thing to pin down. Historically, we've often defined intelligence in other beings based on how much it resembles our own. We collect sound patterns from whales that could qualify as language, seize upon rudimentary tool use by crows, and admire the social complexity of elephant societies.
Viewing these non-human intelligences through a human lens, however, might be shortchanging these creatures' intellectual abilities. Furthermore, when applied to non-Earthly life forms, our bias towards human intelligence's characteristics might really miss the mark.
Herzing's background has well-prepared her for such an astrobiological undertaking. She is the research director and founder of the Wild Dolphin Project, an organization that has studied a dolphin pod for nearly three decades to learn about the animals' behaviors, social structure and more. Many scientists consider dolphins (technically, porpoises; "dolphin" is a common name given to the animal) among the most intelligent creatures on Earth, perhaps on par with non-human primates.
Denise Herzing of the Wild Dolphin Project at work, studying communication within the same dolphin pod, a project she has maintained for almost 30 years. Credit: Wild Dolphin Project
Mind games
For the most part, the study of dolphin intelligence has hewed closely to the standard methods we've used to evaluate other species' smarts. We have focused on physical traits, such as brain size relative to body mass. We have also put species through their paces doing the sorts of things we consider hallmarks of our own superior brainpower, like puzzle-solving and understanding gestural or acoustic language.
"We have primarily used two methods for looking at intelligence," said Herzing. "The first is a physical assessment about the infrastructure of the organism—big brains, complex neural systems, et cetera. The second is a cognitive assessment usually requiring experiments and tests, designed by humans and based on what we believe to be 'higher' skills."
A third measure of intelligence, that of complex signaling and communication, has recently gained ground. Thanks to breakthroughs with pattern recognition by computers along with other software, we now have the tools to gather and parse the data necessary for assessing this dimension. An example is comparing long segments of dolphin vocalization to listen for repeated elements and apparent syntactical arrangements amidst the clicks, whistles and squeaks.
Through these investigations, we have discovered profound examples of human-like intelligence in non-humans, knocking us off our lofty pedestals, to some extent.
"Humans have had to give up some of what we thought was 'unique' to us, as animals started showing their true abilities," said Herzing.
Human blinders
As usefully humbling as these revelations are we have still largely failed to judge animal intelligence on its own terms, so to speak.
"Of course, every species is intelligent in the sense that they survive in their environment," said Herzing. "But other species might have types of intelligence based on their structure and physical environments that rival human intelligence in complexity, although not be exactly like ours. For example, creatures without complex hands probably would not build things in the same way humans do."
Inarguably, our ability to repurpose the physical world's contents, from the quarried stone of the pyramids to the machine-fashioned silicon in our computers, is an astounding display of wherewithal not possessed by any other Earth-dwelling organism. But the engineering marvels of a termite mound—internal temperature control, ventilation, cultivated fungal gardens—should not be sneezed at, either. As individuals, termites are not very smart or capable. But as a collective "hive mind," the creatures accomplish incredible feats.
"I think someday we may be able to just see ourselves as one of many species who has evolved a few specialties, like vocal language and manipulation of things, instead of looking at ourselves as the only species that are smart, because we think having language is smart," said Herzing.
To give appropriate consideration to other aspects of intelligence, Herzing developed COMPLEX. She recruited a small number of scientists, from astrobiologists to a computer scientist, to weigh in on five dimensions of intelligence across several distinctly non-human entities.
The COMPLEX dimensions are: "encephalization quotient" (neural complexity assessment), "communication signals" (complexity of signal coding), "individual complexity" (the presence of personalities, essentially), "social complexity" (whether living as a group or solitarily) and "interspecies interaction" (the character of external relationships). Each of these categories was broken down into further, more defined attributes. To cite one example from each, respectively: neural specializations, natural repertoire, role flexibility, alliances/cooperation, and cross-species altruism.
If some of the preceding terms and ideas do not ring bells when one thinks of indicators of intelligence, that's the point.
"Since most criteria for human intelligence emphasizes language, cognition and numerical competence, other dimensions of information processing were used to scale organisms in this exercise," Herzing wrote in her paper.
Experts assessed five sources of conceivable intelligence for the study, drawn from categories created by the University of Emory's Lori Marino and York University's Kathyrn Denning for the SETI Institute's "Intelligence in Astrobiology" project. The specific assessed examples were dolphins, octopuses, bees, microbes and machines. Each of these entities, in different ways, successfully copes and exploits its environment for survival (or as might be said for the machine, to function as programmed). Instances of attributes include the complex communications in dolphins, the associative learning in octopuses, the "waggle dancing" bees use to tell their fellows the location of food, the group-beneficial behavior within microbial colonies, and machines' computational power.
Overall, with the scores in, the COMPLEX exercise showed how the five non-human intelligences stacked up against each other. Each demonstrated areas of high and low potential, with some interesting similarities and dissimilarities coming to light. Both bees and machines scored highly in the communication signal and social complexity categories. Dolphins, octopuses and machine all racked up big encephalization (neural complexity) points. Microbes—easily mistaken by us humans for lacking social abilities—scored relatively high in the interspecies interaction category.
The results suggest ways we could try to define (and re-define) the elusive concept of intelligence in beings unlike ourselves.
"COMPLEX was a beginning exercise to see how we might begin to compare types of intelligence without depending on human-only characteristics," said Herzing.
A natural extension of these preliminary findings is to create further criteria and plug in other intelligences.
"It would be great to have hundreds of species measured by the experts and compared," said Herzing. "The five examples chosen were just five of many possible intelligences."
Future versions of COMPLEX could also seek to address oversimplifications of painting a type of creature with too broad a brush. For example, "microbes" is an umbrella term for plankton (plants and animals), fungi, bacteria, Archae and more, covering a continuum of behavior and activity. Thus, all microbes would not rate the same. Herzing said it is one of the goals of COMPLEX to tease out such divisions.
A challenge with COMPLEX, as well as any attempt to assess intelligence in others, is dealing with our own inherent biases. How can we not judge something by human standards, looking through human eyes and calculating with a human brain?
"One of the interesting findings of the exercise was how difficult it was for the experts to think about comparing mammal brains to insect bodies," said Herzing. "Can you compare the function of these structures and how they contribute to intelligence, without letting our human bias get in the way?"
The machines example is a particularly tough one—after all, they are by us, for us.
"Because computers and artificial intelligence are human-made, how do you score their abilities?" asked Herzing. (Notably, a number of astrobiologists think that technologically advanced spacefaring aliens might well be "post-biological," which is to say robotic.)
A final issue with the COMPLEX approach is that it requires input from experts on the relevant species or intelligent entity. Assessing well-studied, non-human intelligences here on Earth could open up new conceptual windows. But it might not automatically lend itself to cracking the code of potential alien intelligences, especially ones just "glimpsed" by our robotic probes or eventual interplanetary and interstellar astronauts.
"The challenge with COMPLEX is that we need the data to make the assessments, so it assumes a certain amount of scientific study," said Herzing. "That will be difficult on other planets if we need to do quick assessments, but I think we might eventually put our computers to the task of quickly recognizing patterns if needed."
Every little bit of insight could prove helpful in getting us ready—and willing—to consider the scope of alien intelligences similar to or radically dissimilar from our own. After all, we struggle to grasp just what intelligence is, even when it's right under our noses.
"We haven't done a very good job recognizing other intelligent life, and other human and nonhuman cultures on our own planet," said Herzing. "If we challenge ourselves with questions and thoughts outside our comfort zone, I think we could some day step beyond our human biases and gain at least a peek around the corner."
The "alien-like" image at the top of the page shows a small planktonic jellyfish with bright green-fluorescent tentacles. The red fluorescence in the middle of the jellyfish comes from chlorophyll in the ingested algae. Image courtesy of Mikhail Matz, Islands in the Stream 2002, NOAA-OER.
The Daily Galaxy via AStrobio.net
US special forces engaged in combat with aliens during the Vietnam war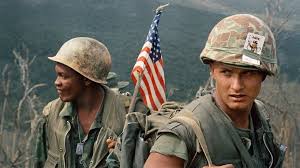 This incident happened in early 1972 during the Vietnam War. A US Special Forces group was secretly delivered at night and parachuted in an area on the Cambodia-North Vietnamese border.
The operation was vital: to destroy a facility in North Vietnam, which, as it was possible to establish by American intelligence, was secretly overhearing top secret conversations of the US Army in South Vietnam.
The SWAT team set up camp for the night, preparing to assault the North Vietnamese team at dawn. In the early morning, the commandos quietly crept up to the Vietnamese base, but what they saw there shocked and frightened them.
As the team got closer to the location of the North Vietnamese unit, they suddenly discovered that there was a large spherical ship that stood on three sturdy metal supports.
The ship suddenly began to hum, causing instant sickness, dizziness, and disorientation in the US military.
The group leader was about to issue a command to retreat when a group of strange looking humanoid creatures appeared.
Not believing what they saw, the special forces group was even more frightened by what these creatures were doing (according to the description of the soldiers, taking into account modern data based on numerous contacts, it can be assumed that they were "gray"): the aliens got out of a large pile various parts of human bodies and placed them in large containers – arms, legs, torso, heads; this terrible list went on and on.
Some were the remains of white people, others were black (US Army soldiers), and others looked like Vietnamese (Vietnamese soldiers from the base).
What they saw sobered and angered the special forces and the commander gave the order to open fire – the bullets hit the bodies of the creatures, but they did not do any harm, except for one who was killed by a shot in the head.
Several commandos were killed, and others were seriously injured by the effects of unknown weapons. Then the aliens quickly retreated into the ship and he quickly rushed into the sky,
Soon, another CIA team appeared on the scene, as one of the survivors said they were all given some kind of mind-altering drugs to try to make them forget about this incredible fight. And it worked, at least for a while.
However, in the late 1980s, two members of the special forces team who took part in that battle began to have nightmarish memories of the events of April 1972, which prompted one of them to contact many other special forces who were found and who were still alive.
Two had already died, three were not found at all, but the rest were able to meet in August 1988 and decided that this story should be told.
They turned to researcher and ufologist Leonard Stringfield and he published their story in his 1991 book.
The story is told in Stringfield's UFO Crash Retrievals: The Inner Sanctum. 
UK UFO case to be kept secret until 2072
The UK Department of Defense has blocked the planned release of a dossier detailing the famous UFO incident.
Back in August 1990, two tourists walking in the Scottish Highlands near Calvine, Pitlochry, witnessed a strange rhombic object hovering over the nearby landscape.
They managed to take pictures of the UFO before it flew away at significant speed.
Eager to share what they saw, the couple contacted the Scottish Daily Record and shared both their story and the photos they took.
Then the journalists shared the pictures with the UK Department of Defense.
It turned out that the tourists weren't the only ones who saw the object – the pilot of the RAF Harrier jet also witnessed the phenomenon – again near Calvine – after being forced to investigate this UFO.
Military intelligence officers sent these images to JARIC, which is the Joint Air Intelligence and Reconnaissance Center.
It is the UK's military center of excellence when it comes to image analysis. These intelligence officers concluded that these photographs were real and that no one had the slightest idea what they were.
Thirty years later, the dossier of the Ministry of Defense, including photographs, was scheduled for declassification and publication, which is typical of such documents.
However, the release has now been postponed for another 50 years for unknown reasons.
According to the 30-year rule, the file was supposed to be released on January 1, 2021, but if the ministry gets it, it won't be released until January 1, 2072 – an 82-year closure.
"By the time the world gets to see the file, the two witnesses will be dead. It is crazy. What are the authorities trying to hide?"
A complaint lodged under the Freedom of Information Act about the National Archives withholding the documents is now under investigation by the UK information watchdog, the Information Commissioner's Office.
The National Archives refused to comment further. The MOD refused to comment at all.
What are the authorities trying to hide?
FBI decrypted documents confirm that there are giant aliens
The topic of aliens has always attracted attention. Recently, foreign media disclosed that a declassified document released by the Federal Bureau of Investigation (FBI) once again confirmed the existence of UFOs and aliens.
FBI Declassified Document: Describes UFO and Aliens
The British "Daily Star" reported that earlier this year, the FBI released the decrypted documents in 1947. The 70-page decrypted report contained a "Memorandum 6751". The person who wrote the report was an anonymous university professor.
"Memorandum 6751″ mentioned that there were flying saucers, unidentified creatures, and " giant aliens resembling humans ".
The report stated that these aliens are like humans, "but larger in size. They are not from any planet known to people, but from the etheric." "Ether" is a term used in ancient Greece, generally referring to the atmosphere or sky.
There is also a description of the flying saucer in the decryption report, which refers to the fact that most of the flying saucers are loaded with alien creatures. The flying saucers have powerful radiation, are very fast, and have powerful attack capabilities.
"These flying saucers have a kind of radiant energy or light that can easily disintegrate any spacecraft that launches an attack. They can re-enter (earth) from the ether at will, or they can simply disappear from our sight without leaving a trace."
The report states, "If one of these (flying saucers) is attacked, the attacking aircraft will almost certainly be destroyed. As far as the general public is concerned, this may lead to proximity panic and international suspicion."
Tesla is a " Venusian "
In recent years, due to the expiration of the confidentiality period, the FBI has published many decrypted documents on its official website, including one about the famous inventor Nicholas. Tesla (Nikola Tesla) declassified documents, caused a public heat. The document mentioned that Tesla came from "Venus" and was an "alien".
The decrypted document is called "Nikola Tesla Part03 of03". It is the third document about Nikola Tesla decrypted by the FBI. It has 64 pages of content, some of which are blacked out and cannot be distinguished.
The remaining content that is not blacked out contains the following passage: "The people of the universe have contacted Nikola Tesla many times and told the FBI that Tesla was from Venus. Tesla was brought to the earth in 1856 to a Yugoslav couple to raise."
The publication of this document shocked the world. Faced with a wave of discussions and doubts from netizens, the FBI did not make any response or explanation, which is even more curious.
F-18 fighters chase UFO
"The Wall Street Journal" recently reported that the non-profit organization "National UFO Reporting Center" data shows that so far this year, UFO sightings have increased by 51% over the same period last year. The center has received approximately 5,000 sightings reported.
On September 8, the United States retired Lieutenant Colonel David. David Fravor accepted the Massachusetts Institute of Technology scientist Rex. In a live webcast interview with Lex Fridman, he talked about the bizarre experience of driving an F-18 fighter jet to chase UFOs 16 years ago.
On November 14, 2004, a UFO was found in the waters of San Diego, California, and Frevo piloted an F-18 fighter to investigate. Both he and the pilot of the other fighter saw a white Tic Tac mint-shaped flying object.
Subsequently, the pilot Chad Underwood flew an F-18 fighter jet, caught UFO on the radar, and successfully filmed UFO video with an infrared camera.
In April this year, the Pentagon released three videos of UFOs, one of which was taken by Underwood during this operation.
12 U.S. soldiers live on alien planets
Former Minister of Defense of Canada Paul. Paul T. Hellyer once disclosed that there are aliens living on the earth and working for the US government. Many US presidents have also admitted the existence of aliens on different occasions.
In addition, some U.S. military personnel disclosed that a top-secret exchange between the U.S. military and aliens was named "Operation Zeta," and an alien envoy came to the United States. In July 1965, 12 American soldiers secretly boarded an alien spacecraft to the planet Zeta.
Of these 12 people, 4 never returned to Earth. Of these 4 people, 2 died, 2 chose to stay on Zeta, and the remaining 8 returned to Earth 13 years later.