Recognition at last for woman who saw fairies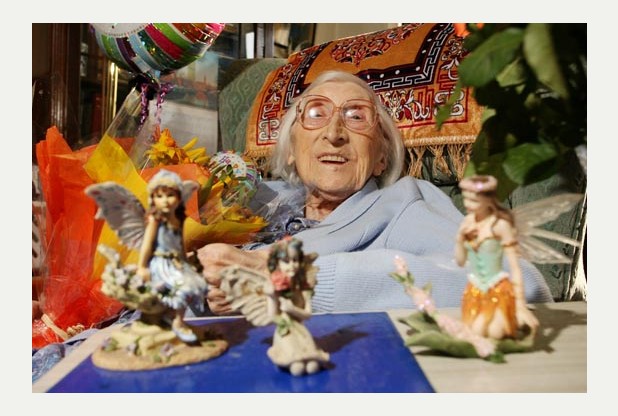 Three years after the author's death, a long-neglected manuscript on alleged fairy sightings has finally been published. Jeremy Lewis hears from those who knew Marjorie Johnson.
FAIRIES at the bottom of your garden? Countless people claim to have seen them and their experiences were recorded by an eccentric Nottingham spinster who lived to 100 and whose book has finally been posthumously published.
Marjorie Johnson, honorary secretary of the Fairy Investigation Society, was born in Bakersfield in 1911, lived in the same Carlton house for almost all her life and died three years ago.
Her one regret was that the book she wrote in the 1950s, Fairy Vision, was not published in her lifetime – at least, not in English.
"Very few books have passed through birth pangs as difficult as this one," says historian Dr Simon Young, who has written the foreword to the work, newly published under the title Seeing Fairies.
"It all began in 1955 when she began to put together the material. She sent the impressive collection of fairy sightings to publishers in Britain and in Ireland but she had no luck.
"A fellow fairy enthusiast found a home for Seeing Fairies with a publisher based in, of all places, Germany. One can imagine Marjorie's pride but also bewilderment as she, at 89, finally held in her hands her life's work in a language she could not read."
In his foreword, Dr Young adds: "If this sounds like the universe playing a cruel joke, the punchline had not been delivered. In 2004, when the author was 94, it was translated into Italian. Another book that Marjorie could not read."
Although published in the United States, at least her work can now be read in English and believers in fairies, and the curious, can absorb reports collated largely through members and contacts of the Fairy Investigation Society.
The organisation was founded in 1927 by naval scientist Quentin Craufurd and its members included several men and women with interests in spiritualism and the esoteric belief system known as theosophy. Walt Disney was a member. So was Air Chief Marshal Lord Dowding, victor of the Battle of Britain.
Marjorie Johnson became a member after years of fairy sightings. In 1936, when she was 25, she wrote to John O'London's Weekly Magazine describing her experience, as a child, of seeing an elf in her bedroom.
As secretary of the society in the post-war years, she collated countless reports of fairies – pixies, elves, call them what you will – scores of which are detailed in her book.
Ada Constable lived in an isolated bungalow near the Notts village of Walesby. Her son was gazing intently through the window, so she asked him what he was looking at. "The funny little man," he replied.
The mother asked the boy to describe him and he reported "a fair description of what she associated with a dwarf or gnome, wearing a long, pointed cap. What was he doing? "He's working in the beans, mummy."
The date of the Wellow sighting is not recorded but we know that Nottingham woman Mrs L F Small's experience dated from 1940. Again, little people are involved.
Looking into her garden through the French windows, "she became aware of two little gnomes about one foot high, standing pointing to where the first crop of tomatoes should be," the book records.
"A short time afterwards… she became conscious of somebody at her feet and on looking down she saw two little gnomes holding a basket of green tomatoes. She felt they were trying to tell her something.
"She opened her mind to receive their message, which was to the effect that if she gathered the tomatoes at once, while they were green, and wrapped them up and put them in a dark place to ripen, she would still have a good crop. When they realised she had understood them they walked solemnly away."
So who was Marjorie Johnson, and what was she like?
She lived almost all her life in a house in Brooklands Road, Carlton, to which her family moved when she was a child.
"She was a legend in the neighbourhood, as you can imagine," said Dr Young, who is based in Italy. "She remembered seeing German zeppelins flying over the city during the First World War.
"During the Second World War she and her sister were volunteers for the night watch, trekking the streets round where they lived, checking that all was well and no chinks of light were visible from homes during the blackout.
"She was related to Valentine Marshall, who was the youngest person ever to be deported, at 17 years old, to Australia for alleged involvement in the Colwick riot of 1831.
"She had lots of stories of odd 'ghostly' experiences, some in her work places and locations in Nottingham and further afield."
Marjorie is warmly remembered by Jean Bullock, of Eastdale Road, Carlton, a retired community care assistant with Notts County Council. Mrs Bullock was her home help but, after retirement, remained a friend and regular visitor and was with Marjorie when she died in 2011.
"Going through her front door was like going into another world," recalled Mrs Bullock, 71. "When she had a tale to tell, Marjorie would brighten your world. She told me how DH Lawrence and his wife, Frieda, once came to tea Marjorie had been to college with his niece. That's how they knew each other.
"She had been a secretary and her handwriting was beautiful. And if you wanted to know how to spell a word, she always knew."
Like her sister Dorothy, to whom the manuscript was dedicated, Marjorie never married. She often talked about her book, said Mrs Bullock. "She occasionally would get royalty cheques from a man in Germany. She talked a lot about fairies. The room at the back of the house was full of them: pictures, mugs, pottery. I sometimes felt sure I was going to see a fairy myself. When she was on form, you could spend hours with her."
In his foreword, Simon Young adds: "She did not live to see her book brought out in English, but with her strong beliefs in the survival of the soul, she assumed that one day she would witness this happen 'from the other side'."
A photographer took a picture of an old house, but did not know that a woman lived there. No wonder – you can only see it in the photo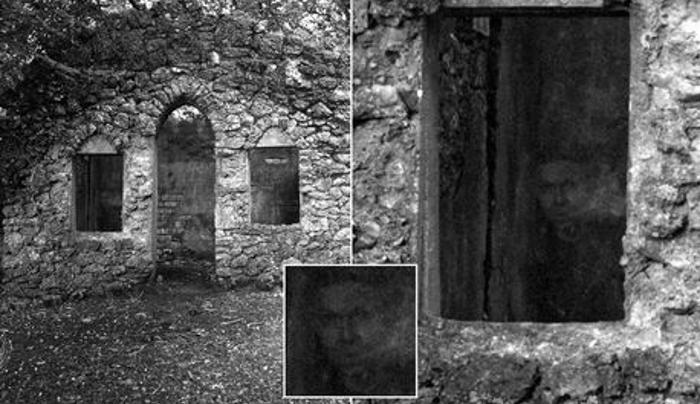 A Scottish resident took a photo of an abandoned building, and then could not believe his eyes when he looked at the finished photograph. From there the woman's face was looking at him, but the man is sure: there was no one in the ruins of the house. Finding an explanation for what he saw was not easy.
A photographer from Scotland, who wished to remain anonymous, decided to arrange an unusual photo session, Unilad writes.
His choice fell on several abandoned buildings that are located in one of the parks in the North Ayrshire region. After taking a couple of pictures, he went to the studio to print them, and then looked at the finished result.
Mysticism often happens in abandoned buildings , and the case with a man was no exception. In one photo, the Scotsman saw the ghostly silhouette of a woman looking at him from a window. However, the man assures that there was no one in the building, and he was alone in the ruins.
During the shooting, I did not feel anything unusual or anything otherworldly.
Despite the fact that the woman's face looks intimidating, he is glad that he managed to capture it. Moreover, the hero of the story shared the frame with all friends who adore mysticism and riddles.
I'm happy that I was able to capture something that looks like a ghost. I am even proud to be able to show photos to people who love riddles.
Many people, according to the photographer, are inclined to believe that this is a ghost, who love to talk to children so much, although the author of the picture himself is in no hurry to draw conclusions. He even looked at the frame under a microscope, but never came to the truth.
You can, of course, speculate, but the human brain makes us see familiar traits everywhere, especially if we look at them long enough.
Moreover, the photographer, according to him, does not really believe in ghosts and other mystical phenomena.
I don't like the term paranormal. As for ghosts, I don't know if they exist. I don't even know how to define them. What is it? Energy?
Camera recorded an extraneous movement in Massachusetts. And this sight is not for the faint-hearted
A Redditt user with the nickname grandslammer0891 from Mansfield, Massachusetts, posted a video from security cameras at a friend's house, which scared him and left users in disbelief.
The author of the video explained that his friend left home by the end of August, leaving four huskies in the care of a friend. He usually visited them during the daytime.
One day the owner of the apartment received a notification in the middle of the night that the camera recorded some kind of extraneous movement. At that time there were only dogs in the house.
The video captured the kitchen and part of the living room. A dog is lying on the sofa in the right corner, and you can trace the turns of the head by its ears. When her ears turn to the left, then in the dark you can see the transparent figure of a moving person.
The video puzzled users and caused a mixed reaction from them. Some could not find an explanation for what they saw and panicked slightly. The dog's head turns towards the ghost, which suggests that it also noticed the apparition.
"What is it, I saw it … with my own eyes. Does anyone else see this? Because it seems to me that I definitely saw something wrong. No no".
Others decided that a man had walked past the window on the right, and his shadow flashed on the left in the headlights. Some users even believe that a live person got into the frame.
"I hope your buddy has a gun. There was a real intruder. "
Some readers agreed that the ghost video is quite plausible, since Massachusetts is full of ghosts.
Paranormal researcher warns that Ouija boards can summon dangerous demons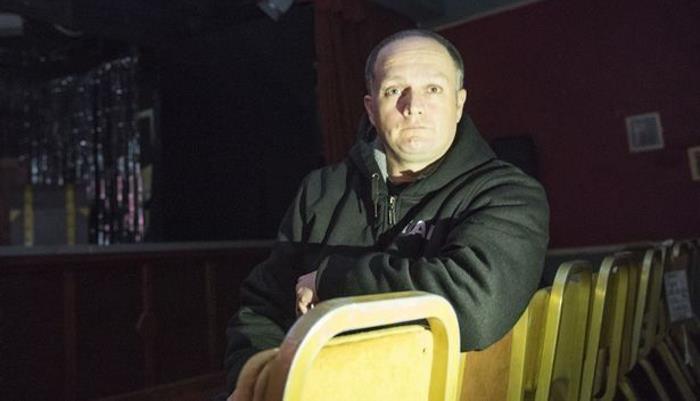 Paranormal researcher Paul Marsters criticized British retailer Poundland for selling Ouija boards as part of Halloween decor. He warned that only professional mediums should use the boards, and ordinary people can summon deadly demons. 
Paul, who is a member of True Paranormal Events UK, was stunned when he saw a £ 1 ($ 1.29) Ouija board in a local budget store.
 "Ouija boards are definitely not toys and should not be available to children to buy in stores on Halloween, let alone adults who are not trained in how to use them. It doesn't matter if they are plastic or wooden ", – quotes the words of the ghost hunter Hull Live. 
Paul Marsters explained that people can accidentally summon dangerous spirits that will torment their victim in the future and may even lead to suicide. 
"On Halloween night, the veil on the spirit world is very thin, and people only buy these boards for Ouija sessions on Halloween, so I'm afraid to imagine what will happen when these boards are in the wrong hands," the expert said. 
Poundland noted that Ouija boards can only be purchased by persons over 18 years of age. This item sold out quickly before Halloween due to its popularity.