Rangers See 20 Inch Tall Pygmies: Are They Orang Pendek?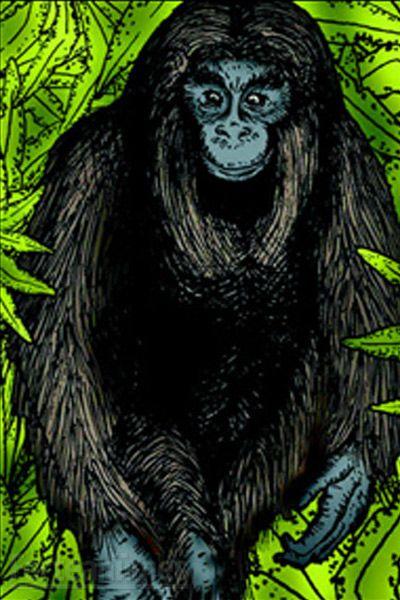 Historically, pygmies have been depicted from Africa and Asia, often, by using outside explorers as yardsticks.
Joseph Birdsell (6 ft tall) with a 24-year old male Kongkandji Negrito (4 ft 6 in), North Queensland, Australia, 1938.
Now breaking news out of Sumatra comes accounts of the sightings of 20 inches tall pygmies. Do these have something to do with Orang Pendek encounters?
Rangers patrolling the Way Kambas National Park (TNWK) in Lampung have reported sighting dozens of pygmies in a number of areas across the park. They are being described as pygmies with dreadlocks, being only 20 inches tall and naked.
"A number of rangers claim the pygmies grow their dreadlocks down to their waist. The first sighting by the rangers was on March 17 at 6:40 p.m. local time. Apparently, many fruit trees, such as banana, guava and dragon fruit, are grown in the NTF plantation area. If the pygmies like fruit, they might have entered the plantation for food. We will try to anticipate the situation with the help of local residents and PT NTF employees. If they [local workers] come across the pygmies, they should not harm them," said TNWK spokesman Sukatmoko.
Sukatmoko said that based on information conveyed by forest rangers, the group of pygmies consisted of around 15 individuals. When the rangers spotted them, the pygmies, believed to be an isolated group of people, were walking through a swamp.
"The rangers monitored their presence for around 15 minutes from a distance of around 35 meters. When the rangers were about to approach them, they immediately hid behind trees and vanished. They ran very fast," said Sukatmoko.
The pygmies were seen again March 20, by the rangers, but further away and for a shorter time.
Sukatmoko said his office was unsure whether the pygmies had always lived in TNWK, or whether they were newcomers from other islands. To record their presence, the TNWK center has installed surveillance cameras in the forest.
"We can record pictures of the pygmies at night. After it's proven they exist, we will immediately inform the Forestry Ministry, or even the President. We believe they really exist in TNWK. We're making strenuous efforts to find them. In the event that we do, we hope the government protects them. Our rangers have seen them with their own eyes, but have yet to take pictures of them," said Sukatmoko.
Was what W. Wheeatcroft saw in January 2008, one of these pygmies?
The center has allowed academics and researchers to track and study the group.
Debbie Martyr's drawings, based on her sightings, may be finding a context, as well.
Indonesian Forum for the Environment (Walhi) Lampung chapter campaign director Mukri Friatna said the pygmies had been sighted in a number of forests in Indonesia, such as in Kerinci Seblat (West Sumatra), Liang Bua (Flores) and Bone (South Sulawesi).
Does this new sighting of pygmies answer some questions?
"In Kerinci Seblat, they are known as the orang pendek [short people], in Flores as Homo floresiensis, and in Bone as members of the Oni tribe. In Mount Kerinci, the creature is depicted as having inverted legs but is very agile among the dense foliage," said Mukri.
Way Kambas National Park is located in East Lampung, and is home to the Sumatran elephant, rhinoceros, tigers and a number of other rare wildlife species.
Postscript: On March 17th, sunset in Sumatra was 6:11 pm local time; on March 20th, 6:10 pm. The best sighting on the 17th was recorded as 6:40. Bright dusk lasts for 30 minutes. Viewing was not in sunshine, but there is no way it was "dark." They are rangers, and they should be familiar with local species. This is not an April Fools joke. This story broke in Jakarta on Sat 30 March 2013.
A Briton captured on camera a creature similar to the Loch Ness monster
A resident of British Southampton Steve Challis, during a vacation in Scotland last year, photographed a creature in a lake that looks similar to the famous Loch Ness monster, reports the Daily Record.
Photos were taken during a trip to an excursion to Arkart Castle on the shores of the famous lake. A man photographed the opposite shore when he noticed a ripple in the water. He took some pictures, and then the creature itself appeared out of the water for a moment. 
After that, it disappeared and did not appear again. As a result, the camera recorded the animal in only one frame, which Challis discovered a few months later, when he looked at the quarantine pictures taken during the trip because of the coronavirus.
After the Briton shared a strange picture on the Internet, users suggested that it was the famous Loch Ness monster. However, the photographer does not share this opinion. He does not believe in the monster and believes that the creature he shot was simply a big fish or seal.
Interest in the photograph was expressed by blogger and expert on Nessie Roland Watson, but he suggests that the picture taken by Challis was edited in Photoshop. Challis claims that the photograph is genuine. He drew attention to the fact that the shot he made was completely different from those snapshots of monsters that the network abounds in. At the same time, he is still convinced that he shot just a big fish.
The story of the Nessie creature from the Scottish Loch Ness attracts many tourists who want to see it with their own eyes. According to eyewitnesses, the mythical monster from the urban legend has a long neck and a huge torso. Nessie's existence is not proven.
A video of the second "confirmed" appearance of Nessie appeared on the internet
A Nessie fan recorded a second meeting with her this year. O'Faodhagen, a 55-year-old employee of the Irish hospital, claimed to have seen Loch Ness floating in Urquhart Bay.
He managed to film this meeting. He is delighted with the video. O'Faodhagen sent his results to the Official Loch Ness Monster Observation Register, and they confirmed the footage as an official second observation in 2020.
The video shows a dark figure rising from the water.
She splashes, creating waves and a white foamy substance. Then it goes under water and reappears. Despite the fact that he saw about 1.2 m of the creature emerging from the water, O'Faudhagein estimated that it probably had a length of at least 3 m. The frames that show this creature last 1 minute 38 seconds. O'Faudhagain said that Nessie had not appeared for the past three months. He decided that Nessie went to quarantine.
Her appearance surprised him. He believes that Nessie has stepped out of the depths to say hello. O'Faodhagen noticed that during her appearance on the lake there is no activity. On January 18 of this year, he observed her appearance from the water. Gary Campbell, keeper of the Official Loch Ness Monster Observation Register, confirmed this observation.
According to O'Faodhagen, it is very exciting to get a new observation, especially when it happened almost immediately after the first. And he seems to know what he is looking for.
Last year, he managed to capture 4 encounters. 2019 was a record year for people who saw the Loch Ness Monster. A total of 18 observations were confirmed. This is the biggest since 1983.
Some believe in the existence of Nessie, others are critical. Perhaps it is not worth denying that a strange creature unknown to science lives in the dark waters of the lake. If you have not seen any phenomenon, this does not mean at all that it is not.
A creature assembling a Mermaid discovered in Antarctica: Google Earth user provides evidence
A Google Earth user spoke about the incredible discovery that he managed to make in Antarctica. Thanks to the rather rapid melting of the ice, he managed to consider a strange creature in one of the images received.
He claims to have found a frozen mermaid in the ice, or a "sea creature resembling a mermaid." YouTube user Florida Maquis claims that the mermaid is by no means a natural geological formation.
The man believes that either a mermaid or some obscure sea creature froze in the ice, which very much resembles a popular mythical creature. At the same time, the user is trying to prove that his find has absolutely nothing to do with natural formations of a geological nature. The user is sure that this is some unusual creature from mythical stories. He says:
"I found in Antarctica many different things that seem to be sea creatures. I think that due to the melting of snow and ice, the mermaid became visible, its shape simply cannot be explained by ice crumbs or snow." The coordinates of the mermaid-like object are 76 ° 52'51.92 "S 145 ° 42'4.27" W.
The video above was posted online with confirmation of the man's words. It was watched by several thousand people who commented on what they saw. Most users are sure that the video does not contain a mermaid, but, for example, a walrus. Some believe that this may turn out to be a dolphin of a sufficiently large size. Some say it could be a Ningen. The author also found support from some users who have no doubt that the mermaid is depicted in the frames.