Psi-Trailing: Animals' Incredible Journeys
Sometime in August 1923. Bobbie, a large dog, two years old, mostly collie, but said to be part English sheep dog, began his incredible journey.
His family, the Braziers, were restaurant owners who were vacationing in a small Indiana town, far from their Silverton, Oregon home. They became separated. The family had to return home, leaving Bobbie in Indiana.
So, Bobbie traveled, alone, westward to reunite with his family. At first, he was trying to find his bearings, wandering in circles, as people do when they are lost, traveling miles, but only about a couple of hundred of them in the right direction. In late fall, he began to find the journey toward home.
He trekked through Illinois and Iowa. Sometimes, he caught his own dinner. Other times, people fed him and gave him shelter for a night or longer.
Hoboes shared their food with him. During Thanksgiving, a family took him in for several weeks. Then, it was time for him to move on.
He lost a lot of weight during his journey. He swam across rivers, including the Missouri, filled with ice. He crossed the Rocky Mountains.
Finally, in February, he reached home and entered the family restaurant. He went to the second floor living quarters where Frank Brazier was sleeping, jumped on the bed and licked Frank's face. This ended the 3,000 mile six month long journey.
The president of the Oregon Humane Society authenticated this amazing feat. The route was reconstructed and people who saw or took care of Bobbie were interviewed.
Bobbie did not follow Frank's east/west route and appeared to have traveled thousands of miles over land he had never been in, land he had not seen, smelled or, in any way was familiar, yet, he found his way home.
Joseph Banks Rhine, one of the fathers of modern parapsychology, and his daughter, Sara Feather, have studied many similar cases. Rhine called this phenomena psi-trailing. Psi is the abbreviation for psychic phenomena.
In 1952, he investigated a case of psi-trailing that happened in 1952. This was one of the longest journeys of a cat.
Stacy Woods was an Anderson, California school principal. Sugar was the family cat.
The family moved to a farm in Gage, Oklahoma and left the cat with neighbors because the cat was terrified of riding in cars.
About fourteen months later, Stacy and his wife were milking cows in the barn when a cat jumped through an open window and landed on Mrs. Woods' shoulder. The cat looked and acted so much like Sugar that they joked their cat had found them. Then, they realized that the cat really was Sugar. The cat had an unusual bone deformity at his left hip joint.
Later, the Woods found out that Sugar disappeared three weeks after they moved.
Rhine learned that Sugar was a strong cat and an excellent hunter and had caught half-grown jack rabbits. The parapsychologist concluded that the cat was physically able to travel the rugged land between California and Oregon, a distance of 1500 miles.
The question was how did Sugar find his family in a place he had never been to?
Another unusual case that Rhine and Feather studied was one of a pigeon. This was not the case of the usual homing pigeon.
Hugh Brady Perkins was a boy when he discovered the pigeon in the yard of his home in Summersville, West Virginia. The year was 1940. He tamed the pigeon and placed a band on its leg with the number 167 on it.
That winter, Hugh was taken to a hospital, at night, for surgery. The distance was about 120 miles from home.
One night when it snowed, Hugh heard fluttering at the hospital window and told the nurse. She opened the window to humor the boy and the pigeon came in. There was the band with the number 167 on the bird's leg.
How can animals travel such distances and, to places they have never been?
When cases are evaluated for psi-trailing, there are four major criteria that are used.
1) The reliability of the witnesses. 2) Positive identification of the animal, such as a deformity, scar or name tag. 3) How credible and consistent the details are. 4) Adequate corroborative evidence, such as other witnesses.
After years of study, Rhine and Feather found at least 54 cases of cats, dogs and birds that appeared to meet these criteria.
The evidence is there. Again, the question is how animals can do this.
I believe it is by telepathy. This is communication without the use of the traditional five senses, across space and time. This has been demonstrated in humans many times, both in experimental situations and in the field. A simple example is that a person is thinking about calling a friend. The phone rings and it is the friend.
I also believe that "connectedness" or special bonds existing between humans and humans, animals and animals and humans and animals facilitate this. Again, there has been evidence to support this.
Dr. Karlis Osis, a distinguished parapsychologist, did one of the earliest experiments in psychic communication with animals in the early 1950s at the Parapsychology Laboratory at Duke University.
Osis was experimenting with kittens in a T-shaped maze, trying to influence them to go right or left, according to a random sequence.
The cats made more turns, according to Osis' will, than could be attributed to chance. He concluded that telepathy was probably the best explanation.
Even more intriguing was the fact that the cats that he had a special bond with were the ones that most often went in the direction he chose. The cat that "scored" the best was one that he allowed to jump on his shoulder and ride around the laboratory.
Transpersonal psychology studies human consciousness. There is also research being done in both animal consciousness and psychic animal-human communication. I believe that this, not space, is the last frontier.
Will Bradbury Will, ed. Into the Unknown. ISBN: 0-89577-098-9
Fright night on A&E channel on October 30th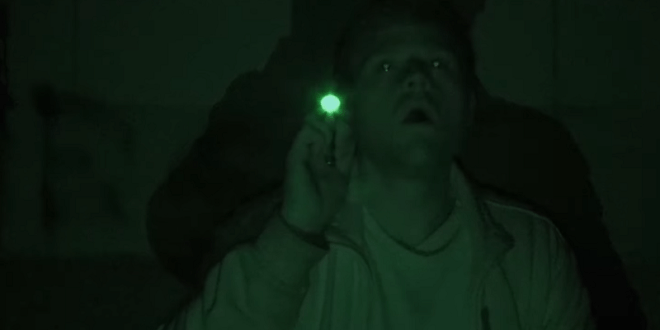 If you live in the United States and your getting into the Halloween mood early then check out A&E Channel on October 30th for a night of Ghost Hunting.
First off at 8pm ET/PT, A&E embarks on the longest continuously filmed paranormal investigation in television history with "World's Biggest Ghost Hunt: Pennhurst Asylum."
Watch Paranormal investigators Ali Horrick, Katie Burr, Zak Heino, Max Baumle and Austin George as they investigate one of the most haunted places in the U.S in this 2 hour special.
You can read more about the show here in a post I wrote earlier this month.
Then at 10pm ET/PT, the highly anticipated season one finale of "Ghost Hunters" finds the team, Grant Wilson, Daryl Marston, Kristen Luman, Brandon Alvis, Mustafa Gatollari, Brian Murray and Richel Stratton, capturing compelling evidence of a figure lurking inside an abandon 19th century hospital in Texas.
When Demons Get Into Our World
An exorcism is a religious practice of removing demons or other possessing spirits from a person or place. Ridding someone of a diabolic possession is not always an easy process, but many believe it is necessary for the safety of the victim and those around them.
Exorcisms have been practiced for thousands of years and across several major religions, including: Hinduism, Islam, Judaism, and, of course, Catholicism.
Exorcism in Catholicism
Though called by a variety of names, the ritual of exorcism can be found in nearly every form of religion. However, it is most often associated with the removal of demons in Christianity; specifically in the denomination of Catholicism. Catholics believe that the power of Jesus Christ provides priests with the power to expel evil demons.
Baptism, blessings, and the cleansing Prayers of Deliverance can be considered forms of exorcism in the Catholic faith, but Major Exorcisms are what we typically associate with the word.
This form, also known as the Rite of Exorcism, is considered when a powerful entity has taken control of an individual. This rite can only be performed by a priest, or with the permission of a Bishop.
Identifying the Possessed
Demonic or spiritual possession can display itself in many ways depending on who, or what, has actually taken hold of the host. Most signs are quite similar to what we associate with mental disorders like schizophrenia, but escalate much quicker and are accompanied by events or characteristics that can only be considered paranormal.
Some symptoms of possession are:
– Sudden hair or eye color changes.
– Tone of voice switches randomly from very high to very low.
– Speaks in tongues, or languages they've never learned.
– Ability to move the body in unnatural or humanly impossible positions.
– A sudden aversion to all religious objects, practices, or materials.
– Exhibits extreme rage along with superhuman strength.
– Recants past events they've never heard of as if they were there.
– Ability to read the thoughts of those around them.
– Levitates at will or during sleep.
Due to advancement in medicine and many tragedies that have occurred during exorcisms, an extensive investigation is now required before an exorcism will be performed. It's essentially a process of elimination to determine if the person is truly possessed by a spiritual being or not.
A priest will enlist the help of a psychiatrist, medical doctor, and Church-appointed paranormal expert to determine if the symptoms can be explained by mental illness, a medical condition, or fraud. If the investigation concludes that the individual is truly possessed, then an exorcist is appointed to the case.
Performing the Rite of Exorcism
The appointed exorcist dresses in this surplice along with a purple stole, and makes his way to the victim. He then begins the ritual by speaking a series of statements, prayers, and appeals.
These can be divided into two groups: Those in which the priest asks God to free the subject from the demon, and those in which the priest commands the demon to leave by the name of God.
The priest will perform various actions at specific times during his recitations, such as: laying his hands on the victim, splashing holy water on everyone in the area, clasping or hold up a holy relic, and making signs that signify the cross on himself as well as the victim.
All of these things are repeated until the demon has been expelled, or the priest has exhausted all options.
Most Famous Exorcisms
Though there have been many documented cases of exorcisms, there are a few that stand out.
The Exorcism of Ronald Doe
Upon the sudden death of his aunt, a teenage boy attempted to communicate with her through Ouija board. Soon after, many strange things started occurring around him. When no one could explain the events, two priests were called to help.
During multiple exorcisms performed on him in 1949, the priests witnessed his bed shake violently, various objects flying around the room, many words appearing in wounds on his body, and the boy speaking in a guttural tone.
Once the 30th rite was completed, everything suddenly stopped and the boy had no memory of the previous events. Though given the pseudonyms Ronald Doe and Ronnie Mannheim, the boy's true name was never released. The diary kept by one of the priests was adapted into the film and novel, The Exorcist.
The Exorcism of Anneliese Michel
A German Catholic woman named Anneliese Michel, initially thought to be suffering from depression, began hearing voices that told her she was damned. Over time she developed seizures and became intolerant to many things related to her religion, like walking past a crucifix or drinking holy water.
After psychiatric treatment and medication showed no improvement, her family turned to the church for help. From 1975-76 over 60 exorcisms were performed, some lasting as long as 4 hours.
She died in her home on July 1, 1976 from malnutrition. Her case has been considered a misdiagnosis of mental illness, negligence, and abuse. The films of Requiem and The Exorcism of Emily Rose are based on her story.
Ossett murder case of 1974
In the British town of Ossett, a man by the name of Michael Taylor expressed that he felt evil within himself. He began to verbally lash out in his Christian Fellowship Group, and his erratic behavior escalated even after an absolution was performed.
A priest and a group of Methodist clergymen were eventually called in to carry out an exorcism. The rite lasted for many hours from October 5th to 6th in 1976 and those involved claimed that at least forty demons spoke through him.
When they were all too exhausted to go on they allowed him to return home, though they feared that at least three demons were still present. A few hours later, he was found in the street covered in blood. He had murdered his wife; tearing her face off with his bare hands.
Exorcisms are protected under the first amendment in the US and still preformed throughout the world today. In fact, the many films related to them have caused a sharp increase in the number of exorcisms being requested.
However, only a handful of priests have been given the ability to perform them and less than 1% of all requests are granted. Whether you believe in possessions or not, the need for exorcisms has been around for a long time and will probably be around for many years to come.
Paranormal Records in Danger with World's Largest Dreamcatcher and Ouija Board
The Guinness World Records committee has never been shy of judging weird activities, but it has now joined the paranormal world with its involvement in determining if a giant Ouija board in Salem, Massachusetts, and a huge dreamcatcher in Russia are of world record sizes. Are they? Will they attract world record demons and spirits? Will Guinness be there to measure them?
"On October 12, 2019, Rick "Ormortis" Schreck, vice president and director for the Talking Board Historical Society, will unleash the beast, crushing the current Guinness world record set on October 28, 2016 by almost two-and-a-half times the size. To put this in perspective, because "size matters", the finished board is as long as a 72-foot brontosaurus, weighs more than a six-ton elephant, and is large enough to park five eighteen-wheelers on it!"
For those not quick with truck-to-square-feet or elephant-to-pound conversions, the Ouija board created by Rick Ormortis (get it?) weighs about 9,000 pounds, covers 3,168 square feet, is made of 99 individual sheets of plywood and is coated with over 20 gallons of wood stain. (Photos of it can be seen here.) While those are impressive measurements for the appropriately-named Ouijazilla, the planchette (the small platform used to move around the board) deserves special attention. Even though it's 15.5 feet long, 10 feet wide and weighs about 400 pounds, the giant planchette can easily be moved around the board by one person … or one giant spirit or demon.
Schreck is a Ouija board collector and maker from New Jersey, so he knows about the alleged powers of the boards. He's been working on Ouijazilla since June 2018, two years after the Guinness people named a board painted on the roof of the Grand Midway Hotel in Windber, Pennsylvania, as the world's largest at around 1,302 square feet. You can do the math yourself and see why Ripley's Believe It or Not named Ouijazilla the new world record holder. Some sites are reporting that Guinness agrees, although its website still lists the one in Pennsylvania as the biggest. As for giant spirits and demons, there have been no sightings yet, but this is Salem – it's only a matter of time.
"I want the world to really start changing. There are a lot of angry people now. It's an attempt for the people to come together for good."
Meanwhile in Russia, Bibigul Mamaeva, a Kazakh shaman who claims to be a "direct descendent" of Genghis Khan (a 2003 study found evidence that Genghis Khan's DNA is present in about 16 million men alive today), made an attempt to regain her Guinness-recognized record for the world's largest dreamcatcher with her new brushwood circle which measures 12.63 meters (41.43 feet) in diameter. Mamaeva claims she held the record until 2016 when it was broken by Lithuanian artist Vladimir Panarin, whose ring measured 10.14 meters (33 ft 3.21 in) in diameter and weighed 156 kg (343.9 lb). Mamaeva's may be a bit lighter due to the use of brushwood and yarn decorated with beads and feathers. (Watch a video of her building it here.) While she expects Guinness to recognize her record, there's been no official word yet.
As for catching giant Russian spirits, the video and photo on RT.com show Mamaeva's dreamcatcher still on the ground – not the prime location for plucking demons from the sky before they land on a sleeping child – the most common use for the spirit devices. Will it fulfill her goal of getting "people to come together for good"? That depends on how small the hole in the center of the dreamcatcher is to prevent certain world leaders from making it through.
Giant Ouija boards and huge dreamcatchers. Do we need more signs that the world is worried?
Source: Mysterious Universe