Psi-Trailing: Animals' Incredible Journeys
Sometime in August 1923. Bobbie, a large dog, two years old, mostly collie, but said to be part English sheep dog, began his incredible journey.
His family, the Braziers, were restaurant owners who were vacationing in a small Indiana town, far from their Silverton, Oregon home. They became separated. The family had to return home, leaving Bobbie in Indiana.
So, Bobbie traveled, alone, westward to reunite with his family. At first, he was trying to find his bearings, wandering in circles, as people do when they are lost, traveling miles, but only about a couple of hundred of them in the right direction. In late fall, he began to find the journey toward home.
He trekked through Illinois and Iowa. Sometimes, he caught his own dinner. Other times, people fed him and gave him shelter for a night or longer.
Hoboes shared their food with him. During Thanksgiving, a family took him in for several weeks. Then, it was time for him to move on.
He lost a lot of weight during his journey. He swam across rivers, including the Missouri, filled with ice. He crossed the Rocky Mountains.
Finally, in February, he reached home and entered the family restaurant. He went to the second floor living quarters where Frank Brazier was sleeping, jumped on the bed and licked Frank's face. This ended the 3,000 mile six month long journey.
The president of the Oregon Humane Society authenticated this amazing feat. The route was reconstructed and people who saw or took care of Bobbie were interviewed.
Bobbie did not follow Frank's east/west route and appeared to have traveled thousands of miles over land he had never been in, land he had not seen, smelled or, in any way was familiar, yet, he found his way home.
Joseph Banks Rhine, one of the fathers of modern parapsychology, and his daughter, Sara Feather, have studied many similar cases. Rhine called this phenomena psi-trailing. Psi is the abbreviation for psychic phenomena.
In 1952, he investigated a case of psi-trailing that happened in 1952. This was one of the longest journeys of a cat.
Stacy Woods was an Anderson, California school principal. Sugar was the family cat.
The family moved to a farm in Gage, Oklahoma and left the cat with neighbors because the cat was terrified of riding in cars.
About fourteen months later, Stacy and his wife were milking cows in the barn when a cat jumped through an open window and landed on Mrs. Woods' shoulder. The cat looked and acted so much like Sugar that they joked their cat had found them. Then, they realized that the cat really was Sugar. The cat had an unusual bone deformity at his left hip joint.
Later, the Woods found out that Sugar disappeared three weeks after they moved.
Rhine learned that Sugar was a strong cat and an excellent hunter and had caught half-grown jack rabbits. The parapsychologist concluded that the cat was physically able to travel the rugged land between California and Oregon, a distance of 1500 miles.
The question was how did Sugar find his family in a place he had never been to?
Another unusual case that Rhine and Feather studied was one of a pigeon. This was not the case of the usual homing pigeon.
Hugh Brady Perkins was a boy when he discovered the pigeon in the yard of his home in Summersville, West Virginia. The year was 1940. He tamed the pigeon and placed a band on its leg with the number 167 on it.
That winter, Hugh was taken to a hospital, at night, for surgery. The distance was about 120 miles from home.
One night when it snowed, Hugh heard fluttering at the hospital window and told the nurse. She opened the window to humor the boy and the pigeon came in. There was the band with the number 167 on the bird's leg.
How can animals travel such distances and, to places they have never been?
When cases are evaluated for psi-trailing, there are four major criteria that are used.
1) The reliability of the witnesses. 2) Positive identification of the animal, such as a deformity, scar or name tag. 3) How credible and consistent the details are. 4) Adequate corroborative evidence, such as other witnesses.
After years of study, Rhine and Feather found at least 54 cases of cats, dogs and birds that appeared to meet these criteria.
The evidence is there. Again, the question is how animals can do this.
I believe it is by telepathy. This is communication without the use of the traditional five senses, across space and time. This has been demonstrated in humans many times, both in experimental situations and in the field. A simple example is that a person is thinking about calling a friend. The phone rings and it is the friend.
I also believe that "connectedness" or special bonds existing between humans and humans, animals and animals and humans and animals facilitate this. Again, there has been evidence to support this.
Dr. Karlis Osis, a distinguished parapsychologist, did one of the earliest experiments in psychic communication with animals in the early 1950s at the Parapsychology Laboratory at Duke University.
Osis was experimenting with kittens in a T-shaped maze, trying to influence them to go right or left, according to a random sequence.
The cats made more turns, according to Osis' will, than could be attributed to chance. He concluded that telepathy was probably the best explanation.
Even more intriguing was the fact that the cats that he had a special bond with were the ones that most often went in the direction he chose. The cat that "scored" the best was one that he allowed to jump on his shoulder and ride around the laboratory.
Transpersonal psychology studies human consciousness. There is also research being done in both animal consciousness and psychic animal-human communication. I believe that this, not space, is the last frontier.
Will Bradbury Will, ed. Into the Unknown. ISBN: 0-89577-098-9
Woman recalls meeting with Mothman at Point Pleasant
The strange events that took place in the area of ​​the American town of Point Pleasant in the state of West Virginia have not yet received an unambiguous assessment. It is very difficult to write off everything on inventions here, but it is also problematic to admit the existence of a monster.
Susan Sheppard of West Virginia is an honorary witch, anomalous researcher, and a broad-spectrum psychic. Behind all this unusual activity is her childhood, during which she found herself among many mysterious phenomena, including the appearance of the Moth Man in West Virginia in the 1966-1967s.
The majority of people remember these events as incidents in the town of Point Pleasant, when throughout the year the locals began to meet a strange winged creature with red eyes. The creature disappeared after the local Silver Bridge collapsed and dozens of people died.
Since then, Moth-Man has been associated with a harbinger of mass death, although it is still not clear what kind of creature it was, why it manifested itself in this way before the disaster and what he needed from people. Susan Sheppard remembers those days well. According to her, she is probably one of the few people in West Virginia who remembers how it all began and who has survived to this day.
"One cold November day in 1966, my sister came home from school and began to tell a strange story that happened the day before in the family of her classmate Partridge. At that time I was too young to go to school, I sat at the table and ate the leftover candy from my Halloween bag.
The kitchen was warm, outside there was a hill with yellowish grass. I always thought that there was something unusual in these forests. But back to my sister. She ran into the house and began to tell that Daddy Partridge last night I went to my barn and saw something with red eyes, and then their dog disappeared without a trace – a German shepherd named Bandit.
The strange red eyes gazing out of the doorway of the old barn are not what you might have heard about in local fairy tales and legends, so my childish mind was immediately alerted. Since then, I have noticed and remembered all these stories better than anyone else in my family. It must be said that the average West Virginian at first did not take all these stories seriously. Only later, when the legends about the Moth-Man began to diverge, when this strange alien-man Indrid Cold appeared and people began to see the Men in Black, they believed, since these stories affected their families.
My family lived in the small community of Shannon's Knob in rural West Union County. The Partridge family lived 8 miles from us in Center Point, which is 100 miles from Point Pleasant. It was from that night that observations of the Moth Man began in West Virginia.
That evening, Merle Partridge was watching TV with his son Roger, who was 11 years old. Suddenly, they heard their German Shepherd Dog Bandit barking loudly outside the house. It sounded strange and atypical, and the TV at that moment immediately began to blink, and then made a strange creaking sound.
Merle decided to go out and see what was out there on the street. The man took the flashlight and went out, and Roger ran after him. Near the barn, they saw a dog standing and barking, looking out the open door of the empty barn. Initially, Mr. Partridge did not see any red eyes in the doorway. It was only when he looked into the barn that he suddenly saw what he described as "An intense red light like electricity." And then he saw a big dark figure there. She moved abruptly, as if she had fallen off a shelf.
The fur on the back of the shepherd stood on end at that moment and she began to bark even louder and growl. The man fired a gun into the barn once, after which the dog ran into the barn and disappeared there. People did not follow her, but decided to return to the house. The television was on again, but Mr. Partridge kept his rifle by the bed that night.
The next morning it became clear that the dog was nowhere to be seen and they remembered that they had last seen the Bandit running into the barn. After that, Merle and his children Mary, Roger and Gary went to the ill-fated barn and found the Bandit's paw prints inside, which disappeared so suddenly, as if something had grabbed the dog and carried it through the air.
At the same time, Merle found some more traces on the dirty and dusty floor of the barn. They did not belong to a dog or a person and were so unusual that he could not understand what creature could leave them. In appearance, they most of all resembled the footprints of a bird, similar to a turkey, while being abnormally huge. At that moment, Merle Partridge did not yet know that yesterday that same evening, just an hour after he saw red eyes in his shed, a hundred miles from this place in the town of Point Pleasant, a couple of Roger and Linda met the same creature Scarberry.
They saw a strange large red-eyed creature on the outskirts of the city near a chemical plant. "From that evening, similar stories began to appear in the circle more and more often. The Moth-Man" settled down "in this place.
Later, when writer John Keel interviewed the residents of the area to collect material for his sensational book about The Mothman Prophecies, Merle Partridge in his notes somehow turned into Newell Partridge, and the date November 15, 1966, when he saw red-eyed creature in his barn, October 15, 1967.
Therefore, the story of Merle, although it was the very first meeting with the mysterious red-eyed creature, was not widely known. According to Susan Sheppard, she does not know why this happened, maybe Keel was not working carefully, or there was just confusion.
Osborne family reunites in a TV show about paranormal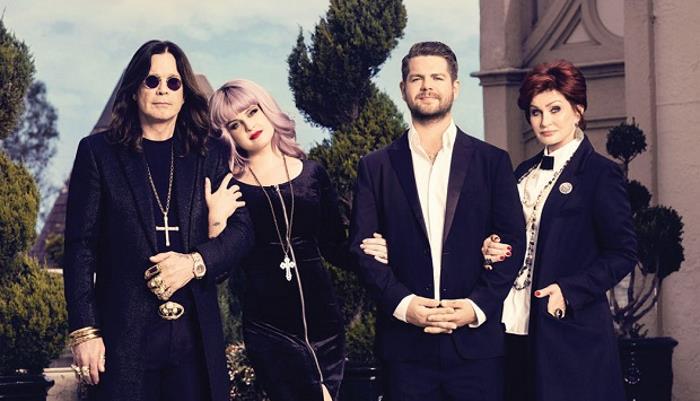 Ozzy and Sharon Osbourne will return to television in the new paranormal television show. According to NME magazine, celebrities will take part in their son Jack's Osbournes Want to Believe project, in which he will try to convince skeptical parents, showing them "undeniable" evidence that paranormal phenomena exist.
"Maybe they are known as the first "dark" family, but when it comes to paranormal events, the legendary rocker Ozzy Osbourne and his wife, the co-host of the show "Conversation" Sharon Osbourne, are extremely skeptical, "the description of the show says. "Having the firm intention of dragging them to the other side, Jack will reunite with Ozzy and Sharon and share with them the craziest and stunning videos of the paranormal that have ever been captured by cameras."
It is also reported that Osbourne will see videos with poltergeists, unidentified flying objects, yetis and many others. As for Jack, he is convinced that his parents do not believe in such things, since no one has yet provided them with enough convincing evidence – and he is going to do this by adding several of his personal videos to the show.
The most difficult task for me, probably, will be the need to keep them from commenting, not intended for children's ears. This will be the classic Osbourne "cabal"! – Jack said.
The show will premiere on Travel Channel on August 2, 2020.
Businessman bought a ghost town, believed in mysticism and decided to stay there forever
Two years ago, a young American businessman Brent Underwood bought a ghost town. Once there was a silver mine, shots rang out every day and famous gangsters from the Wild West met. And now – almost nobody, and a few hours' journey to the nearest store. Underwood arrived in his city in early March, and after two months in complete solitude decided to stay there for a long time.
In the summer of 2018, Brent Underwood received an offer that is difficult to refuse. "Want to buy a ghost town?" – asked a friend.
Prior to the purchase of Cerro-Gordo, Brent Underwood was engaged in marketing books and enjoyed some fame in this area. In 2016, he decided to demonstrate the simplicity with which crooks and crooks "wind up" the ratings of the largest online store Amazon, and in a matter of minutes brought a best-selling photograph of his own leg. When the media wrote about the trick, Amazon founder Jeff Bezos phoned Underwood.
The message was accompanied by a link to a note on the sale of Cerro Gordo – an abandoned town in the days of the Wild West. "At first I took it for a stupid joke, but still clicked on the link and began to read," says Underwood.
It turned out that Cerro Gordo is located in the mountains on the edge of the Death Valley. The city appeared in 1865, when silver was found in those places. Entrepreneurial people from all over California immediately rushed there.
Three years later, businessman Mortimer Belshaw settled in Cerro Gordo. He quickly put the mining of precious metal on a big foot and soon sent the first wagon loaded with silver bullion to Los Angeles. Each ingot was 45 centimeters long and weighed 36 kilograms.
The first approach was followed by others. A year later, more silver and lead was mined in the town than in other mines in California. In just a few years, the thousands of miners who gathered in Cerro Gordo dug underground tunnels with a length of almost 60 kilometers.
Near the mine appeared a church, five hotels, seven saloons and two brothels – one on each edge of the city. A fort was built nearby that protected the locals from the Indians.
There was little entertainment: the miners gambled, drank a lot and visited prostitutes. Any quarrel ended in a shootout. Every week someone was killed, and it was possible to die even by accident. In order not to fall under the stray bullet, the workers had to sleep behind sandbags.
It was a true Wild West from Westerns. It was rumored that Butch Cassidy, the famous robber of banks and trains, was hiding in Cerro Gordo. The walls of the Belshaw mansion, which still stands, still have 156 bullet holes, and a blood stain in the hotel's gaming room
Ten years later, the reserves of the precious metal were noticeably depleted, and the fall in silver prices that began at the end of the 19th century signed the city's death sentence. The miners went somewhere, and Cerro Gordo was empty. At the beginning of the 20th century, it experienced a revival when zinc was mined there, but this boom was short-lived. In the 1930s, the mine was finally closed, and only its owner lived in the city until 1957. After his death, no one was left in Cerro Gordo.
People returned to the city only in 1985. One of the surviving houses was occupied by a distant relative of the former owner of Cerro Gordo, Jody Patterson, along with her husband Mike. Jody from 1973 in parts bought the city from his uncle's wife, who inherited it, and by 1984 became his full owner. She lived there until her death and is buried in the cemetery of Cerro Gordo.
Mike Patterson did not leave Cerro Gordo when Jody died and turned it into a tourist attraction. Wild West lovers could rent a bedroom in Belshaw's house for $ 150 a day, or spend the night in a former workers' dormitory for $ 300. The toilet, as in the 19th century, was in the courtyard, but the guests did not complain.
One woman wrote a thank-you letter and praised me for having talcum powder in the street toilet. It didn't immediately reach me that she had in mind quicklime to be thrown into a cesspool

Mike Patterson, former owner of Cerro Gordo
Patterson's relatives put up for sale the city. By that time, the only inhabitant in Cerro Gordo was the voluntary caretaker Robert Demare. A former school teacher moved there in the late 1990s in the hope of finding silver. "For 22 years, I have found the equivalent of a full wheelbarrow of silver," he claimed in 2019.
22 buildings survived in Cerro Gordo: several houses where the miners lived, a working dormitory, a hotel, a church and a former store in which Mike Patterson set up something like a museum. The city had an electric generator and water supply (although only in three buildings), but to get to the nearest store, it was necessary to drive for more than 40 kilometers. 
But Demare got used to the life of a hermit. Year after year, he repaired broken windows, cleaned up the garbage that "bad people" throw, he said, once a month poured potholes on a country road and shot snakes and rats. Koyotov, the caretaker never touched them: he considered these animals "important and wonderful creatures."
Own city
Underwood got the idea to buy Cerro Gordo. He already had a small tourism business: a small hostel with five employees in Austin. But the real city of the times of the Wild West is a completely different matter. He believed that this was the ideal place for modern tourism, where a beautiful Instagram picture is more important than anything else. In addition, such a picturesque wilderness can attract creative people.
The sellers expected to receive 925 thousand dollars for Cerro Gordo. Underwood and his acquaintance were ready to give all the savings for him, but there was still not enough money. To collect the necessary amount, they had to look for investors. Somehow, Underwood managed to interest the former marketing director of American Apparel, one of the leaders of Hulu and several other large businessmen. This made it possible to scrape together 1.4 million dollars.
Several more buyers claimed Cerro Gordo, and some of them offered larger amounts for it, but the sellers liked Underwood's idea. So he and his friend became the owners of their own city.
At first, in Cerro Gordo, everything remained the same. Underwood paid the caretaker a salary and visited him once a month. He was planning to surf the Internet, build a viewing platform and equip a music studio in a former dormitory, but soon discovered that it was far from easy. "Things went very slowly over the next year or so," he recalls. "We were waiting for permissions and tried to start the reconstruction, but it took a lot of time to do everything, because it is very difficult to bring materials and people there."
The ghost town was an expensive pleasure. About 10 thousand dollars were spent on repaying loans, salaries, utilities and satellite Internet every month. And this is without repair: as it turned out, even replacing a broken pump for water supply costs hundreds of thousands of dollars.
When the epidemic started, the ranger called Underwood. "His wife lives in Arizona, and he wanted to return to her until they introduced quarantine measures," he says. "He asked me to keep an eye on the city so that it would not be looted." I thought that I'll take care of the repair and maybe I'll start renting out the houses for the guests. "
Snow Isolation
The businessman arrived in Cerro Gordo in the midst of heavy snowfall. The car got stuck in the snowdrifts, not reaching the city half a kilometer. "I threw it in the middle of a single-lane road and walked the rest of the way on foot," says Underwood. – It snowed almost daily for another ten days. It got to the point that I could barely open the front door. "
By March 19, when California introduced a regime of self-isolation, it was ideally isolated by nature itself. It was almost impossible to get out of Cerro Gordo before the snow melted. "For the most extreme case, there are snowshoes, but they will have to cover 11 kilometers along a steep slope," says Underwood. He tried them on and was out of breath just a few meters away.
The food they had taken with them quickly dried up, but the ranger left a large supply of rice and canned food. To get water, Underwood melted snow. You can't watch Netflix over the slow satellite internet , so he had to look for other entertainment.At dawn, he went for a walk, studied his possessions during the day, and photographed the starry sky at night.
Underwood walked around the mine and found graffiti made in 1938 on the mine wall. He had extra furniture, so he moved the sofa, carpet and floor lamp there, arranging something like an underground shelter. In the house where the former owner lived, a huge collection of old video cassettes was found, including a copy of Kubrick's The Shining. His characters were also stuck in a snowy mountain hotel, and it ended badly. Underwood decided not to watch it.
Locals believed that true ghosts inhabit Cerro Gordo. Several years ago, a documentary was shot in the city about the ghosts of dead children in one of the mansions, and the former owner of Cerro Gordo, Mike Patterson, kept a picture of a man's face appearing on a window net. He believed that it was the ghost of Alfonso Benoit, who was killed more than a century ago in a nearby lumberjack camp.
Underwood lived in the same room where they saw children's ghosts. He did not wait for their visit, but nevertheless noticed something strange. Most of all, he was embarrassed that in the working dormitory, curtains open from time to time and the light turns on. Just in case, he decided to bypass this place.
The longer I live here, the more I come across things that I can't explain. Until I bought the city, I completely did not believe in this

Brent Underwood
Underwood was occupied by ghosts of a different kind. In one of the houses he came across a suitcase with the belongings of a miner who worked in Cerro Gordo during the zinc boom. Inside was his whole life: bank statements, applications for withdrawal of plots, unpaid checks, lawsuits, love letters and divorce documents. "This man had hopes and dreams, ups and downs, and all that was left was a suitcase full of papers," says Underwood. 
With the help of experts from Reddit, the entrepreneur learned to understand the tracks of animals in the snow. It turned out that his porch regularly visits a lynx. Other footprints were left by coyotes and a bear, it seems. Underwood learned to cycle floors and was used to talking with a couple of local ravens, whose names were Hekil and Jekyll. He liked life in a ghost town more and more.
The problems started when the snow fell. First, Underwood was hospitalized with appendicitis. And in early June, a fire broke out in Cerro Gordo. At three o'clock in the morning an old hotel broke out, then the fire spread to the glacier cellar and the house, where in the days of the Wild West there lived a man named William Crapo, who once shot a postman. "All I could do was call 911," says Underwood. "And then, with the help of a caretaker, desperately pulling buckets of water from the tanks and trying to fill the flames."
Perhaps we will never know how the fire started. Firefighters told me that there are a thousand different reasons. Anything could happen in such old buildings

Brent Underwood
The fire destroyed three buildings, but Underwood still expects that the city can be restored. Even before the caretaker returned, he decided that he would stay in Cerro Gordo for a long time. "I already plan what I will do next winter," he admitted to a New York Times journalist who spoke with him before the fire. "Until then, I'm not going to go anywhere, so I need to prepare."